Ready to try your hand at some vegetable-filled potstickers? These ones are light enough to allow you to fully savor the taste of the veggies– and when you combine them with an excellent sauce, this dish turns into a palate-pleasing culinary adventure.
You can steam these, fry them, or if you have a favorite vegan broth, poach them. For that fantastic crunch to the wrappers, we decided to go ahead and fry them lightly in sunflower oil, and then finish off by steaming them. Keep reading below for our favorite potstickers recipe…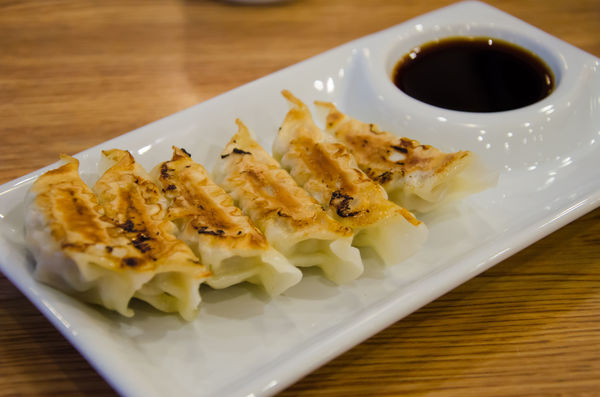 Vegan Potstickers
(makes one large platter)
Ingredients
1/2 cup sunflower oil
8 green onions, white and greens thinly sliced
1 small serrano chile pepper, thinly sliced
1 clove garlic, minced
1 1/2 tablespoons sugar
1/4 cup soy sauce
1/4 cup water
4 tablespoons sunflower oil, plus more for pan-frying
1/2 cup chopped shallots
1/2 teaspoon salt, or to taste
2 cloves minced garlic
1 teaspoon shredded fresh ginger
1/4 teaspoon white pepper
2 cup cooked lentils then processed in a food processor or blender until uniform and fluffy
1 package round potsticker wrappers
Directions
Heat the 1/2 cup sunflower oil in a small saucepan over medium-high heat. Once it's hot, add the green onions and stir well. When they soften (about 30 seconds), remove the heat and set aside.
Sprinkle together chiles and garlic with the sugar. Chop and smash a little with a knife then place in a small bowl. Add the soy sauce and water, and stir to combine. Taste and adjust to your liking.
To make the filling, in a large skillet fry the shallots in the sunflower oil over medium heat until golden brown (about 5 minutes). Add the ginger and garlic, and stir for another 30 seconds. Sprinkle with salt, white pepper, and stir in the lentil meal. Stir until the shallots are evenly distributed.
Pinch a bit of the filling between your fingers. You want it to hold together, so if it's too dry, stir in a little water a small splash at a time. Give a taste and add more salt if necessary.
Very lightly dust your countertop or workspace with flour. Place wrappers on the floured workspace and add a small dollop of filling just off-center of each wrapper.
Run a wet finger around the rim of each wrapper, then press the edges together well. (Before completely sealing, try to press out any air bubbles if you can). Crimp each dumpling, and gently press it down against the counter to give it a flat base. Repeat until you are out of filling or wrappers.
Heat a tablespoon of oil in a large skillet over medium-high heat. Arrange the dumplings in the pan, seam side up with just a little space between them. Pan-fry until the bottoms are golden (just a few minutes).
Carefully and quickly add 1/3 cup water to the pan then immediately cover and cook the dumplings for a few more minutes, or until the water is nearly evaporated.
Uncover and finish cooking until all the water is done (about another minute). If at any point the bottoms of the dumplings are starting to get too dark, dial back the heat.
Cook in batches. To serve, drizzle with the scallion oil we set aside earlier, and serve with a small bowl of the soy dipping sauce.
Enjoy!
Recipe adapted from 101 Cookbooks
SKM: below-content placeholder
Whizzco for 12T