If somebody told you that you lived in "Friend", or perhaps "In Honor of King Charles I", what would you think? Most people would probably think you were crazy, but in reality, every state has a meaning behind it and those states are Texas and North/South Carolina.
Perhaps you have wondered what your state means, or perhaps you haven't. In either case, if you want to know a little bit more about the state where you live or any state in the United States, there is a map available from Expedia Canada that shows you what those states mean.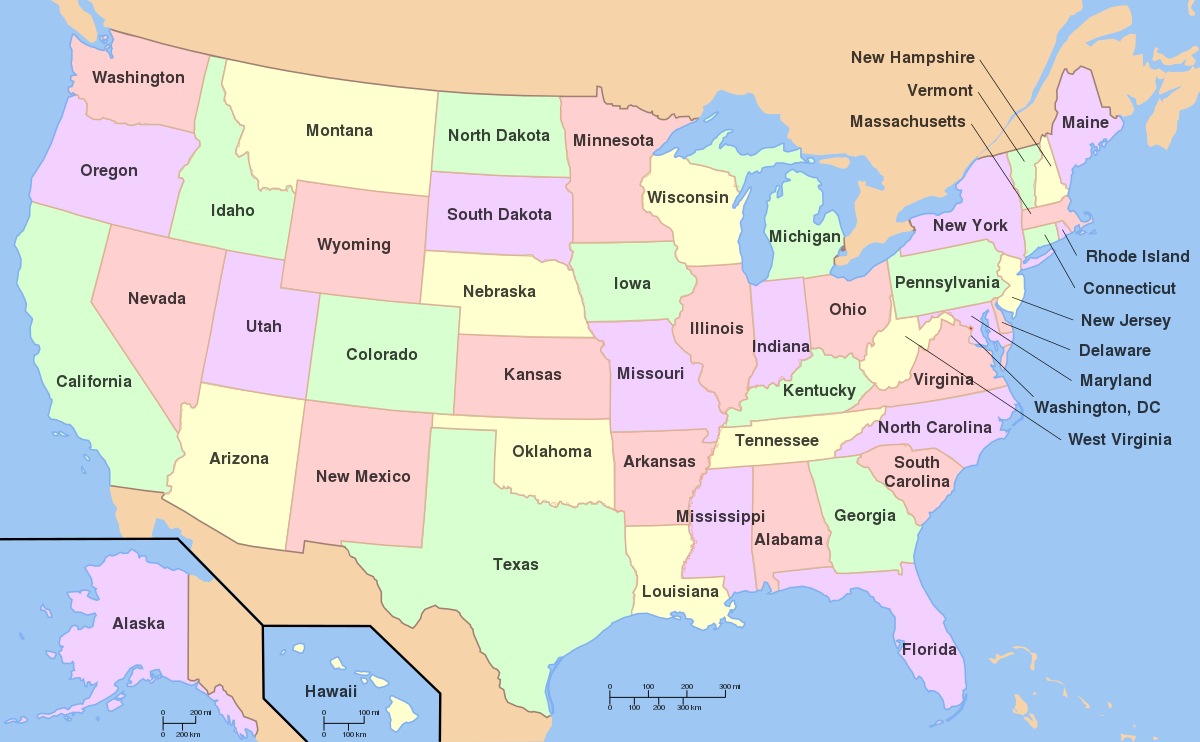 According to Expedia, the state etymologies "offer a unique insight into the forgotten history of the continent and may teach something new about your home." Even if we feel that we know a lot about the state where we live, understanding more of what is behind it gives it a richer meaning.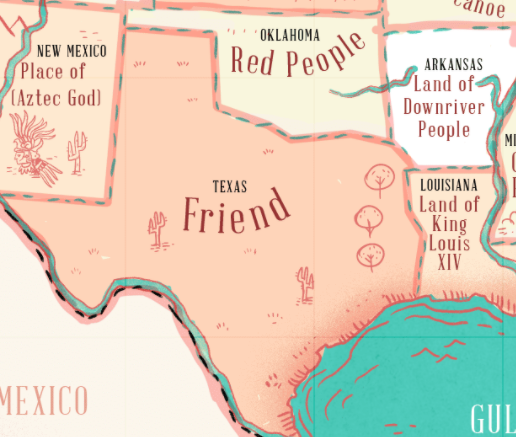 This map doesn't just randomly provide you with this information, it also provides links to sources so that you know you are getting the best information possible. You might even find that there are certain variations, often associated with the Native American language that is being researched.
Take a look at the map and see that it has something to offer for everyone, regardless of where you live in the USA.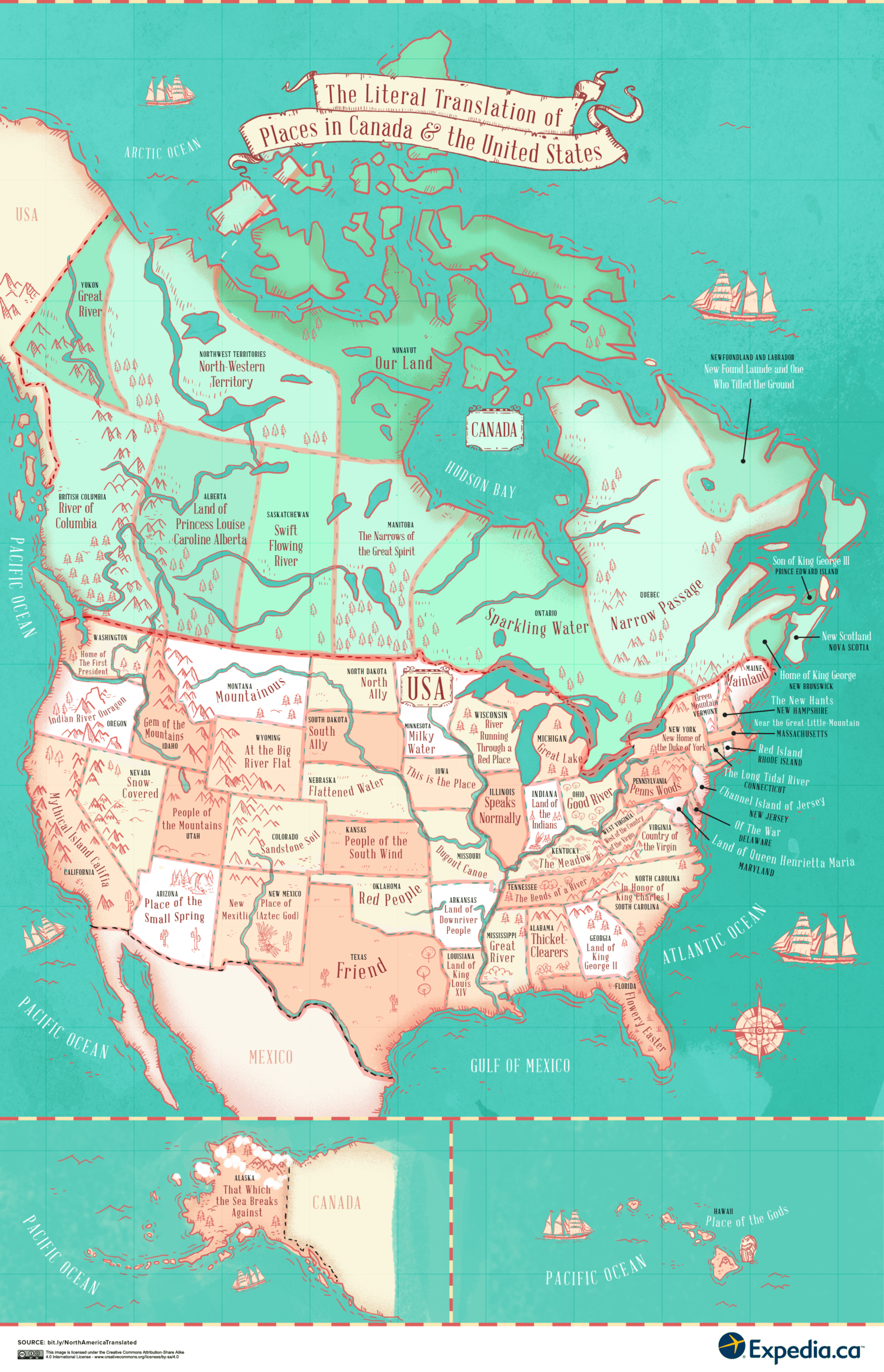 Photo:
Expedia.ca
Here is what each state means:
Alabama
What it Means: Thicket-Clearers
Origin Language: Choctaw
Alaska
What it Means: That Which the Sea Breaks Against
Origin Language: Aleut
Arizona
What it Means: Place of the Small Spring
Origin Language: Spanish interpretation of O'odham
Arkansas
What it Means: Land of Downriver People
Origin Language: Quapaw
California
What it Means: Mythical Island Califia
Origin Language: Spanish
Colorado
What it Means: Sandstone Soil
Origin Language: Spanish
Connecticut
What it Means: The Long Tidal River
Origin Language: Mohican
Delaware
What it Means: Of The War
Origin Language: Old French
Florida
What it Means: Flowery Easter
Origin Language: Spanish
Georgia
What it Means: Land of King George II
Origin Language: Greek
Hawaii
What it Means: Place of the Gods
Origin Language: Proto-Polynesian
Idaho
What it Means: Gem of the Mountains
Origin Language: Adaptation of Native American word from northwest origin
Illinois
What it Means: Best People
Origin Language: Derived from the Native American word, "Illiniwek"
Indiana
What it Means: Land of the Indians
Origin Language: Native American origin
Iowa
What it Means: This is the Place
Origin Language: Native American origin
Kansas
What it Means: People of the South Wind
Origin Language: Native American origin
Kentucky
What it Means: The Meadow
Origin Language: Iroquois or Shawnee origin
Louisiana
What it Means: King Louis XIV
Origin Language: French
Maine
What it Means: Mainland
Origin Language: French
Maryland
What it Means: Land of Queen Henrietta Maria
Origin Language: English from
Massachusetts
What it Means: Near the Great-Little-Mountain
Origin Language: Native American origin
Michigan
What it Means: Great Lake
Origin Language: Native American origin
Minnesota
What it Means: Milky Water
Origin Language: Siouan
Mississippi
What it Means: Great River
Origin Language: French
Missouri
What it Means: Dugout Canoe
Origin Language: Siouan
Montana
What it Means: Mountainous
Origin Language: Spanish
Nebraska
What it Means: Flattened Water
Origin Language: Based on Oto Indian word "Nebrathka"
Nevada
What it Means: Snow-Covered
Origin Language: Spanish
New Hampshire
What it Means: The New Hants
Origin Language: English
New Jersey
What it Means: Channel Island of Jersey
Origin Language: English
New Mexico
What it Means: New Place of Mexitli (Aztec God)
Origin Language: Aztec
New York
What it Means: New Home of the Duke of York
Origin Language: English
North Carolina
What it Means: In Honor of King Charles I
Origin Language: From the Latin word for "Charles"
North Dakota
What it Means: North Ally
Origin Language: From the Sioux Native American word for "friend"
Ohio
What it Means: Good River
Origin Language: Iroquois Native American
Oklahoma
What it Means: Red People
Origin Language: Choctaw Native American
Oregon
What it Means: Indian River Ouragon
Origin Language: French
Pennsylvania
What it Means: Penns Woods
Origin Language: English
Rhode Island
What it Means: Red Island
Origin Language: Italian
South Carolina
What it Means: In Honor of King Charles I
Origin Language: From the Latin word for "Charles"
South Dakota
What it Means: South Ally
Origin Language: Sioux Native American
Tennessee
What it Means: The Bends of a River
Origin Language: Native American origin
Texas
What it Means: Friend
Origin Language: Spanish
Utah
What it Means: People of the Mountains
Origin Language: Spanish based on Ute
Vermont
What it Means: Green Mountain
Origin Language: French
Virginia
What it Means: Country of the Virgin
Origin Language: English
Washington
What it Means: Home of the First President
Origin Language: English
West Virginia
What it Means: West of the Country of the Virgin
Origin Language: English
Wisconsin
What it Means: River Running Through a Red Place
Origin Language: English/French/Native American
Wyoming
What it Means: At the Big River Flat
Origin Language: Native American origin
SKM: below-content placeholder
Whizzco for 12T