This regional treat is a taste of Italy right at home.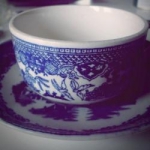 Rose Heichelbech
Rolling hills, wine country, and roads lined with Italian cypress trees await visitors to Tuscany. But, you can bring a little Tuscany to your meals with a fun take on focaccia bread.
Focaccia is one of those quintessentially-Italian dishes that can bring new life to the dinner table. We're used to the savory varieties of this bread, but there are regional variations on the combinations of ingredients that include fruit. In this Tuscan grape focaccia (also known as schiacciata) sweet and salty come together for an exquisite flavor experience that's as fresh and lively as the Italian countryside.
To make this recipe you'll need to first wake up your dry yeast by adding warm water (not boiling) and honey and allowing this mixture to sit for 5 minutes. In large bowl then combine all-purpose flour with whole milk until a shaggy dough forms and then add the yeast mixture and salt in. Next add in 2 tablespoons of olive oil to the dough and mix for 5-8 minutes using a dough hook on your electric mixer.
If you don't have an electric mixture then you'll have to knead the dough for about 10 minutes until it has an elastic texture when pulled.
Next you'll need to oil your bowl with olive oil and then cover with plastic wrap. You'll need to let the dough rise at room temperature for 2-3 hours, even better if you can leave it on the stove top with the oven on the warm setting. The dough should double in size when properly risen.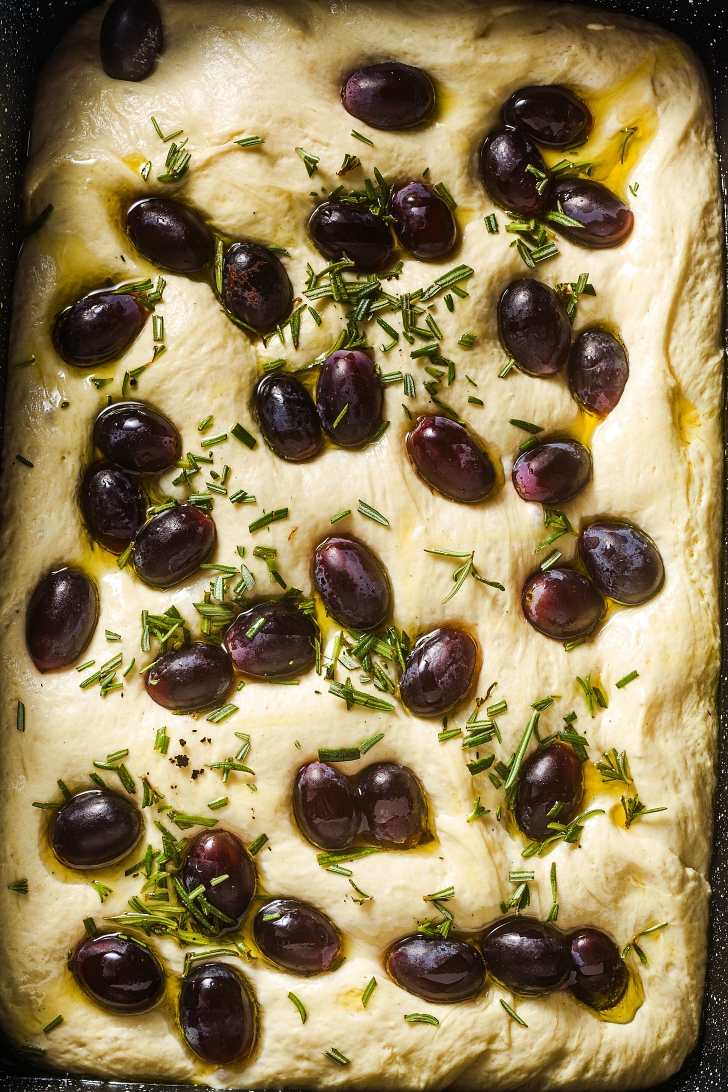 After it's done rising roll out the bread to 1″ thickness. Gently transfer dough to a 9'x13″ pan and spread the dough into the corners of the pan. In traditional fashion make indents with your fingertips all over the top of the dough- about 1″ apart or so. Make sure not to press too hard or else you can make holes in the dough.
Press grapes into the top of the dough and drizzle with olive oil. Make sure you get seedless grapes for the best result. And if you don't have any grapes you can use blueberries in a pinch instead. After the fruit goes on sprinkle with sugar and rosemary on top, then allow to rise another 45 minutes.
When you preheat the oven place a baking stone or two nested metal baking trays in the middle rack of the oven to absorb heat. The concentration of heat at first baking is what will give a lovely crust to this bread.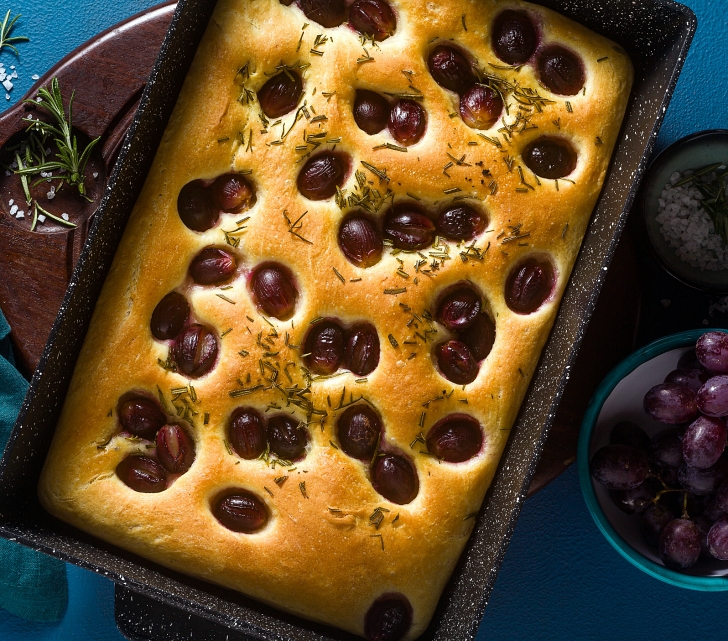 You'll need to bake this focaccia for 35-40 minutes turning the pan halfway through baking. Once done this focaccia will be golden brown on top and the grapes will be slightly shriveled. Allow the bread to cool for 5-10 minutes and then sprinkle large-grain salt (like Maldon) over the top.
Of course you'll want to serve this bread with some olive oil for dipping in perfect Italian style. This sweet-and-savory Tuscan grape focaccia is a wonderful starter, but also makes a great side dish to pasta as well. However you serve this bread, you'll get a little taste of Tuscany every time you take a bite.
Tuscan Grape Focaccia
Makes 8-12 slices
3h 20m prep time
40m cook time
Ingredients
1/2 cup warm water
1 tsp active dry yeast
2 Tbsp honey
3 1/2 cups all-purpose flour, plus extra for flouring
1 cup whole milk
1/2 tsp salt
6 Tbsps olive oil, divided (plus more for prep/garnish)
1 pound (about 4 cups) seedless grapes (can sub blueberries as well)
4 Tbsp granulated sugar
Large pinch Maldon sea salt or other flaky salt (for garnish)
3 to 4 sprigs fresh rosemary leaves, stemmed and chopped (for garnish)
Preparation
Combine warm (not hot) water, yeast, and honey in a small bowl. Set aside for 5 minutes to activate yeast. Mixture should bubble when ready. In a separate large bowl combine flour milk until a shaggy dough forms.
Add yeast mixture to dough and combine. Add in salt and stir. Add in 2 tablespoons of olive oil, added one spoon at a time and mix until a smooth dough forms (about 5-8 minutes using an electric mixer with a dough hook). Alternately turn dough out onto floured work surface and knead by hand for about 10 minutes or until dough has elastic texture.
Lightly flour a work surface. Turn out dough and shape into a ball. Add a drizzle of olive oil to the bowl and return dough to bowl. Wrap with plastic allow to rise for 2-3 hours at room temperature (or slightly warmer). Dough should be doubled in size.
Grease a 9"x13" baking sheet with olive oil. Turn dough out onto floured surface and roll to 1" thickness. Gently transfer dough to pan and push into corners. Make indents in the dough every inch or so with fingertips, but do not push through to bottom of pan.
Add grapes to top of dough and press them in slightly. Leave a grape-free area along the edges. Allow to rise for an additional 45 minutes.
Preheat oven to 450˚F. Place baking stone or 2 nested baking sheets on middle rack to absorb heat while you prepare the dough. Drizzle dough with remaining olive oil and sprinkle sugar and rosemary on top. Reduce heat to 425˚F and bake on stone or nestled pans for 35-40 minutes, turning halfway through baking. Focaccia should be golden brown.
Allow focaccia to cool for 5-10 minutes before adding flaky salt on top. Cut into squares or slices. Serve with olive oil for dipping.
Recipe adapted from Salt and Wind.
SKM: below-content placeholder
Whizzco for 12T