Hope that this Linguini in a tuna tomato sauce brings you as much joy as it has brought to generations of my family.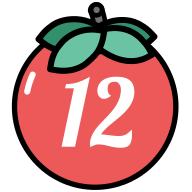 Dom Ruane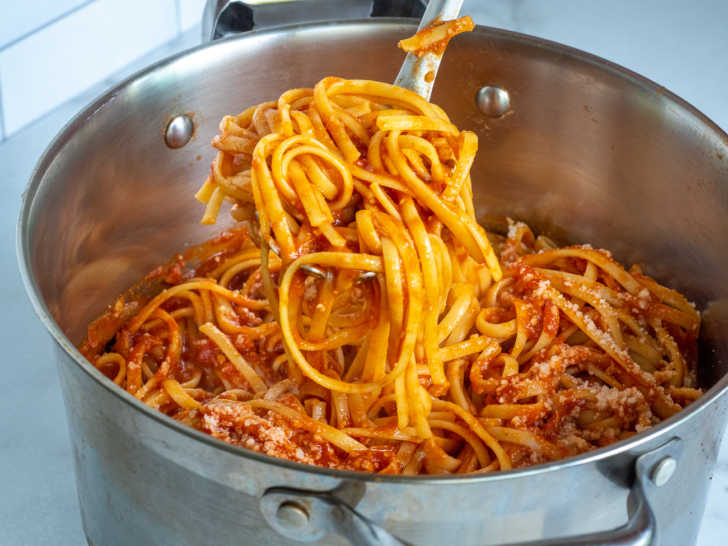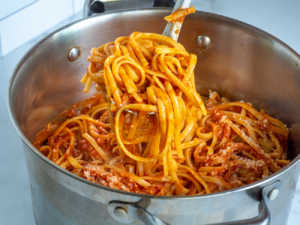 Tuna Macaroni! A very unflattering name for a very delicious tomato sauce. Growing up in an Italian food-loving household, I remember the days when I'd come home from school and walk into the most wonderful smell of my Mom brewing a big batch of red sauce. I would take a Dixie cup, scoop up a cup's worth of sauce and slowly sip on the sauce like an adult with a fine red wine. Little did I know how far these recipes would follow me in life. The recipe comes from my Nana Vetari, who cooked this for my grandma, who taught my mom, who taught me, and now I get to teach all of y'all! This is a very simple yet flavor-packed pasta that I know you'll share with your friends and family. Hope that this Linguini in a tuna tomato sauce brings you as much joy as it has brought to generations of my family.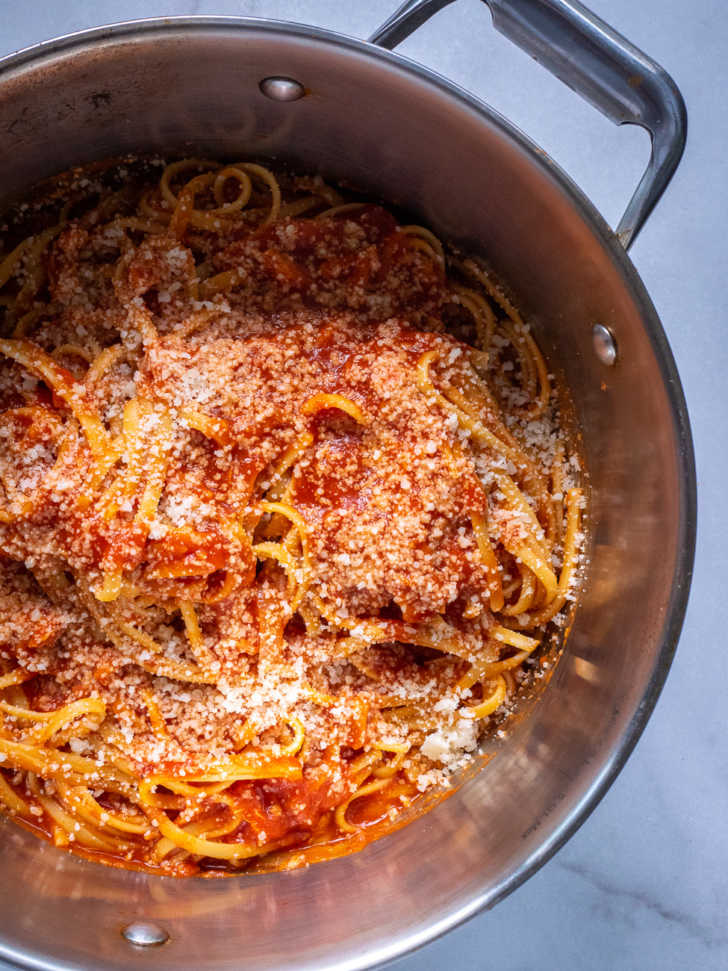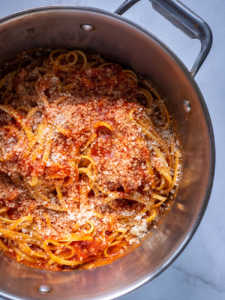 Let's talk red sauce! In culinary school, you learn about the 5 mother sauces, one of which is the almighty tomato sauce. You learn about taking time to caramelize the mirepoix and the tomato paste, and maybe deglaze with a little red wine. My grandma was shook when I told her how my chef taught me because she thought that was so extra and fancy. In my family, we call it red sauce, and EVERYBODY has their own recipe for it. I learned from my Uncle Mike's sauce that you can put whatever you want in there, and it still comes out edible. We don't need rules! I learned from my mom as long as you stir the bottom of the pot and you throw some meat & garlic in the sauce, it will turn out well. That's why this tuna sauce works! The tuna has a subtle way of flavoring the tomatoes, just as meat does. Tuna adds so much meaty viscosity to the sauce, meaning that the sauce coats the pasta even better. The more I learn about these rules in cooking, the more I realize that there is no right or wrong way to cook.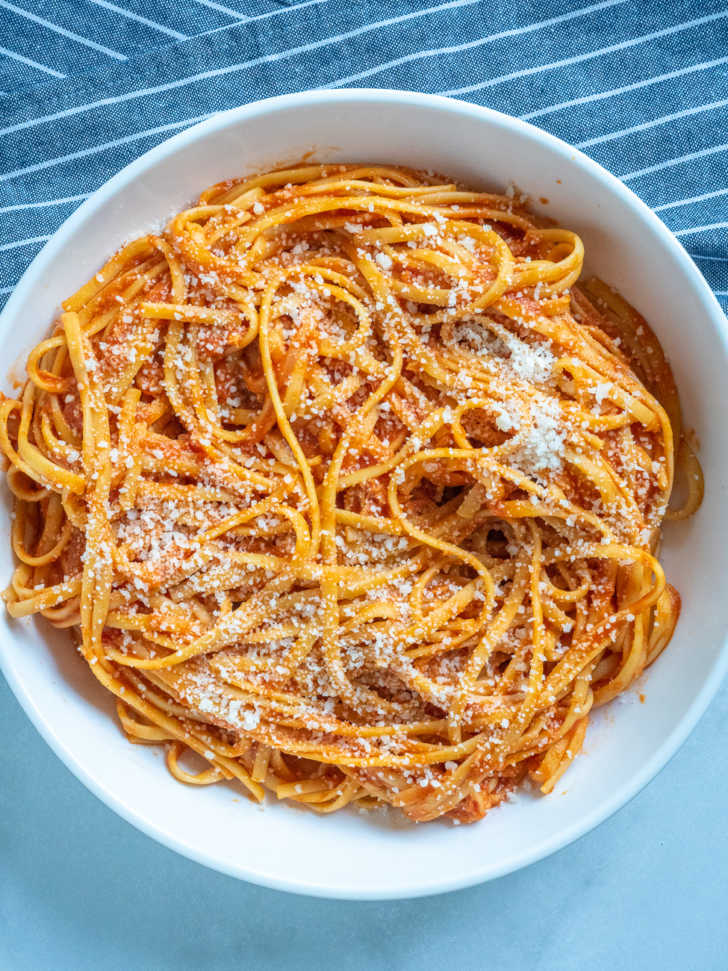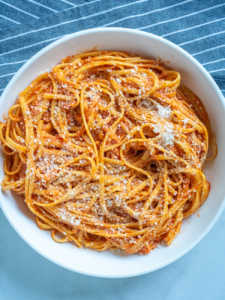 Subtlety is everything in this sauce. Cooking is about layering and developing flavors, so you start off with a great base sauce, now what?! It's important now to maintain that great base flavor, while still elevating the dish. Bring in the cheese! There are so many varieties of finishing cheeses for pasta, far beyond the green shake bottle of parmesan you buy in the dry goods section of your grocery store. Head to the specialty cheese section and find yourself a pre-grated Parmigiano or my go-to, Pecorino Romano to finish your pasta off. These cheese flavors range from mild to moderate funk, but still don't take away from that rich tomato flavor. It's a fun experiment trialing different cheeses for different sauces, open your mind to a world of new funk.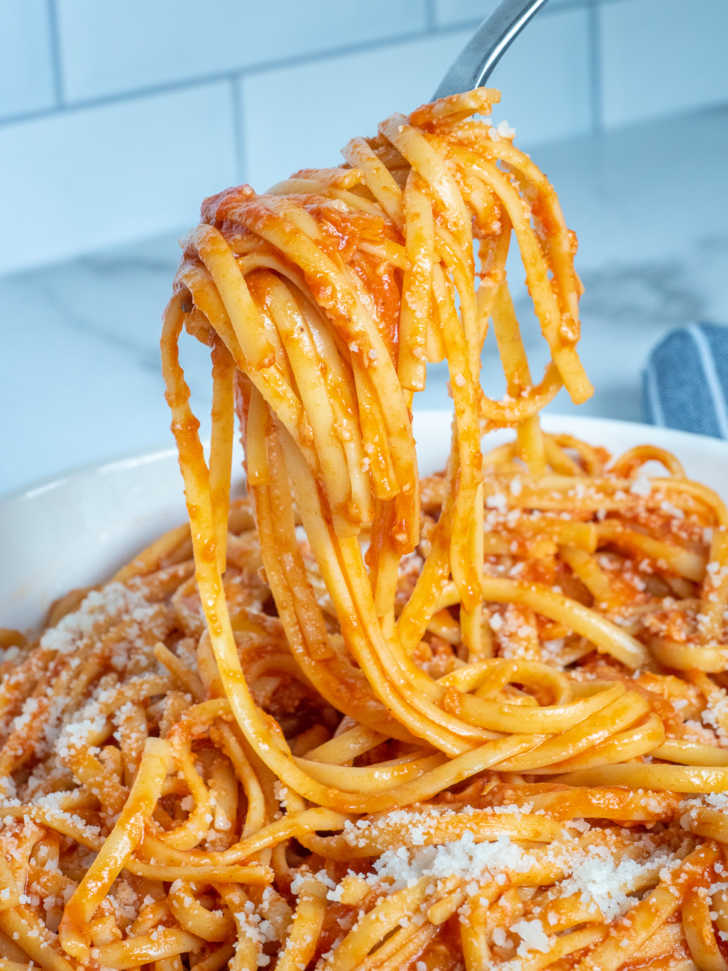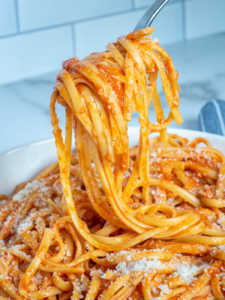 Tuna Mac (Linguini in a tuna tomato sauce)
Serves 6
5m prep time
30m cook time
Ingredients:
1 tablespoon olive oil
1/2 onion, sliced thin
5 garlic cloves, minced
6 oz tomato paste, fill with water
2 - 8 oz tomato sauce cans, fill with water
1 can tuna in water, drained
1 tablespoon garlic powder
1 bay leaf
1lb Linguini
Kosher salt & freshly cracked black pepper, to taste
1/2 cup Pecorino Romano, for topping
Directions:
In a large sauce pot under medium high heat, add olive oil and onions. Cook until onions turn translucent and add in garlic.
Stirring constantly, add in the tomato paste and combine with garlic and onions. Cook for an additional 2 -3 minutes, then add in tuna, tomato sauce, water, garlic powder and bay leaf.
Bring sauce to a simmer, reduce heat to low and cook for 25 - 30 minutes, stirring occasionally.
Bring a large pot of salted water to boil and cook linguine until al dente and drain pasta, reserving 1/2 cup of pasta water.
Add pasta back into the pot with half the sauce and a splash of pasta water, toss until pasta is coated with sauce.
Plate pasta with a little extra sauce on top and topped with grated cheese.
Mangia!
SKM: below-content placeholder
Whizzco for 12T