Strawberry shortcake is a lovely, classic American recipe that's the perfect way to end any meal. Comprised of freshly made biscuits, macerated strawberries and airy whipped cream, this dessert is a dream. We won't judge you if you need an instant shortcake fix and go with instant biscuits, thawed strawberries and reddi-whip, but making this recipe from scratch is both scrumptious and rewarding! For a dessert that is worth the effort and will leave people wanting more, you'll find yourself happy to put in the time on this one!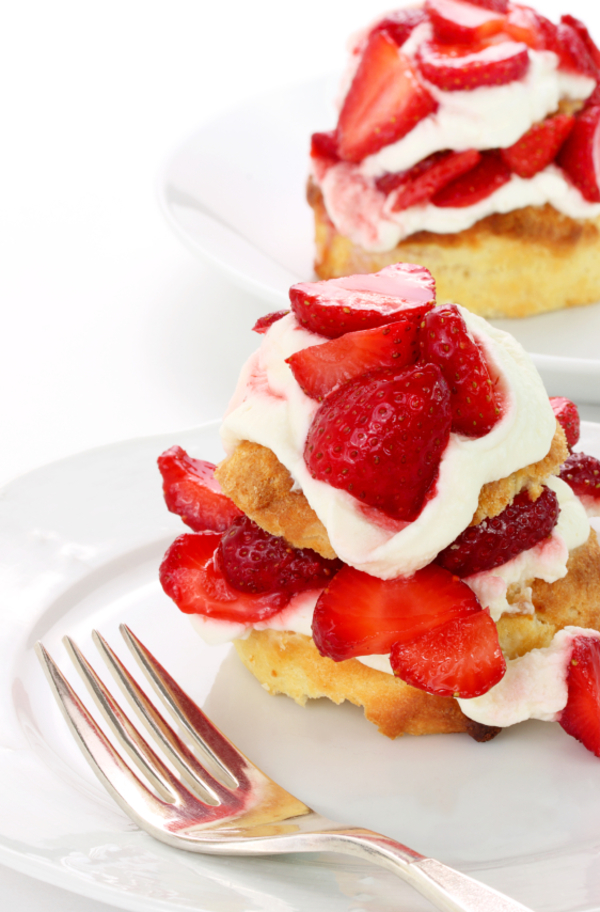 Strawberry Shortcake
Serves 6
Ingredients
Strawberries:
2-2 1/2 pounds strawberries, stemmed and quartered
1 cups sugar
2 teaspoon lemon zest, grated
Biscuits
2 cups all-purpose flour
1 1/4 cups buttermilk
2 tablespoons butter
2 teaspoons sugar
2 teaspoons baking powder
1/4 teaspoon baking soda
1/2 teaspoon salt
Whipped Cream:
1 1/2 cups heavy cream
3 1/2 tablespoons sugar
1 teaspoon lemon zest
1 teaspoon vanilla extract
1 teaspoon orange liqueur, optional
Directions
In a large bowl, combine strawberries, sugar and lemon zest and mix well. Using a fork or a potato masher, gently press the strawberries so they release their juices. Refrigerate for 1 hour.
Preheat oven to 450º F and line a baking tray with parchment paper.
Using a food processor or a pastry cutter, combine dry biscuit ingredients: flour, sugar, baking powder, baking soda and salt.
Then add in cubed butter and pulse/blend until mixture resembles course pebbles.
Pour in buttermilk and mix until clumpy dough begins to come together.
Turn dough out onto a lightly floured surface and form into a ball with your hands and roll out to 3/4-inch thickness.
Take 2-inch, circular cookie/biscuit cutter and cut out biscuits. Consolidate remaining dough and cut out more dough rounds.
Carefully transfer biscuits to baking tray.
Place in oven and bake for 10-12 minutes, or until puffed up and golden brown. Remove from oven and let cool.
To make the whipped cream: pour heavy cream into a large bowl (or mixer) and beat on medium speed until soft peaks form. 3-4 minutes. Slowly add in sugar, lemon zest and orange liqueur.
Assemble your shortcakes by cutting cooled biscuits in half and spooning whipped cream on top of biscuit. Top with a spoonful of strawberries, then place the top half of biscuit on top and cover with more whipped cream and strawberries. Repeat with remaining biscuits and serve immediately.
Recipe adapted from The Brown-Eyed Baker
SKM: below-content placeholder
Whizzco for 12T