Cooking is a lot of fun but what happens when we are done? There's so much mess that needs to be cleaned up still. This is especially true when our cooking involves any sort of liquid. If you are transferring liquid from bowl to bowl, what are you going to do when you want to avoid the messes? TikTok user @andrew_gatt is here to help.
If you would like to avoid the annoyances that are associated with counter drippings, your solution is a simple one. All you need to do is take the bowl and flip it in a different direction. It's so easy, you will find yourself wondering why you did not do it before. Andrew provided the hack to the rest of the world while he was making eggs one day.
He cracked the eggs in a bowl and put them in a pan. Instead of handling the next step in the manner you would expect, he has an interesting method that is sure to change the way you cook going forward. By opting out of lifting the bowl straight up, Andrew was able to steer clear of the spills that plague so many of us.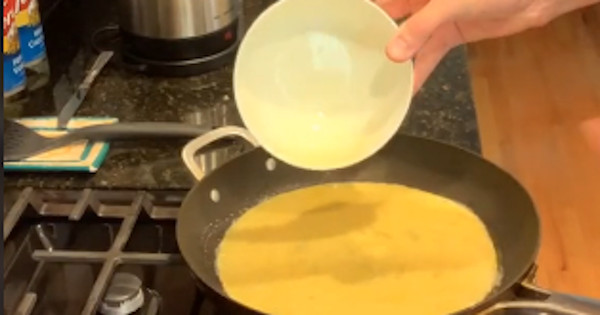 "How old were you when you learned this life hack?" reads the video caption.
Well, we were today years old and we hope that everyone has the good graces not to make fun of us too much about it.
Of course, there are plenty of people who are super grateful for the hack. There are others who are saying the obvious: just put this in the sink. We would rather avoid the sink. This lets us tend to the meal in a much cleaner and faster manner.
Regardless of where you stand on this one, you are sure to find something to enjoy in this clip. If you have any friends and loved ones who are struggling to avoid those filthy countertops, take a moment to send this their way!
SKM: below-content placeholder
Whizzco for 12T