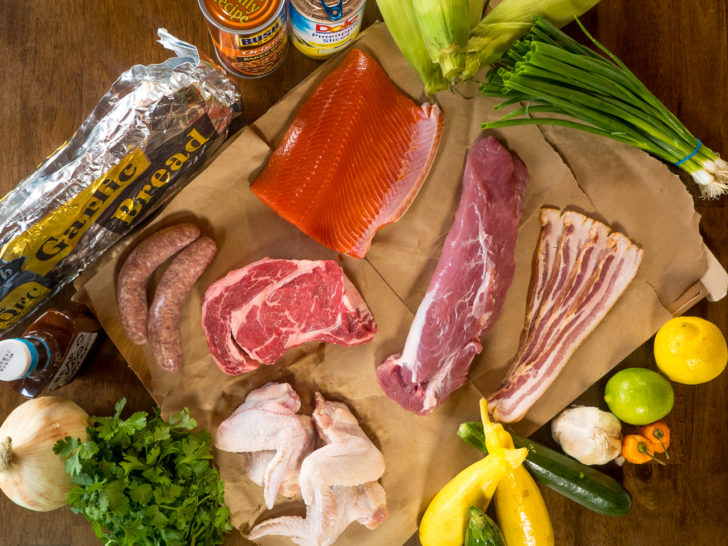 It's just a part of summer: having family and friends over to enjoy a little sun and good food is everything that we enjoy about the season. We love to fire up the grill and work some barbecue magic. Everyone has their favorites: burgers, brats, grilled veggies…there are so many options when it comes to cooking on the grill. We love our gas grill, but there's definitely a time for the classic charcoal. Not this time, though, as we've decided to put on the ultimate BBQ, and it calls for a gas grill along with a few other tools to pull off what will be a mega feast!
We gave ourselves a barbecue challenge: $60, 5 different kinds of meat, 1 grill. And all the fixin's had to be included as well. What we accomplished was nothing short of a grilling extravaganza! We had to invite more that just a few friends over to help us eat all that came off of our barbecue, and boy oh boy, was it delicious! Here's how we did it….
First, we thought about what everyone wants to see on a grill, and we fell back on the staples: steak, pork, chicken, fish, and sausages. The next step was how to prepare them; we knew barbecue sauce would be involved but wanted to pep up our game with new combinations of flavors. We didn't want to just slather everything with barbecue sauce, so we got a little creative and added ingredients like pineapple and habaneros – still familiar, but reimagined.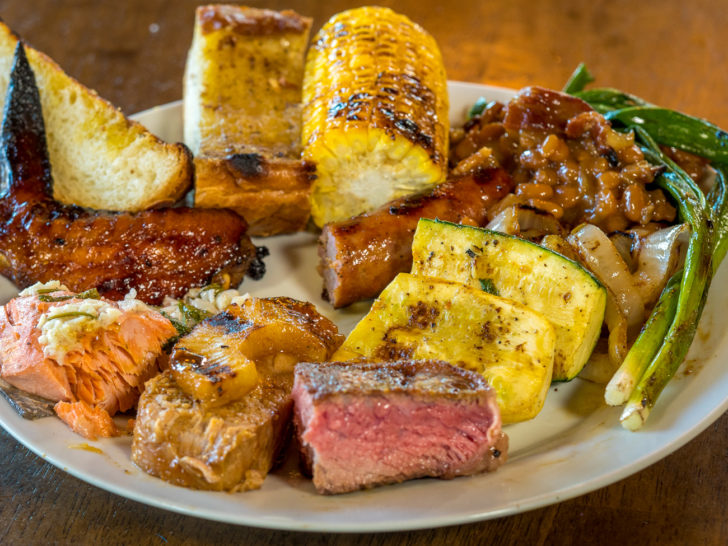 Once we came up with a meat and seasonings plan, then we had to figure out how to do all of this on one grill! We're always up for a grilling challenge, and with a little planning and preparation, we pulled off a barbecue feat that our friends still talk about. And we still had money left over to whip up some delicious side dishes to accompany these great grill meats. Here's our shopping list:
TOTAL COST: $60.00
MEAT ($36.75)
1 1lb thick cut ribeye steak ($12)
1 pork loin ($7)
1 1lb filet of salmon ($10)
2 brats ($2)
4 chicken wings ($3.75)
4 slices thick bacon ($2)
FRESH ($12.50)
2 habanero peppers ($0.25)
1 lemon ($1)
1 bunch green onion ($1)
2 lime ($1.50)
2 green/2 yellow zucchini ($3.25)
1 large onions ($1.50)
1 head garlic ($1)
4 ears of corn ($2)
1 bunch cilantro ($1)
CANNED/DRY ($7.25)
1 (15 oz) can pineapple slices in juice ($2)
1 (18 oz) bottle BBQ Sauce ($1.25)
1 (12oz) can beer ($2)
1 (28 oz) can baked beans ($2)
BAKERY ($3.50)
1 large loaf of garlic bread in bag ($3.50)
ASSUMED INGREDIENTS
Butter
Brown Sugar
Vinegar
Salt/Pepper
Chili Powder
Barbecue season means firing up the grill for a parade of great meals. Channel your inner grill master with these amazing recipes, and we've got a little bit of everything here to satisfy all tastes. Notice too, we had veggies like corn on the cob and grilled zucchini and threw in a loaf of garlic bread as well; adding these still kept us at the $60 goal. There's so much going on here! Be warned: this menu is sure to draw a crowd, so be prepared to feed a hungry bunch. Keep reading to see how we pulled off the Ultimate BBQ.
SKM: below-content placeholder
Whizzco for 12T