Parents are being warned by police in Pennsylvania to check the packaging on kids' Halloween sweets. It seems as if they found some THC edibles designed to look just like Nerds Rope.
The warning was posted on social media by the Johnstown Police Department. Officers had found 'Nerds Rope edibles containing 400mg of THC' while doing a search on a Stoney Creek Township property.
https://www.facebook.com/JohnstownPolice/posts/2518771761541690
The post read: "The Johnstown Police would like to draw extra attention to the Nerds Rope edibles containing 400mg of THC found during a search warrant in Stoney Creek Twp.
"During this Halloween, we urge parents to be ever vigilant in checking their children's candy before allowing them to consume those treats.
"Drug laced edibles are packaged like regular candy and may be hard to distinguish from the real candy."
The packaging on the edibles has warnings to 'keep out of reach of children and animals'. Other information on the packaging included the explanation that it had a '60 minute activation time' and that there was 400mg of THC per rope.
Even though the police gave some strong warnings, it is noteworthy that there is not evidence that people attempted to give these edibles to children or were planning on doing so.
CNN received a statement from the company that creates those Nerds sweets, Ferrara Candy Company. They said: "This product is counterfeit and in no way associated with Ferrara Candy Company. We want to reassure consumers that the Nerds products they find at major retailers across the country and at nerdscandy.com are safe to consume."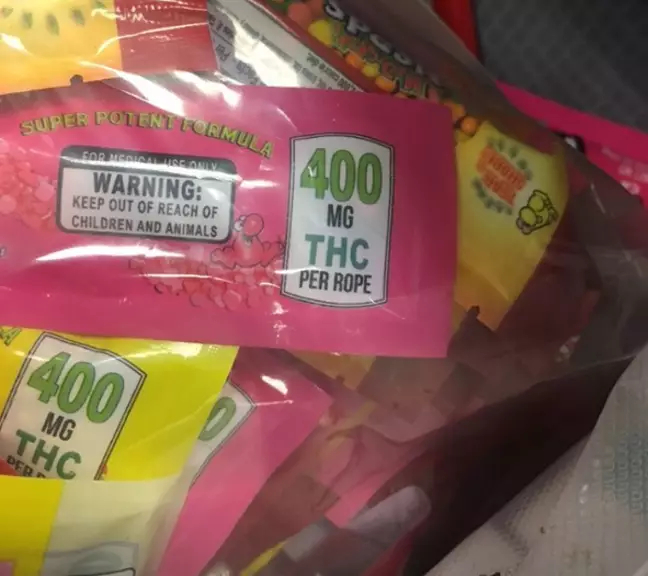 They also said they were 'working with the relevant authorities'.
Medical marijuana is legal in Pennsylvania for those who have certain conditions but it is not legal to use it for recreational purposes. That is why the 'Nerds Ropes' were confiscated by the police.
A public health alert was also issued in June of this year in West Virginia. It was also associated with THC 'candies'.
Mike Stewart, who is a USA attorney gave the following warning at that time: "It is packaged like candy. It looks like popular candy. It tastes like candy. But, instead, it is a very powerful and potent way to get high."
The food and drug administration offers advice to parents who are concerned about taking their children trick-or-treating. Those tips include checking the treats before the children have access to them and not letting the children eat anything that doesn't come in a commercial wrapper.
SKM: below-content placeholder
Whizzco for 12T