If you're a fan of yogurt and granola, there's a good chance you'll like muesli as well. Created by a Swiss physician in the early 1900s so that his patients could have a healthier and more nutritious diet, muesli is a combination of uncooked oats, grains, nuts and seeds, and is usually accompanied by some form of fresh or dried fruit and milk or yogurt. It's different from granola, in that it's not cooked and doesn't use maple syrup (or some form of sweetener) as a binder, but you can still toast your oats and grains if you wish. We love muesli because it's good for you and super filling — plus, you can customize it however you like!
This is a breakfast that comes together quickly, really only needing milk or yogurt to get it going, so it's not going to slow you down too much when you're running out the door. To make it even easier, you can also prep things the night before (even adding the milk or yogurt ahead of time, if you want more of a muesli/oatmeal hybrid) and store it in a mason jar in the fridge, so your morning routine is even easier. There's no right or wrong way to do this, so start your day off right and enjoy!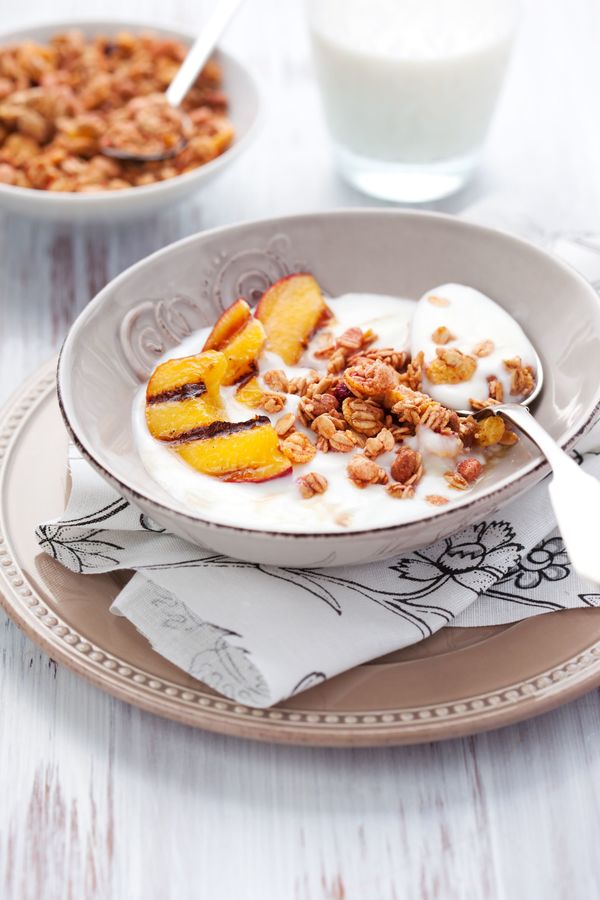 Homemade Muesli With Fresh Peaches
Serves 4
Ingredients
2 cups steel cut oats (gluten free, optional)
2 cups plain or vanilla Greek yogurt
1/4 cup currants or dried cranberries
1/4 cup slivered almonds
1/4 cup pumpkin seeds
1/4 cup sunflower seeds
2 ripe peaches, cut into wedges
honey, optional
non-stick spray or vegetable oil or coconut oil
Directions
Preheat oven to 350º F.
Combine oats, almonds, pumpkin and sunflower seeds in a large bowl and mix together well.

Note: if planning on storing for a prolonged period of time, transfer to an airtight container.

Spread oats, nuts and seeds out in a single layer on a baking tray and bake for 5-7 minutes, or until toasted and fragrant. Remove from oven and let cool.
Spray a griddle or pan with non-stick spray and place over medium-high heat.
Once hot, add peach wedges and cook for 2-3 minutes on each sides, or until nicely burned.
Fill serving bowls with 1/2 cup yogurt and transfer 1/4 of toasted oats top. Add 1/2-3/4 tablespoon currants to each bowl.
Add 3-4 grilled peaches and top with a drizzle of honey.
Serve immediately and enjoy!
Recipe adapted from Chatelaine
SKM: below-content placeholder