If you're looking for a dish that is perfect for an elegant brunch or cocktail party, but is easy to make and doesn't leave you stressed out, this galette is definitely for you! Figs are a tasty, sweet fruit that go marvelously with goat cheese and honey while still fresh, so it's only natural they would taste amazing, together in a galette!
The beauty of this recipe is that, while most other doughs require yeast, waiting, punching down, kneading, etc., this dough comes together in a matter of minutes and after popping it in the fridge to chill, is ready to go! If, for some reason, waiting for the dough to cool seems like a daunting task, the filling is an absolute breeze in comparison. Cream cheese adds a little extra creaminess to the goat cheese and the honey gives it some sweetness, without going overboard .. All in all, this galette is a delight for the senses and a great combination of fresh, punchy ingredients that come together to form this delicious medley.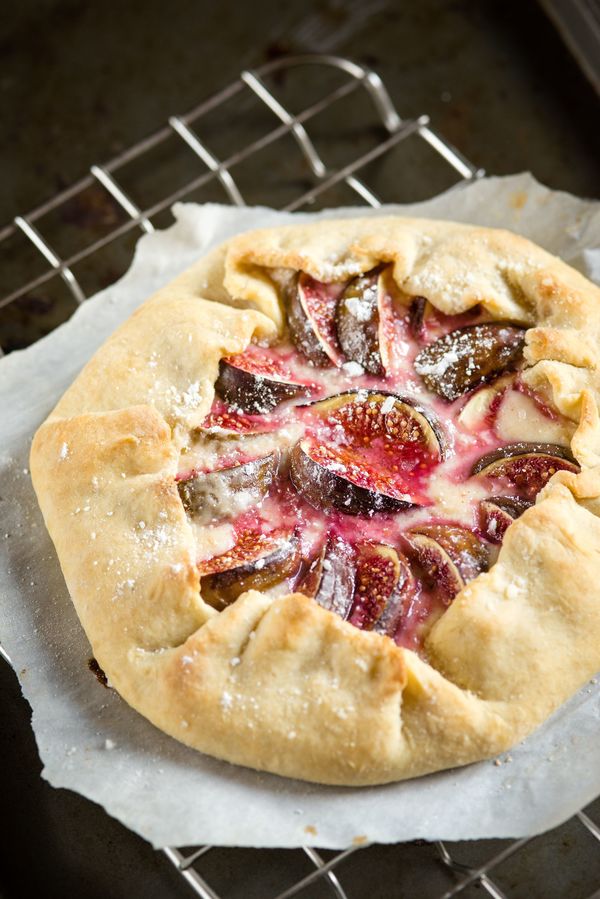 Fig & Cheese Galette
Yields 2 tarts
Ingredients
Crust:
2 1/2 cups all-purpose flour
1 cup unsalted butter, cold, cubed
1/4-1/2 cup ice water
1 teaspoon sugar
1/2 teaspoon salt
Filling:
10 fresh figs, cut into wedges
8 oz. goat cheese
2 oz. softened cream cheese
1/3 cup of honey
2 tablespoons heavy cream
1/2 teaspoon ground cinnamon
powdered sugar
Directions
Combine flour, salt and sugar in food processor and pulse to incorporate.
Add cubed, cold butter and pulse until mixture is coarse and crumbly.
With the food processor on, slowly drizzle in ice water until dough begins to come together. Don 't add too much water.

Note: It 's really important for all your ingredients to be cold so that the dough is buttery and flaky when it bakes.

Turn dough out and divide in half and roll into a ball. Place each ball on a sheet of plastic wrap and flatten halves into discs. Wrap tightly in plastic wrap and refrigerate for at least 1 hour. (If planning to use later, freeze dough at this point.)
Preheat oven to 400 F.
Take dough out of fridge and roll it out on parchment paper to about 9-10 inches.
In a bowl, use a fork to cream together goat cheese and cream cheese and mix in 1/4 cup honey.
Gently spread half of cheese mixture on rolled out dough, making sure to leave a 1-2-inch border around the edges.
Arrange fig wedges on top of cheese in a circular fashion, with all figs facing the same direction.
Fold and pleat the bare edges of dough up and onto the edge of the figs.
Lightly brush the dough with heavy cream and sprinkle with cinnamon, then transfer parchment paper to a rimmed baking sheet.
Bake for 35-40 minutes, or until crust is golden brown.
Remove from oven, drizzle with remaining honey and dust with powdered sugar. Serve warm.
Recipe adapted from Kitchen Confidante
SKM: below-content placeholder
Whizzco for 12T