If you've ever planned a wedding, then you'll know things can get a bit… stressful, to say the least. Especially when you're just a few weeks away from the big day! The bride-to-be, Cassandra Warren, was rushing around to get the last of her invites in the mail before her June wedding.
"I was trying to get the invitations addressed while at work with a little one who was sick," Cassandra told The Knot in an interview. Cassandra works as a nanny and had to cram some of the planning time around her job. " I was attempting to fill out all of [the invitations] and comfort the little girl as well. It just so happened that I used an old address for my aunt and uncle. It was on the same street so I didn't think to double check it was the correct address."
A week later, Cassandra got the mislabeled invitation back, with a bit of surprise inside!
A note was written on the outside of the return envelope, "I wish I knew you – this is going to be a blast. Congratulations – go have dinner on me. I've been married for 40 years – it gets better with age." There was a $20 bill inside the envelope.
The sweet gesture couldn't have come at a better time for Cassandra. She was having a rough day and by all accounts, she was in the middle of a meltdown when her fiancé, Jesse Jones, opened the letter.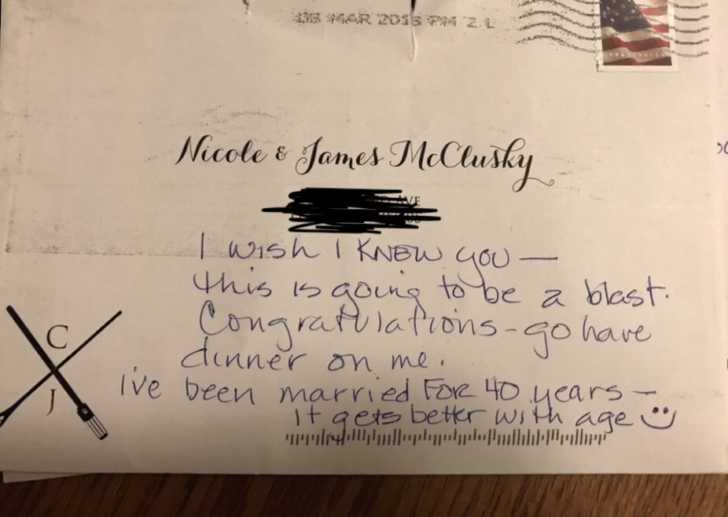 "My first reaction was that I was kinda annoyed my fiancé was more worried about who it came from and what it was instead of listening to me talk about work stuff that I needed him to help me with," Cassandra told The Knot. "Then when he opened it, I just felt so blessed that someone would take the time to send it back… It helped my stress level and put some things into perspective."
Cassandra and Jesse used the money from the kind stranger to go out with a friend who was set to be deployed overseas with the military.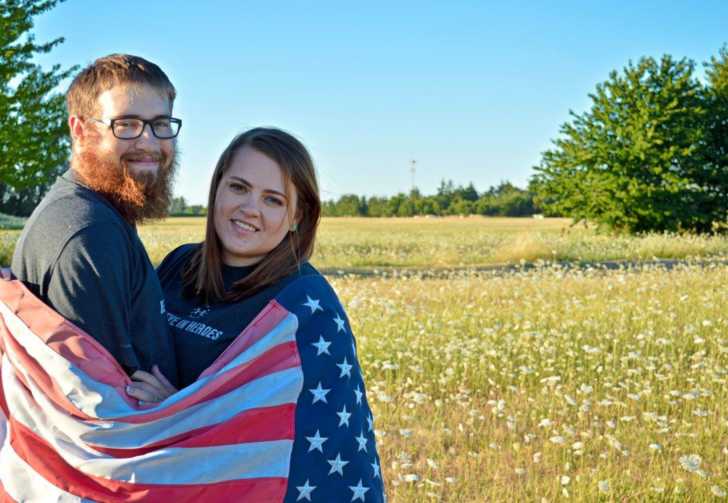 The couple have been dating for over two years, and they are both excited for the June 16th wedding. Their wedding is going to be so fun and unique, with different elements from each of their favorite "fandoms."
Some fun details include chocolate frogs from Harry Potter and a Star Wars garter that says, "May the force be with you." To top it off, the happy couple plans to walk back down the aisle to the "Death March" from Star Wars.
SKM: below-content placeholder
Whizzco for 12T