Corn salads are cute! It's 2022, and we love a corn salad.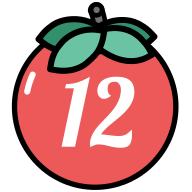 Dom Ruane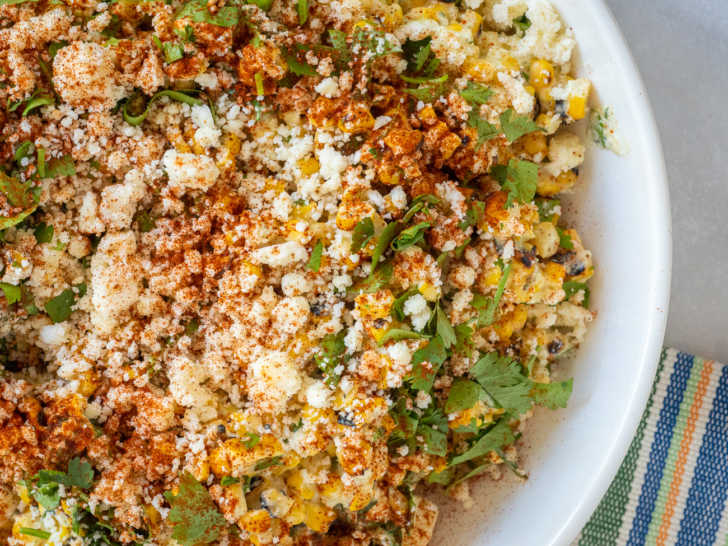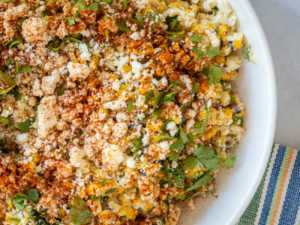 Where do I start with the amazing Esquites!? This beautiful combination is made up of rich creamy sauce tossed with roasty toasty sweet corn topped with salty cheese, fresh herbs and spicy chilis! Sure to be the next food that will blow your mind! I was at the Lincoln Park Zoo one day, meandering, and found a food vendor who was selling elote in a cup. I've had corn in a cup before and it was very underseasoned and very underwhelming, but as I watched him scoop this creamy corn into a cup and top it with this parmesan-looking cheese I knew this was gonna be special. It blew me away that something that was mainly corn…a basic plain ol' vegetable… could taste this GOOD! If you haven't gotten into this special corn club yet, this is a great recipe to get you there. A lil spice, a lil cream, a lil bit of heaven with every spoonful!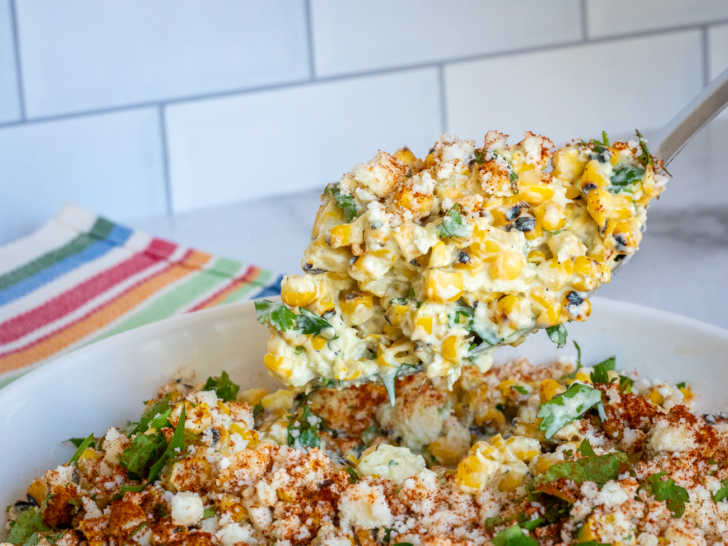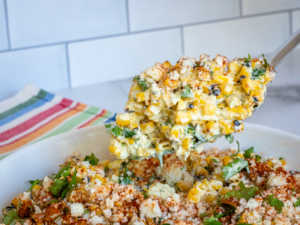 Corn salads are cute! It's 2022, and we love a corn salad. When the star of the dish is corn, you want to make double sure that you're getting the best version of corn. Sure you can definitely use frozen corn kernels to make the process a little faster, but you lose an element of juiciness that freshly cut corn brings to the table. We start with forming a char on the corn, that helps us cook the corn and develop a more complex flavor. When cutting corn off the cob, make it easy on yourself and buy this amazing handheld gadget that peels the corn kernels off the cob, can you believe it?! It's 2022! Wish I "Shark Tank'd" that idea!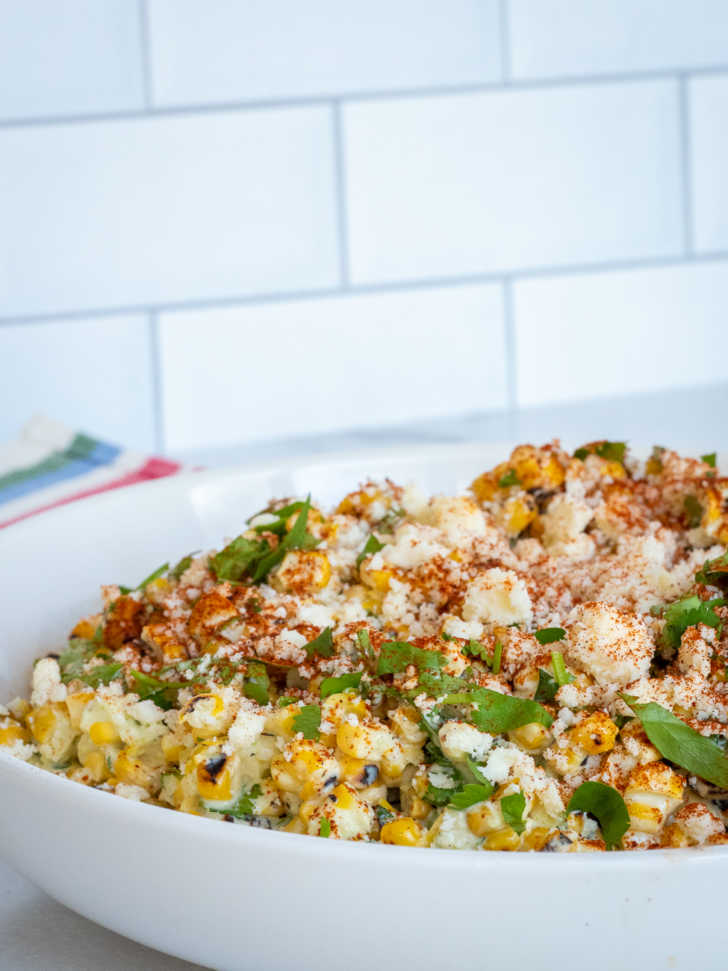 The final part of this recipe is making a crema. Mexican crema you can find at the local Cermak produce or any big-name supermarket. It's basically a creamier, less tangy sour cream. The crema is what holds most of the flavor, so you want to make sure it's bursting with flavor. Combining sour cream and mayo is the start to any good creamy-based dressing, I like to add some sweetness and spice with a roasted jalapeno pepper. I typically just peel the charred skin of the pepper and blend the whole pepper, seeds, and all, in my crema. Finish the sauce with some bright citrus and begin layering all those flavors with the beautiful crumbly cotija cheese and some freshly chopped cilantro.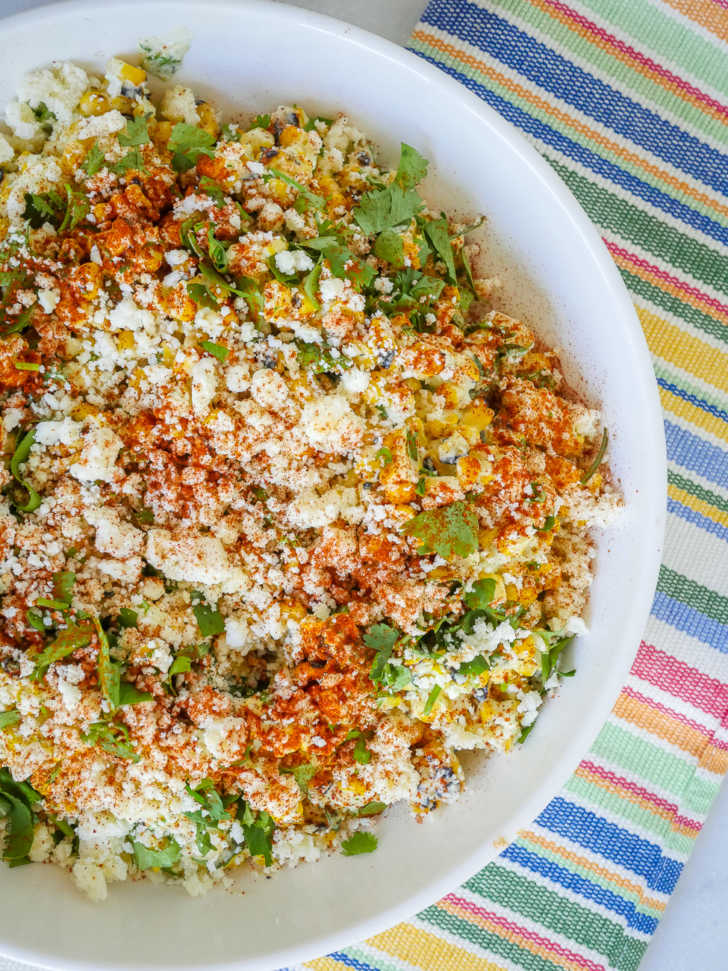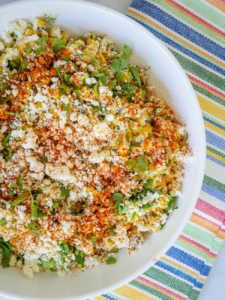 Street Corn Salad (Esquites)
Serves 8
10m prep time
15m cook time
Ingredients:
5 ears of corn, shucked
1 jalapeno
1/2 cup mayo
1/2 cup sour cream
1 lime, juiced
2 garlic cloves
5oz Cotija cheese. crumbled
1/2 cup cilantro, chopped
Chili powder, to garnish
Kosher salt and freshly cracked black pepper, to taste
Directions:
Preheat the oven to 350
Using a gas burning range or grill, char the corn directly over the heat alongside 1 jalapeno for 1 - 2 minutes per side.
Combine mayo, sour cream, lime juice and garlic in a blender or container to immersion blend.
Use a paper towel to remove charred skin from jalapeno, and blend with mayo
Cut corn off the cob using a knife or corn peeler, and toss in a bowl with mayo sauce, half cilantro, and half cotija cheese. Taste for seasoning.
Add corn to a baking dish and bake for 12 - 15 minutes until the corn heats back up.
Garnish with remaining cilantro, cotija, and sprinkle with chili powder.
Salud!
SKM: below-content placeholder
Whizzco for 12T