This warm sushi rice served with flaked salmon, pickled cucumbers and avocado, drizzled in a creamy sriracha mayo is an easy summertime treat.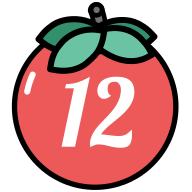 Dom Ruane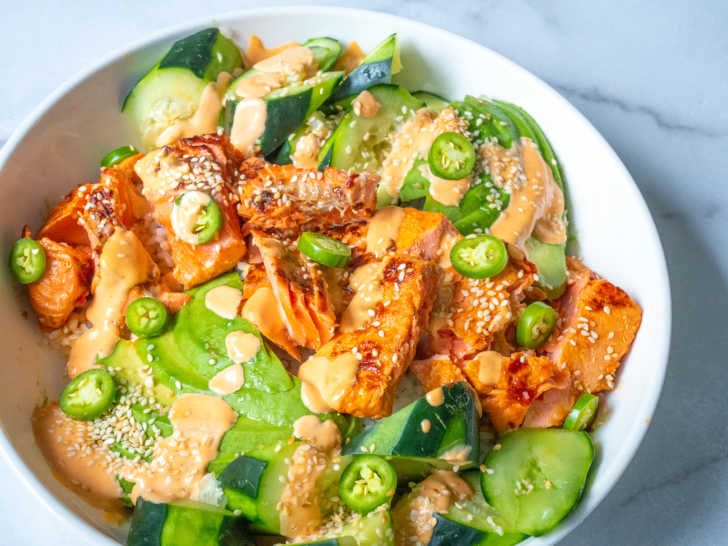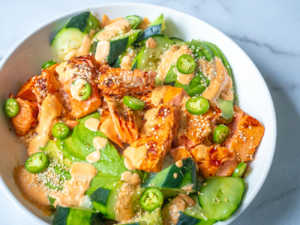 We are back with more sushi rice recipes! This time we got a nice balance of flakey fish and flavorful rice topped with crunchy vegetables, dressed in creamy sriracha mayo. Sushi rice is back. It's the easiest base to create a flavorful rounded dish.
What are sushi bowls? It's sushi rice in a bowl, but what makes it special is the toppings. Sushi can sometimes be really scary to newcomers. Raw fish! I wanted to create a version that's less raw and more sauce. The toppings are all about creamy, crunchy, sour vibes, especially the necessary creamy sauce to drizzle all over at the end. Who knew dinner could be this much fun!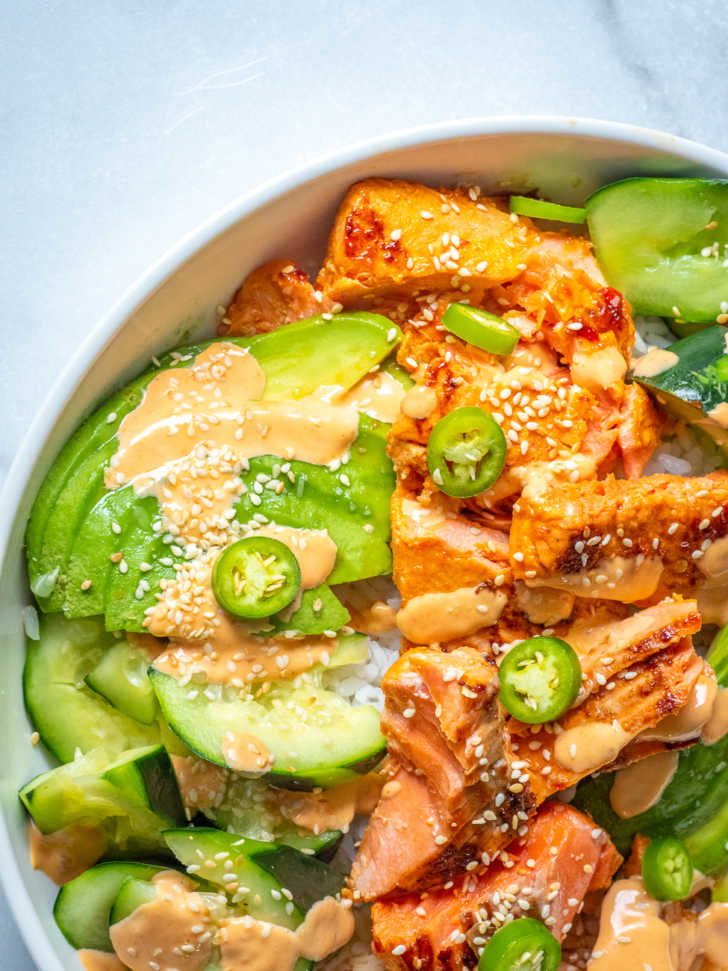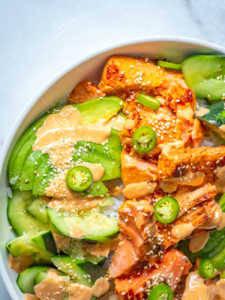 The salmon marinade is to DIE for! Using these simple condiments you can make this in minutes. Sambal Olek is a spicy chili paste you can find in your local Asian grocery store. It's not as spicy as it looks! This paste adds viscosity to the marinade and helps it stick better. Sriracha we all already have. It's definitely spicy and lends its spice to the sambal for a richer depth of flavor. Grated ginger comes in squeeze tubes now. It's so cute. The bottles last forever in your fridge and it adds a nice citrusy note to rubs and marinades. Condiments add lots of flavor to marinades. STOCK UP!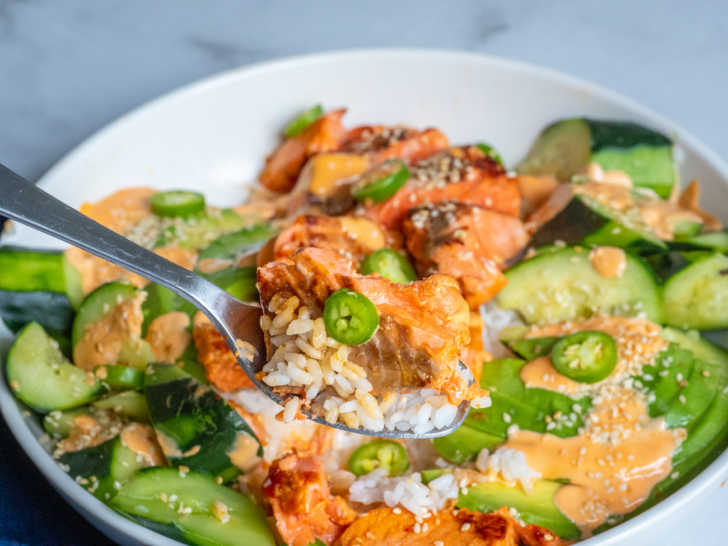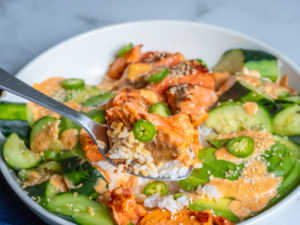 I love cooking resourcefully, so having leftovers is a must. Cooking extra today helps me not cook that much tomorrow. That's a win for me. Sushi rice is my recent obsession because it lends so perfectly to innovation with leftovers. I don't like wasting food. That's why my recipes involve affordable ingredients that you might already have on hand like this spicy salmon sushi bowl. What's on your utility belt of produce that's always on hand? Growing up mine was pasta. Such a cliché about Italians, but shockingly accurate.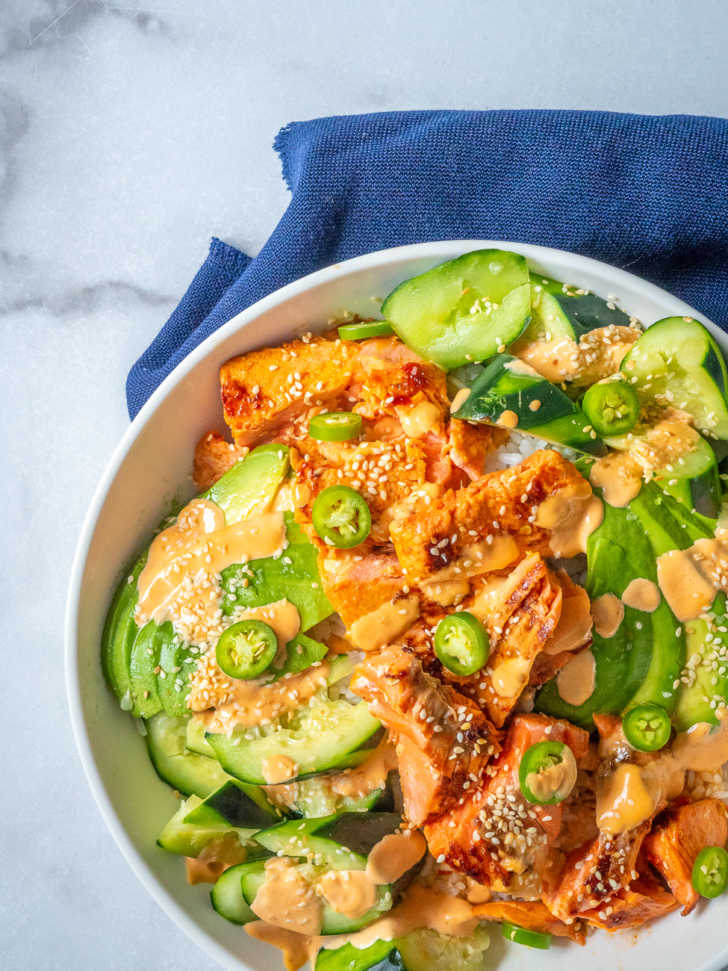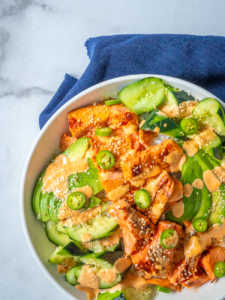 Spicy Salmon Sushi Bowl
Serves 2
10m prep time
25m cook time
For rice:
1 cup sushi rice, rinsed until clear
1 teaspoon salt
2 tablespoon rice vinegar
1.5 teaspoon sugar
For salmon:
2 6oz salmon filets, skin removed
1 garlic clove, minced
1/2 teaspoon minced ginger
1 tablespoon olive oil
2 tablespoons sambal olek
1 teaspoon brown sugar
1 teaspoon sriracha
Kosher salt and freshly cracked black pepper, to taste
For assembly:
1/2 cup mayo
2 tablespoons sriracha
1/2 avocado, sliced
1/2 cucumber, sliced thin
2 tablespoons white vinegar
Toasted sesame seeds, to garnish
Directions:
In a medium sauce pot, add rinsed rice & 1 cup of cold water, and bring up to a boil.
Stir once it boils, and reduce heat to low, cover with a towel, and secure the towel to the top of the pot's lid. Cook for 10 minutes on low, then remove from heat.
Mix rice seasoning in a bowl until sugar and salt dissolves, then pour over hot rice and stir to combine. Set aside.
Mix salmon sauce in a bowl until combined, garlic, ginger, olive oil, sambal, brown sugar, and sriracha.
Season each salmon filet with salt and pepper, and coat in sauce.
Heat a large sauté pan on medium high heat with oil, add in salmon filets, flipping every 2 - 3 minutes until cooked. Finish cooking with leftover marinade, remove from heat & set aside.
Mix sriracha and mayo in a small bowl until combined and pour in a squeeze bottle. Mix cucumbers with salt and white vinegar until coated.
Assemble a bowl with rice at the bottom, followed by cucumber along the side. Top with cooked salmon, in chunks with avocado slices. Drizzle with sriracha mayo and top with sesame seeds.
Itadakimasu!
Recipe adapted from Cafe Delites.
SKM: below-content placeholder
Whizzco for 12T