Easy to enjoy and even easier to make.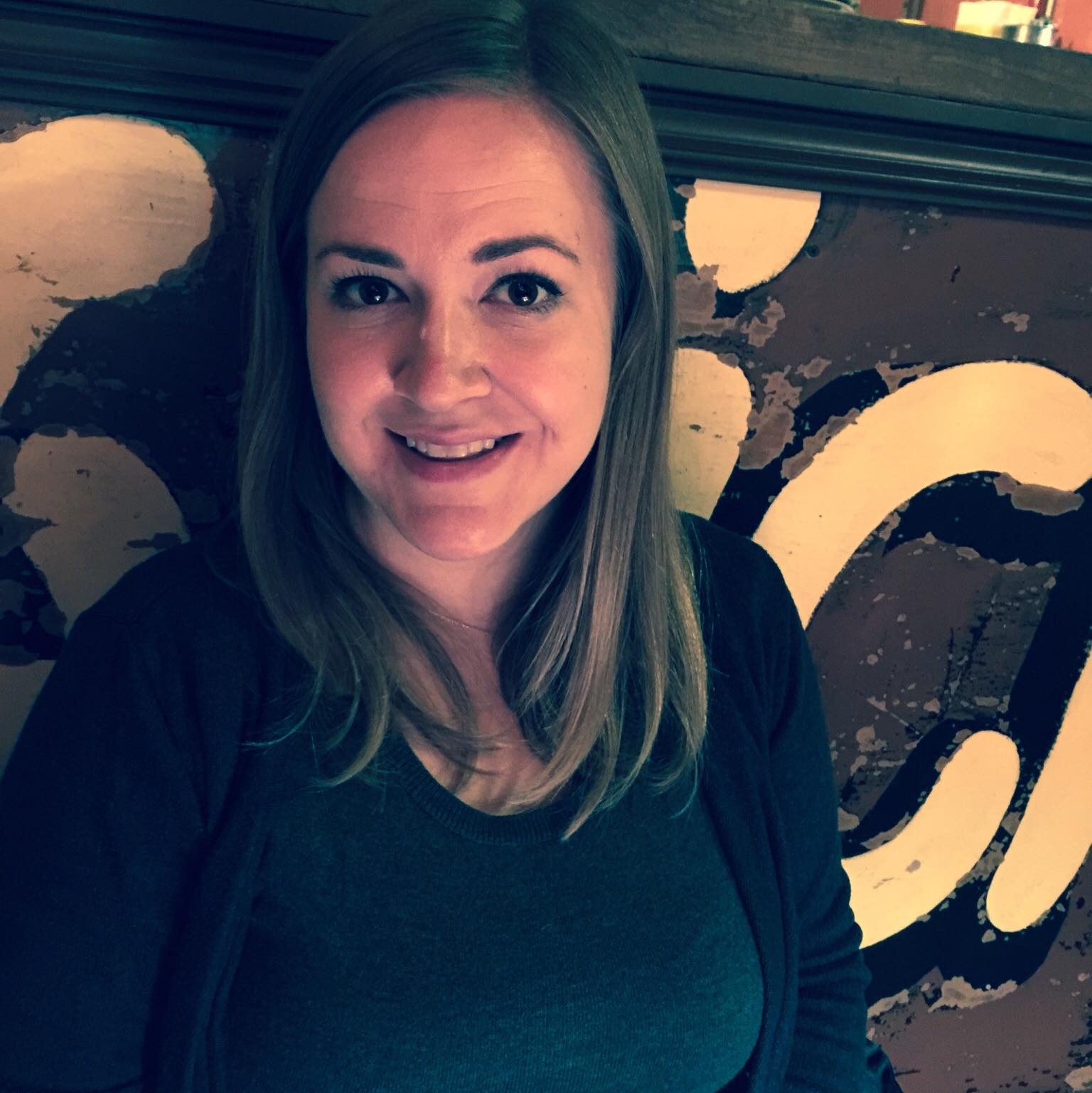 Kristy Norrell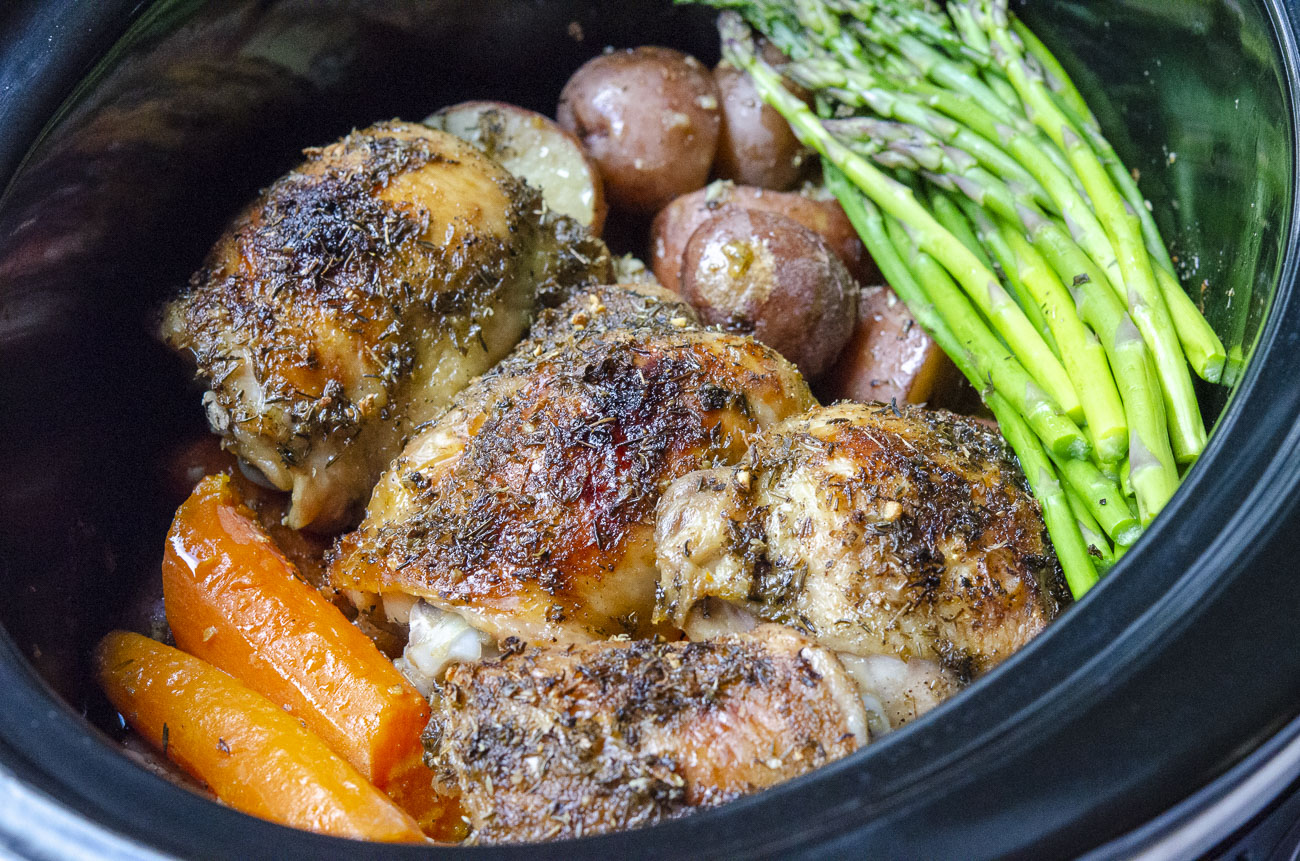 There are some slow cooker dinners that feel a little bit like a consultation prize. One ingredient (or all!) turns out a little mushy, the meat gets overcooked, the pasta is way past al dente… you know what I mean. But not this one. With this Slow Cooker Lemon Chicken and Veggies, every ingredient tastes like it was cooked right and not just like you dumped everything in together for the sake of convenience. It IS convenient though, and yet you get juicy chicken, fork-tender carrots and potatoes, and asparagus that hasn't lost its crisp. It's an entire dinner made easy, but it's also done incredibly well.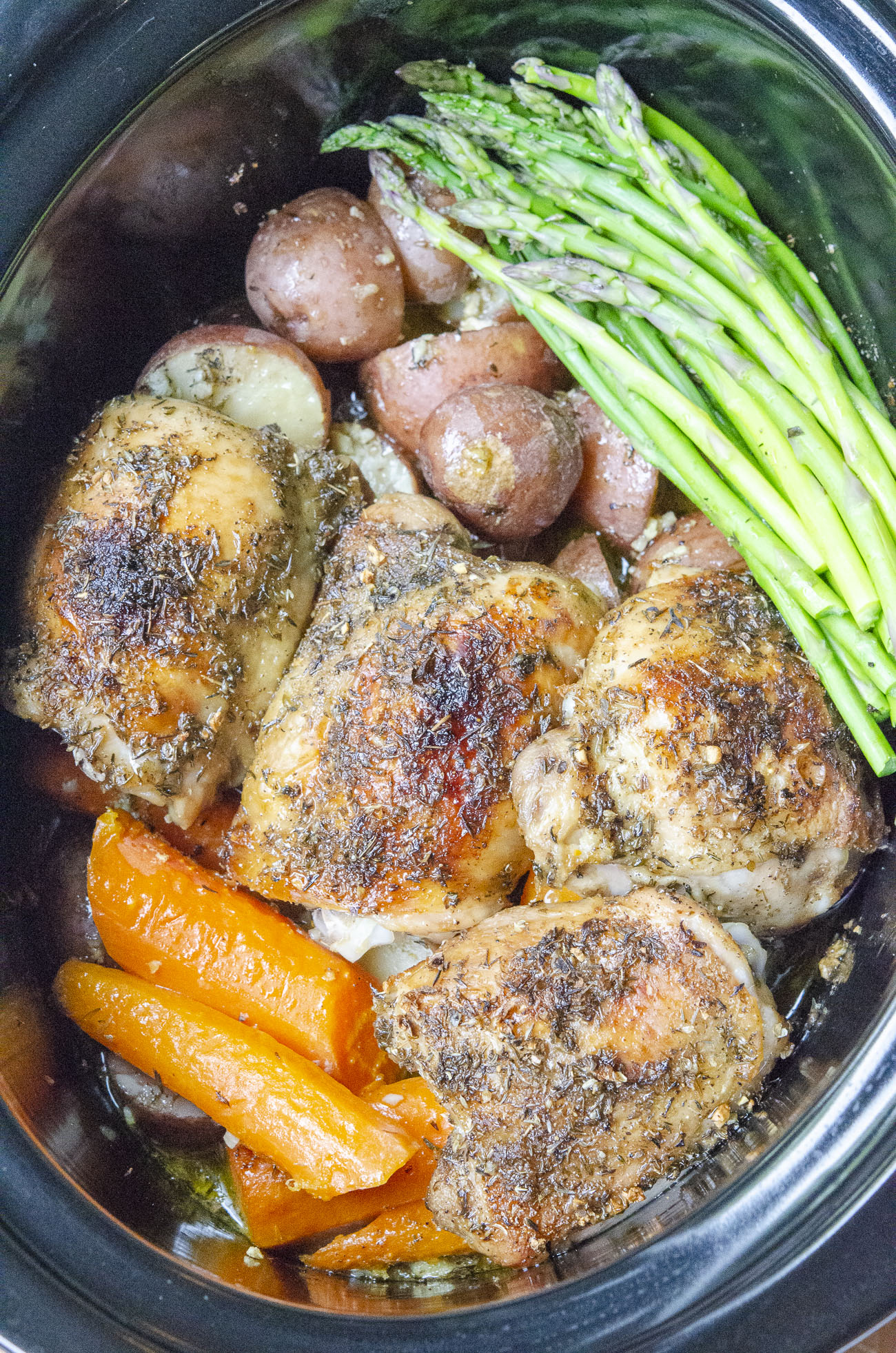 The key here is really that you're choosing your ingredients carefully so they stand up to the cooking time, but also that you're adding the quicker cooking one (looking at you, asparagus) in later on. It's pretty simple. Potatoes and carrots are great for slow cooker meals because they can take a long braising time without turning to mush and waxy red potatoes in particular really hold their shape. Just chop them up (not too small!) and arrange them in the bottom of the slow cooker.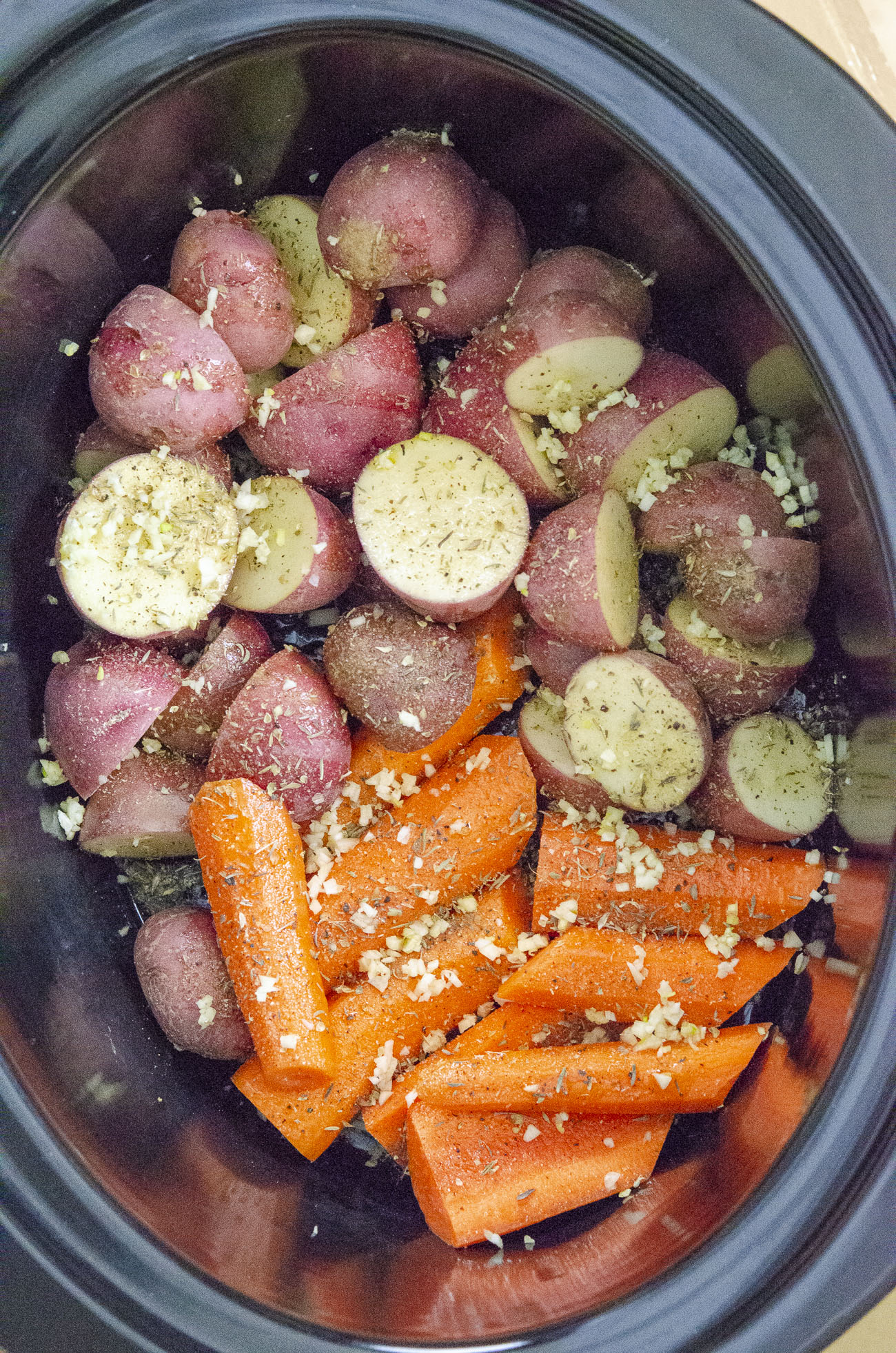 You'll toss the veggies in some olive oil and also sprinkle them with a nice little herb seasoning mix you stirred together — dried thyme, oregano, garlic powder, minced garlic — before you place the chicken on top and season them the same way. Now, the cut of chicken is key here… this isn't a place for boneless skinless breasts as they just don't stand up to this kind of cooking time without becoming shredded chicken, or worse, very dry chicken. Bone-in, skin-on chicken thighs are the way to go. They stay juicy and delicious and you can even get some crispy skin out of this in the end.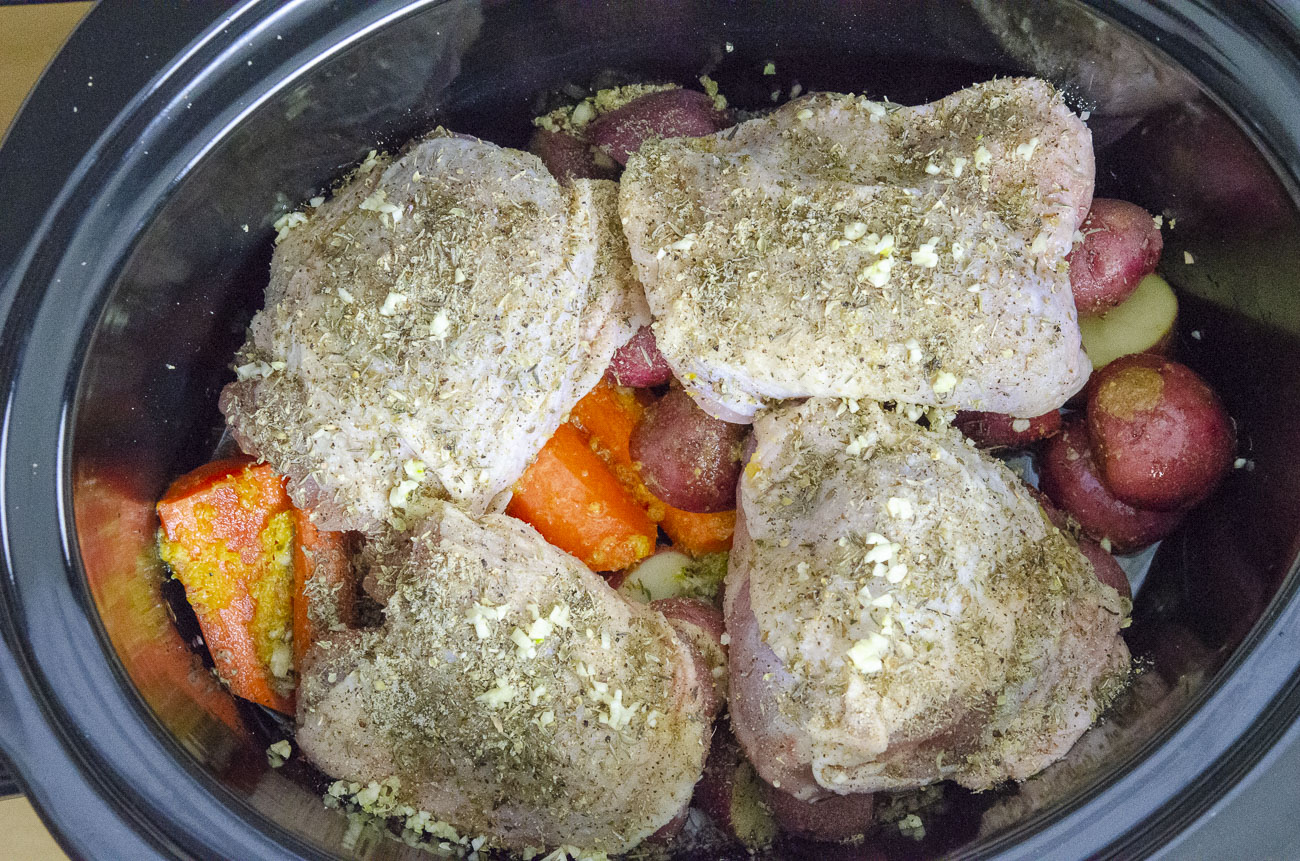 A little white wine, lemon juice, and lemon zest go into the slow cooker and everything cooks for a few hours until the chicken has cooked through and the veggies are tender. At that time, and only at that time, you'll go ahead and add your asparagus to the top, cover it back up, and let it cook until it's just fork-tender, which takes about twenty minutes. I promise with that short time the spears won't get mushy, but asparagus just isn't something you can leave languishing in a slow cooker all day, so they have to make their appearance at the very end.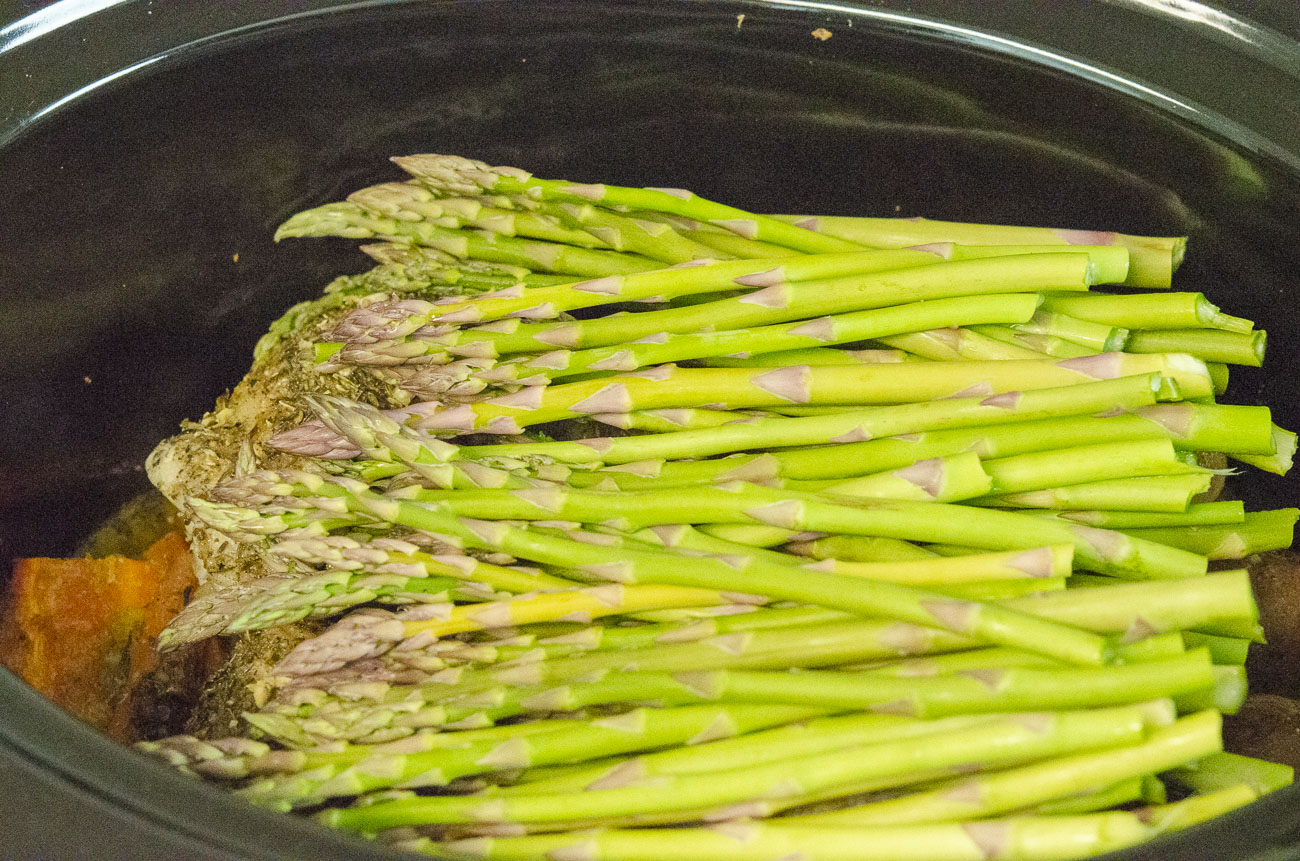 A thing I like to do but you don't absolutely have to do is crisp up that chicken skin. Just remove the chicken from the slow cooker and pop it on a baking sheet and set it under your oven broiler for a few minutes. It really makes a world of difference in both the appearance of this dish and the texture and flavor and it takes very little time. If you'd like, you could even work on that step while the asparagus is cooking.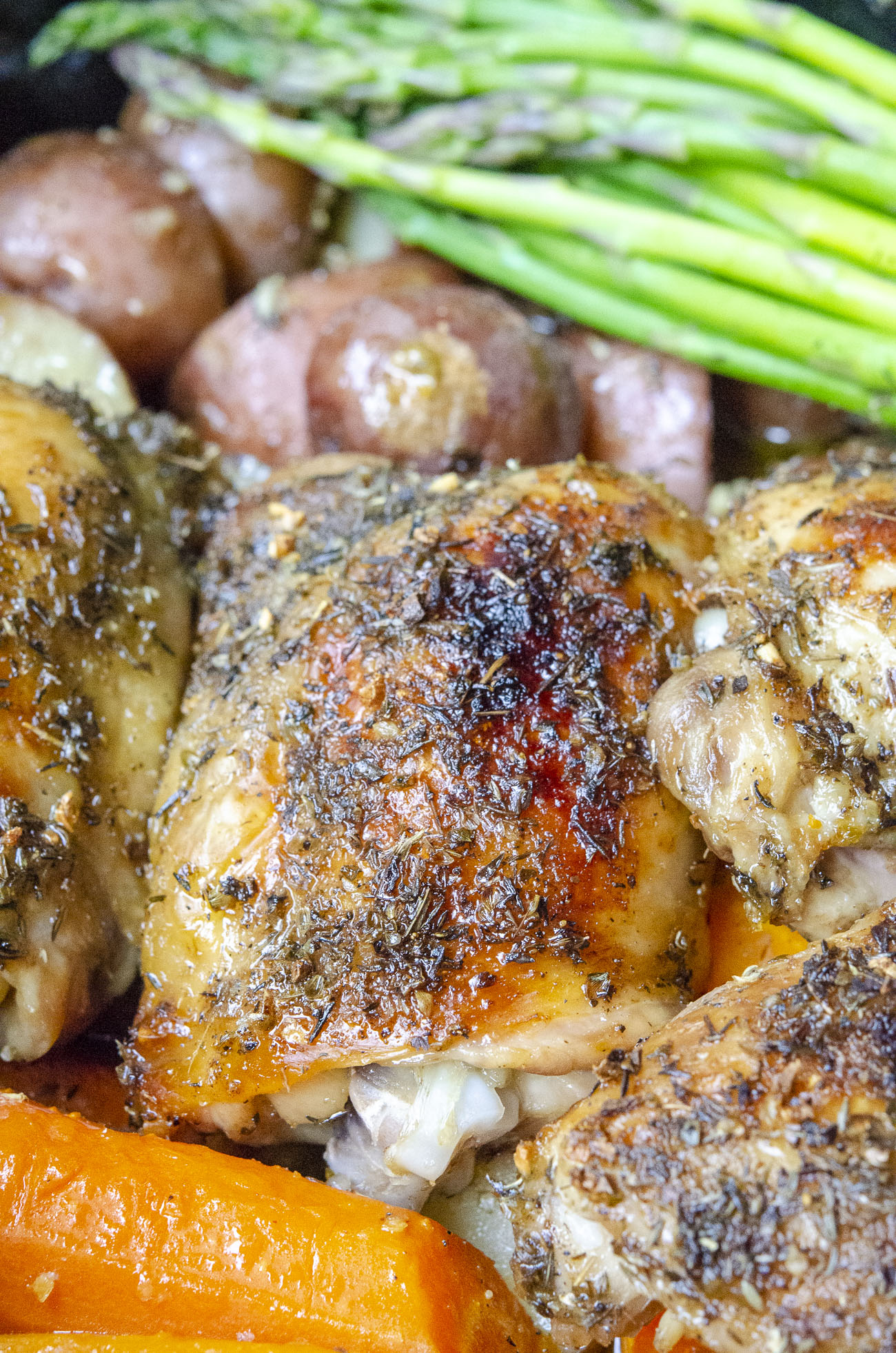 This is such an easy set-it-and-forget-it meal but it doesn't taste at all like it. It tastes more like something you spent plenty of hands-on time making, shuffling things in the oven and searing chicken on the stovetop, but really all you had to do was pile everything in your crockpot and push a button. (But we can just let that be our little secret.)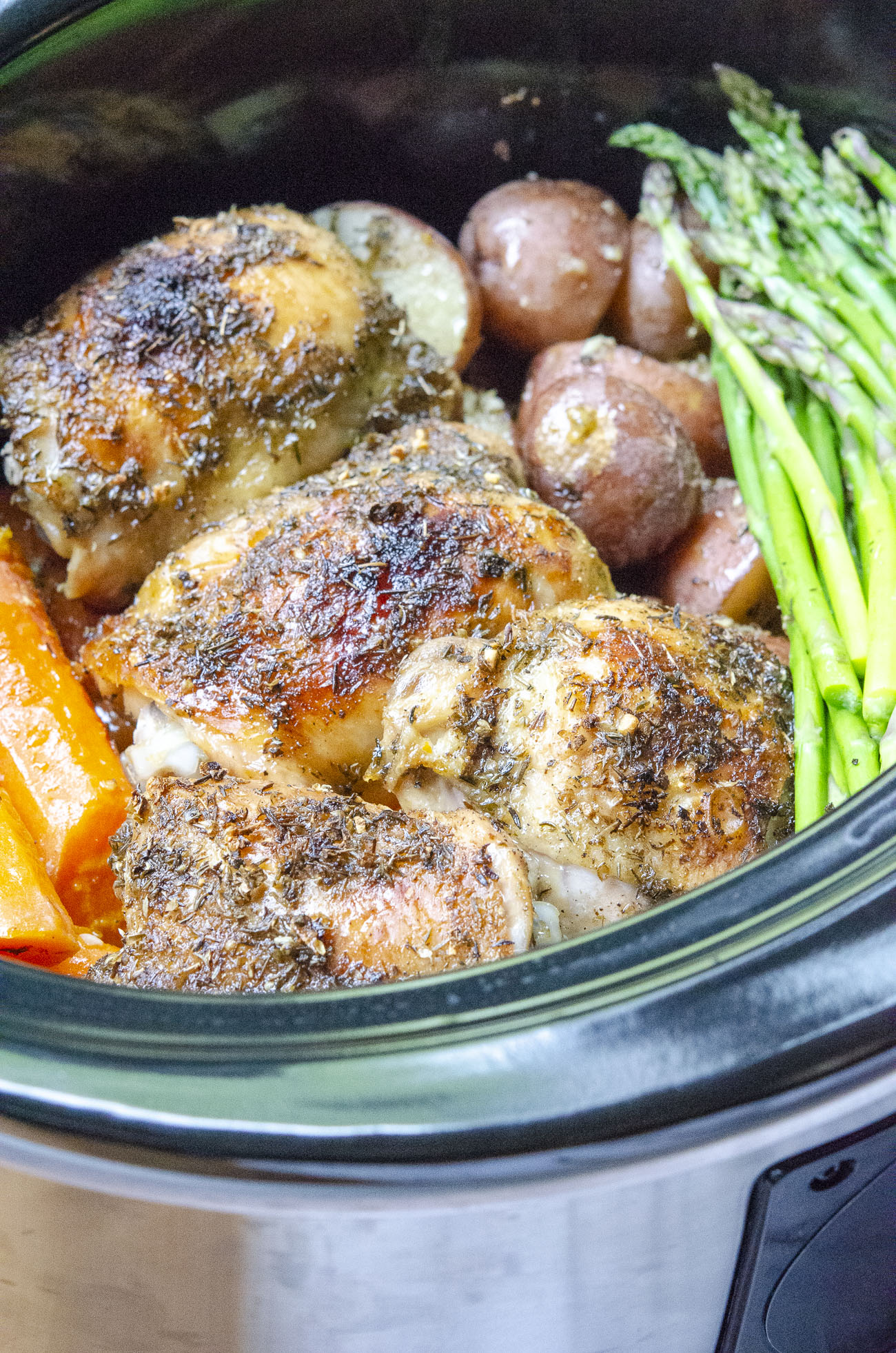 Slow Cooker Lemon Chicken and Veggies
Serves 4
10m prep time
3h cook time
Ingredients
2 teaspoons dried thyme
2 teaspoons dried oregano
1 teaspoon garlic powder
Olive oil, as needed
5 garlic cloves, minced
1 lb baby potatoes, halved
3 medium carrots, peeled and cut in half
4-6 bone-in, skin-on chicken thighs
1/2 cup white wine
Juice and zest of 2 small lemons (or 1 large)
1 lb asparagus, trimmed
Kosher salt and freshly ground pepper, to taste
Preparation
In a small bowl, mix together thyme, oregano, garlic powder, and about 1 teaspoon of salt and 1/2 teaspoon of pepper.
Add potatoes and carrots to the bottom of a slow cooker. Drizzle with olive oil and sprinkle with half of the seasoning mixture as well as half of the minced garlic.
Place chicken on top, drizzle with more oil, and sprinkle with remaining seasoning mixture and minced garlic.
Stir together lemon juice, lemon zest, and white wine and pour over chicken and vegetables.
Cover and cook on high for 2 1/2 hours, or low for 4 1/2 hours.
Add asparagus and cook until tender, about 20 minutes more on high.
If desired, broil chicken until skin is crispy.
Adjust seasoning as needed, serve, and enjoy!
SKM: below-content placeholder
Whizzco for 12T