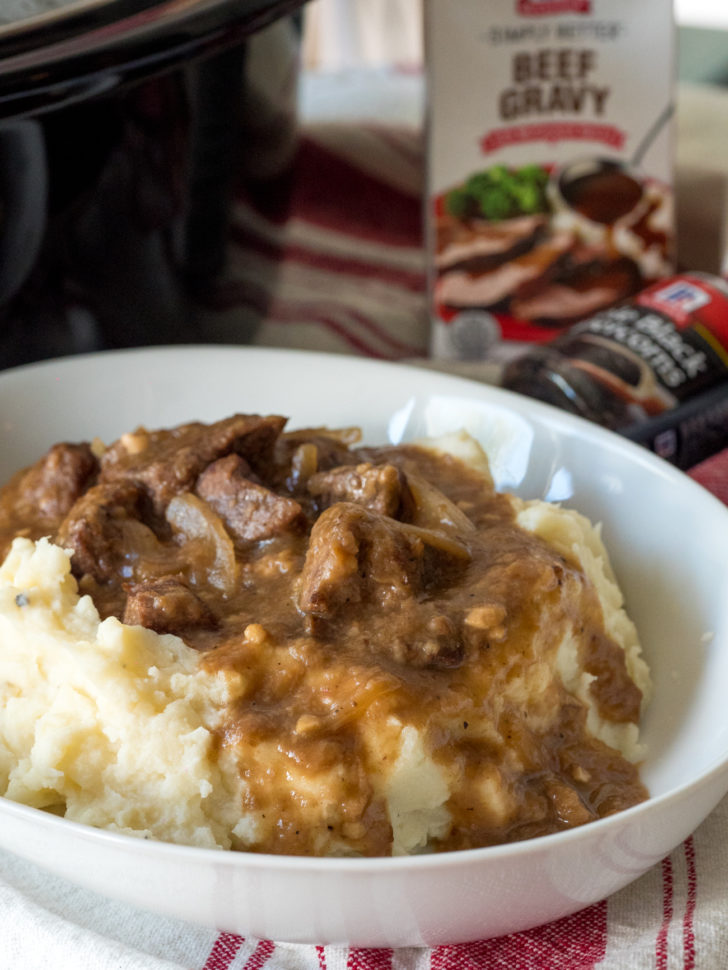 Beef tips and gravy. Such a classic, it's a recipe we have been coming back to time and again – there's something sentimental and comforting about it that we just can't get enough of. That being said, when we first started out making this dish we really went all out; made it entirely on the stove top, stirring and simmering for hours, with a homemade gravy to boot that required time and attention to make sure it turned out well. Now that dish did turn out deliciously, but it was just too time-consuming to make more than a couple times a year, which meant less time eating one of our favorite meals…which brings us to this ridiculously tasty – and easy! – slow cooker beef tips and gravy.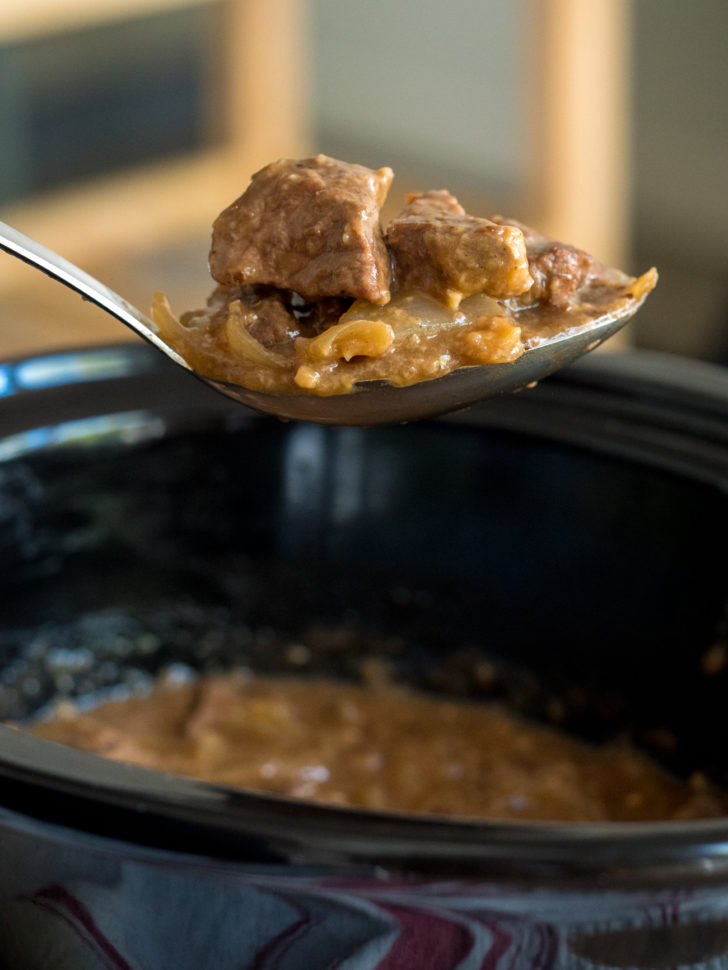 Thanks to our trusty slow cooker and a little shortcut we took while we were prepping our ingredients, this recipe is now a total breeze! So what's that little shortcut, you ask? Instead of making a gravy from scratch, which can sometimes be both a headache and a calorie-bomb, we used McCormick® Simply Better Beef Gravy to help flavor and thicken this dish. And we were so glad we did, because the flavor we ended up with was incredible. This new McCormick gravy has no added MSG, no artificial flavors and is made with McCormick herbs and spices.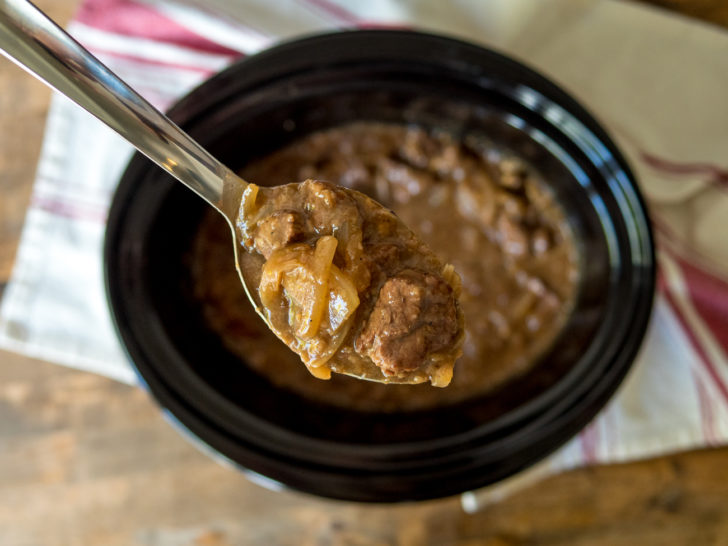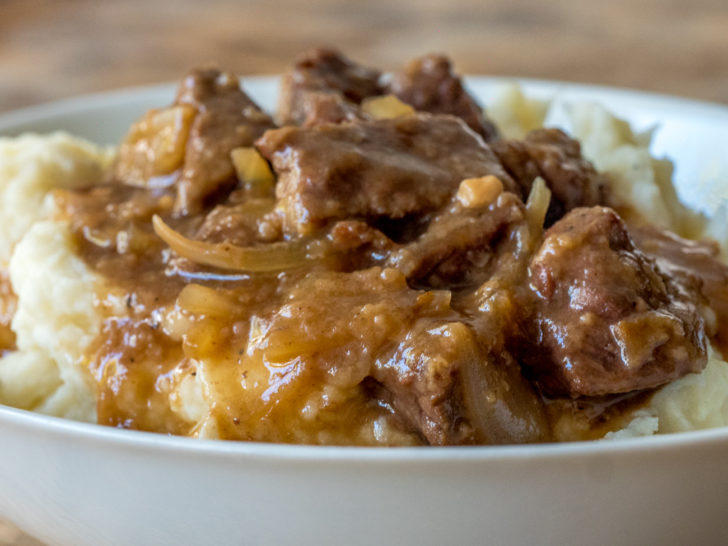 Searing the beef tips ahead of time helps lock in flavor (excellent), then adding in the Simply Better gravy with the beef broth means even more flavor (double excellent)! The residual flour we coated the beef in before searing it acts as a natural thickener, so once you let the slow cooker work its magic, you've got a thick, hearty gravy sauce that coats the beef perfectly and is juuust right for drizzling over mashed potatoes. It doesn't get better than this, folks – check it out!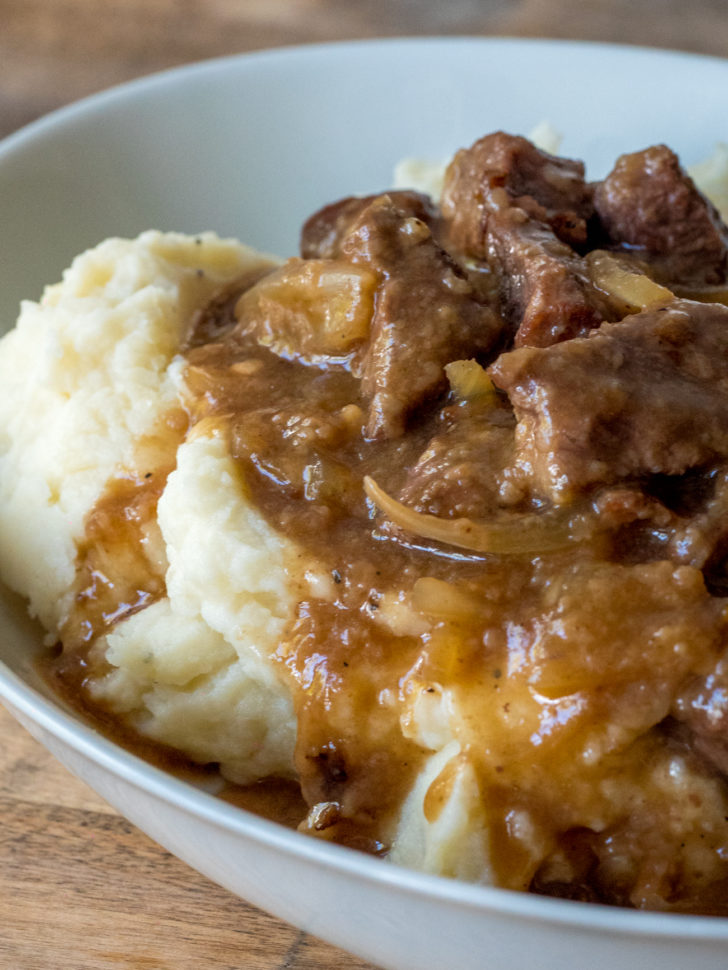 Looking to find McCormick Simply Better Beef Gravy? Find it at a store near you here.
Slow Cooker Beef Tips
Serves: 6
Time to Prepare: 30 minutes active; 4+ hours inactive
Ingredients
2 pounds sirloin beef tips or stew meat, cubed
1/2 cup all-purpose flour
1 teaspoon salt
4-5 cloves garlic, minced
1/2 teaspoon black pepper
2 tablespoons extra-virgin olive oil
1 yellow onion, finely chopped
1 (12 oz.) package McCormick Simply Better Beef Gravy
2 cups beef broth
2 tablespoons cornstarch
parsley, garnish
mashed potatoes, garnish
Directions
In a large, resealable plastic bag, shake together all-purpose flour, salt and black pepper until fully combined.
Add beef tips to bag and shake until all pieces are thoroughly coated.
Heat olive oil in a large pan or skillet over medium-high heat. Once hot, work in batches to sear beef tips until edges are browned.
Transfer beef tips to slow cooker and top with chopped onion and minced garlic.
In a large bowl, whisk together beef broth and beef gravy until combined, then pour over beef and onion in slow cooker.
Cover and cook on low for 5-7 hours, or on high for 3-4 hours.
Optional: take 1/2 cup slow cooker liquids and stir in 2 tablespoons cornstarch. Return mixture to slow cooker, cover and cook for another 20 minutes, or until more thickened.
Taste and adjust seasoning, if necessary.
Serve with mashed potatoes or egg noodles and enjoy.
Recipe adapted from Taste Of Home
SKM: below-content placeholder
Whizzco for 12T