Did we mention grilled cheese croutons?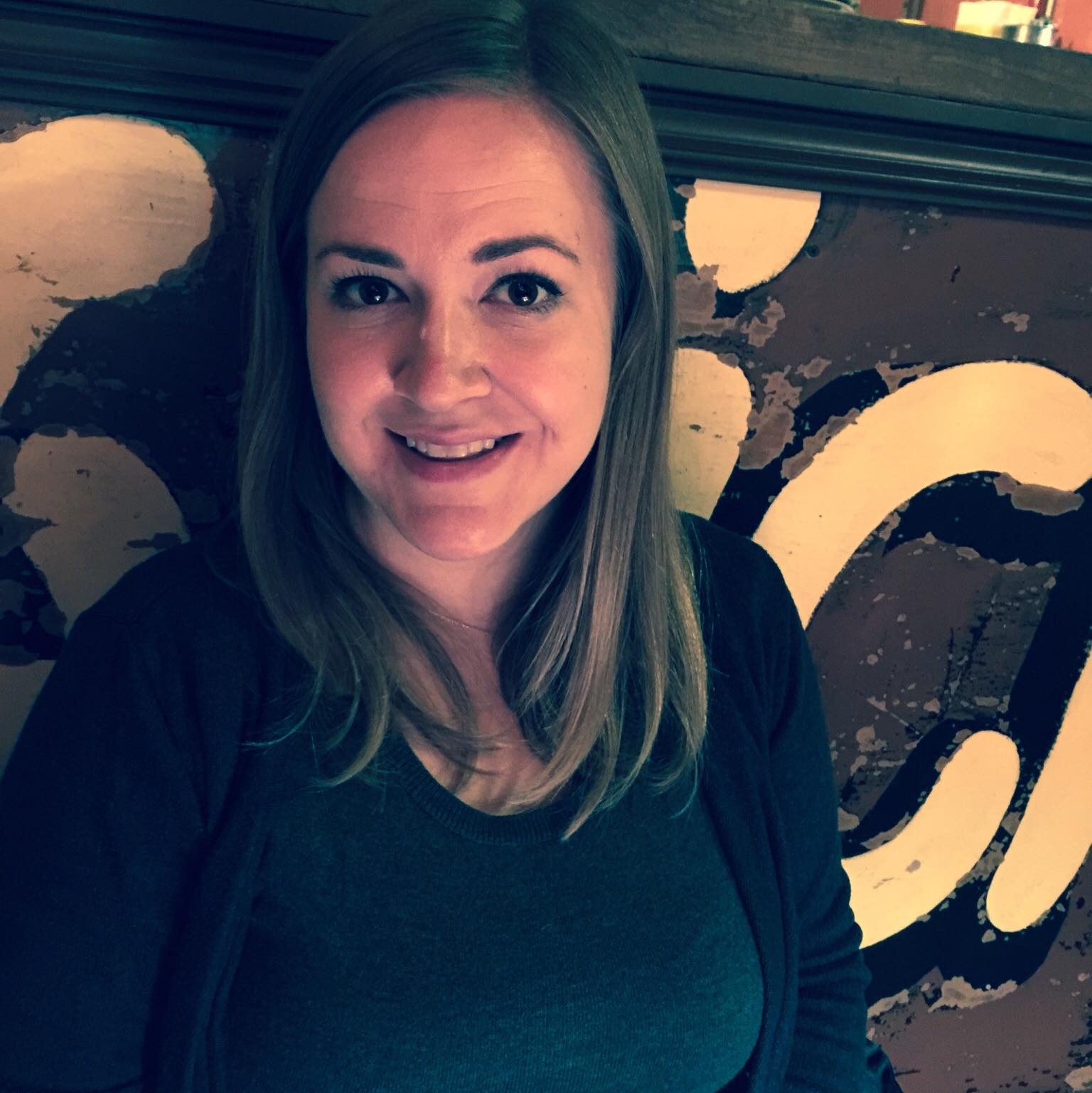 Kristy Norrell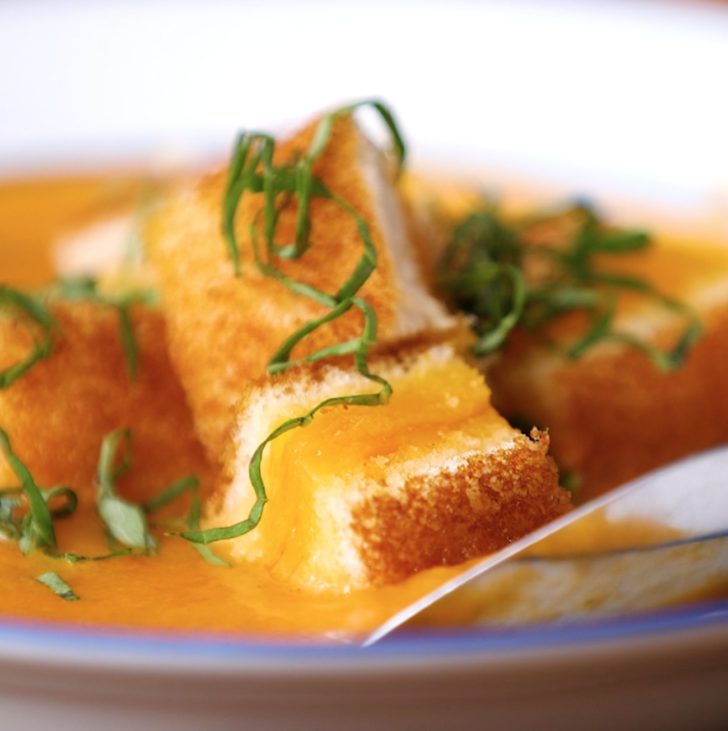 The perfect silky tomato soup is pretty darn comforting, and when you add a grilled cheese sandwich to dip into it, it takes that comfort level up even higher. But we dared to dream of a soup that's even more comforting… a soup that's the ultimate in comfort, even. And when you dare to dream, great things happen.
We give you, the Ultimate Comfort Soup.
In this soup, fresh tomatoes are transformed into a silky and creamy soup that's topped with crunchy grilled cheese croutons. Every bite is filled with a crisp bite of salty, cheesy goodness surrounded by the slightly sweet and delicate tomato soup.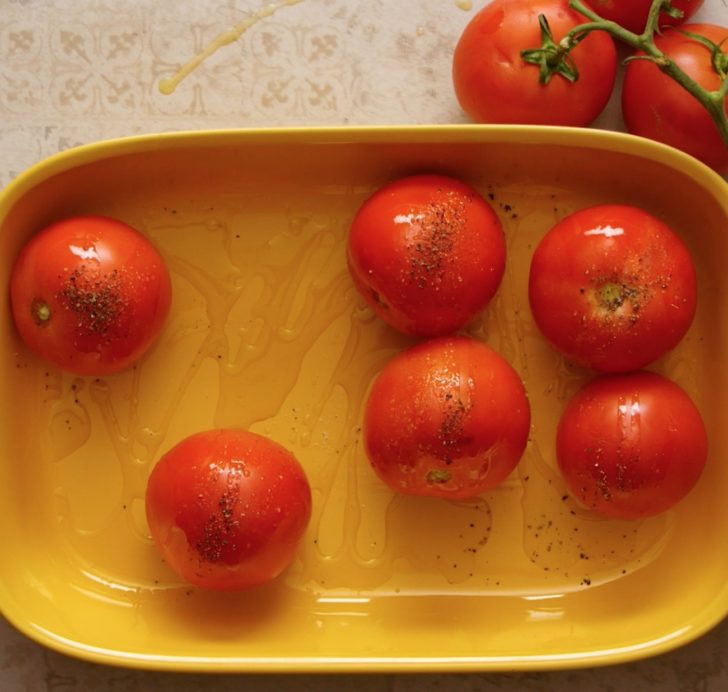 This soup begins with roasting some whole fresh tomatoes in the oven. This deepens their flavor and caramelizes the sweetness a bit. It adds an amazing nuanced flavor to the soup, so don't skip this step! Those roasted red orbs then make their way into the pot with some onions and garlic where they simmer away before they're blended with basil and fresh cream.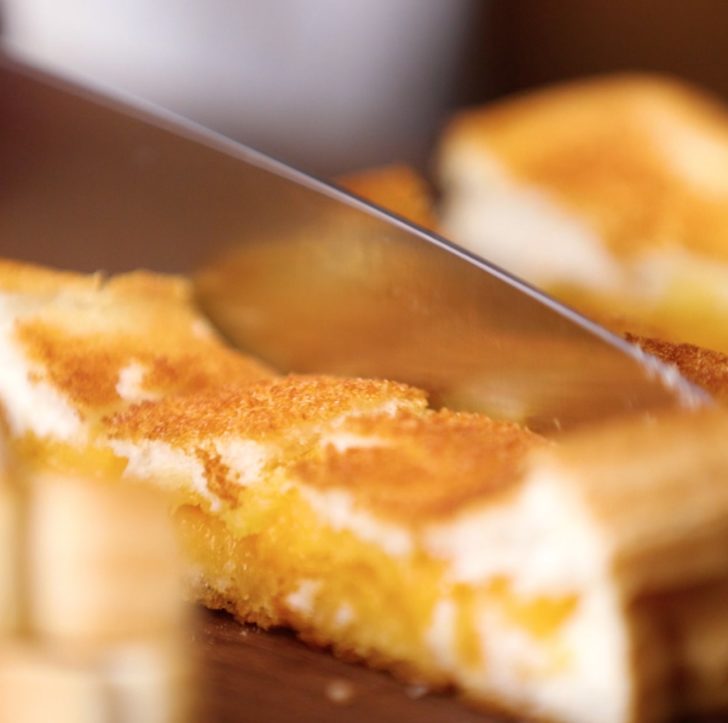 As the pot bubbles away, you broil some bread, which gives it an even golden-brown crisp. You then flip the bread over, add some cheese and let it melt to your satisfaction before joining the pieces in sandwich-form and slicing them into delectable little croutons.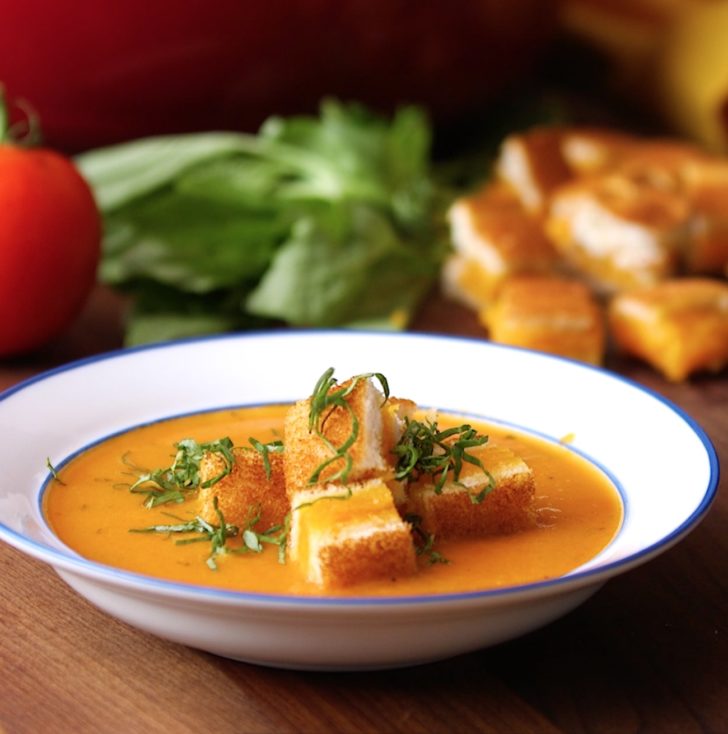 Those crunchy, cheesy croutons swim in a sea of creamy tomato liquid where they absorb some of the flavor below but maintain their crunch. Every spoonful is warm and satisfying. And if that's not comfort, we don't know what is.
Ultimate Comfort Soup
Ingredients
For the soup:
2 lb vine-ripened tomatoes
2 medium onions, thinly sliced
4 cups water
8-10 fresh basil leaves, plus more to garnish, if desired
1/4 cup heavy cream
2 cubes vegetable bouillon
1 clove garlic, crushed
olive oil, as needed
kosher salt and freshly ground pepper, to taste
For grilled cheese croutons:
8 slices bread of your choice
1 cup sharp cheddar cheese, grated
2 1/2 tablespoons olive oil
Preparation
Preheat oven to 400°F.
Add tomatoes to a baking dish and drizzle with the olive oil. Season with salt and pepper and roast in oven for 15 minutes.
Meanwhile, coat the bottom of a large stockpot with oil, and set over low heat. Add onions and garlic and cook for 10 minutes, stirring occasionally. Add roasted tomatoes to the pot and turn heat to high. Add water and bouillon cubes and bring to a boil. Reduce heat to low and let simmer 30 minutes.
Add basil leaves and remove from heat. Let cool slightly, and purée soup until smooth using a handheld immersion blender. Add cream, and return to simmer over low heat for 10 more minutes. If soup is too thin, simmer 10 more minutes. Season to taste and ladle into bowls, topped with 2-4 of the croutons.
To make the croutons:
Preheat broiler and arrange bread slices on a baking sheet. Lightly brush one side of bread with olive oil. Broil until golden brown, 2-3 minutes.
Remove from oven, flip the bread, and top each slice with a sprinkle of cheese. Broil until cheese is melted and bubbling. When ready to serve, press pieces together into a sandwich and slice into 6-8 smaller croutons.
Enjoy!
SKM: below-content placeholder
Whizzco for 12T