These bacon snacks are over the top delicious!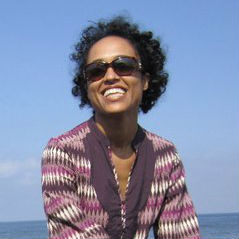 Sarah Cool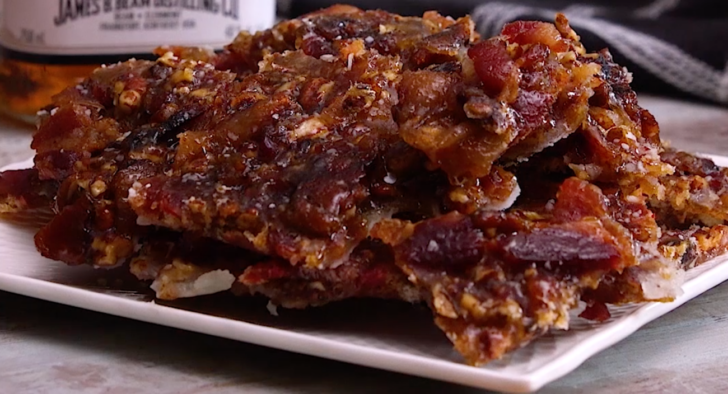 If you're looking for some extra special snacks to serve at your next party, then you needn't go further than bacon. Candied bacon is a real treat, and you'll soon find out why. It's mouthwateringly delicious, a combination of sweet and salty that will impress your friends and family. What makes these treats so good? Of course, it's the bacon, but not just the bacon. A little brown sugar here and a little bourbon there, yeowza…we've got some serious snacking to do. We've whipped up a little bit of magic here with this bacon bourbon brittle and it's too good not to share.
Yes, we've made a sweet and savory bacon brittle! It's so, so good. It's candy-like because we've essentially candied the bacon and tossed it in a sweet syrupy coating like you would with any brittle recipe. We've added some toasted pecans here too, because, well – why not? The end result is a fascinating fusion of sweet and savory. It's a surprisingly delicious treat that the bacon lovers in your life will positively squeal over.
It's sweet, sticky, and salty and that's just what we're looking for in a bourbon bacon brittle. The combination of flavors and textures are so harmonious that you'll almostforget you're eating candied bacon. This recipe is one of those creative flavor combinations that just work well together.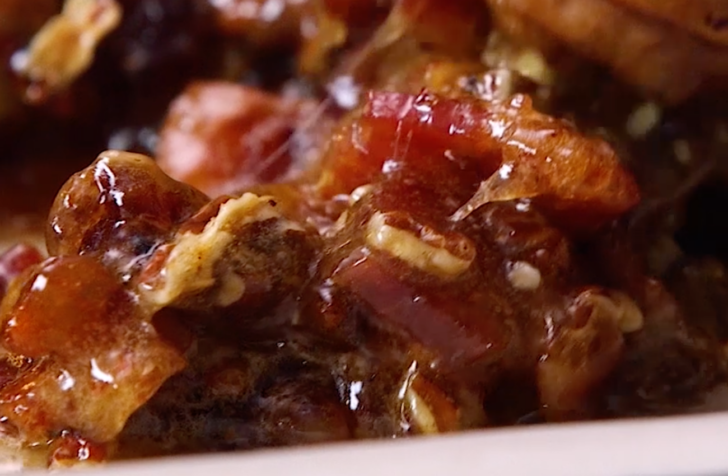 Bacon as candy is one of those really special treats because it's just so unexpected. Who would ever think of something seemingly so wild and yet so utterly delicious?! It exceeded our expectations the first time we made it, and it was a smashing success at our last party. If you're looking to make something a little bit different for your next social gathering, you can't get more outrageous than a bourbon bacon brittle.
Bourbon Bacon Brittle
Serves 10-12
1 hour 10 minutes
Ingredients
12 slices thick-cut bacon
4 tablespoons bourbon, divided
4 tablespoons brown sugar
½ cup light corn syrup
½ cup water
2 tablespoons unsalted butter
2 teaspoons vanilla extract
1 teaspoon baking soda
¾ cup chopped pecans
2 teaspoon coarse sea salt
Preparation
Preheat oven to 400°F. Line a baking sheet with aluminum foil and lightly coat with non-stick cooking spray.
Lay strips of bacon across baking sheet. Brush with bacon with bourbon and brown sugar on both sides, 1 tablespoon bourbon with 2 tablespoons brown sugar on one side, repeat on the other side.
Bake for 12-15 minutes or until bacon is crisped. Transfer bacon to a cooking rack. Once cooked, chop into rough pieces, about 1-inch.
Lightly toast pecan pieces in a pan until just aromatic. Cool and then rough chop. Set aside.
Line a new baking sheet with parchment paper. Set aside.
In a medium-sized saucepan, combine granulated sugar, light cornstarch, and water. Heat over medium heat until sugar dissolves and begins to boil. Place a candy thermometer into the saucepan and continue cooking until thermometer reaches 290°F. Remove saucepan from heat.
Quickly whisk in butter, vanilla, and baking soda. Stir in chopped bacon pieces and chopped pecans, working quickly.
Transfer mixture to the prepared baking sheet. Spread evenly and thinly across parchment paper. Sprinkle 2 teaspoons of coarse sea salt over top.
Set baking sheet aside to finish cooling, 30 minutes. Once completely cooled, cut into pieces with a sharp knife. Enjoy!
SKM: below-content placeholder
Whizzco for 12T