Chewy, caramelly, peanut butter, pretzel bar. Oh yes! That salty, nougaty, flavor.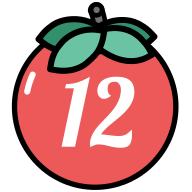 Dom Ruane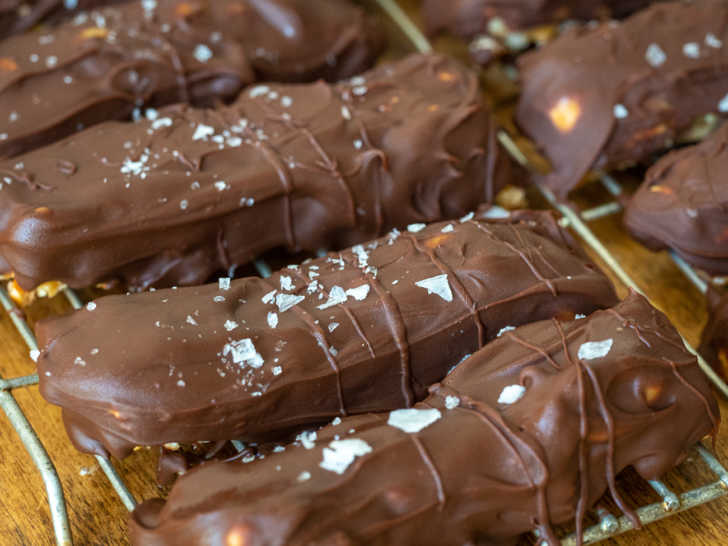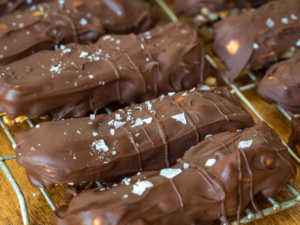 Candy makes everyone happy. When I was 13 years old, I made a beautifully layered candy for a local baking contest and even won a commemorative chef hat. I had never made something like this before then. As a young chef, I was in my curiosity phase eating things and saying "Oh, I could make that"! I was just coming down from an aggressive homemade Reese's cup phase and I was ready to push myself. Combining the peanut-y nougaty chew of Snickers and the crispy crunch of a Take-five, I knew this combination couldn't be bad. I wasn't wrong!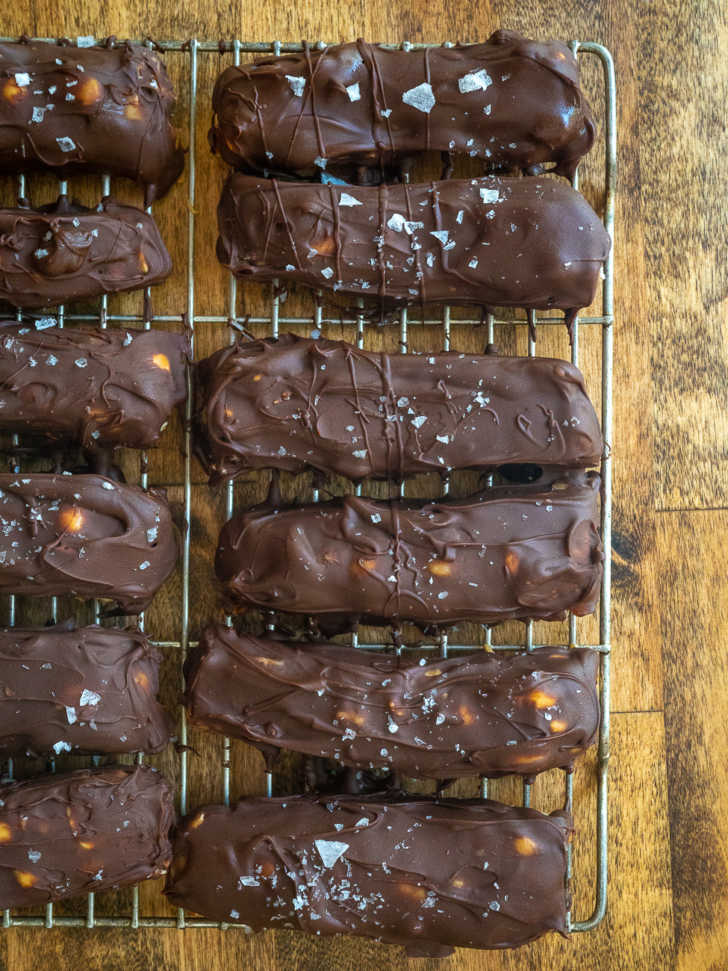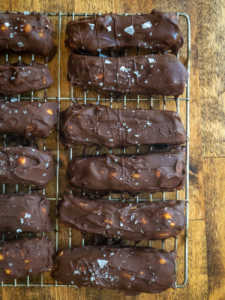 My mom encouraged me to enter the local holiday baking contest at the Terrace Center. I had been helping her make Christmas cookies every year since and hell, I felt confident. My mom's kitchen countertops had no idea what was in store for them.
The process of making candy is actually a super fun time. You're making all these amazing confections and combining those flavors in one. Every layer of this candy bar tastes good! You're layering these beautiful flavors to then be lightly coated in chocolate, and anytime chocolate is involved, you're gonna make a mess. Lots of bowls were used in the making of this candy bar.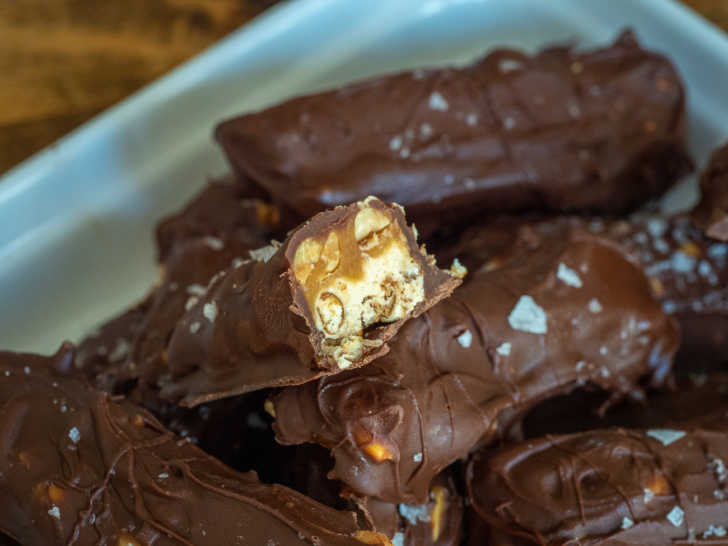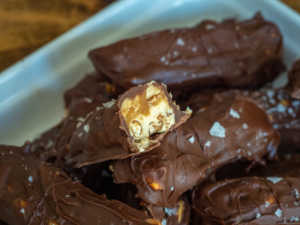 For my candy bar, you start with the crispy salty pretzel then work your way up through the peanut-y caramel and chewy nougat. Layering is all of step one and the easy part. Take a day, let all the flavors meld in the fridge before cutting and coating them in chocolate the next day. This part is when you might lose your patience. Chocolate is fussy. Maybe you don't want to coat the whole bar in chocolate because you're not patient. That's okay, me too. Lightly spoon over the chocolate along the top, maybe go lightly around the edges once or twice, and finish with flakey salt. This chocolate is not tempered. Tempered chocolate can solidify at room temp, these have to be refrigerated or they will melt. The best part of these are they last for a VERY long time, especially in the freezer.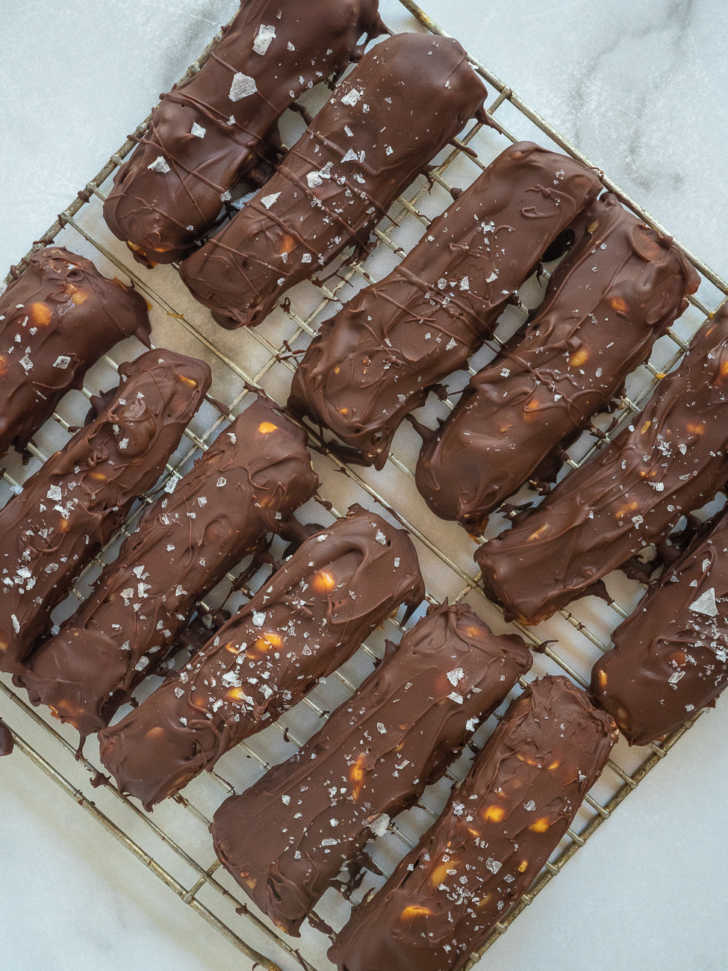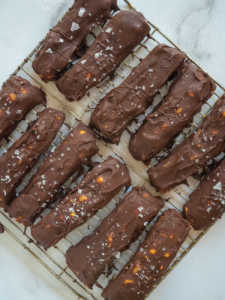 Salted Caramel Monster Bar
Makes 16 Bars
20m prep time
20m cook time
1h inactive
Pretzel Crust:
1 1/2 cup salted pretzels, finely ground
2 tablespoons sugar
1/4 cup butter, melted
Nougat:
1/4 cup creamy peanut butter
7 oz marshmallow creme fluff
1 cup powdered sugar
Caramel:
11 oz caramels, unwrapped
1/4 cup heavy whipping cream
3/4 cup unsalted peanuts, roasted
Chocolate:
16 oz semi sweet chocolate chips
1/2 cup creamy peanut butter
Flakey salt, to garnish
Directions:
Prepare a parchment - lined 9x9 pan, and in a small bowl, mix together crushed pretzels, sugar and butter until combined.
Pour crumb into pan and pat down using your finger tips, and bake for 12 minutes. Let cool.
In a medium-sized sauce pot, combine marshmallow cream, peanut butter, and powdered sugar. Melt over medium-low heat until a soft dough has formed. Press nougat into a cooled pretzel pan and press evenly into the tray.
Set up a double boiler over medium - low heat. Add unwrapped caramels and whipping cream until caramels melt and form a smooth caramel, 6 - 8 minutes.
Fold in roasted peanuts to caramel sauce and pour over nougat, refrigerate until caramel sets up.
Remove parchment from the pan carefully and using a cutting board, cut the filling into 16 even bars. Place bars on a cooling rack over a sheet tray.
Using the same double boiler, and a different bowl, add chocolate and peanut butter to the bowl. Once the mixture is melted and smooth.
Pour or spoon chocolate over bars until tops and sides are all coated.
Let chocolate cool and enjoy your candy!
Recipe adapted from Thanksgiving.
SKM: below-content placeholder
Whizzco for 12T