Salt&Straw first introduced these pints back in 2018 and they have caused a fair amount of division since they were released to the general public.
Of course, there are lots of people out there who may not wish to try these. We can see why. It's not like the average person was out there looking to get their hands on turkey-flavored ice cream, that is for sure.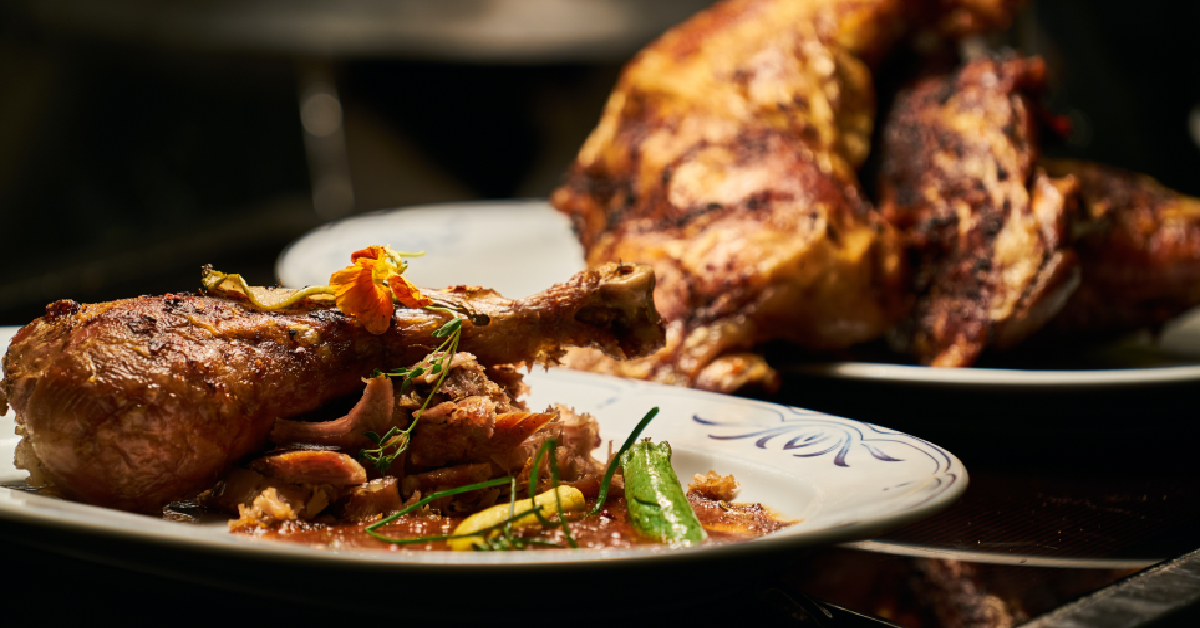 Meanwhile, those who have taken the time to try them out will tell you that they are not that bad, actually. We are going to have to take everyone's word for it ourselves because we do not have the guts to sample any of these.
Of course, now that these pints are back, we would be remiss if we did not mention their classic Turkey and Cranberry Sauce flavor.
In Caramelized Turkey & Cranberry Sauce, we fold crispy turkey bacon into a caramelized brittle with thyme and freshly ground cubeb pepper. The brittle is swirled with a jammy housemade cranberry sauce for the trifecta of sweet, savory, and bitter: https://t.co/zk289HW5yF pic.twitter.com/Zx44oMwMwM

— saltandstraw (@saltandstraw) November 10, 2022
If you have never had this ice cream before, it is centered around the following flavor profile: thyme and cubeb pepper turkey bacon brittle that has been combined with a tart cranberry sauce. For some, this may sound intriguing. To others, this could sound awful. There are other flavors to choose from as well if this one does not sound good to you.
You could try out the Parker House Rolls with Salted Butter, which is made with the usage of salted butter ice cream. At least there are a few flavors that sound somewhat appetizing.
We are actually intrigued by the Vermont maple syrup-sweetened Pumpkin & Gingersnap Pie.
In Pumpkin & Gingersnap Pie (v), we spike ultra-luscious coconut cream with our special pumpkin spice blend and Vermont maple syrup to achieve the silkiest pumpkin pie ice cream. Bits of gingersnap pie crust is tossed in for a delectable crunch: https://t.co/4ADsTbAfwh pic.twitter.com/9Urryxmt2p

— saltandstraw (@saltandstraw) November 11, 2022
The Roasted Peach & Sage Cornbread Stuffing might actually work for us, too.
The third course of our Thanksgiving feast is Roasted Peach & Sage Cornbread Stuffing. Molasses-y cornbread cookies steeped in sweet cream with fresh sage + tart peach jam simmered with warm spices and honey balsamic vinegar = the most epic side dish: https://t.co/cGJwTDtTZa pic.twitter.com/xURw21y4jg

— saltandstraw (@saltandstraw) November 11, 2022
Last but not least, we are pleased to report that the Mom's Mango Pie is making its return as well. This flavor was created during a collaboration with Hrishikesh Hirway, a well known musician.
The last course of our Thanksgiving feast is Mom's Mango Pie. This flavor represents the diversity of Thanksgiving traditions with the help of @HrishiHirway, and his mom. Wanting to share her recipe & memory, Hrishi reached out, and the rest is history: https://t.co/AnPV1V6hEJ pic.twitter.com/1LRvJ6R4hY

— saltandstraw (@saltandstraw) November 12, 2022
The titular recipe comes from his mother's mango ice cream. We are sure that she is proud to have been included in such a crazy collection.
If you would like to take home a pack of all five flavors, you will need to have $85 on hand. The pints were first made available on November 4 so be sure to act quickly.
SKM: below-content placeholder
Whizzco for 12T