Rich, delicious, and full of crunch.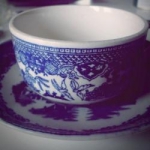 Rose Heichelbech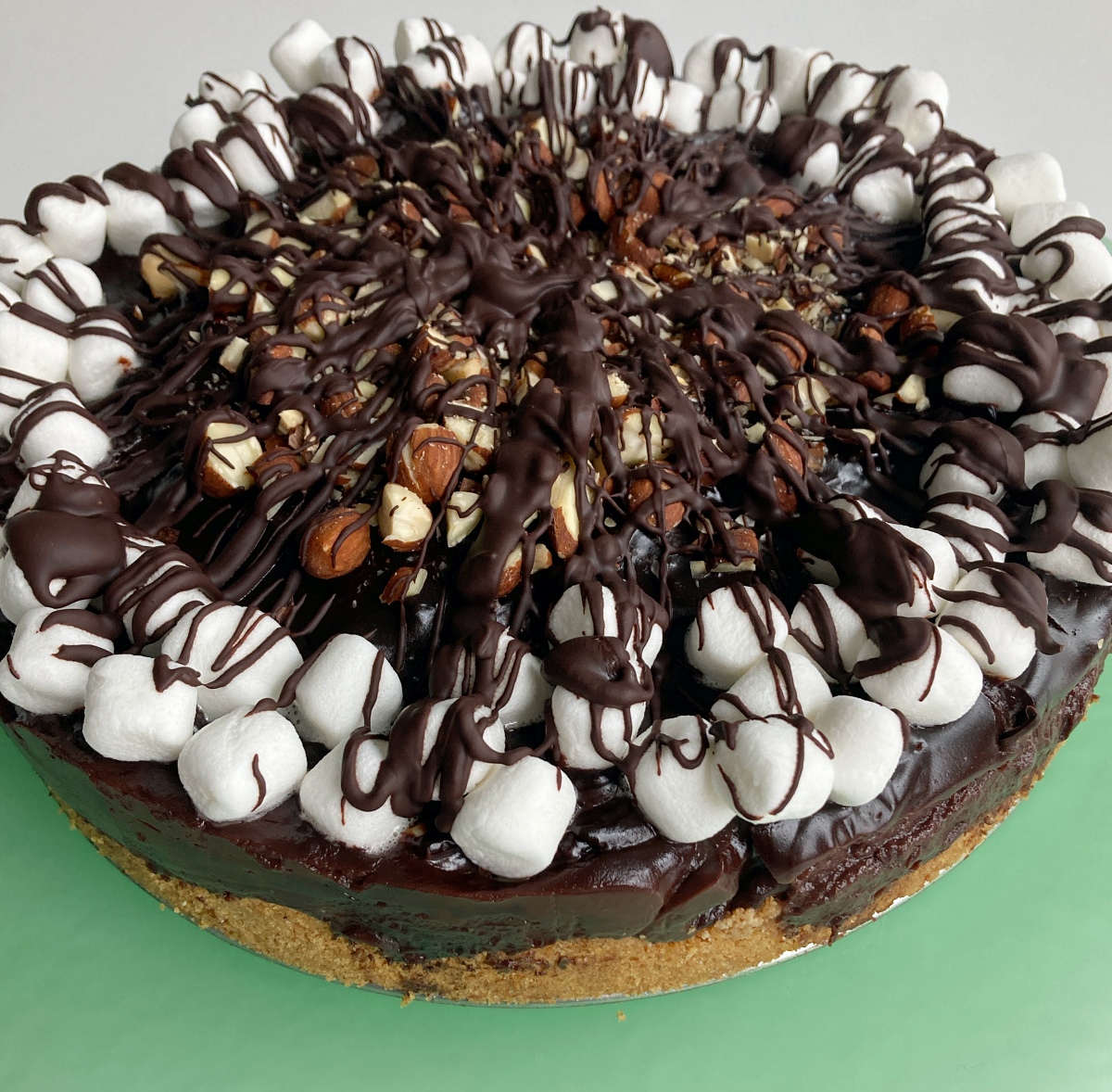 Growing up rocky road was one of the few ice cream flavors that everyone in my family agreed on. Because of that I have fond memories of this particular blend of mini marshmallows, toasted almonds, and chocolate. And, this rocky road pie delivers all 3 in abundance. It might look complicated to make, but it's honestly not all that complex. And, the bang for your buck here is too good to pass up since this eye-catching dessert is a real showstopper.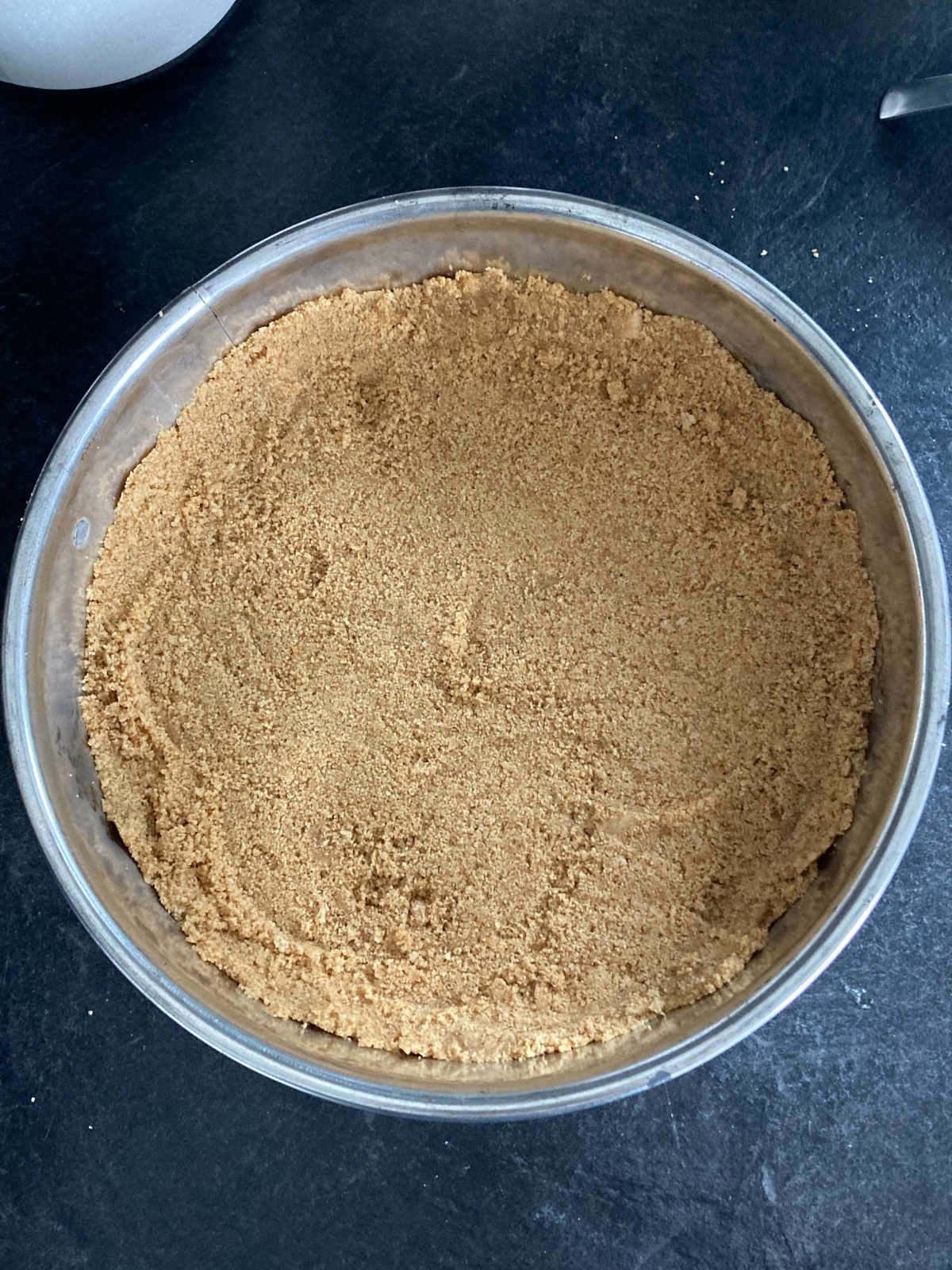 Like most other creamy pies, this one starts with a graham cracker. You can buy one pre-made if you're short on time. But, if you want to be able to have a nice, thick slice that you can cut from a freestanding pie then you'll need to make the crust yourself and use a springform pan to bake it in.
Once the crust has been pre-baked go ahead and pop it into the fridge while you start on the filling. The main part of the pie is a creamy filling made from cocoa powder, sugar, whole milk, cornstarch, vanilla, and butter.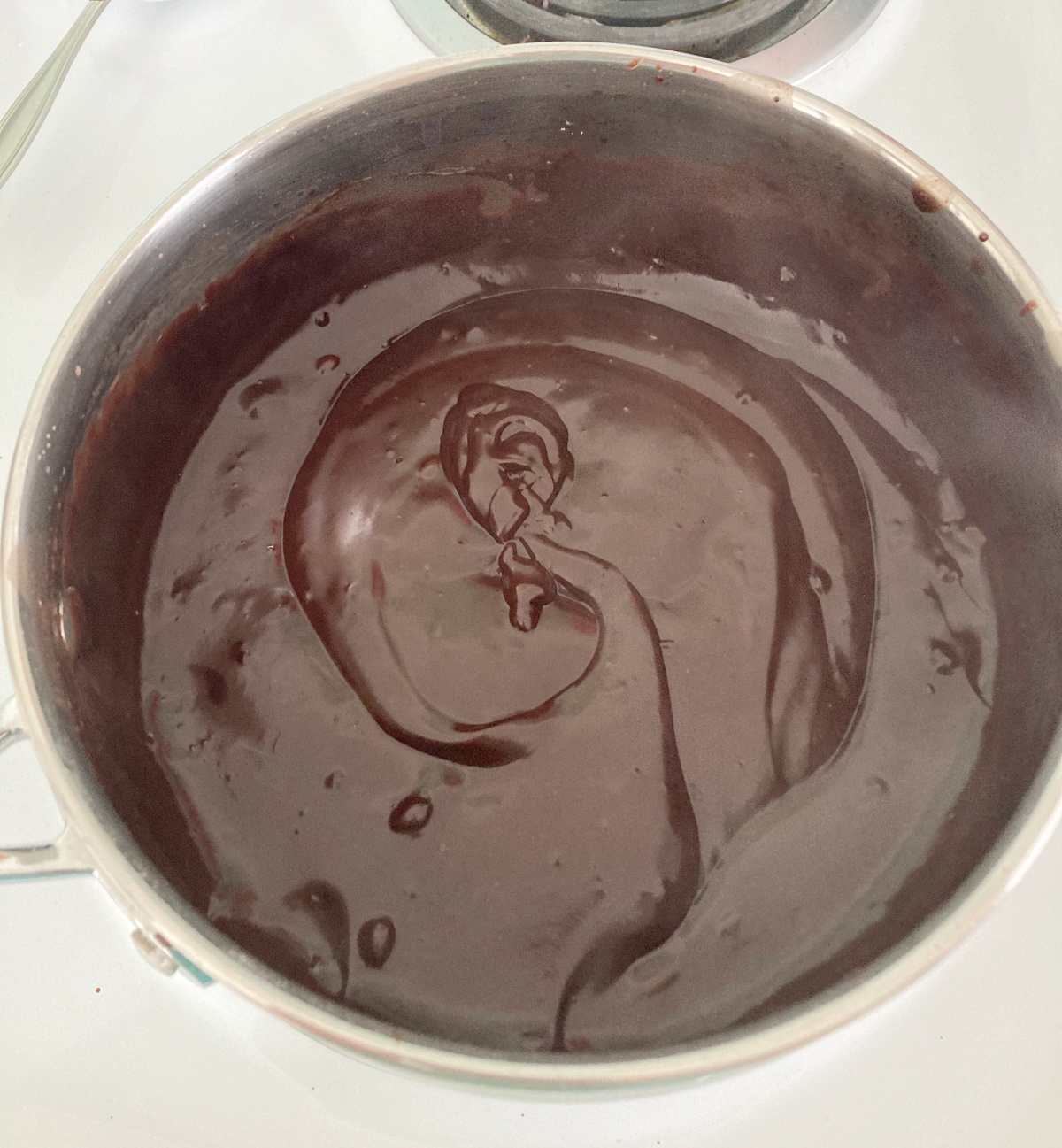 You have to let the filling cool down, too, before pouring it into the crust along with some mini marshmallows and chopped, toasted almonds. I found that after cooling the filling was so thick that I had to sort of layer the filling with the almonds and marshmallows.
Then top with the remaining marshmallows and almonds. I made a ring of marshmallows around the edge and placed the almonds in the center, but any design works here.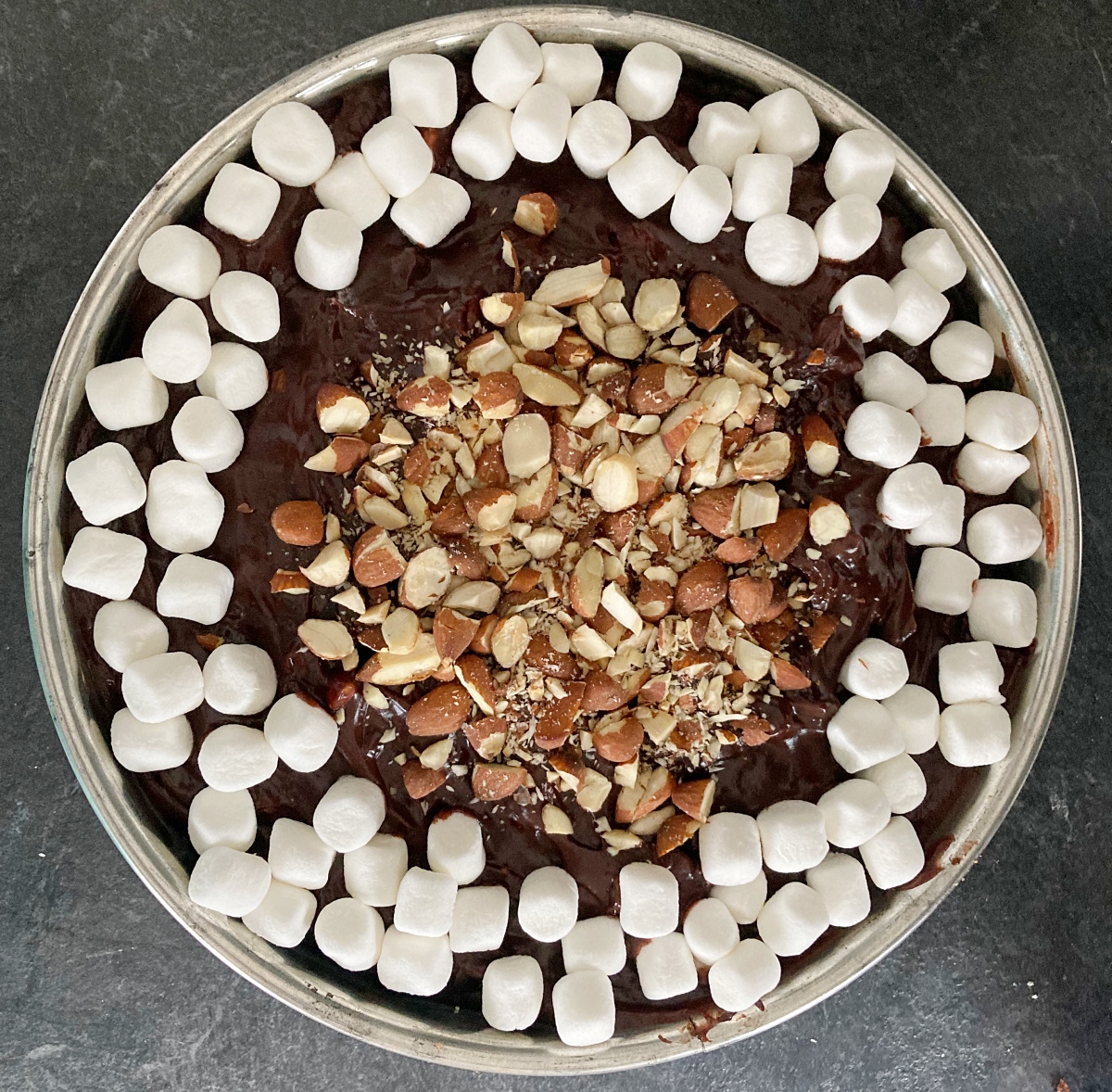 After it's cooled in the fridge for a bit melt some semi-sweet chocolate and use a fork to drizzle it over the toppings. I swung the fork out from the center to make a pattern, but random swirls of melted chocolate always look good as well.
Then let this finish chilling in the refrigerator before cutting. If you don't give it enough time it can fall apart when you cut into it, so patience is a key ingredient in this recipe!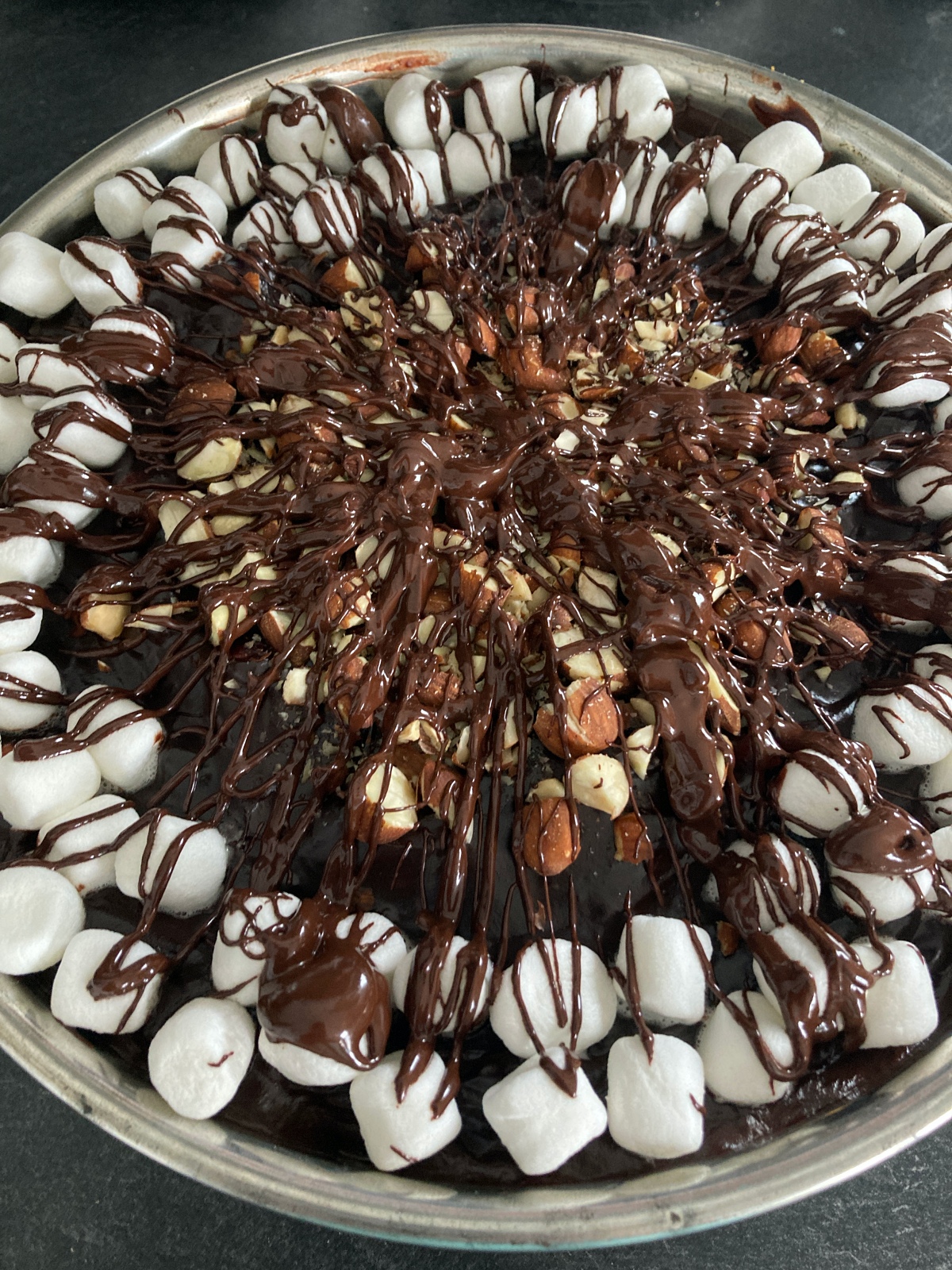 This rocky road pie is impressive looking, but doesn't take any advanced techniques or hard-to-find ingredients. And, you might even have all the ingredients on hand already, which makes it a wonderful pie to make whenever you get a craving for some sweet, salty, crunchy rocky road flavor.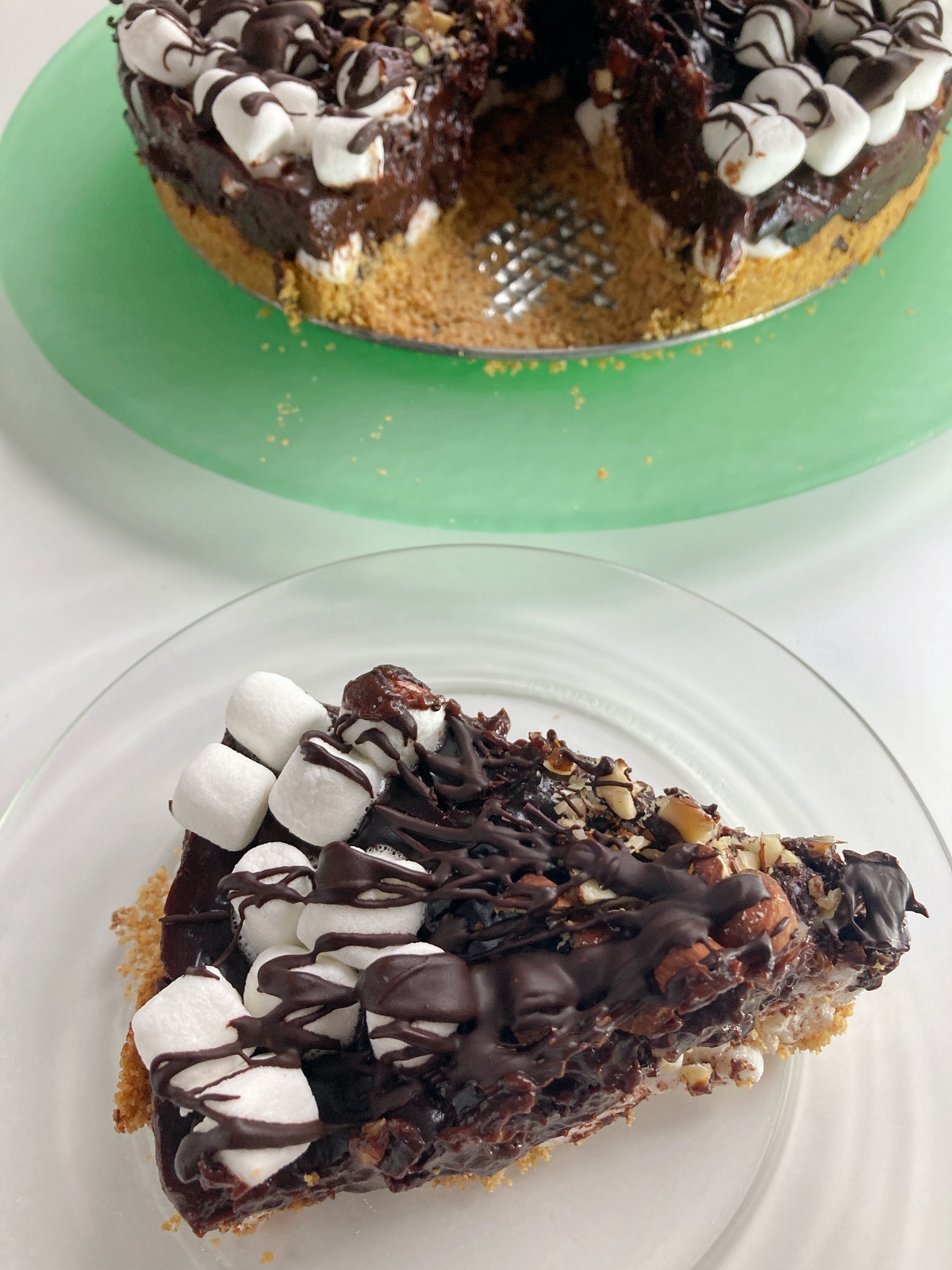 Rocky Road Pie
For the crust:
6 ounces graham crackers (about 11), crumbled
1 tablespoon granulated sugar
1/8 teaspoon salt
6 tablespoons unsalted butter, melted
For the filling:
1/2 cup cocoa powder
1 1/8 cup granulated sugar
1/3 cup cornstarch
1 teaspoon salt
3 cups milk
3 tablespoons butter
2 teaspoons vanilla extract
2 cups mini marshmallows
1 cup salted toasted almonds, roughly chopped
For the topping:
3/4 cup mini marshmallows
1/4 cup salted toasted almonds, roughly chopped
1/3 cup (2 oz) bittersweet chocolate, chopped
For the crust:
Preheat oven to 350˚F. Add graham crackers, sugar, and salt to food processor and pulse until fine crumb texture is reached. Pour out mixture into a medium bowl and stir in butter.
Pour into a 9" round lined springform pan or pie pan. Press crust into pan and up the sides in even layer. Bake for 10 minutes or until crust is golden brown. Set aside to cool.
For the filling and topping:
Sift cocoa powder into a medium saucepan and add sugar, cornstarch, and salt. Whisk in milk slowly and then heat over medium-high heat, stirring constantly. Cook for 1 minute after mixture comes to a simmer. Remove from heat and stir in butter and vanilla. Allow to cool for 20 minutes.
Pour mini marshmallows and almonds into cooled pie crust. Pour filling on top and then top with remaining marshmallows and almonds. Chill for 2 hours.
Melt chocolate in microwave 30 seconds at a time, stirring after each cycle. Using a fork drizzle chocolate over top of pie. Chill for at least one more hour before serving.
Recipe adapted from Martha Stewart.
SKM: below-content placeholder
Whizzco for 12T