This roasted vegetable tart is a great way to use all the eggplant, zucchini, peppers, and herbs you'll find at the local market.
Though this crust recipe is delicious, you can save some time by using refrigerated pie crust for a quick shortcut that shouldn't cut down on the flavor very much. After all, the real stars here are fresh veggies.
Tarts, quiches, and frittatas are all great ways to use whatever ingredients you have on hand to make something tasty, but what exactly is the difference between the three? Not too much; tarts can be both savory and sweet, unlike savory quiche, and don't always have eggs. Frittatas don't have a crust and don't typically have milk or cream, either.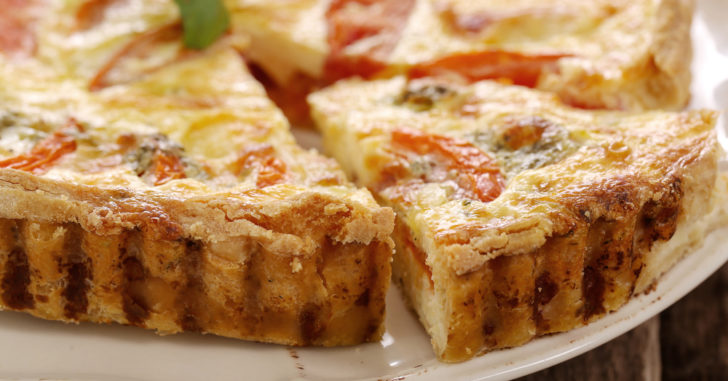 Roasted Vegetable Tart
Ingredients:
For the crust (if not using pre-made, refrigerated pie crust):
1 cup all-purpose flour
1 tablespoon toasted wheat germ
1 teaspoon baking powder
1/2 teaspoon freshly ground black pepper
1/4 teaspoon salt
1/4 cup water
1 tablespoon olive oil, ideally infused with herbs
Cooking spray
For the filling:
1small eggplant, cut crosswise into 1/4-inch-thick slices
3/4 teaspoon salt, divided
Drizzle of olive oil
4garlic cloves
1 tablespoon chopped fresh basil
1 1/2 teaspoons chopped fresh oregano
1 teaspoon chopped fresh thyme
1 medium zucchini, cut lengthwise and then sliced into 1/4-inch thick slices
1 red pepper, cut into chunks
1 orange pepper, cut into chunks
1/2 cups shredded mozzarella cheese, divided
2 tablespoons shredded Parmesan (strict vegetarians can use smoked gouda or more mozzarella)
Directions:
Preheat the oven to 400 degrees F.

For the crust (otherwise, skip to step 5):

If you're making your own crust, then start preparing it by lightly spooning flour into a dry measuring cup ñ level it with a knife. Mix the flour, wheat germ, baking powder, salt, and pepper in a large bowl and stir it with a whisk. Make a well in the center of the mixture, and then add the water and 1 tablespoon of oil. Stir together to form a soft dough.
Put the dough on a lightly floured surface and knead lightly four times, then gently press the dough into a 4-inch circle on plastic wrap. Cover and let it chill for 15 minutes. Then, overlap two sheets of plastic wrap on a slightly damp surface, and unwrap the dough and put it on the plastic wrap.
Cover the dough with two more sheets of plastic wrap and roll the dough, while covered, into an 11-inch circle. Remove the top sheets of plastic wrap and fit the dough (plastic-side up) into a 10-inch round removable-bottom tart pan that has been greased with cooking spray.Remove the rest of the plastic wrap.
Press the dough against the bottom and sides of the greased, 10-inch round tart pan. Pierce the bottom and sides of the dough with a fork, and bake it for 10 minutes. Then, let it cool on a wire rack.
For the filling, first put the eggplant slices on a few layers of paper towels and sprinkle then with salt. After 15 minutes, pat them dry.
Toss the eggplant, zucchini, and peppers lightly in olive oil and arrange them on a greased baking sheet. Also add the garlic cloves, still in the skin. Let everything roast for about 20 minutes in the oven (at 400 degrees F).
When you take the veggies out of the oven, remove the garlic from its skin and mince.
In a large bowl, toss the roasted veggies with 1/4 teaspoon of salt and the oregano, thyme, and basil.
Sprinkle two tablespoons of mozzarella on the bottom of the baked crust. Layer the roasted veggies in the crust and then sprinkle with the rest of the mozzarella and Parmesan.
Drizzle the top of the tart with olive oil, then bake for 10 minutes, or until the cheese has melted.
Enjoy!
** Note: If you'd like a fluffier, more quiche-like texture, whisk two eggs with about 3/4 cup of heavy cream and pour it over the vegetables and cheese before baking ñ making sure it doesn't spill over the crust. Then, bake until the top is golden brown.
Recipe adapted from Cooking Light
SKM: below-content placeholder
Whizzco for 12T