Roasted onions are great on their own, but this extra ingredient will take them to a new level!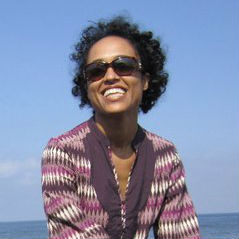 Sarah Cool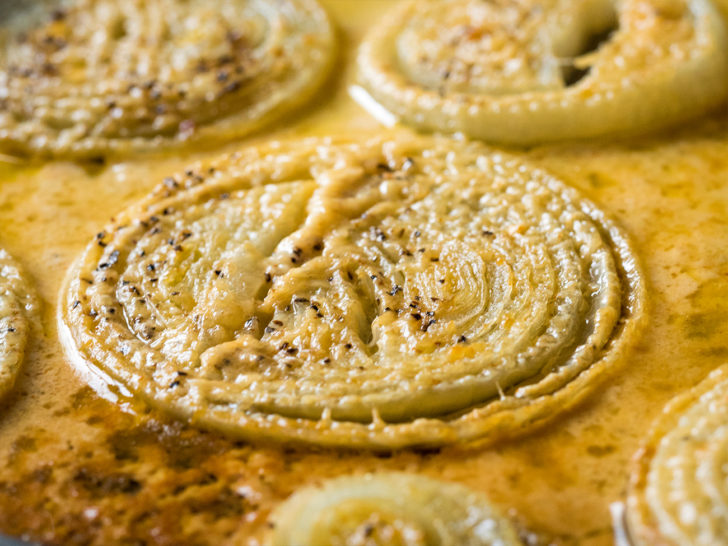 There's a million and one ways to cook an onion, all of which bring out the natural goodness of this vegetable. Onions are already packed with great flavor, but roasting them brings out the natural sugars. As they bake, the begin to caramelize, releasing an irresistible sweetness that's almost savory. Now, to make the onions become something even more special, we top them with a cream sauce (heavy cream, a little butter, and some seasonings), pour it over the top and bake. The sweetness of the onion combined with a savory cream sauce is a match made in food heaven.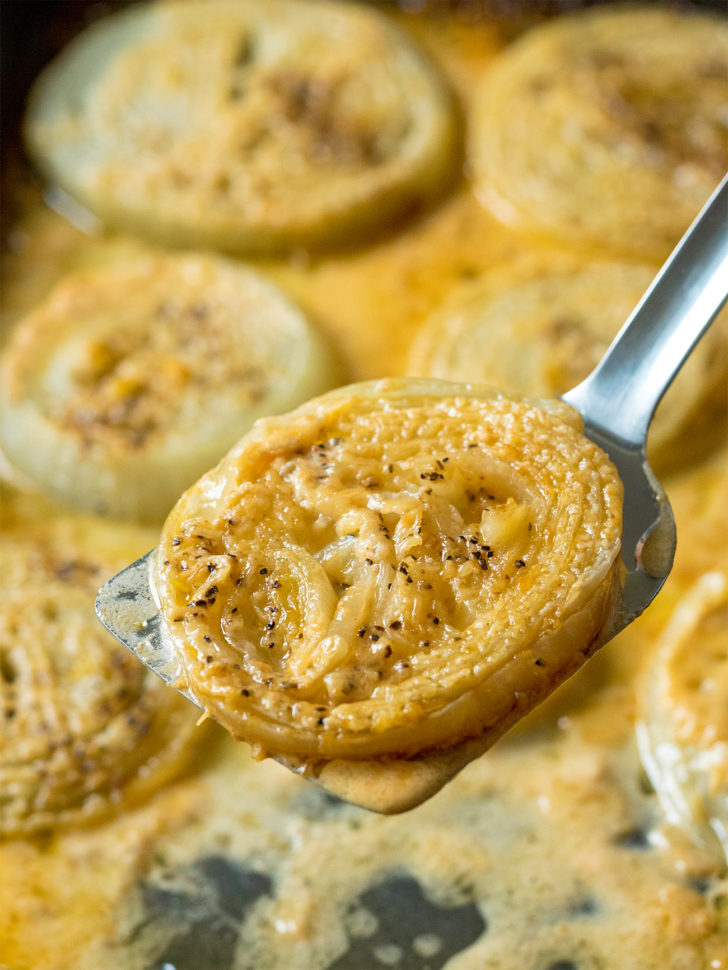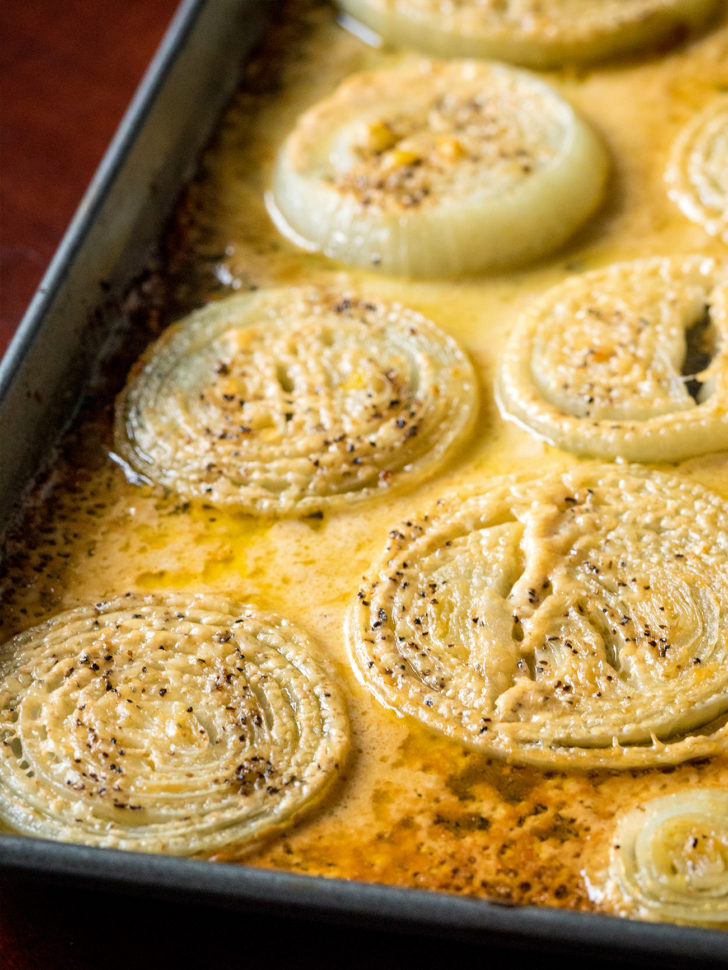 Roasting onions takes away some of that oniony bite and turns it into a savory sweetness that goes well with just about any protein you can think of, like roasted chicken, or pork; this is a side dish that is sure to compliment the main meal. An added benefit here is that adding a cheesy creamy topping takes this up a notch; the onions become a little more substantial, making this an unforgettable side dish. And when is topping anything with cream and cheese a bad idea?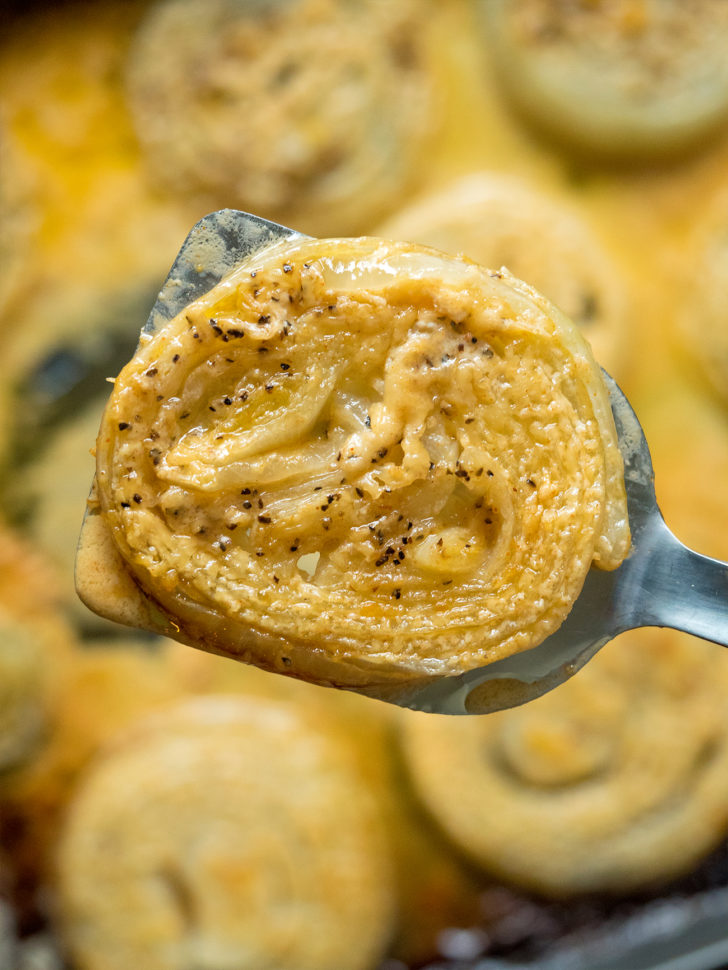 If you haven't tried roasting onions yet, definitely give this recipe a try. A few slices roasted on a pan will be delicious on their own, but we've added a little extra goodness to turn this into something a little heartier. How does one make onions hearty? By adding cheese, of course! Roasted onions topped with a cheesy, creamy sauce – where do we sign up?!? The simple elegance of this dish is reason enough to make it, but the taste is out of this world.
Roasted Parmesan Creamed Onions
Ingredients
3 sweet onions, peeled and thinly sliced
1 cup heavy cream
1/4 cup white wine
1/2 cup parmesan cheese, grated
4 tablespoons unsalted butter
3 tablespoons extra-virgin olive oil
1 teaspoon garlic powder
1/4 teaspoon cayenne, optional
kosher salt and freshly ground pepper, to taste
Preparation
Preheat oven to 375º F.
Spread onion rings out in a 9x13-inch baking dish, keeping rings and layers intact, then drizzle with olive oil and season generously with salt and pepper.
Place baking dish in oven and roast for 15 minutes, or until softened.
Remove onions from oven and raise temperature to 450º F.
Combine heavy cream, wine, butter, garlic powder and cayenne in a medium saucepan over medium heat and cook until butter is melted and bubbles form on the outside edge of cream.
Remove mixture from heat, then pour over pre-roasted onions, sprinkling parmesan cheese over all the onions.
Top baking dish with aluminum foil and bake for another 20 minutes. Remove foil and cook for another 5-10 minutes, or until onions are caramelized and cheese is golden brown.
Remove dish from oven and serve hot. Enjoy!
Recipe adapted from Bellyful
SKM: below-content placeholder
Whizzco for 12T