French toast is one of those dishes we love to order out at brunch. It seems like every restaurant has its own creative take on this scrumptious recipe– stuffed, topped with bananas, glazed with raspberry sauce.
But there's no need to go out for this treat when you can make it from scratch, right at home. This Vanilla Bean Baked French Toast is the perfect example. Yes, it's decadent– but we all deserve a little breakfast indulgence every now and then!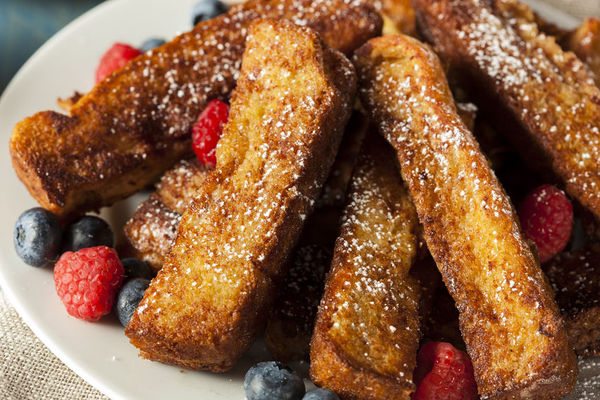 Vanilla Bean Baked French Toast
(makes 6 servings)
Ingredients
For the French Toast:
1 loafDay-old Bread, cut in 1 inch slices
4 wholeLarge Eggs
1 cupHeavy Cream
1 cupWhole Milk
2 TablespoonsGranulated Sugar
1 wholeVanilla Bean, Split In Half Lengthwise, With Seeds Scraped Out
1 TablespoonMaple Syrup
1 teaspoonVanilla Extract
1/2 teaspoonsGround Cinnamon
1/4 teaspoonsGround Nutmeg
1 pinchSalt
Fresh Fruit For Serving (recommended: blueberries and raspberries)
For the crumbled topping:
Ω cupsAll-purpose Flour
º cupsBrown Sugar
5 TablespoonsUnsalted Butter, Cold And Cubed
Directions
1. Place sliced bread in a greased 8◊8-inch dish, overlapping some slices.
2. In a large bowl, whisk together the eggs, heavy cream, milk, sugar, vanilla bean seeds, maple syrup, vanilla extract, cinnamon, nutmeg and salt.
3. Pour mixture onto bread, making sure to thoroughly coat all of it. Cover and refrigerate for 4-12 hours.
4. Preheat your oven to 350 F.
5. In a small bowl, crumble together the flour, brown sugar, and butter, until the mixture resembles coarse crumbles.
6. Take bread out of the fridge and sprinkle the crumble on top.
7. Bake at 350 F for 45-50 minutes or until top begins to brown. Remove from oven and serve immediately with fresh fruit or maple syrup. Enjoy!
Recipe Adapted from Tasty Kitchen.
SKM: below-content placeholder
Whizzco for 12T