The dressing is better than anything you'll ever get out of a bottle.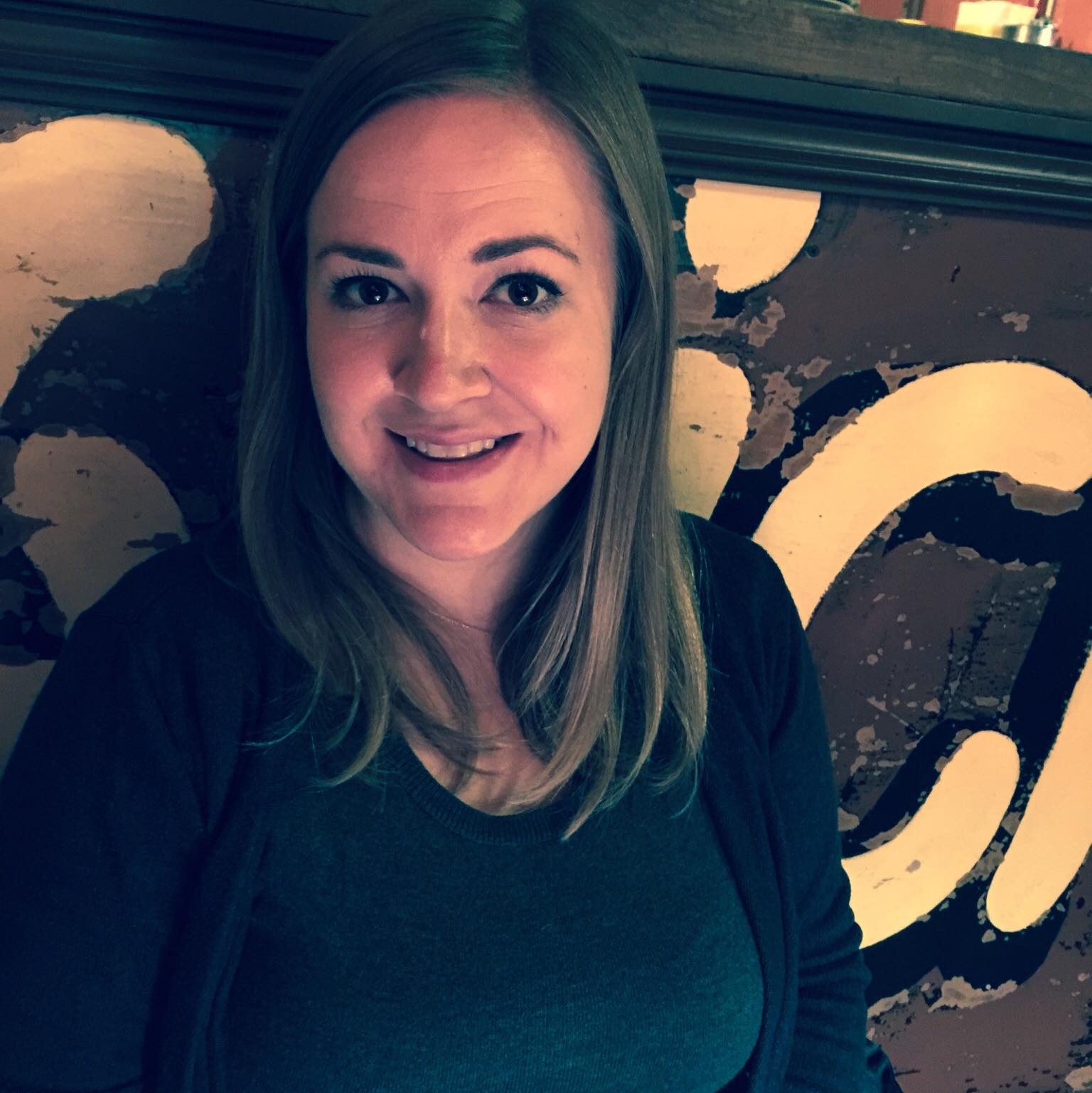 Kristy Norrell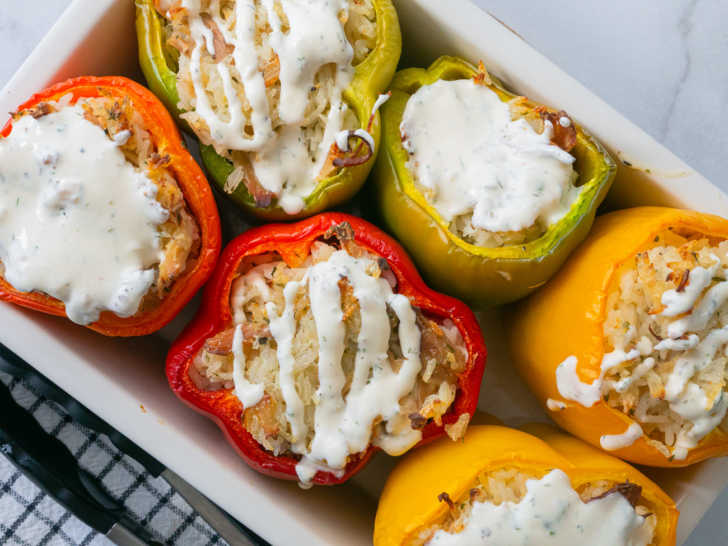 My family has always made stuffed peppers one way and one way only – with ground beef, white rice, cheddar cheese, and plenty of ketchup – and while I will love that classic option forever, I've got one for you that has a lighter feel with a little more flair – Ranch Chicken Stuffed Peppers. These babies are the ultimate use for leftover rotisserie chicken and they feature a cool and creamy homemade ranch that I'm pretty sure could make anything taste good. They're simple to make, but zesty and unique enough that they feel like a departure from your usual dinner routine.
I know 'homemade ranch' might give you pause, but I promise you that it's really so very simple. In this case, you're going to start by making your ranch seasoning mix out of dried herbs that you probably already have on hand and you'll use some of it for seasoning the stuffing mixture and the rest for the dressing. That mix features dried parsley, dill, chives, onion flakes, chives, and onion and garlic powder. Fresh is often best, yes, but that combo makes for a great herbed ranch flavor and is so easy to keep on hand.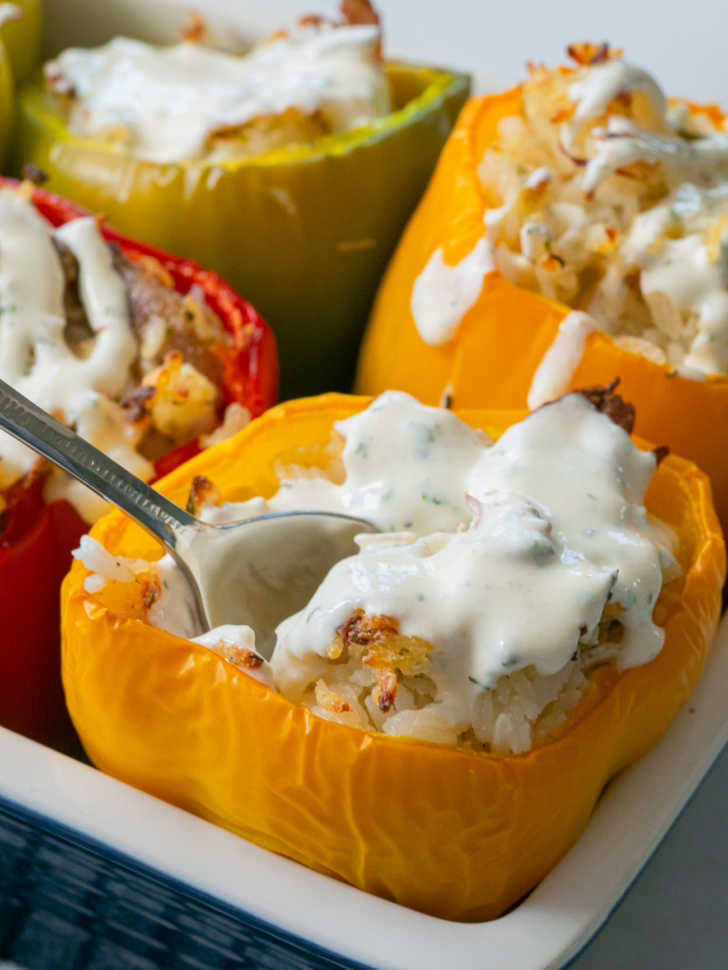 The filling here is chicken and white rice mixed with two tablespoons of that delicious seasoning mix and simmered in some chicken broth and cream cheese. It takes about five minutes to come together on the stovetop and then the oven does the rest of the work for you. With this recipe you don't need to pre-cook the peppers or anything, just stuff them raw and it will all bake together, easy peasy.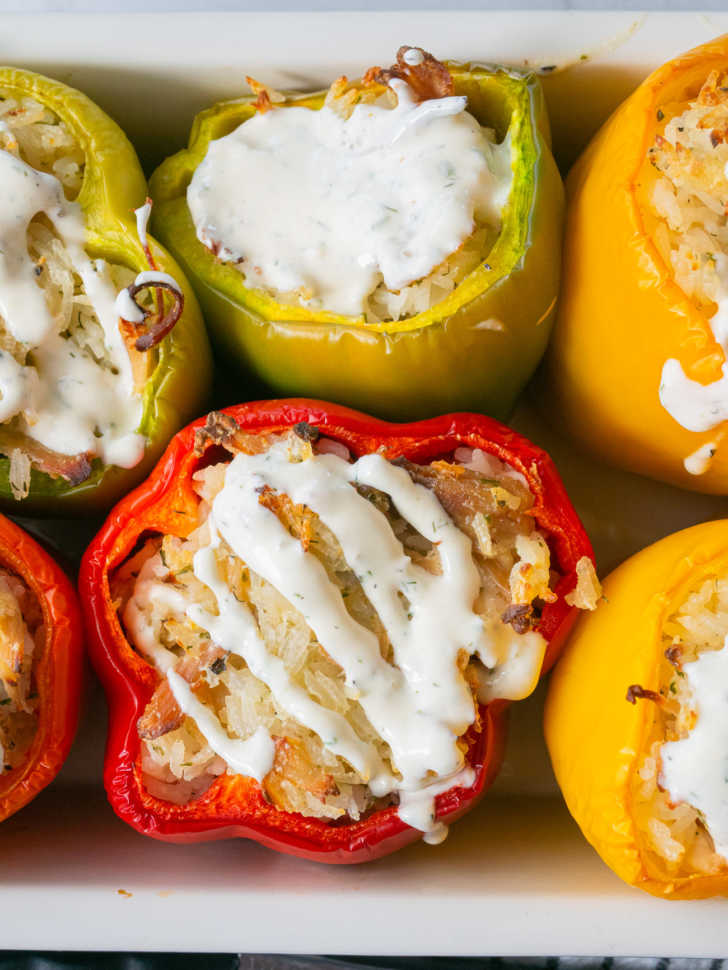 And the dressing? Well all you need to do for that is take the rest of that seasoning mix and stir it into a trio of sour cream, mayonnaise, and buttermilk. It's better dressing than you'll ever get out of a bottle and it really couldn't be easier to make at home. Enjoy!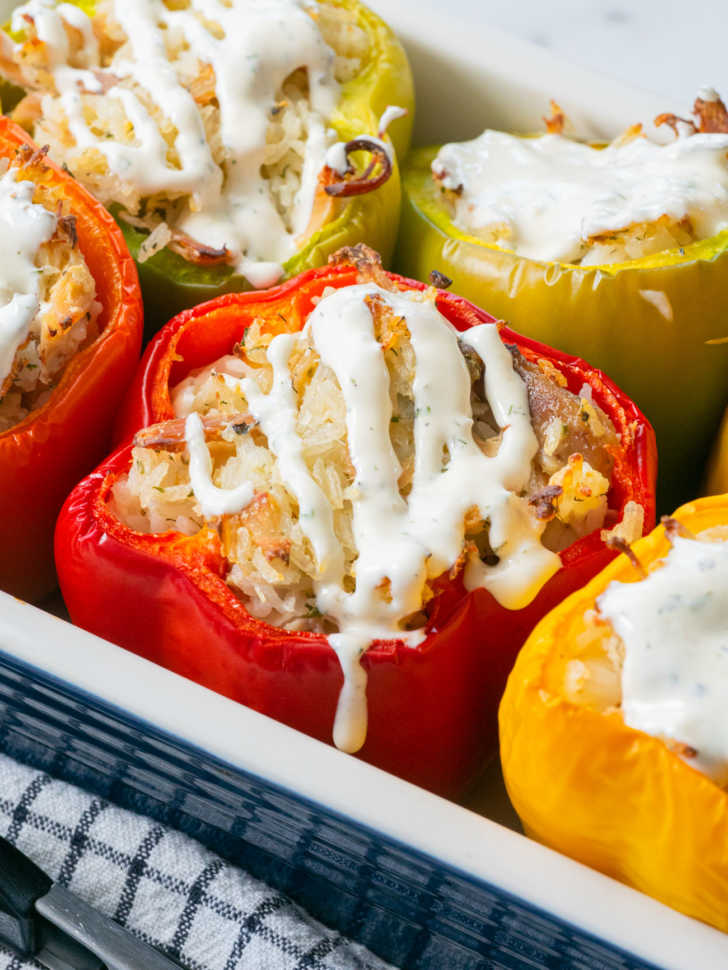 Ranch Chicken Stuffed Peppers
Serves 4
10m prep time
50m cook time
Ingredients
4-5 bell peppers, seeds removed and tops cut off
4 oz cream cheese
1/4 cup chicken broth
3 cups cooked white rice
3 cups cooked shredded chicken
1/2 cup sour cream
1/2 cup mayonnaise
1/2 cup buttermilk
Lemon juice, to taste
Kosher salt and freshly ground black pepper, to taste
For the ranch seasoning:
1 teaspoon salt
1 tablespoon dried parsley
1 teaspoon dried dill
1 teaspoon dried chives
2 teaspoons garlic powder
2 teaspoons onion powder
1 teaspoon dried onion flakes
1/2 teaspoon black pepper
Preparation
Preheat oven to 350°F.
In a medium bowl, mix together all the seasonings for the ranch seasoning. Set aside.
In a large skillet over medium heat, combine the cream cheese and chicken broth. Stir until cream cheese is mostly melted.
Add 2 tablespoons of the ranch seasoning, reserving the rest. Stir in chicken and white rice until combined. Adjust seasoning as needed.
Stuff peppers with chicken and rice mixture and arrange in a baking pan. Bake 50 minutes.
While peppers bake, add sour cream, mayonnaise, and buttermilk to remaining ranch seasoning. Add lemon juice to taste and whisk to combine. Chill until ready to use.
Drizzle ranch over finished peppers, serve, and enjoy!
SKM: below-content placeholder
Whizzco for 12T