No matter the snacking opportunity, this pull-apart app always pleases.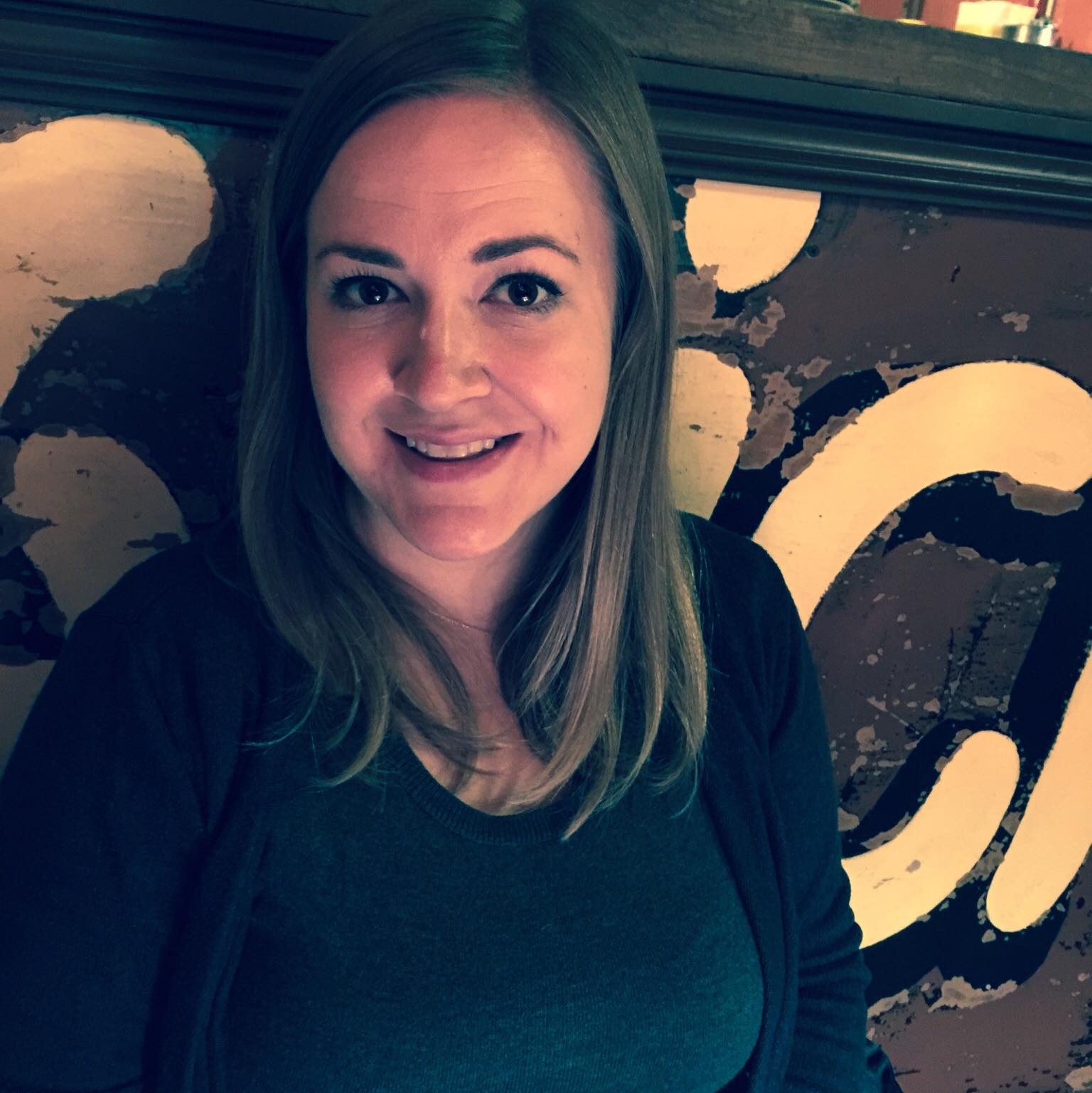 Kristy Norrell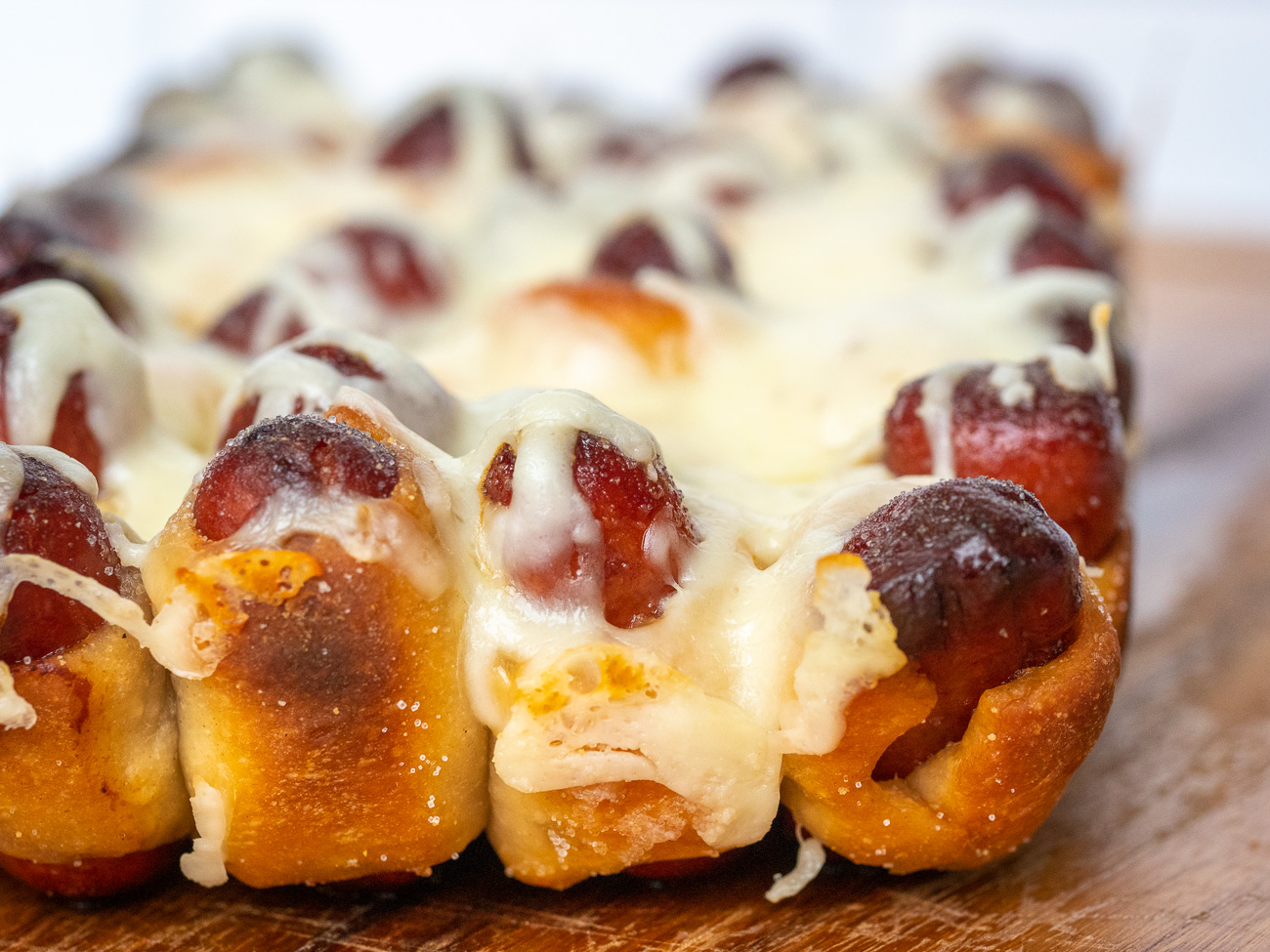 I was just racking my brain trying to think of an occasion where Pigs in a Blanket haven't sounded good. I couldn't think of one. Can you? I mean, when do salty, smoky little sausages wrapped in doughy goodness ever sound bad? Never. Never ever. And that's precisely why it makes sense to make them into an impressive pull-apart bread that makes for the most-loved party appetizer I've ever served. This Pull-Apart Pigs in a Blanket Bread might look complicated, but I can promise you it's not. You don't need any special skills whatsoever — just a few shortcut ingredients and a few minutes to roll things up to get to this irresistible app.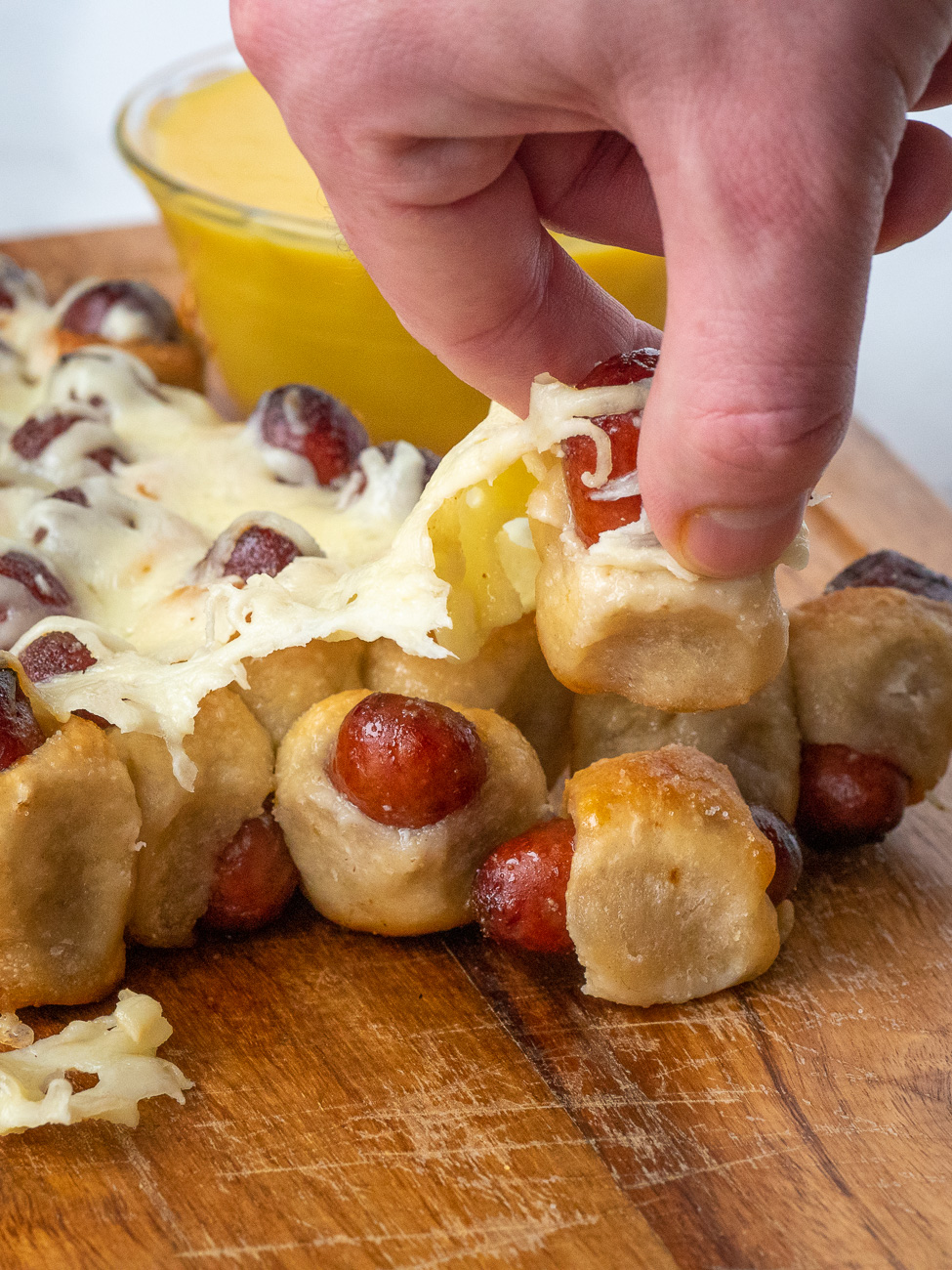 If you can believe it, you only need five ingredients for this bread. (More for the honey mustard dipping sauce, which we've included the recipe for below!) You need: a tube of refrigerated pizza dough, a package of Lil Smokies, some butter, some garlic salt, and some mozzarella cheese. That's it.
You're going to roll out that pizza dough a bit, to about an eighth of an inch thick, and then cut it into little 1×2-inch rectangles. You probably guessed this part, but you're then going to roll those little rectangles around each Lil Smoky and then stack them all up in a loaf pan.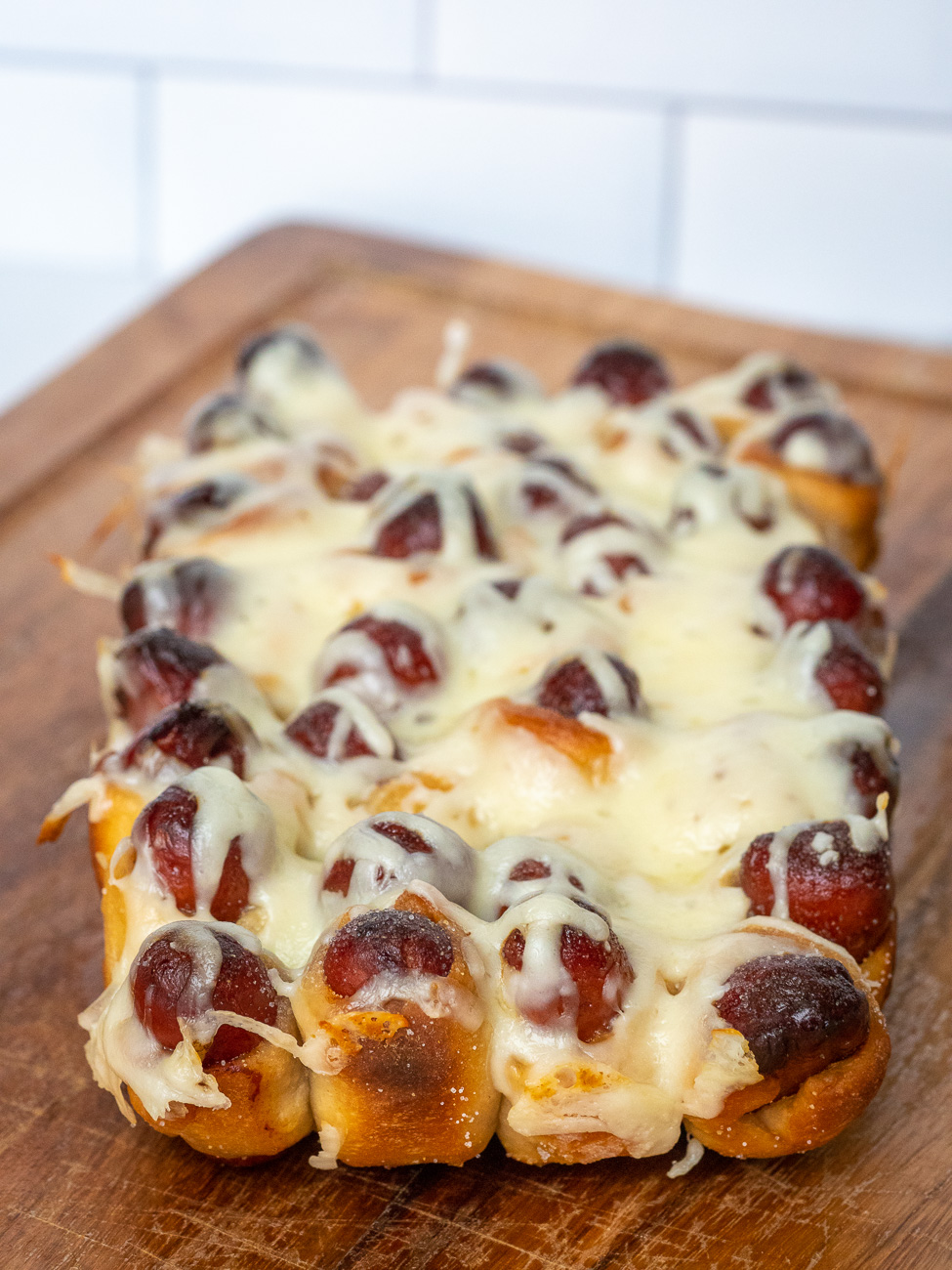 Here's the trick — you want to fit them snugly in that loaf pan so they bake together into a somewhat cohesive loaf, but you don't want to pack them SO tightly that they aren't still somewhat autonomous. Line them up all snuggly, but don't cram. Once they're all cozy in the loaf pan, you'll bake them for thirty minutes. Then you'll dress them up with a little melted butter, some garlic salt, and a sprinkling of mozzarella cheese. A Pig in a Blanket is great all on its own but it's even better when it's joined by butter, garlic, and cheese, if you're asking me. And it's even better when it's joined by eleven of its friends, all baked together in one irresistibly grabbable, snackable loaf.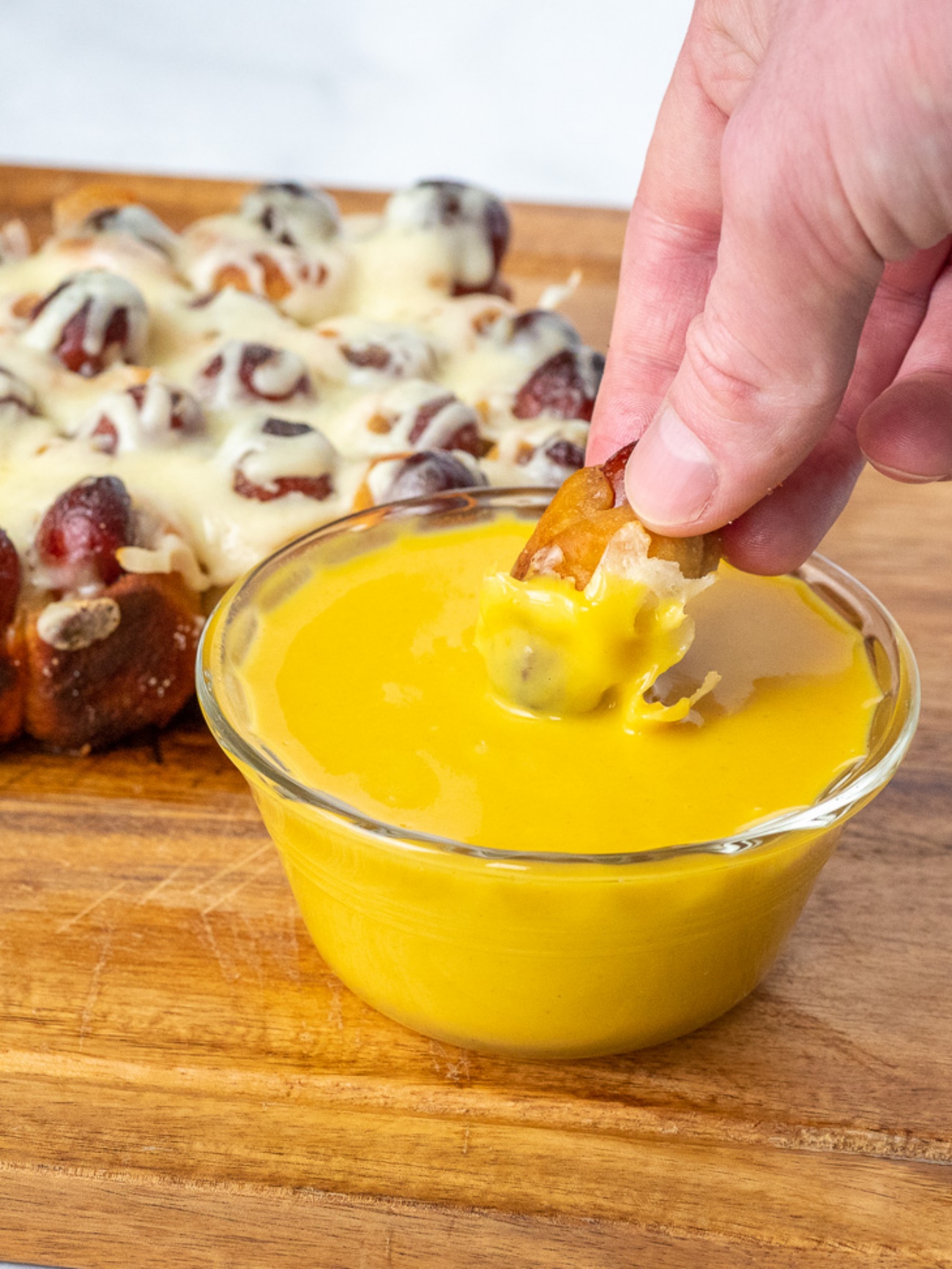 Pull-Apart Pigs in a Blanket Bread
Serves 6-8
20m prep time
45m cook time
Ingredients
Flour, as needed
1 (13.8 oz) tube refrigerated pizza dough
1 (12 oz) package lil' smokies or cocktail wieners
2 tablespoons butter, melted
1 teaspoon garlic salt
1/2 cup mozzarella cheese, grated
For the honey mustard dipping sauce:
1/4 cup honey
1/4 cup mayonnaise
2 tablespoons Dijon mustard
2 tablespoons yellow mustard
1/2 tablespoon lemon juice
Preparation
Preheat oven to 400°F. Line a 9x5-inch loaf pan with parchment paper, leaving an overhang on two longer sides of pan. Grease with cooking spray or melted butter.
Dust a clean surface with flour, then unroll pizza dough and roll out to 1/8-inch thick. Cut dough into 1x2-inch rectangles.
Wrap each cocktail wiener in dough, pinching seams shut, then line up vertically in prepared loaf pan, standing upright with seams facing inward. Pigs in a blanket should fit snugly, but not packed too tightly.
Bake 30 minutes.
Remove pan from oven, brush top with melted butter, and sprinkle with garlic salt. Top with mozzarella cheese and return to oven until cheese is melted and golden brown, 10-15 minutes more.
Let cool 5 minutes before removing from pan using parchment overhang.
Stir together honey, mayonnaise, Dijon mustard, yellow mustard, and lemon juice in a small bowl and serve with bread. Pull apart, dip, and enjoy!
SKM: below-content placeholder
Whizzco for 12T