Gefilte fish is traditionally served during the spring holiday of Passover, but it's great any time of year!
It's a poached dish made from white fish such as carp or halibut. Traditionally Gefilte fish was a stuffed whole fish, but over the years that has changed to a more patty or crab-cake like dish. This recipe should be enough to feed a whole family or even a small party with 24 patties. Keep reading below for our favorite recipe…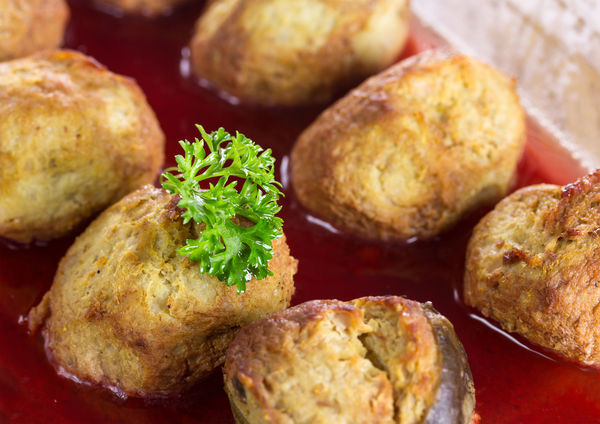 Gefilte Fish
(makes 24 small patties)
Ingredients
2 quarts fish stock
1 cup large-dice yellow onion
1/3 cup peeled and diced carrots
1/3 cup peeled and diced parsnip
2 tablespoon tarragon leaves
2 tablespoons chopped fresh parsley
2 1/2lbs white fish such as cod, halibut, or pike
1/3 cup matzo meal
3 large eggs, lightly beaten
1 teaspoon grated lemon zest
3 tablespoons lemon juice
4 teaspoons kosher salt
1/2 teaspoon ground black pepper
Directions
Place the fish stock in a large, wide pot and bring to a simmer over medium heat. Reduce the heat to medium low and maintain a low simmer.
Place the onion, carrot, and parsnip in a food processor. Process until the vegetables are finely chopped. Scrape down the sides of the bowl as needed. Transfer the mixture to a large bowl and set aside.
Cut the fish into 1 1/2″ pieces. Place half in the food processor, and pulse about 30 seconds, or until a large ball has formed. Transfer the ball to the bowl with the vegetables and repeat with the remaining fish.
Sprinkle the mixture with the vegetables, parsley, tarragon, and matzo meal. Add the eggs, lemon zest, and salt and pepper. Use your hands to mix until combined.
Measure out 1/4 cup of the mixture and measure into a 3″ long oval. place on a baking sheet. Repeat with the remaining fish.
Gently place the ovals in the simmering stock. Cover with a lid and simmer until firm and cooked through (about 10 minutes). Use a slotted spoon to remove the ovals from the stock and transfer to a baking sheet to let cool.
Pour the stock through a strainer and set over a large, heatproof bowl, discarding the solids. Let the stock cool to room temperature.
Meanwhile, place the cooled fish in a large container with a lid and refrigerate. Once the stock is cool, pour it into the container with the gefilte fish, making sure they are submerged. Cover and refrigerate at least 1 hour.
To serve, transfer the gefilte fish from the stock to a serving platter. Serve garnished with horseradish.
Enjoy!
Recipe adapted fromChow
SKM: below-content placeholder
Whizzco for 12T