Cooking is one of our favorite pastimes. If there's anything that you must know about our kitchen, it is that we are absolutely rolling in spices. These bottles can be quite deceptive, too. While they are small in stature, they have a way of taking up far more space in the kitchen than you would expect once they are all gathered. It's one of those problems that crop up before you have a chance to do something about it.
Fortunately, we are giving you the chance to get ahead of the curve. Wouldn't it be nice to be proactive about this? We can't stand looking at a spice rack that is all types of disheveled. Let's be honest here. It's not like any of us are going to be clearing out this part of our kitchens anytime soon. So, what's the alternative?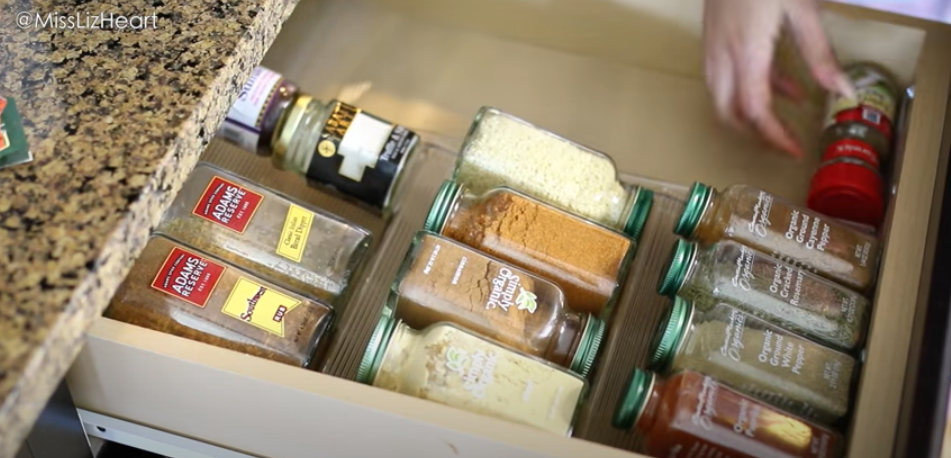 We have been provided some amazing tips by MissLizHeart. It's only right that we pass them along to you as soon as possible. Her approach is remarkable. We truly love what she did with the spice cabinet, but you will need to take a closer look at the video to see for yourself. The best way to go about this task is by heading to the dollar store for some mason jars. They are a godsend!
These jars offer a wealth of possibilities from a storage standpoint. With these jars, you can get rid of all those larger spice boxes that take up so much unwanted room. Those boxes are unwieldy at times and they are somewhat of an eyesore. There's another wonderful cabinet tip is here, too, so take a closer look once you are ready to get started.
The true epiphany comes when she places a wire spice rack inside of her spice drawer. It makes so much sense, yet we never thought to do it ourselves. These are the moments that make us slap our foreheads, but oh well. Thanks to these videos, we never need to worry about these sorts of problems again.
Check it out:
SKM: below-content placeholder
Whizzco for 12T