Now there is some debate about whether Whoopie pies originated in Amish country or in New England (Maine, specifically), but what everyone can agree on is that these pies taste amazing and make everyone (want to) yell, "Whoopie"! These desserts are so fun because it's like eating a little, decadent sandwich, and everyone gets their own. They're perfect for lunches, picnics or snacks, so the recipient gets a delicious surprise. Big kids feel grown up with their big-kid desserts, grown ups feel like kids again, this sweet delivers the best of both worlds!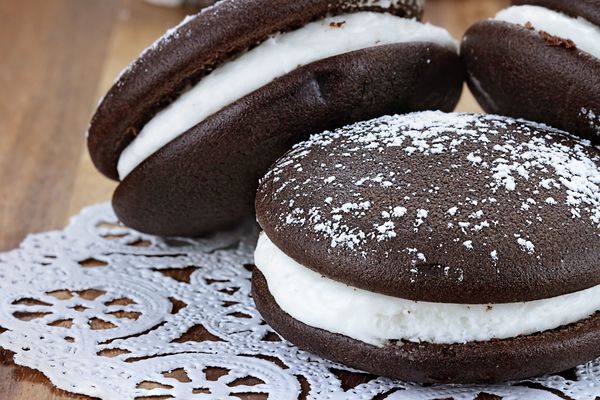 Whoopie Pies
Makes 10-12 pies
Ingredients
Cake:
2 cups all-purpose flour
1 cup sugar
1 cup buttermilk (or regular milk)
1/2 cup unsweetened cocoa powder
1 large egg
6 tablespoons butter
1 teaspoon vanilla extract
1 teaspoon baking soda
1/4 teaspoon salt
Filling:
1 cup vegetable shortening
1 1/2 cups powdered sugar, plus more for optional garnish
2 cups marshmallow fluff
1 teaspoon vanilla extract
Directions
Preheat oven to 350º F and line 2 baking sheets with parchment paper or non-stick spray.
In a bowl, combine the flour, cocoa powder, baking soda and salt.
In a large bowl, cream together the butter and sugar. Once mixture is light and fluffy, add the egg and vanilla.
Alternate between adding dry ingredients and buttermilk to the egg mixture, beginning and ending with the dry ingredients. Add in 1/3 cup increments. Scrape down the sides and make sure everything is incorporated.
Using an ice cream scoop or tablespoon, spoon equal amount of batter (1/4 cup) 2-3 inches apart on the baking sheets.
Place in oven and bake for 12-15 minutes. Tops should be puffed up and springy, and toothpick inserted in center should come out clean.
Transfer to a wire rack to cool.
In a mixer or using a hand mixer, beat shortening and marshmallow fluff together.
Slowly add in powdered sugar and vanilla extract.
Once whoopee pies are completely cool, spoon filling (1-2 tablespoons) onto flat side of cake and top with second cake to create a little sandwich. Optional: sprinkle top with powdered sugar.
Serve immediately or wrap individually in plastic wrap to preserve freshness.
Recipe adapted from Delish
SKM: below-content placeholder
Whizzco for 12T