The classic gets a makeover.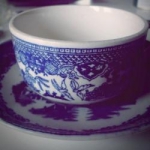 Rose Heichelbech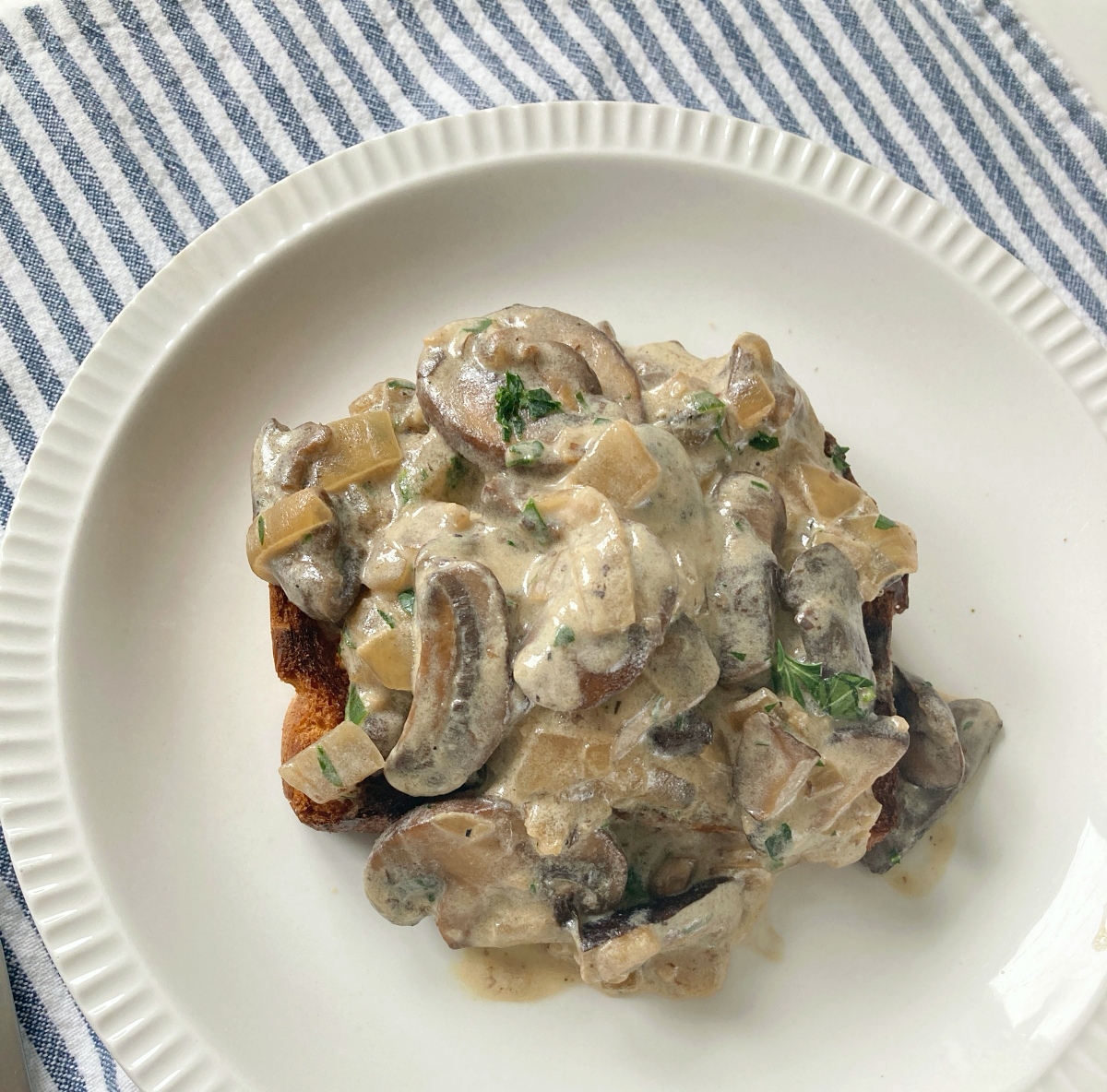 Growing up we often had a weeknight dinner that some referred to as sh*t on a shingle. This crude name comes from the military, where this simple dish of chipped beef in a cream sauce on toast was once served weekly. In this scenario the toast is the shingle and the toppings are the rest of that phrase. For purposes of politeness this dish is usually called S.O.S. and today we've got a version made without chipped beef. This mushroom S.O.S. is easy to make and is made even easier (if that's possible) with a few shortcuts that shave off valuable time from this revamped classic.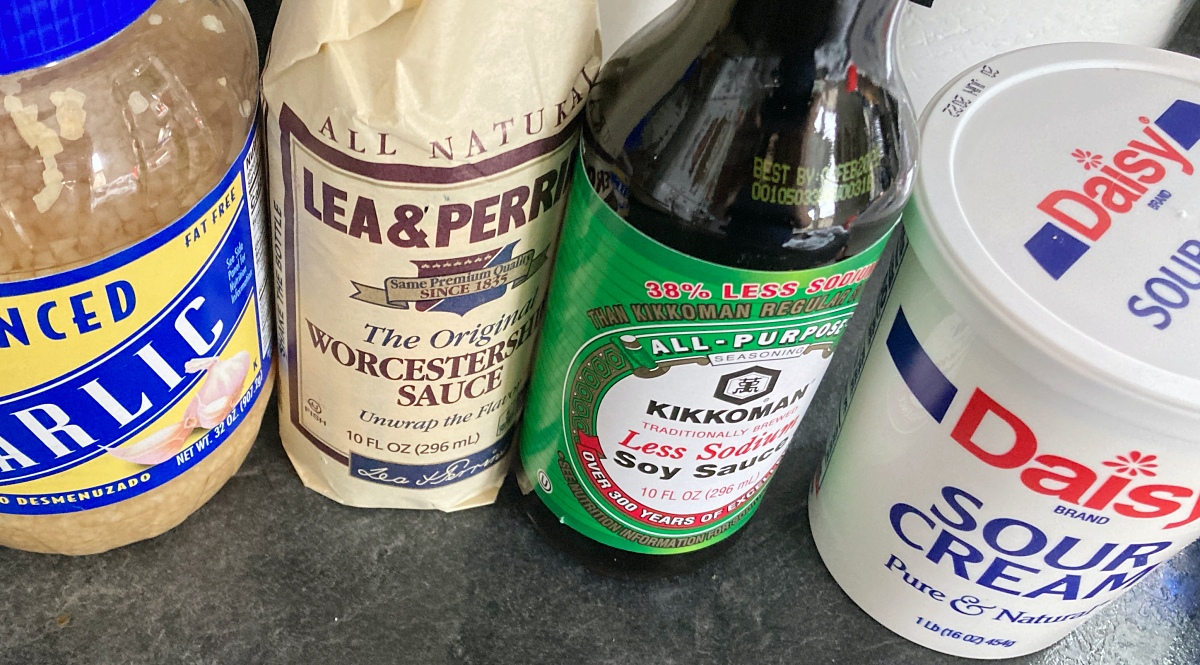 This recipe is great for Meatless Mondays, but you can also add some browned ground sausage or beef if you want to. The main thing with this recipe is the sauce and the mushrooms.
To make this recipe a snap I used pre-sliced cremini and shiitake mushrooms. On this grocery trip they were on sale and so it didn't cost extra to eliminate the chopping step from the recipe. Once you've got the onions and mushrooms mostly cooked you can begin building the sauce, which is made from milk, sour cream, Worcestershire sauce, soy sauce, and garlic.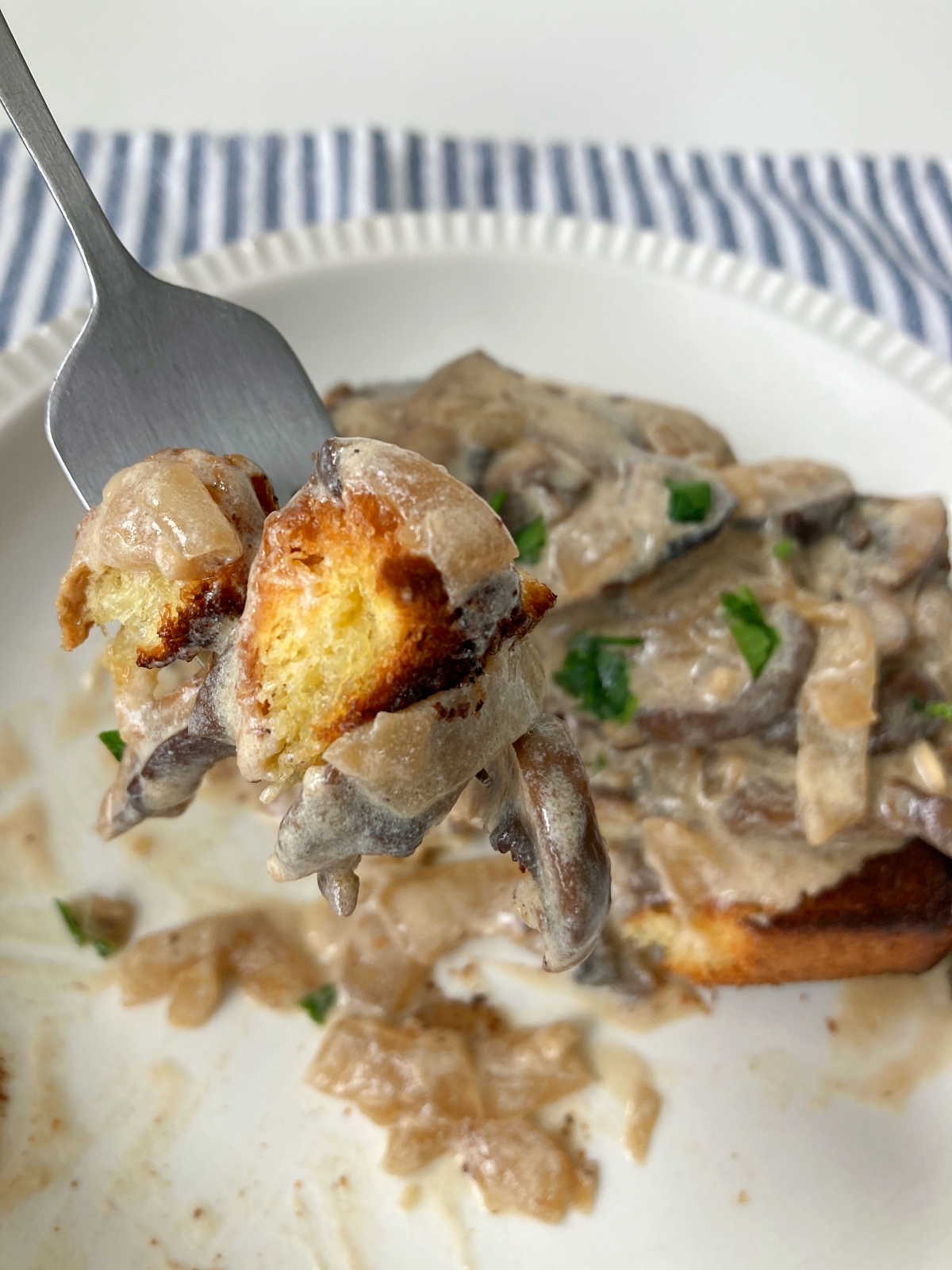 To thicken the sauce in this recipe we're using a little flour. Because you're adding the flour to the mushrooms and onions, you can't whisk it. And because of that this sauce can be prone to breaking. But, if it does keep stirring vigorously and add a small spoonful of water to save it from becoming separated.
You can toast your own garlic bread for the shingle, or you can use the frozen Texas toast style to save another step. If you want a hearty meal without a lot of work, this is one is a gem for saving time since there are so many places to shave a few minutes off the prep time.
Serve the creamy, rich sauce over the toast and then sprinkle with a tiny bit of fresh parsley for a meatless version of this military meal that will have your family asking for seconds.
Mushroom S.O.S.
Serves 6-8
15m prep time
30m cook time
317 calories
Ingredients
6-8 slices Texas toast
2 tablespoons butter
1/4 teaspoon garlic powder
1 1/2 tablespoons olive oil
1 lb cremini, portobello, or button mushrooms
3 oz shiitake mushrooms
1 small onion, diced
1-2 tablespoons Worcestershire sauce
2 teaspoons soy sauce
3 cloves garlic, minced
1 tablespoon all purpose flour
2 tablespoons sour cream
3/4 cup milk
salt and pepper to taste
finely chopped parsley for garnish
Preparation
Preheat oven to 375°. Dot bread with butter and sprinkle with garlic powder. Bake for 3-5 minutes or until toasted. Flip and repeat. Set aside when toasted.
Sauté mushrooms in olive oil over medium heat for 5-10 minutes. Allow mushrooms to brown before stirring them. Add onion only once mushrooms have developed some color. Cook onions until translucent, about 7 minutes, adding garlic about halfway through cooking. Add salt, pepper, Worcestershire sauce, and soy sauce and stir well.
Reduce heat to low and stir in flour. Cook for 1 minute. Remove from heat. Combine milk and sour cream in a bowl and stir to combine them. Stir in 2 tablespoons of the milk and sour cream mixture to temper. Then follow with the remaining dairy, stirring often, until a thick sauce forms. Do not allow to boil as mixture can easily separate.
Spoon mushroom sauce on toast and sprinkle with chopped parsley- stir in parsley into the whole dish at the last minute before adding to bread. Serve while hot.
Recipe adapted from Uncle Jerry's Kitchen.
SKM: below-content placeholder
Whizzco for 12T