This mouthwatering meal is a collision of flavors from Mexico and Maine– an unlikely combination that will win over everyone at the dinner table. An ordinary cheese or chicken quesadilla is always delicious, but adding in lobster takes this dish to the next level. If you're a veggie lover, try throwing in some bell peppers together with the lobster filling.
What really makes this lobster quesadilla recipe such a standout is the quesadilla sauce and pico de gallo that accompanies it. The first has a nice kick to it, a delicious blend of chipotle andjalapeño. The pico de gallo is also a little saucy with some more jalapeño as well as Roma tomatoes and cilantro. Spread on top of the quesadillas, it gives this dish that little extra something.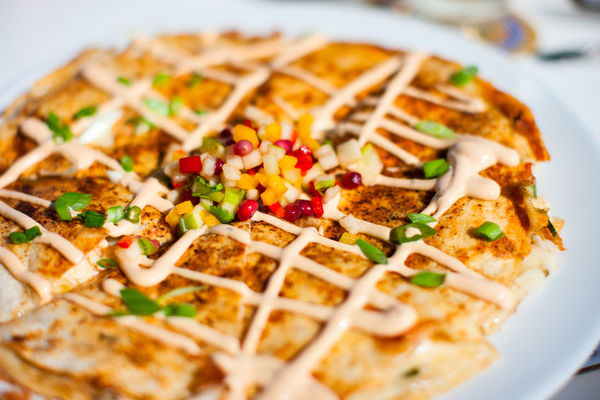 Lobster Quesadillas
with Chipotle-Jalapeño Sauce and Pico de Gallo
(makes 4 servings)
Ingredients:

Quesadilla:
1 (10-inch or 12-inch) flour tortilla
2/3 cup grated cheese blend
2 1/2 oz. fresh lobster meat
Chipotle-Jalapeño Sauce:
22 oz. jar of mayonnaise
1 lb. sour cream
10 oz. plain yogurt
2 oz. lime juice
1 1/2 oz. chipotle
1/6 of a bunch of cilantro
1/6 of a jalapeño, seeded and deveined
1 oz. lime juice
Pico de Gallo:
10-12 Roma tomatoes, seeded and liquid removed
1 white onion, diced into 1/4-inch pieces
2-3 jalapeños, finely diced
1/2 of a bunch of cilantro
Zest and juice of 1 lime
Salt (to taste)
Pepper (to taste)
Directions:
1. Warm tortilla on the grill. Place grated cheese on 1/2 of tortilla, then place the fresh lobster meat on top of it.
2. Fold the tortilla in half and let it grill about 3 minutes, turning it over now and then to cook both sides well.
3. To make chipotle-jalapeño sauce: blend ingredients together in a food processor.
4. For the pico de gallo, simply combine all ingredients in a bowl.
5. To serve: slice tortilla into 4 portions and top with sauce and pico de gallo. Enjoy!
Recipe adapted fromToday Food.
Select another recipe…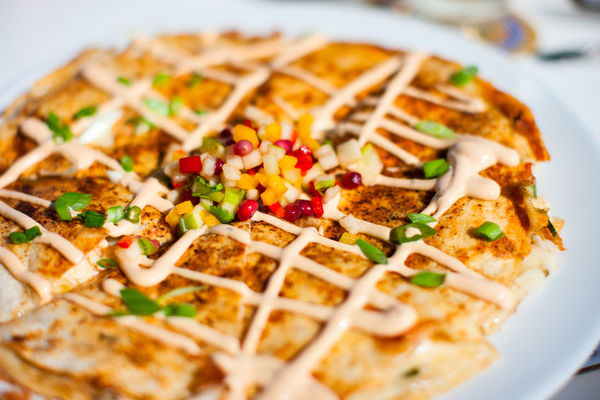 SKM: below-content placeholder
Whizzco for 12T