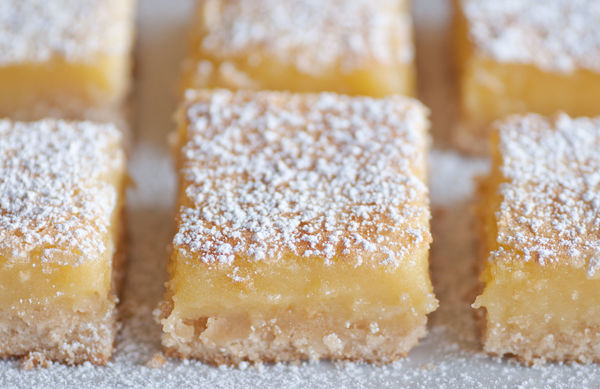 Lemon bars are irresistibly tangy – yet also slightly sweet and buttery- thanks in no small part to the shortbread crust. The cake-like top with the powdered sugar only serves to complete the treat, making these lemon bars a totally addictive dessert.
In the past, we've found many lemon bars are too sweet, or their crusts are too soggy. We wanted to find a way to fix these problems and bring out the tangy citrus without drying the treat out too much. To fix the sweetness, we used the juice from three or four lemons with some added zest in the filling while dialing back a little on the sugar. For the crust, we used confectioners' sugar and cornstarch, finding those gave the perfect texture. To prevent sogginess, we pre-warmed the crust in the oven and added the filling to the warm crust. We can't tell you how pleased we were with the result, so you'll just have to try it out and see for yourself!
Lemon Bars
Ingredients
CRUST
1 3/4 cups flour
2/3 cups confectioners' sugar (plus more for decoration)
1/4 cup cornstarch
3/4 teaspoon salt
12 tablespoons butter, slightly cooler than room temperature, cut into 1″ pieces
FILLING
4 large eggs, lightly beaten
1 1/3 cups sugar
3 tablespoon flour
2 teaspoons grated lemon zest from 2 large lemons
3/4 cup lemon juice from 4 large lemons, strained
1/3 cup whole milk
1/8 teaspoon table salt
Directions
Preheat the oven to 350 F. Lightly butter a 13″x9″ baking dish and line with a sheet of parchment paper. Dot the paper with butter, then lay a second sheet crosswise over it.
Pulse the flour, confectioners' sugar, cornstarch, and salt in a food processor or blender. Add the butter and process to blend, 8 to 10 seconds. Pulse until the mixture is a pale yellow and resembles a coarse meal. Sprinkle the mixture into the lined pan, and press firmly with your fingers into an even 1/4″ layer over the entire bottom of the pan and about 1/2″ up the sides. Refrigerate for 30 minutes, then bake about 20 minutes.
While the crust is cooling and baking, whisk together the eggs, sugar and flour for the filling in a medium bowl, then stir in the lemon zest, juice, milk and salt to blend well.
when the crust is done baking ,reduce the oven to 325F. Stir the filling mixture to reblend, then pour into the warm crust. Bake about 20 minutes, or until the filling feels firm when lightly touched (about 20 minutes). Transfer the pan to a wire rack and let cool for 30 minutes. Lift the confection up by the parchment paper and transfer to a cutting board. Fold the paper down and cut into serving size bars.
Sift confectioners' sugar over the bars for decoration.
Enjoy!
Recipe adapted from Smitten Kitchen
SKM: below-content placeholder
Whizzco for 12T