You'll be eating this filling straight from the bowl!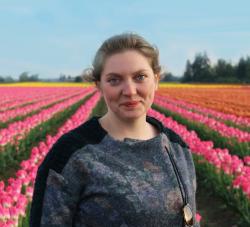 Decatur Macpherson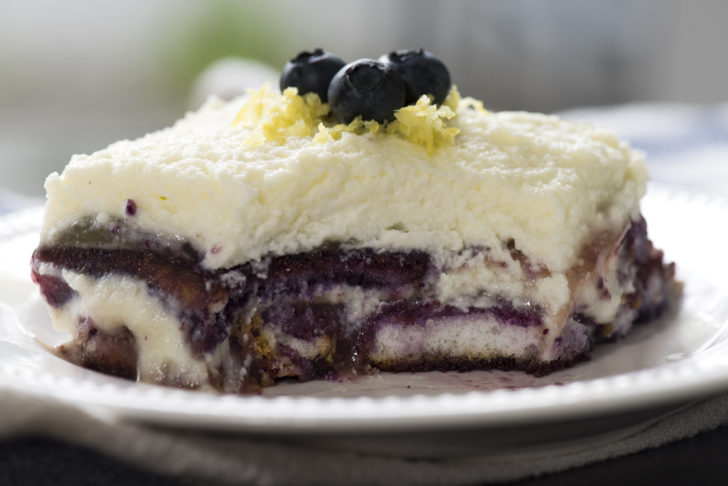 Does it get any better than tiramisu? If you'd asked us that a few weeks ago, we would've given you an emphatic, "no!" However, after playing around with different combinations, we've decided that there is, in fact, an alternative that gives the traditional a run for its money. We give you the lemon blueberry tiramisu.
Okay, so while we had every intention of using lady fingers, our local supermarket had just run out, so we made do with toasted strips of angel food cake (which were surprisingly tasty!); the angel food cake lent a slight marshmallowy flavor to the dish that went really nicely with the other flavors…. Said other flavors primarily being creamy lemon curd and lemon filling, and blueberry reduction-dipped cake strips (or lady fingers). This dessert is unapologetically decadent, so have a light dinner and get ready for how good this stuff is!
Lemon Blueberry Tiramisu
Serves 8-10 1-2 hours
Ingredients
2 (10 oz.) jars lemon curd
1-2 (8 oz.) lady fingers, or angel food cake, cut into strips
Blueberry Sauce:
3 cups blueberries
2/3 cup water
2/3 cup sugar
2 tablespoons lemon juice
1/2 teaspoon lemon zest, plus extra for garnish
Filling:
2 (8 oz.) packages mascarpone cheese
1 cup heavy cream
3/4 cup white chocolate
1 teaspoon canola oil
Preparation
In a large saucepan over medium-high heat, combine blueberries and water to create blueberry sauce.
Cook for 5-8 minutes, then use 2 forks to crush and mash blueberries into a pulp.
Bring mixture to a boil, then reduce heat to low and simmer until thickened. 10-12 minutes.
Strain blueberry mixture into a medium bowl, pressing berries firmly with the back of a wooden spoon to squeeze out the juice, while keeping the seeds and pulp from getting into the sauce.
Transfer strained sauce back into saucepan (having first rinsed it out to get rid of any pulp), and stir in sugar, lemon juice and zest.
Stirring frequently, return mixture to a boil until sugar dissolves, then reduce heat and simmer for another 5-10 minutes, or until thickened.
Transfer sauce to a medium bowl and refrigerate until chilled and ready to use.
Place white chocolate chips in a microwaveable bowl and microwave at 30-second increments, stirring in between, until melted and smooth. (Mix in canola oil if chocolate isn't melting easily.)
In a large bowl or stand mixer, beat mascarpone cheese until smooth and creamy, then fold in melted white chocolate.
In a separate bowl or mixer, beat heavy whipping cream until stiff peaks form.
Gently fold 1/2 cup whipped cream into mascarpone chocolate mixture, then add the rest, working in batches, until whipped cream is incorporated. Don't over mix.
To assemble: quickly dunk each lady finger completely in blueberry sauce, then line the little cakes in the bottom of 9x13-inch baking dish to form an even layer.
Use a rubber spatula to gently spread 1/2 lemon curd over lady fingers. Top with 1/2 mascarpone mixture.
Repeat with another layer of dipped ladyfingers and remaining lemon curd and mascarpone, then top with grated lemon zest.
Refrigerate at least 30 minutes, or overnight and serve chilled. Enjoy!
Recipe adapted from A Bajillian Recipes
SKM: below-content placeholder
Whizzco