What do you get for the person who has everything? All the ingredients to make their favorite cookies ñ or your favorite cookies, if you have a great go-to recipe ñ all conveniently in one jar.
It's homemade, thoughtful, practical, and pretty delicious ñ not to mention simple to put together if you need last-minute stocking stuffers or gifts. These are great for neighbors, co-workers, teachers, friends, and family.
Simply get a quart-sizemason jar, some festiveribbon, and a tag to write the actual recipe on. (Lots of room for creativity here!) Pour the ingredients into the jar one by one, typically starting with heavier stuff like flour and sugar.Try alternating different colors too, like flour, then brown sugar, then white sugar, etc. so the colors really pop. Candies, nuts, oats, chocolate chips, and the like are best put at the top of the jar.
For this type of gift, only include the dry ingredients in the actual jar – you can write the instructions on necessary wet ingredients (eggs, butter, etc.) on a tag attached to the jar. Simply wrap the neck of the jar with ribbon and attach the recipe tag, and youíve got a DIY gift in no time!
This works for brownies, muffins, cookies, and all kinds of baked goodies – but weprefer thisrecipe for butterscotch chip cookies. Read below!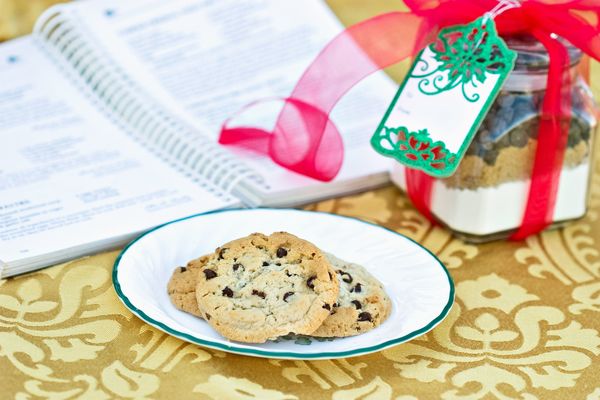 Butterscotch Chip Cookies in a Jar
Ingredients
1 1/8 cupsall-purpose flour
1/2 teaspoonbaking soda
1/4 teaspoonsalt
1/4 teaspoonbaking powder
1/2 cuppacked brown sugar
1/2 cupwhite sugar
1 cupflaked coconut
1 cuphigh protein crisp rice and wheat cereal
3/4 cupbutterscotch chips
1/2 cupchopped pecans
Directions
Layer the ingredients in a one-quart jar, starting with the flour and going down the ingredients list and adding them accordingly. Make sure to firmly press down on each layer before adding the next ingredient.
After sealing the jar shut, wrap a ribbon around the neck of the jar.
Add a recipe card as a tag with instructions about how to mix and bake the ingredients. The recipe card should say: Preheat the oven to 350 degrees F and empty the cookie jar mix into a large bowl. Add 1/2 cup of butter, 1 egg, and 1/2 teaspoon of vanilla. Whisk everything together, then roll the dough into large walnut-sized balls. Put the balls of dough onto a cookie sheet that's been lightly sprayed with cooking spray, flatten each dough ball with the palm of your hand, and then bake for 8 to 10 minutes. Makes 2 dozen cookies.
Enjoy!
Recipe adapted from All Recipes
SKM: below-content placeholder
Whizzco for 12T