A classic in casual grab-and-go form.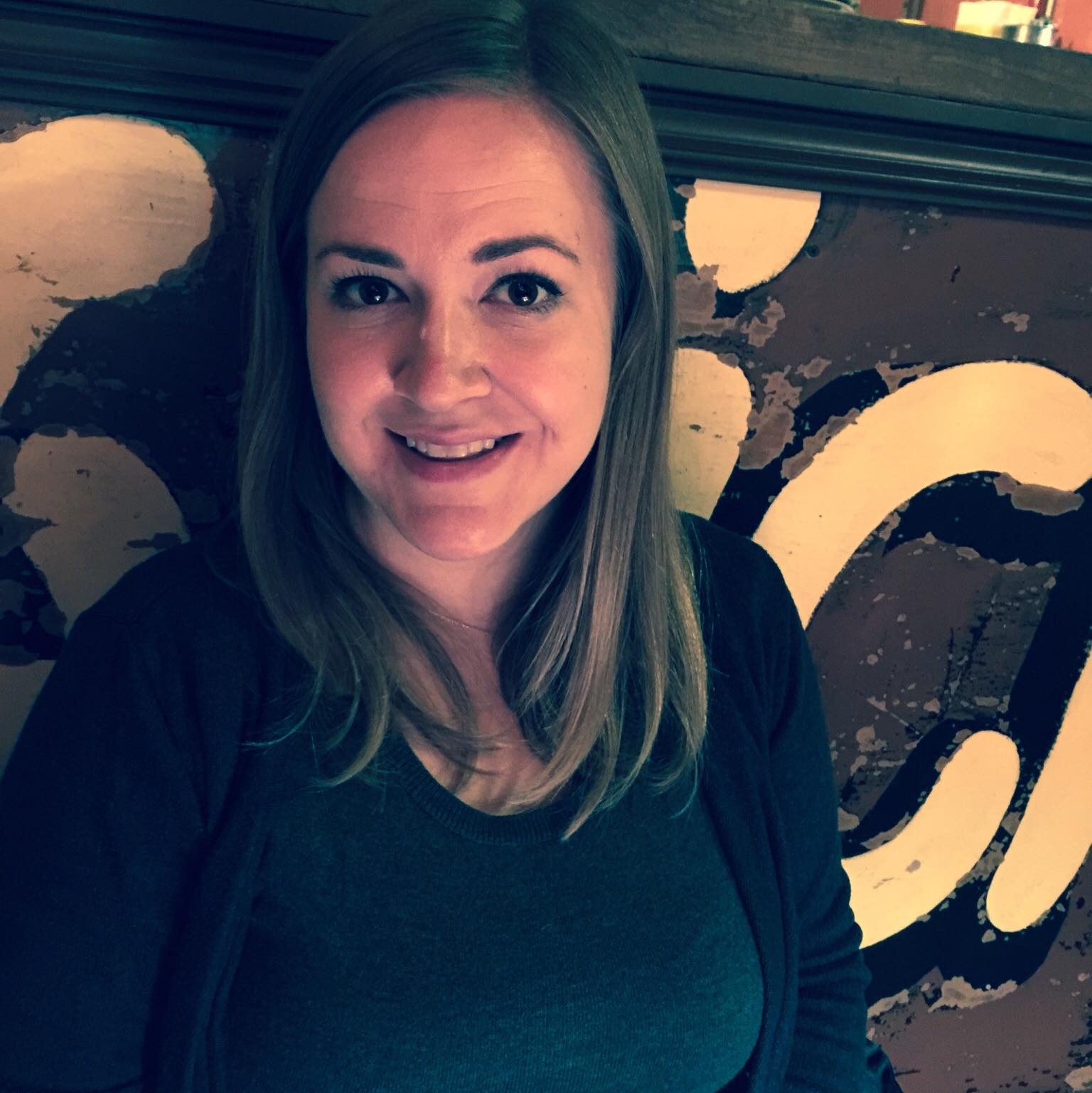 Kristy Norrell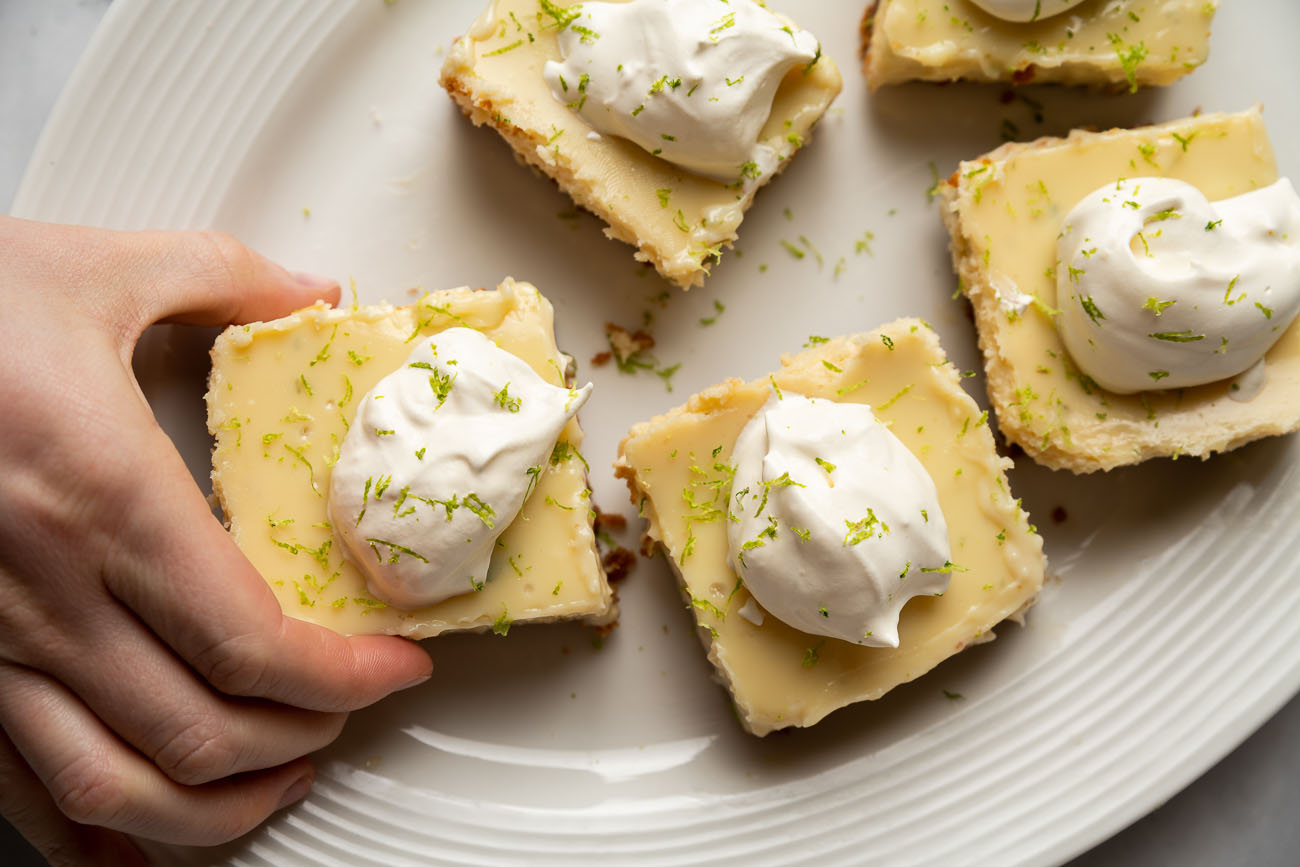 It's hard to think of a dessert that's as universally loved as Key Lime Pie. Maybe chocolate cake might beat it out, but Key Lime Pie comes pretty close to being the definition of a crowd-pleaser. Smooth and creamy but bright and tangy too, it's a dessert that's all about balance what with its crunchy crust and silky filling and sweet meringue (or whipped cream!) topping and tart custard. Its only fault — if you can say it has one — is that you have to slice it and sit down with a fork and a plate to eat it. But no more. These Key Lime Pie Bars take a more casual approach and transform the dessert into a handheld, on-the-go option that's perfect for parties, potlucks, or whatever sharing occasions might await you.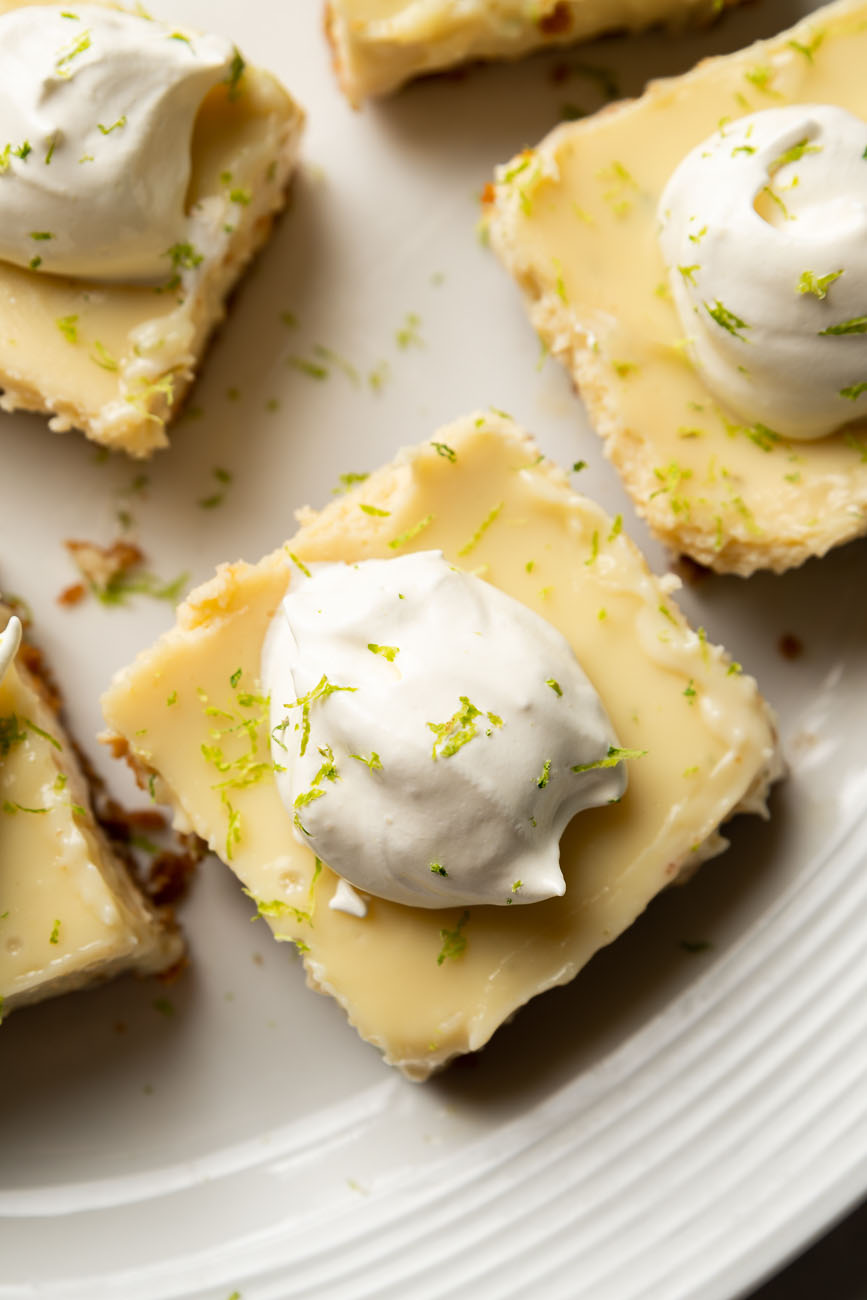 The crust here is pretty classic. Graham cracker crumbs, butter, and a little sugar for good measure that are all mixed up and then pressed into a square dish instead of a springform pan.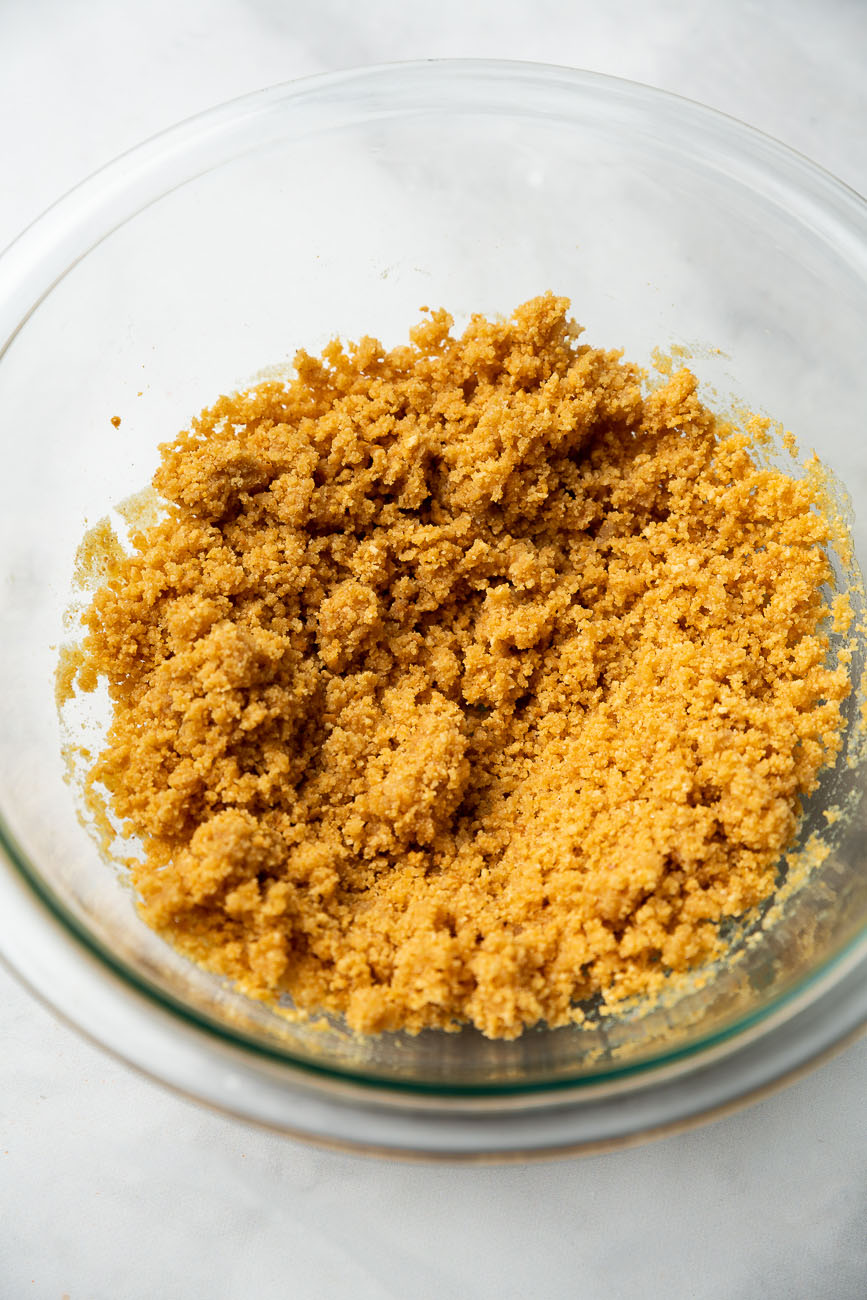 You'll want to bake that crust for ten minutes and then let it cool while you work on the filling.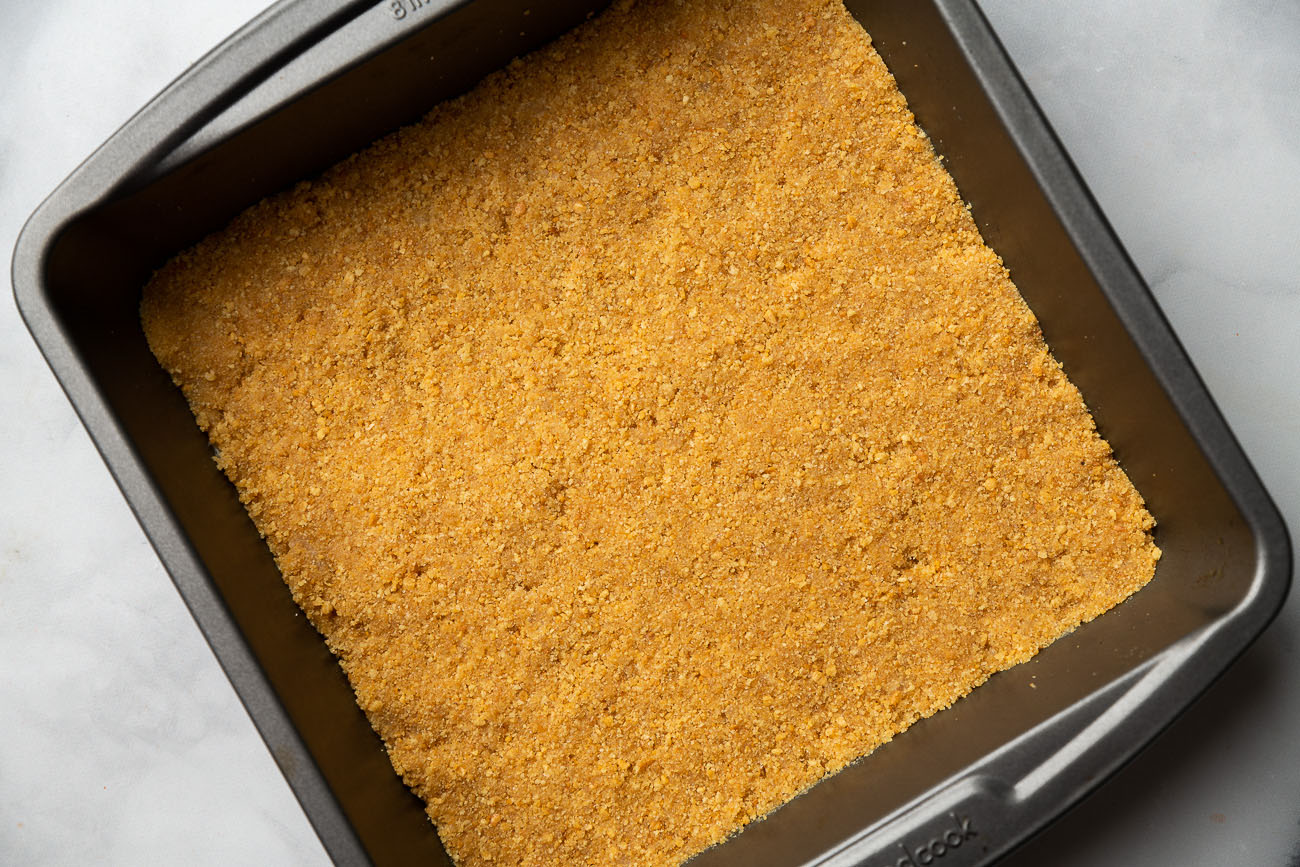 That filling is also pretty classic. Traditionally, Key Lime Pie filling is made up of key lime juice, sweetened condensed milk, and eggs. (That's a very easy custard, right there!) We've got all those here but they're rounded out with some cream cheese for added silkiness and some lime zest as well to up the flavor quotient a bit. Just pour that filling allllll over the crust…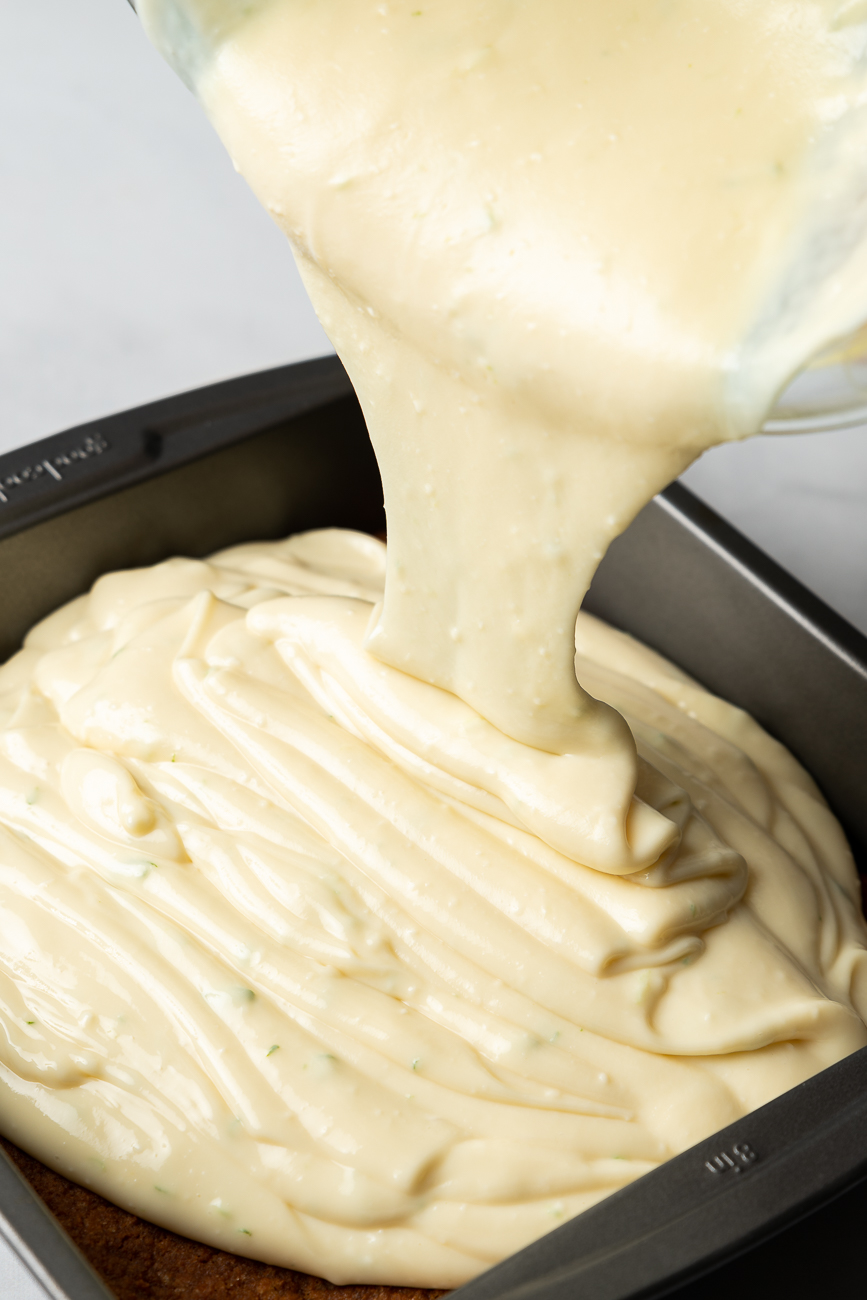 And bake until it's set, about fifteen minutes. There's not a water bath or springform pan or any fussy things needed here, just pop the baking dish in the oven and pull it out when your timer goes off. You do want to make sure to chill the bars for a good few hours before you slice into them — they need a chance to set.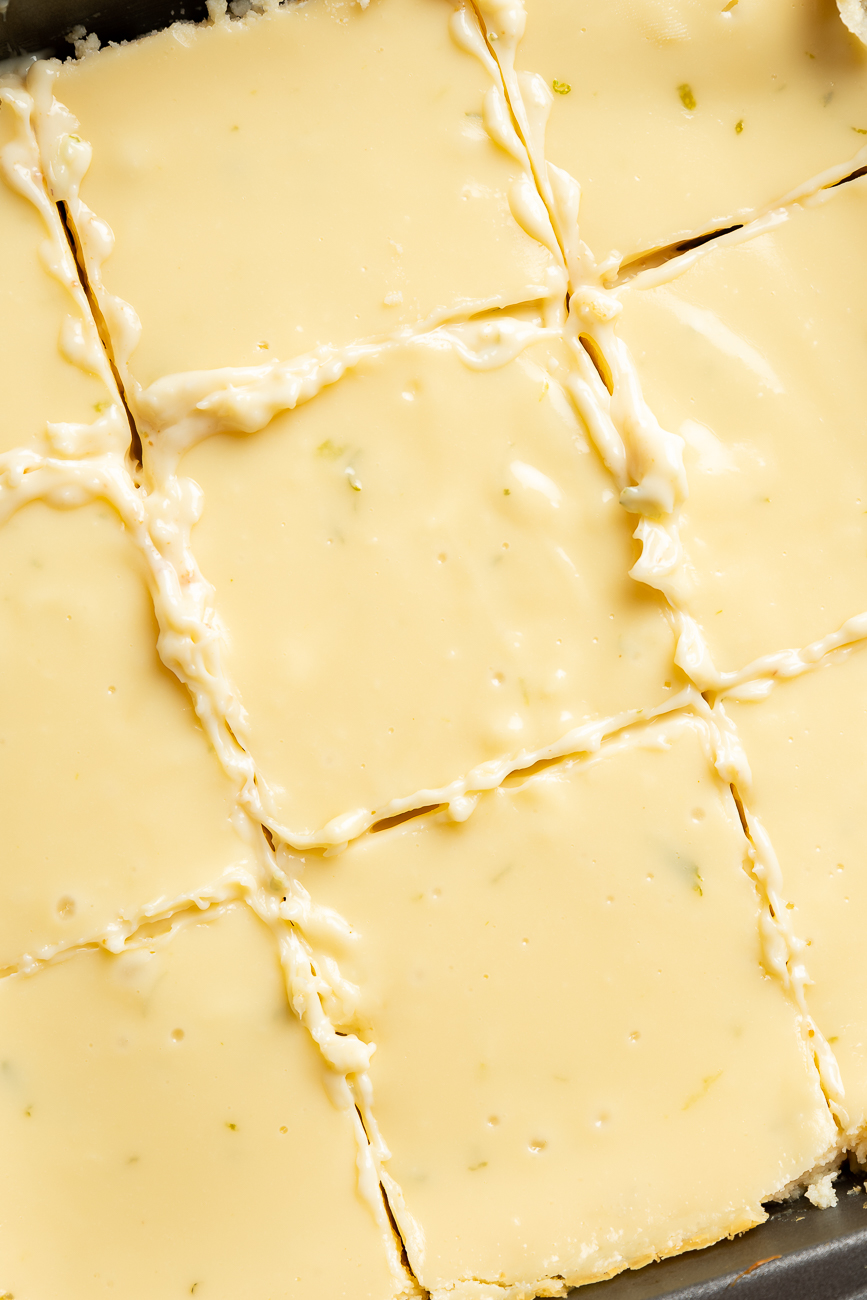 A little dollop of whipped cream and a little sprinkle of lime zest on each square is the perfect final flourish before you set these out, where they'll get picked up immediately.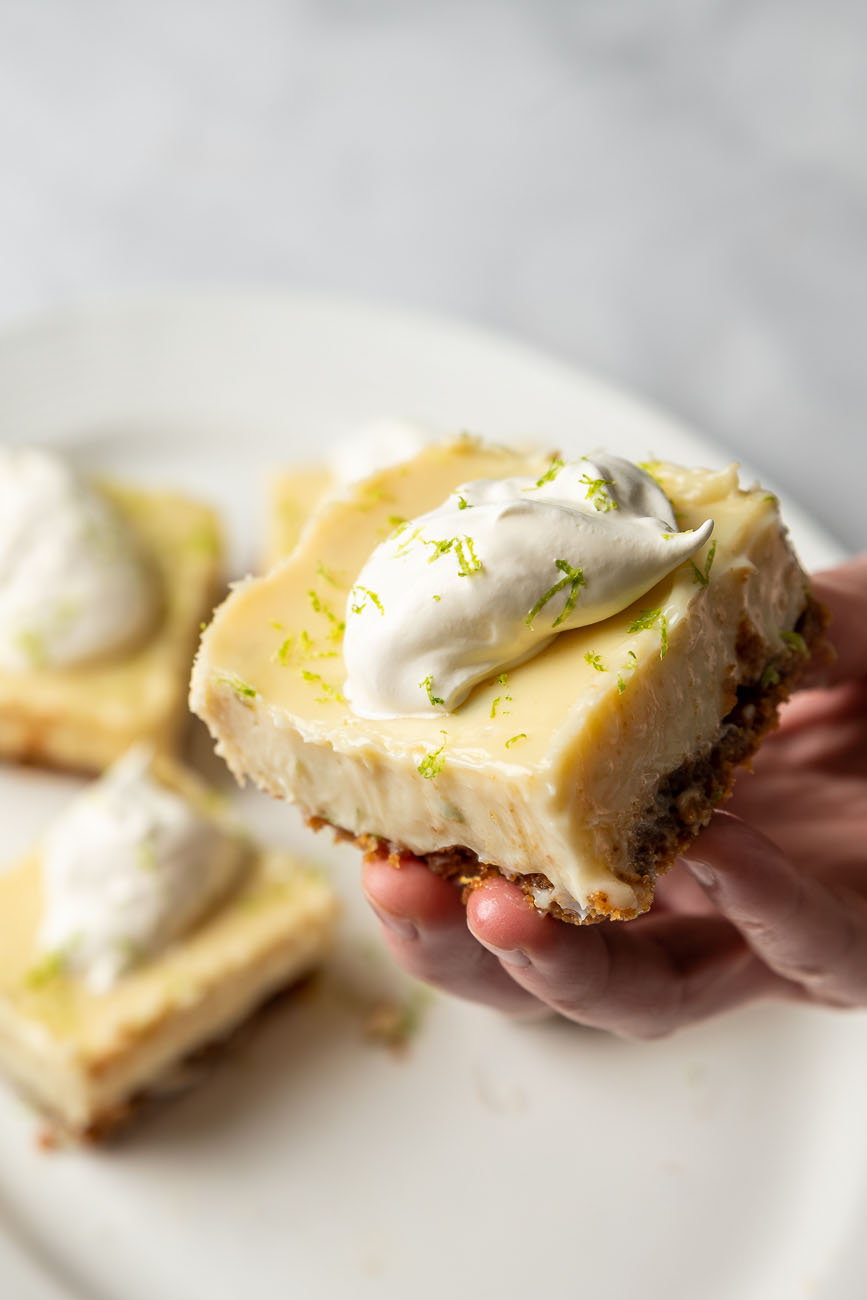 They're creamy and tart with just the right amount of sweetness and they're much easier to eat while you're standing around chatting with friends. While a regular Key Lime Pie might shine at a sit-down dinner or brunch, I love these for parties and bake sales and backyard barbecues. They're more delicious than dessert bars have any right to be!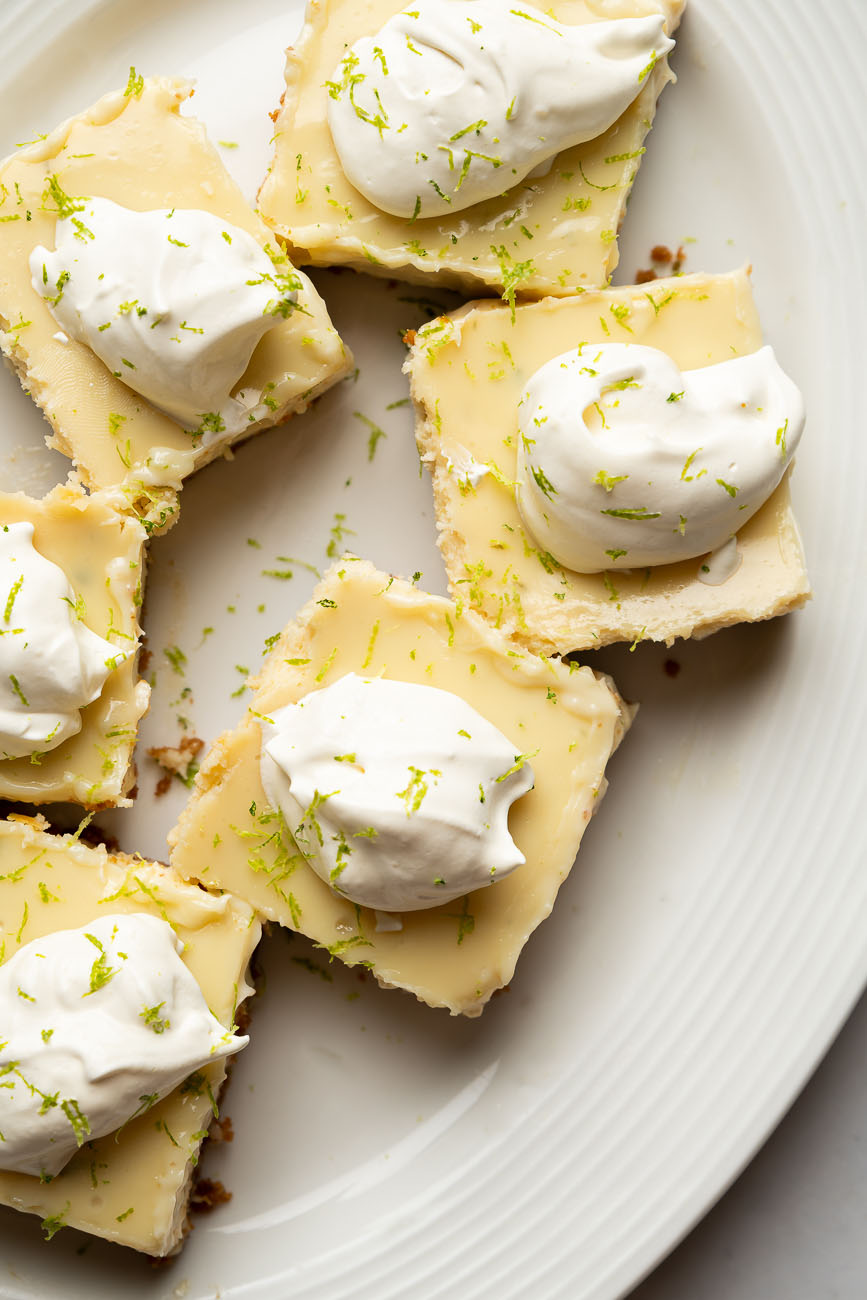 Key Lime Pie Bars
Serves 12
10m prep time
25m cook time
2h inactive
For the crust:
1 1/2 cups graham cracker crumbs, (about 12 graham crackers, crushed)
1/4 cup granulated sugar
6 tablespoons butter, melted
For the filling:
2 (14 oz each) cans sweetened condensed milk
4 oz cream cheese, softened
2 egg yolks
3/4 cup key lime juice
Zest of 4 key limes, or 2 regular limes
For the topping:
Whipped cream, as needed
Lime zest, as needed
Ingredients
Note: For key lime juice, can use bottled key lime juice or the juice of about 20 fresh key limes.
Preparation
Preheat oven to 350°F.
In a medium bowl, mix together the graham cracker crumbs, sugar, and butter until combined. Press firmly into the bottom of an 8x8-inch baking pan.
Bake for 10 minutes, then remove from oven and set aside to cool while you make the filling.
In a large bowl, beat the cream cheese with an electric mixer until smooth. Add sweetened condensed milk, egg yolks, lime juice, and lime zest and beat until combined.
Pour over cooled crust and bake until set, about 15 minutes.
Place in refrigerator to chill before slicing, at least 3 hours.
Cut into squares and top each square with a dollop of whipped cream and some lime zest. Enjoy!
Recipe adapted from Tastes Better From Scratch.
SKM: below-content placeholder
Whizzco for 12T