Sweet potatoes, but for the summertime!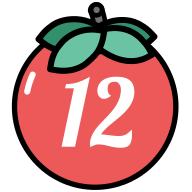 Dom Ruane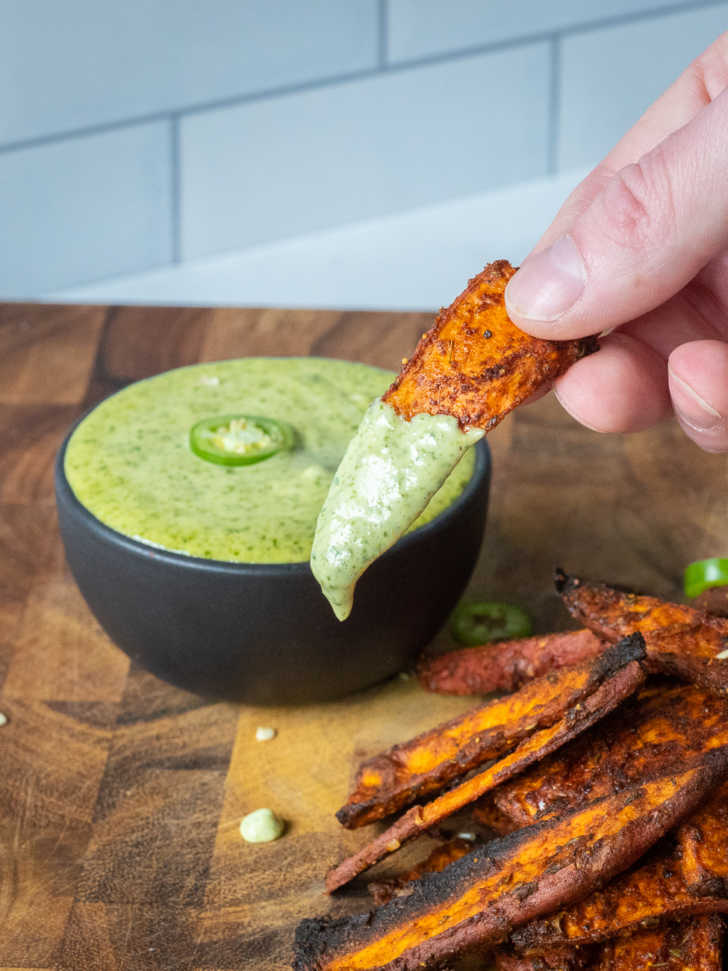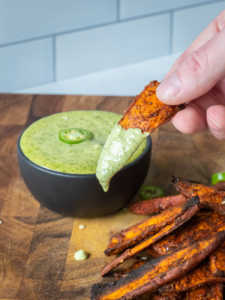 When I think of summer, I think of grilled foods and citrusy bright greens, I think of dodging wasps attacking me at the grill… I also think of Caribbean food, especially jerk chicken, mmm. I have a couple of cousins who OBSESSIVELY love jerk chicken and marinate everything in their favorite jerk marinade all summer long. Being out here in Seattle away from family, I miss the endless jerk marinade fun, so I came up with a new idea to roast sweet potato wedges in a jerk seasoning rub and create a light tangy aioli for dipping for a little taste of home. Let's bring more fun and exciting vegetable options to the party people! These wedges are the way to do it!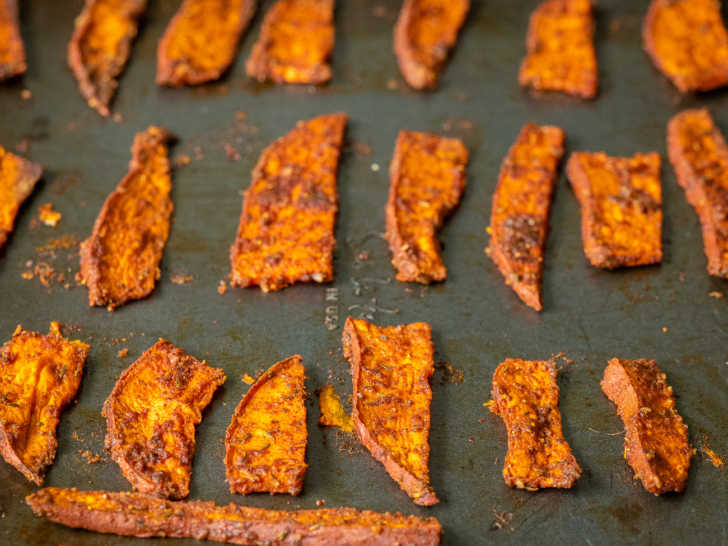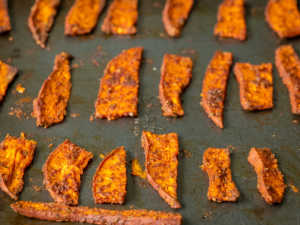 Sometimes I feel like people are only using sweet potatoes at Thanksgiving and it keeps me up at night… Just kidding, but are you only using them once a year? My grandma LOVED sweet potatoes, especially at Thanksgiving and Christmas but I didn't get it… They were so sweet that I asked, "shouldn't we be eating this with the Hawaiian salad for dessert with a dollop of Cool Whip?" It took me a while to understand those sweet potatoes were more than an overly sweet side dish.
I know sweet potato fries are very hit or miss and maybe that's who's to blame for this sweet potato cooking famine, but the reality is sweet potatoes are a delicious side option, as well as a hearty vegetarian entrée option. In my career, I've made sweet potato empanadas with chipotle aioli, a smoky-sweet potato soup, spice roasted chopped sweet potato, sweet potato au gratin, etc… I know for me, when I'm cooking my carbs for dinner, they need to be as flavorful and tasty as they can be.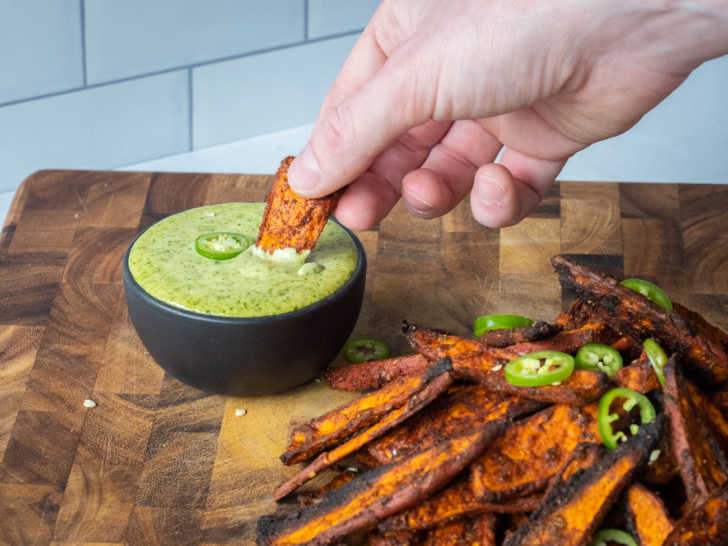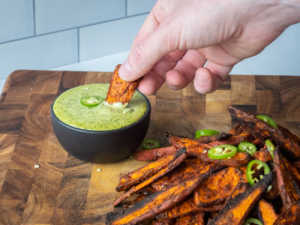 Diversity in cooking vegetables is important to our bodies' health and sweet potatoes not only add beautiful vibrant color but also pack a punch of vitamin A, good for our eyeballs. These good ol' sweet potatoes are available all year round, which gives you one less reason to say no to having these jerk sweet potato wedges with dinner tomorrow night!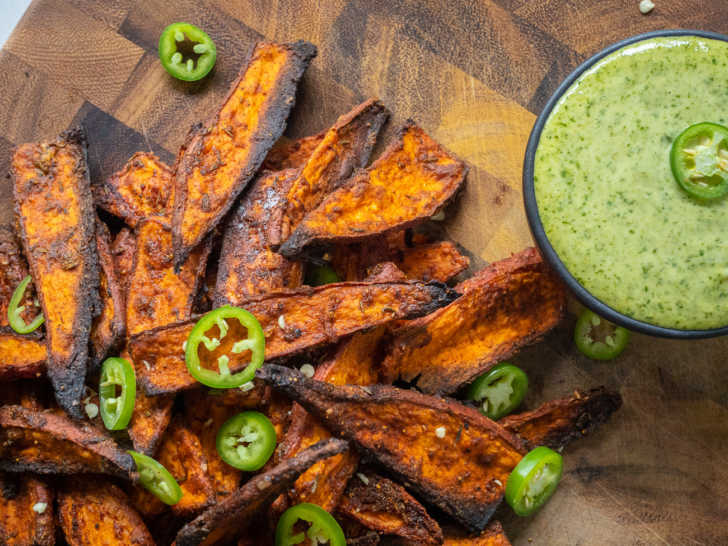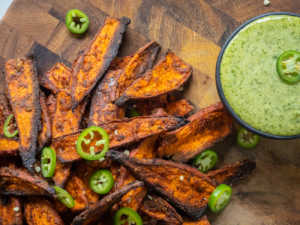 Jerk Sweet Potatoes with Cilantro Aioli
Serves 4
10m prep time
20m cook time
For Potatoes:
2 large sweet potatoes, cut into wedges
3 tablespoons olive oil
2 tablespoons cornstarch
2 teaspoons allspice
2 teaspoons paprika
1 teaspoon dried thyme
1 teaspoon brown sugar
1/2 teaspoon cinnamon
1/2 teaspoon ground cumin
1/2 teaspoon ground ginger
1/4 teaspoon cayenne pepper
1 serrano pepper, thinly sliced (optional)
Kosher salt and freshly cracked black pepper, to taste
For aioli:
1 egg yolk
1 garlic clove
1/2 teaspoon cumin
2 tablespoons fresh lime juice
3/4 cup vegetable oil
1 cup fresh cilantro, chopped
Kosher salt and freshly cracked black pepper, to taste
Directions:
Preheat an oven to 425° F.
Toss sweet potatoes in olive oil in a large bowl to cover every piece.
In a small bowl, mix together cornstarch, allspice, paprika, thyme, cinnamon, cumin, ginger, and cayenne until combined.
Toss potatoes with seasoning mixture to coat each side of the potato and lay out on a sheet tray, making sure there's room between each wedge.
Roast in the oven for 10 minutes, then flip wedges and continue cooking for 10 - 15 minutes until the edges start to caramelize.
In a food processor, combine egg yolk, garlic, cumin and lime juice and pulse until garlic is pureed.
While the food processor is on low, slowly add in the oil. The goal is to create an emulsion that will not separate.
Blend cilantro into aioli until cilantro has fully combined into aioli. Serve with sweet potato wedges.
Cheers!
Recipe adapted from Connoisseur urus Veg.
SKM: below-content placeholder
Whizzco for 12T