Penne all 'arrabbiata is an Italian pasta dish made primarily of tomatoes and chili peppers. "Arrabbiata" literally means angry in Italian and the name of the meal refers to the heat and "rage" coming from the peppers. If you're not a big fan of spice, this pasta recipe might not be quite for you, but it's easy to tone down the heat by adjusting the amount of red pepper flakes to your liking–don't worry, there 's no right or wrong way to make it!
We love this dish because it packs a big punch without racking up an enormous grocery bill. If you've got tomatoes, onion, and red peppers, along with some pantry staples, you're more than halfway there! For family dinners or for a hearty meal to make while entertaining (which would be lovely with some grilled eggplant or a caprese salad), this dish is perfection.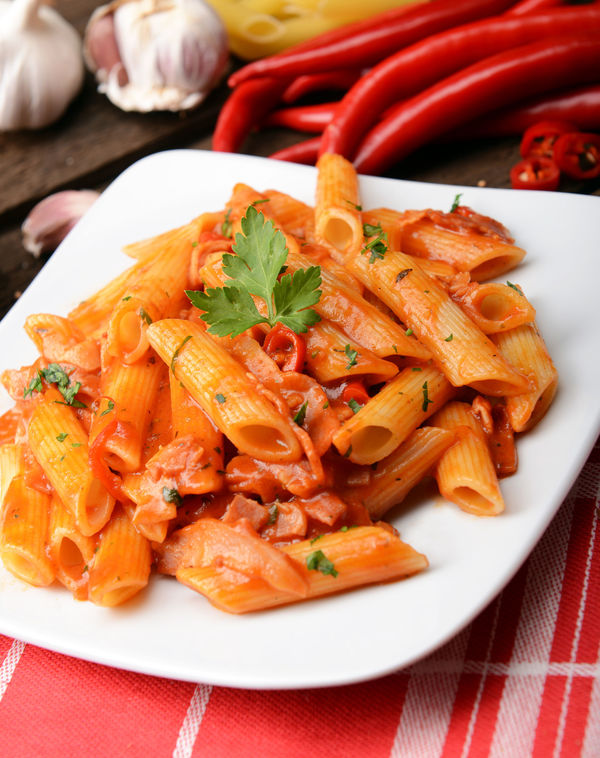 Penne All'Arrabbiata
Serves 4-6
Ingredients
1 pound penne pasta
1 (28 oz.) can diced tomatoes, juices reserved
1 (28 oz.) can tomato puree
4 cloves garlic, minced
1/2 white onion, diced
2/3 cup Parmesan cheese, grated
1/4 cup basil leaves, chopped
3 tablespoons extra-virgin olive oil
2 teaspoons crushed red pepper flakes or 1 red chili pepper
1/2 teaspoon freshly squeezed lemon juice
1/4 teaspoon dried oregano
kosher salt and freshly ground pepper, to taste
Directions
Bring a large pot of salted water to boil and cook pasta according to packaging directions, or until just al dente. Reserve 1/4 cup pasta water.
In a large saucepan, heat olive oil over medium heat. Once hot, sauté onion until softened and translucent. 5-6 minutes.
Add garlic during the last 1 minute of cooking the onion and cook until fragrant.

Note: if using chili pepper instead of crushed red pepper flakes, finely chop and cook with the onion.

Add diced tomatoes, tomato puree and basil leaves to garlic and bring to a boil.
Reduce heat to low and add red pepper flakes or red chili pepper, oregano, lemon juice, salt and pepper. Stir well.
Pour reserved pasta water into sauce and stir to incorporate. Add cheese and cook on low for 15 minutes.
Place pasta in sauce and toss to coat well or spoon sauce over the pasta, saving extra for serving.
Transfer to serving plates and garnish with extra cheese and basil leaves.
Enjoy!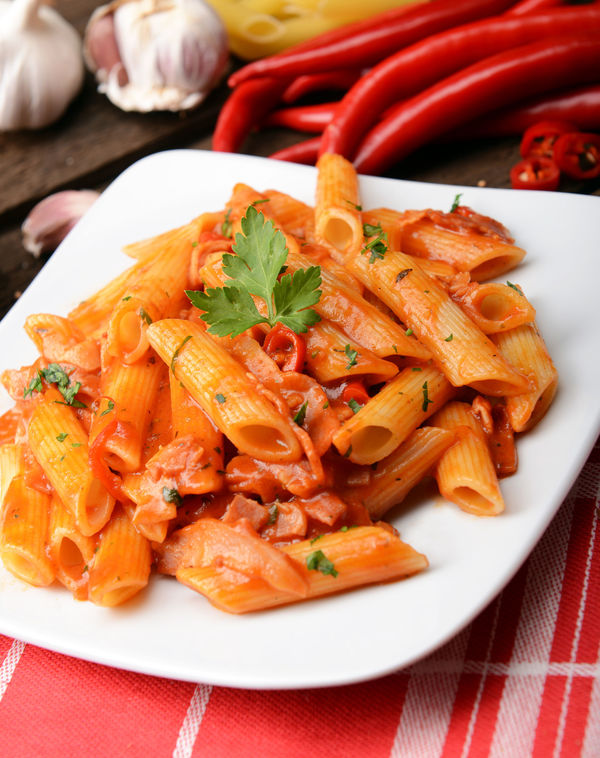 Recipe adapted from My Recipes
SKM: below-content placeholder
Whizzco for 12T