If you are anything like us, you find yourself feeling oddly nostalgic these days. Technology has come a long way and we love having a phone in our pocket. It's one of the best feelings. While there are few things that we love more than having a FaceTime call in bed, there is something to be said about the joys of a landline.
We used to wander the house at all hours of the night chatting on our landline. Of course, you always had to stop once the cord ran out of slack. Today's kids won't be able to relate, but there was once a time when you had to sit down because you were out of cord. You couldn't keep on walking and handling whatever business you were trying to attend to.
The more we think about it…..the more we wonder. Perhaps these feelings are not merely nostalgic. What happens when we embrace the old school and bring back the cords? We miss being able to keep the home organized. Phone cords were a wonderful way to save space as well. Their ability to snap back into place is amazing.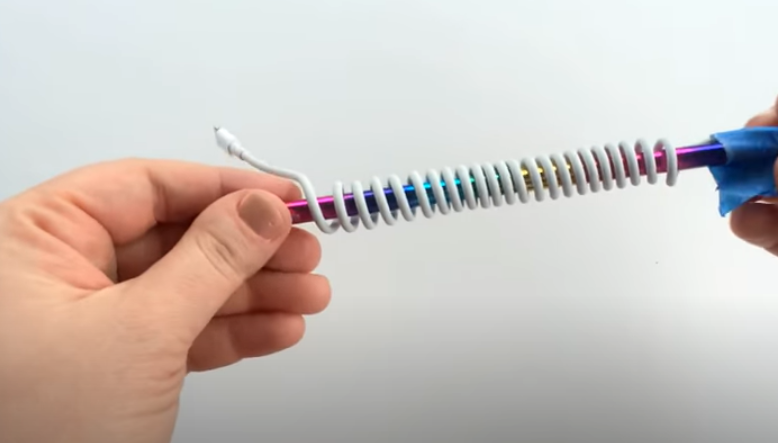 Make It and Love It is here to show you how it's done. Once you have had a chance to see this hack in action, you won't be able to believe it. The '90s kids out there are sure to love it. It reminds us of being sneaky teenagers, talking on the phone after we had to shut the computer down. This is where we look to our fellow AOL Instant Messenger buddies for confirmation!
The zoomers are not going to have the faintest idea what we are talking about and that's okay. This one is just for us. Anyone who has ever tripped and fallen over a phone charger cord will want to strongly consider this item, though as it could save you a great deal of agony. Take it from someone who has sprained an ankle before.
Shout out to Make It and Love It for offering up this game-changing hack. We can't wait to stop dealing with all of the annoyances that are typically associated with random phone charger cords. Those who have pets may also benefit from this one because their four-legged friend won't stop eating their chargers!
Check out the tutorial:
SKM: below-content placeholder
Whizzco for 12T