The classic combo of crispy breaded chicken and spicy honey is finally here. Love to dip these crunchy tenders in ranch for an even better bite.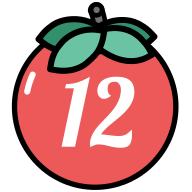 Dom Ruane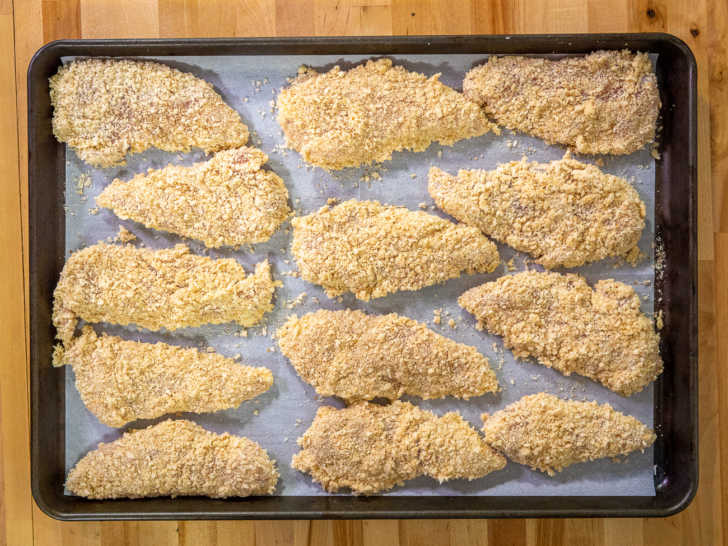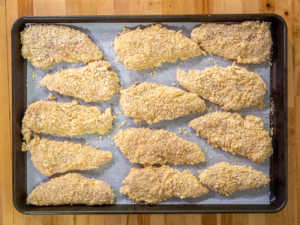 Crispy crunchy chicken tenders. Always hitting the spot. Did anyone else dunk their chicken nuggets in honey growing up? Based on the trend, I think most of us have. From the sweet and salty combination of chicken and waffles, I bring you hot honey chicken. It's the new thing. The sweet honey drizzle flavors the tenders like a BBQ sauce, it's mouthwatering.
I want to show you an easy way to pan-fry chicken tenders, so there's not a big oily mess to clean up after. If this is your first time trying hot honey, look no further. This is the easiest, cleanest, and fastest way I know to make some juicy chicken tendys.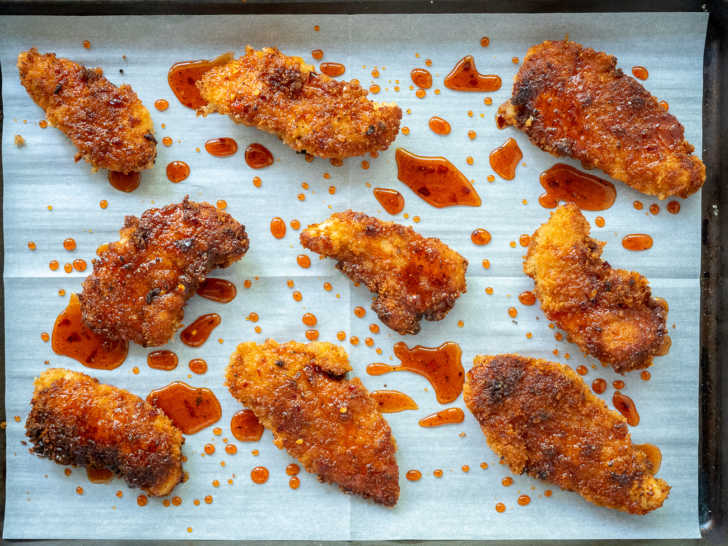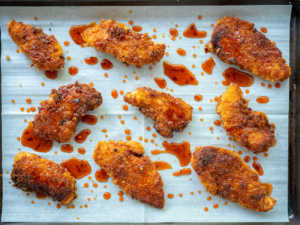 If you've ever breaded anything, then you know it's messy and time-consuming. This chicken tender recipe uses 2 step breading, a soon-to-be new craze. We marinate the chicken in sour cream and spices that help flavor and bread out chicky. We just take the chicken out of the marinade and bread it! Easy as pie. Say goodbye to that tired 3-step breading with the flour and egg mixtures. As long as the chicken has something for the breadcrumb to cling onto, this comes out great for everything. I've used ranch before, mayo or Caesar dressing. Milk products like yogurt and sour cream help to tenderize the meat, making the chicken taste juicier.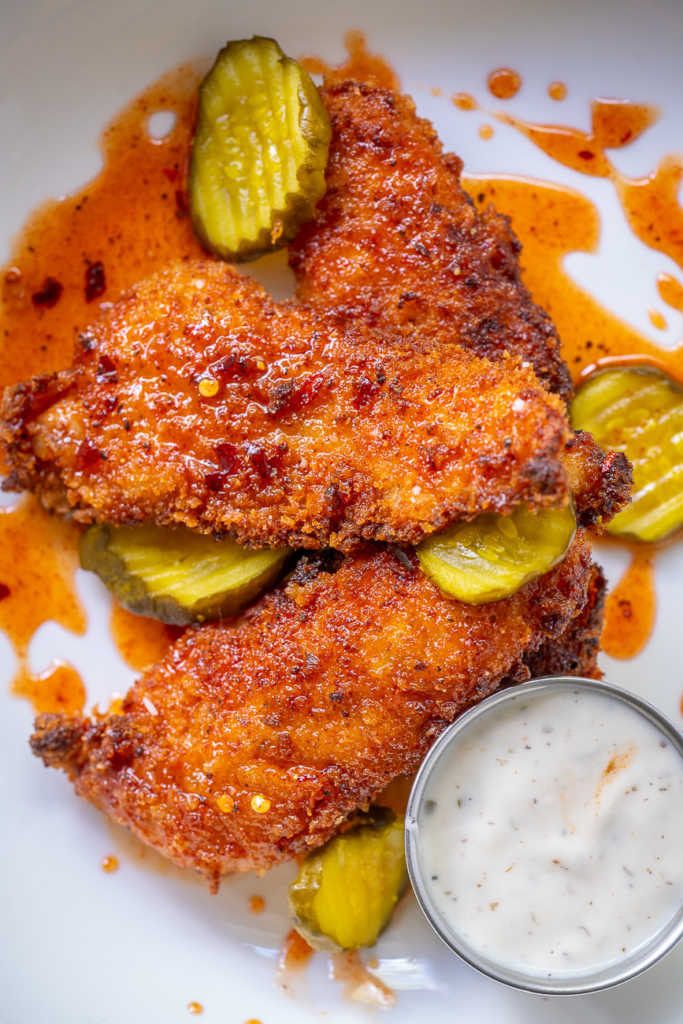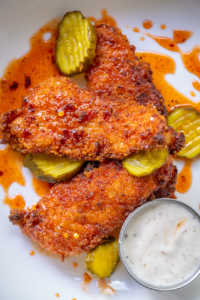 Sweet and salty combinations are the best combinations. From salted caramel to jelly on biscuits, or even sausage and maple syrup, these sweet combinations keep being rediscovered with different salty foods and I love to watch it unfold. It's all about flavor. As eaters, we have so many exciting foods to taste, let alone flavor combinations. Our kids are going to grow up with the foods we ate, just elevated. I grew up with McDonald's chicken nuggets and honey, they grow up with homemade chicken tenders and hot honey. Homemade is always king. You're honey will last you up to a month, so start experimenting today! What else will you drizzle your hot honey on?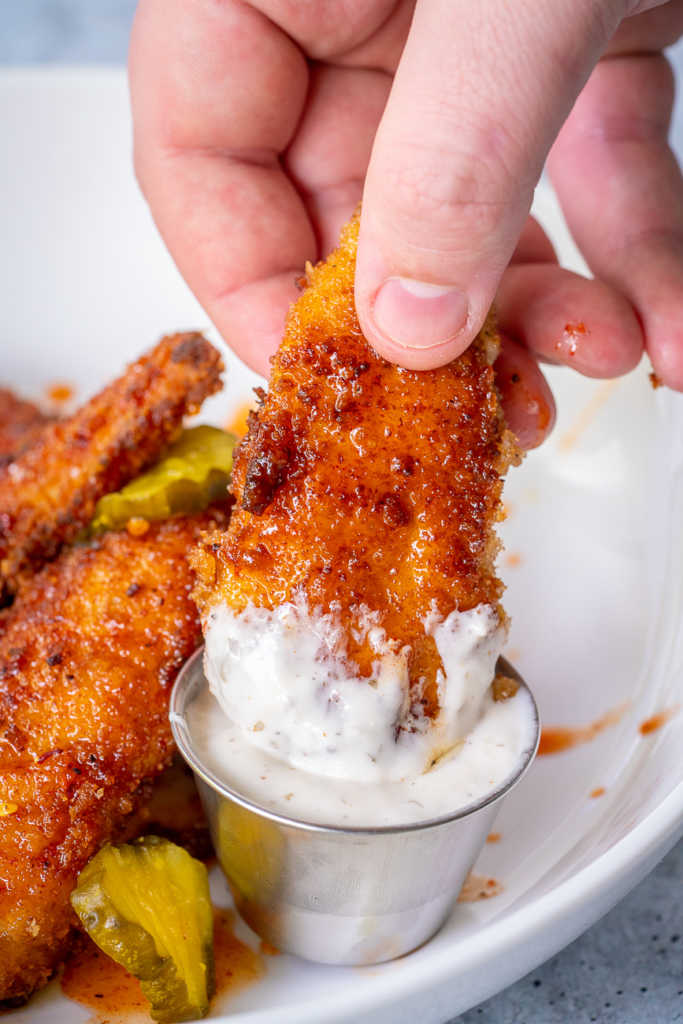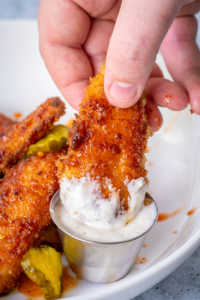 Hot Honey Chicken Tenders
Serves 4 - 6
15m prep time
15m cook time
30m inactive
Ingredients for chicken:
1.5 lbs. chicken tenderloin
3/4 cup sour cream
2 tablespoons milk
1/2 teaspoon garlic powder
1/2 teaspoon onion powder
1 1/4 cup panko breadcrumb
3/4 cup plain breadcrumb
1/2 cup vegetable oil
Kosher salt and freshly cracked black pepper, to taste
For hot honey:
1 cup honey
1 tablespoon sriracha
1 teaspoon smoked paprika
1/2 teaspoon garlic powder
1/2 teaspoon black pepper
1/2 teaspoon crushed red pepper flakes
Directions:
Preheat the oven to 350° F.
In a bowl, mix together sour cream, milk, garlic powder, and onion powder. Season with salt and pepper and coat chicken in sour cream mixture. Let marinade for 30 minutes or overnight.
In a small pot, combine honey, sriracha, paprika, garlic, red pepper, and black pepper. Heat over low heat for 10 - 15 minutes until honey is bubbly. Keep warm
Combine panko and plain breadcrumb in a wide bowl.
Coat each chicken strip in breadcrumb until fully coated, pressing to get full coverage. Place prepared chicken strips onto a plate next to each other.
Heat a cast iron pan over medium high heat with 1/4 cup vegetable oil.
Cook each tender 3 - 4 minutes per side, or until golden. Reserve chicken onto a wire sheet tray and place in oven. Cook chicken for 6 - 8 minutes or until internal temperature reads 165 F.
Remove chicken to serving dish and drizzle with hot honey. Serve with ranch dipping sauce and sweet and sour pickles.
Enjoy!
Recipe adapted from NYT Cooking and Leites Culinaria.
SKM: below-content placeholder
Whizzco for 12T