A true fruitcake, unlike those purchased in the stores, is rich, moist, and smothered in brandy. Yes, that's right, brandy. The alcohol not only enhances the flavor of this dessert, but it helps preserve the treat. While the shelf-life of this dessert may be part of the joke, it's actually very true. In 2003, Jay Leno onThe Tonight Show sampled an heirloom fruitcake that was baked in 1878. Yes, with proper storing this dessert can last for 125 years.
When we were looking for the perfect fruitcake recipe, we wanted to stay true to the nature of this holiday confection. It had to involve alcohol, candied fruits, and of course nuts. And that's when we found it: the perfect recipe from a small article written inThe New York Times back in 1985. This fruitcake recipe has been served in the White House every year since Woodrow Wilson was in office. The White House chef, Roland Mesnier, suggests serving the fruitcake at at least room temperature, or even heating it in the microwave for one minute and adding a dollop of whipped cream before serving.
Keep reading below for our favorite fruitcake recipe…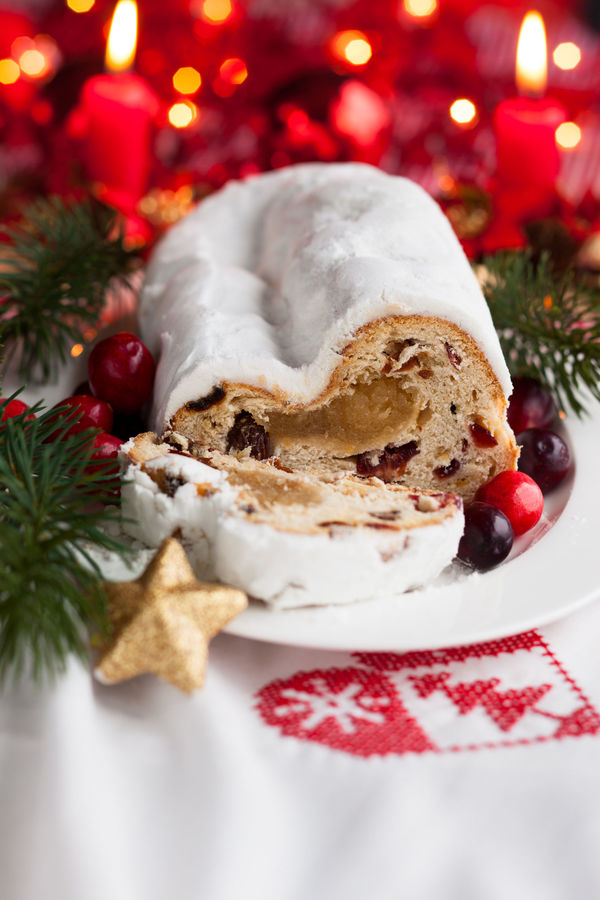 Presidential Fruitcake Recipe
(makes 3 loaves)
Ingredients
15 oz. raisins
2 cups golden raisins
1 cup currants
10 oz mixed candied fruits
6 oz micture of glazed pears, peaches, apricots, figs, and dates, cut up
1/3 cup candied pineapple
1 cup chopped pecans
4 oz slivered almonds
1/2 cup plus 7 tablespoons bourbon
1/4 cup brandy
1/2 lb butter
1/3 cup firmly packed dark brown sugar
1/4 cup granulated sugar
2 tablespoons honey
1 1/3 cup sifted all-purpose flour
zest from 2 lemons
1/4 teaspoon almond extract
1/4 teaspoon vanilla extract
5 eggs
1 cup cake flour
1/2 teaspoon salt
1/4 teaspoon baking powder
1/4 teaspoon cinnamon
12 oz apricot preserves
1/2 cup rum
1 lb confectioners' sugar
2 tablespoons softened butter
Directions
Combine raisins, currants, candied fruits, glazed fruits, pineapple, pecans, and almonds with 1/2 cup bourbon and the brandy in a large bowl. Refrigerate at least overnight, or if you can, up to two days.
Preheat oven to 350F
In a large bowl, beat butter, brown sugar, sugar, honey, 1/3 cup flour, lemon zest, almond, and vanilla extracts until well blended.
Slowly beat in the eggs one at a time, making sure each is incorporated before adding the next.
In a separate bowl, mix together 1 cup flour, 1 cup cake flour, salt, baking bowder, nutmeg, and cinnamon.
Add the flour mixture slowly to the batter, and beat until mixed.
Combine together the batter with the fruit and nut mixture, making sure to mix well.
Grease three 8.5″x4.5″x2.5″ bread pans, and line the bottoms and sides with aliminum foil. Grease the foil.
Spoon the batter into the prepared pans, smoothing the tops.
Bake in the oven for one hour, or until the centers spring back when lightly pressed.
While the cakes are baking, bring the apricot preserves to a boil in a medium saucepan. boil for 10 minutes, stirring occasionally to reduce.
Remove the cakes from the oven, and while they are still hot, sprinkle with rum, then brush with the hot apricot jam.
Mix together 7 tablespoons bourbon with confectioners' sugar, and butter to make a frosting thin enough to spread on top of the apricot jam while the cakes are stil lwarm.
Cook the fruitcakes in their pans on a wire rack, and allow the frosting to dry.
Once the frosting has dried, remove the cakes from the pans and peel off the foil before allowing them to cool completely.
Wrap the fruitcackes in plastic wrap and store in the refrigerator.
To serve, slice the fruitcake while chilled, then microwave for up to 1 minute and add whipped cream.
Enjoy!
Recipe adapted from the New York Times
SKM: below-content placeholder
Whizzco for 12T