We can't think of anyone who doesn't get at least a little excited about the holidays: if not for the holiday cheer, then at least for the delicious food that awaits them. This dessert is one that makes us smile just looking at it!
The Yule Log was traditionally the largest log that a family would burn in the hearth at Christmastime, thus becoming emblematic of the season. As fewer and fewer people have access to working fireplaces, the French came up with the idea of a Yule Log dessert, or a bûche de Noel. This is a spiral cake that's got a creamy filling and a chocolate-y, frosted outside that resembles a tree log. It's delicious and festive, and you'll see that it will bring a smile to all who see and eat it!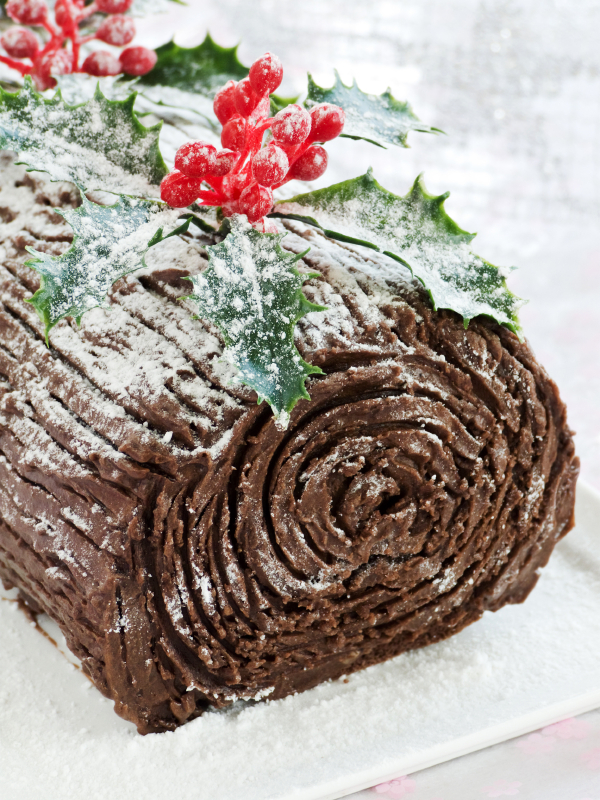 Yule Log
Yields 12 servings
Ingredients
Cake:
1 cup sugar, divided
1/2 cup all-purpose flour
1/4 cup unsweetened cocoa powder
5 eggs, room temperature, separated
1 teaspoon vanilla extract
1/2 teaspoon baking powder
1/4 teaspoon baking soda
1/4 teaspoon salt
1/4 teaspoon cream of tartar
Filling:
1 cup heavy whipping cream
1/2 cup powdered sugar + 1/4 cup for dusting tea towel
1 teaspoon instant coffee granules
1/2 teaspoon vanilla extract
Frosting:
2 cups powdered sugar
1/3 cup unsweetened cocoa powder
1/3 cup butter, room temperature
2 tablespoons milk
1 tablespoon strongly brewed coffee
1/2 teaspoon vanilla extract
Directions
Preheat oven to 350º F and line a 10×15-inch, rimmed jelly roll pan with parchment paper. Generously grease the paper.
Combine flour, cocoa powder, baking powder, baking soda and salt in a medium bowl and set aside.
In a large bowl, beat together egg yolks and 1/2 cup sugar until light and fluffy. Mix in vanilla extract.
1/4 cup at a time, add dry ingredient mixture to the egg yolks and mix until smooth and incorporated. Set aside.
In a second large bowl, beat egg whites and cream of tartar until soft peaks form. 4-6 minutes.
Gradually add remaining sugar to egg whites, then turn speed up to high and beat until stiff peaks form.
Gently fold 1/3 cup egg whites into chocolate mixture. Then, a little at a time, fold chocolate mixture carefully into egg whites until homogeneous.
Pour mixture into jelly roll pan and bake for 12-15 minutes, or until cake is springy to the touch. Don't over bake.
Remove cake from oven and run a knife to loosen it from the edges. Immediately invert it onto a clean tea towel dusted with powdered sugar.
Pull off parchment paper and roll cake up in tea towel, starting with the short end. Let cool completely.
In a large bowl or mixer, beat heavy cream until soft peaks form, then slowly add 1/2 cup powdered sugar.
Add vanilla extract and instant coffee and beat until stiff peaks form. Refrigerate 30 minutes.
When cake is completely cool, unroll and spread filling evenly over the whole cake, leaving a 1/2-inch border around the edges.
Re-roll cake into a log, transfer to serving plate and refrigerate.
For the frosting: cream together butter, sugar and cocoa powder until smooth and fluffy.
Add milk, coffee and vanilla, and beat until smooth. Frost cake, then use a fork or knife to decorate and make log look like a tree. Garnish with more powdered sugar and enjoy!
Recipe adapted from Hershey's
SKM: below-content placeholder
Whizzco for 12T