Halloween has essentially arrived, so you probably already have your plans (or lack thereof). We will be staying inside this, that's for sure. Others might be having Zoom costume parties or putting out a bowl of candy for the trick or treaters. Meanwhile, there are some who have decided that they are going to throw on Christmas movies and fast forward past the fall season altogether.
Regardless of how you are choosing to spend the holiday, we can all appreciate a good old fashioned candy chute, right? Well, one TikTok user, @kinz1999, shared one of the coolest candy chutes of all time – and it's for a good cause!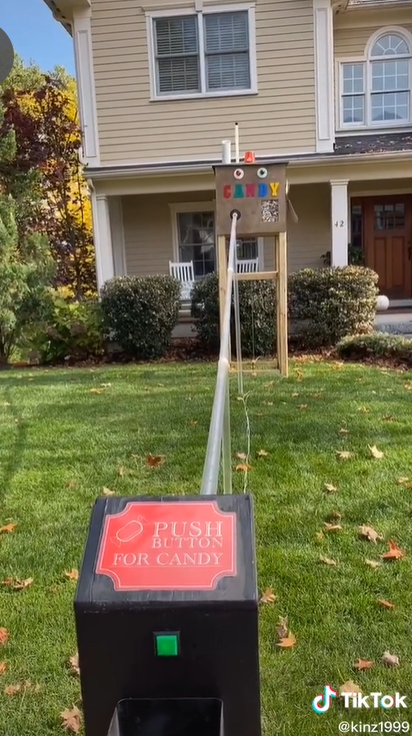 This year has been filled with devices that are designed to slide candy to trick-or-treaters from a safe distance, but you're still not prepared for what you are about to see. This chute is a full yard long. One end has a pile of candy, the other end has a button that you can press to receive the candy. It doesn't get much simpler than that.
"Please hold, your candy is on the way. Thank you!" the voice beckons once the button has been pressed. The tower releases a puff of billowing smoke and you receive your candy soon after. It sounds amazing on paper, but you really have to see it for yourself. Our words cannot do it justice. By the way, it also gets even better than this, if you can possibly believe it.
The candy cannon was not crafted in hopes of allowing the user to go viral. Instead, this was a far more altruistic gesture. The family will be taking this opportunity to solicit donations for The Boston Resiliency Fund. They are looking to assist all those who have been affected by the unfortunate realities of the COVID-19 pandemic.
The fund's objective is to "provide food for children and seniors, technology for remote learning for students, and support to first responders and healthcare workers in the City of Boston." We wish them the best of luck and urge you to share this important feat of Halloween engineering. If we're being honest, we watched this clip a number of times. When you can eat candy and support a great cause in the process, that's the best kind of win/win.
SKM: below-content placeholder
Whizzco for 12T