Herby, grilled chicken-y goodness! My favorite way to grill chicken.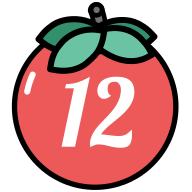 Dom Ruane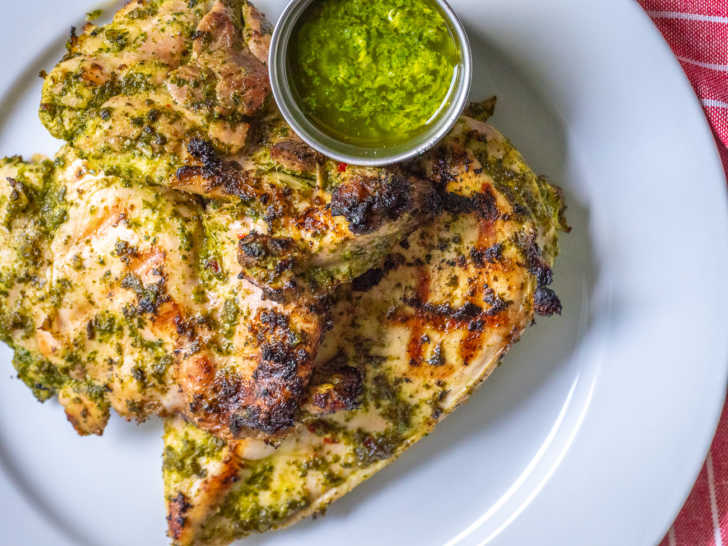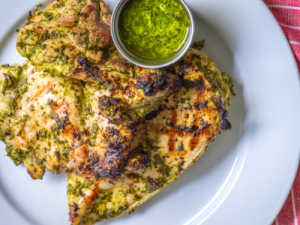 Chimi Chimi Chicken, we love you! Such a simple story of marinating chicken in a tangy herb sauce and then grilling it. Easy breezy beautiful! Bobby Flay taught me what chimichurri was on the Food Network. It shocked me that blending herbs created a sauce! Where's the cream?! It just didn't click for me. Parsley & cilantro blended and then you eat it on stuff? Needless to say, it was a while before I made my first chimi. Now as an adult chef, I'm all about it. Chimichurri is a cheap, quick, and easy flavor. If you like pesto, this sauce will blow you away. Chimi is the new pesto!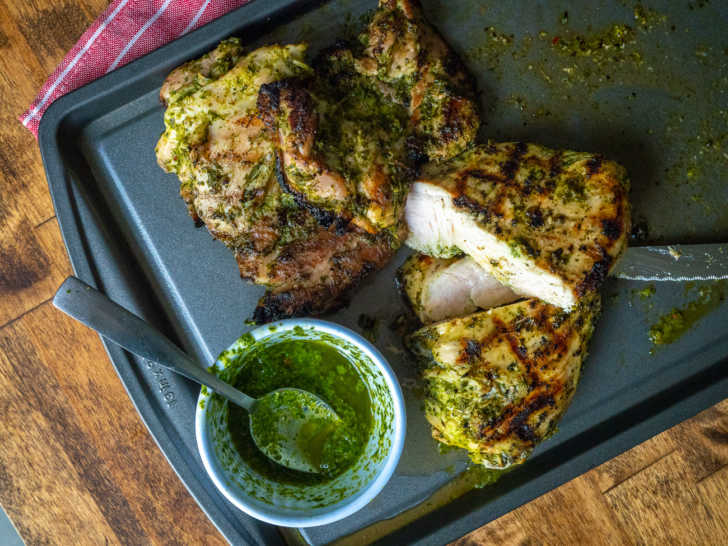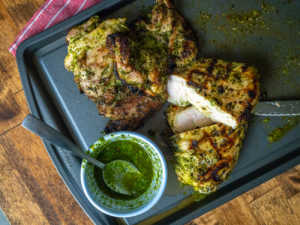 I like to consider myself a slow learner, especially when it comes to food. Trying new things takes gumption. You cook what you know! You get better at cooking simply by watching other good chefs cook. It's like they give me nonverbal permission to break my cooking rules as they do. This chicken is meant to break your cooking rules and get you to try something new! Marinating food shouldn't take more than two hours.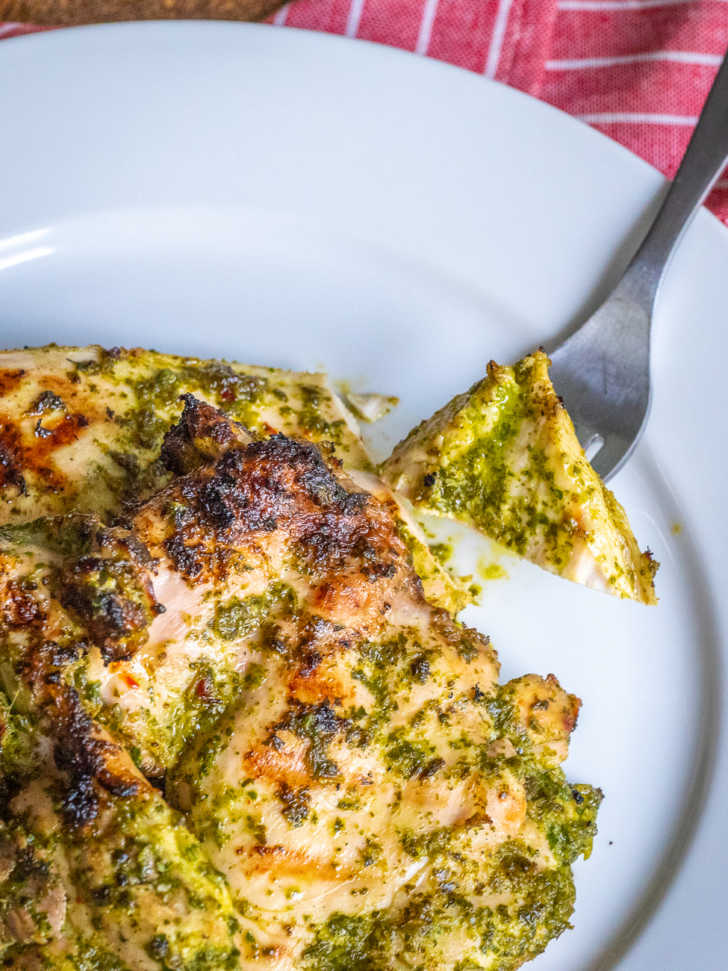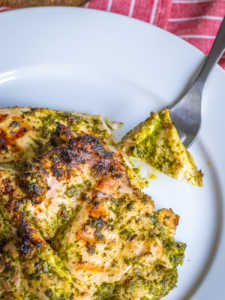 Herbs are a must. At least one herb. Due to a recent discovery at Sweet Greens, herbs belong everywhere, even in SALADS! Herbs elevate recipes. Herbs take plain rice and make it sparkle, they take vegetables to flavor town and meat to flavor central. Took me a while to understand herbs, but it's never too late to get into herbs. They are everywhere! You can even grow them indoors now! Herbs are part of my cooking utility belt now. When I make a quick grilled chicken at home, I marinade it in whatever herbs I have and citrus I have on hand, and it still comes out tasting just as good. Make extra sauce! You can put this on EVERYTHING and you can even freeze it for later!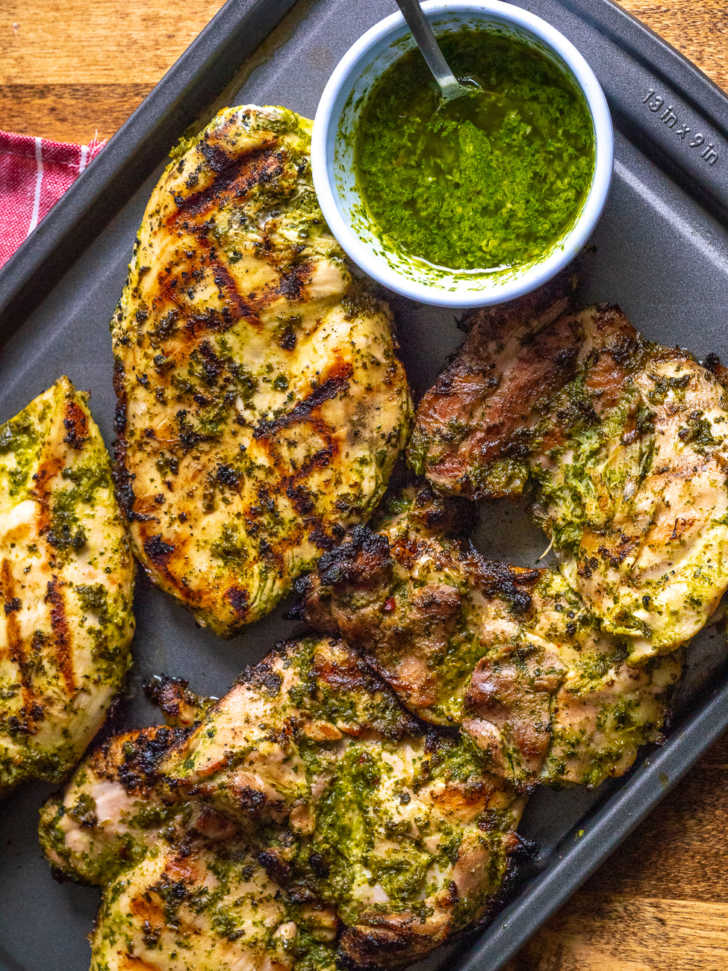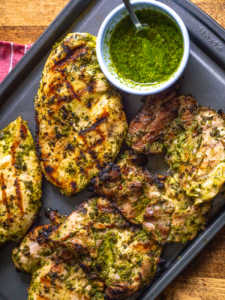 Grilled Chimi - Chicken
Serves 4
10m prep time
12m cook time
2h inactive
Ingredients:
3 6 - 8 oz boneless skinless chicken breasts
3 4 - 6 oz boneless skinless chicken thighs
1/2 bunch parsley, roughly chopped, with stems
1/2 bunch cilantro, roughly chopped, with stems
¼ cup red wine vinegar
1/4 teaspoon crushed red pepper flakes
1 lime, juiced & zested
2 garlic cloves
3/4 cup olive oil
Kosher salt and freshly cracked black pepper, to taste
Directions:
Place the chicken thighs and breasts on a large cutting board, and wrap it with cling film. Using a meat mallet, pound each piece of chicken gently working from the outside in, until each piece is evenly pounded.
Put all the chicken in a large Ziploc bag.
With a hand blender or stand blender, combine parsley, cilantro, red wine vinegar, lime juice & zest, garlic cloves and olive oil. Blend this mixture until herbs are fully incorporated and pour over chicken and seal the ziploc bag.
Massage marinade in and refrigerate for 2 hours, up to 12 hours.
Preheat a grill or cast iron pan on medium high heat.
Remove chicken from bag onto a paper towel lined sheet tray, using additional paper towel, blot up excess marinade.
Season chicken with salt and pepper and grill for 4 - 6 minutes each side for breasts & grill 3 - 6 minutes for thighs.
Remove when you have a nice char or until chicken has reached an internal temp of 165°F.
Eat up!
SKM: below-content placeholder
Whizzco for 12T