In this case, it's so easy being green.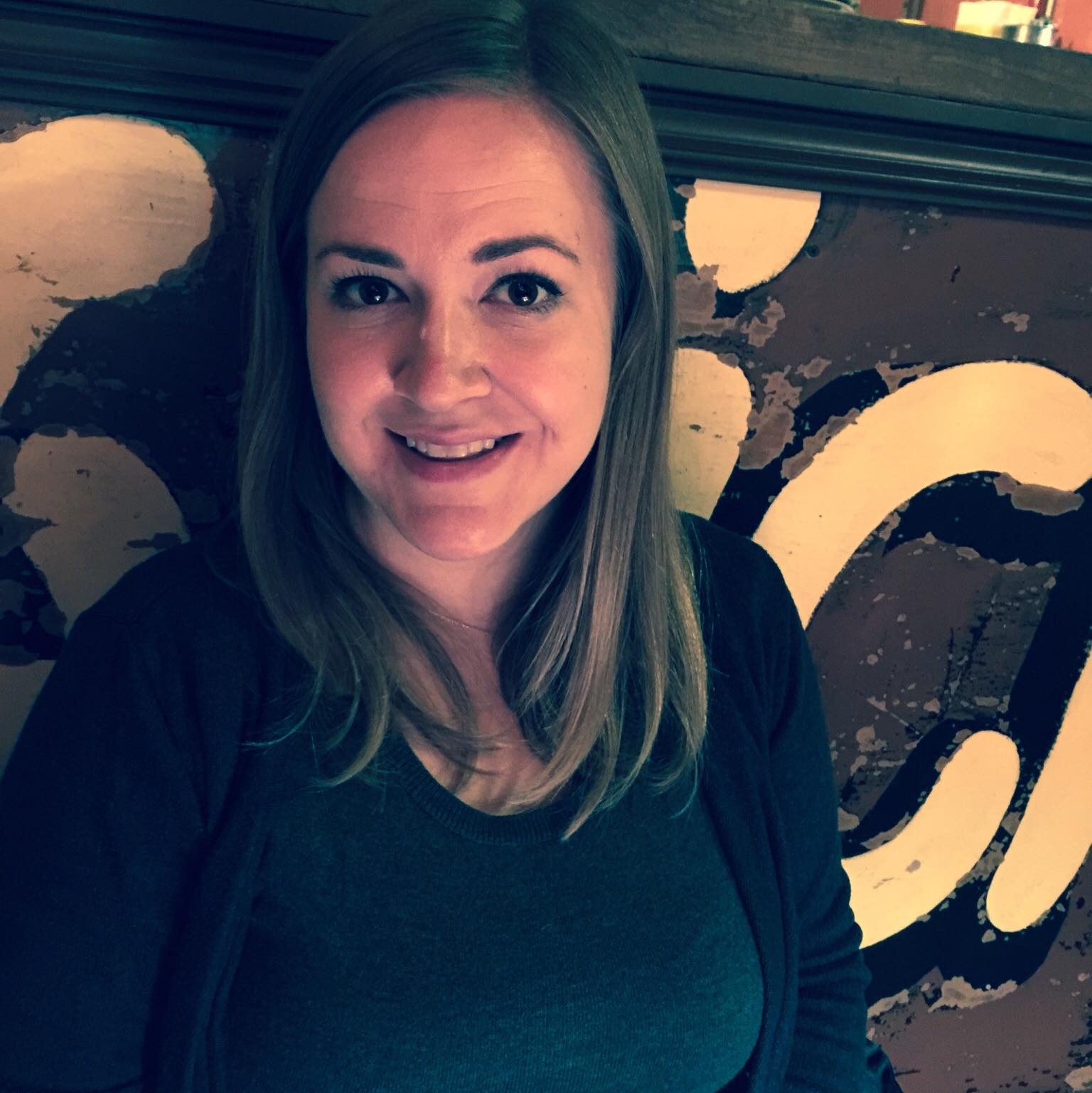 Kristy Norrell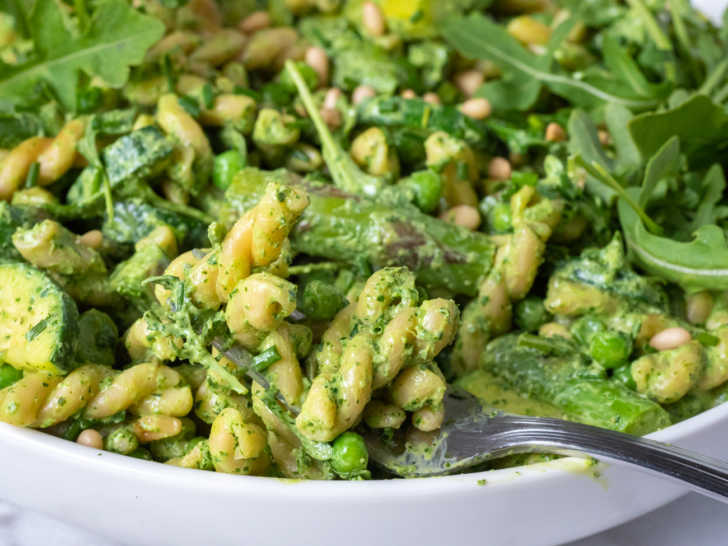 Kermit may have said "it ain't easy being green" but he certainly wasn't talking about this salad. See, this Green Goddess Pasta Salad is easy to make but it's even easier to enjoy and it is very, very green. From fresh herbs to peas to asparagus, most of the ingredients share the same hue but the flavor is vibrant and varied and fresh. It's a celebration of greenness! When the usual mayo-laden macaroni salad feels a little tired, this is like a welcome departure — just don't be surprised if it becomes your pasta salad stand-by.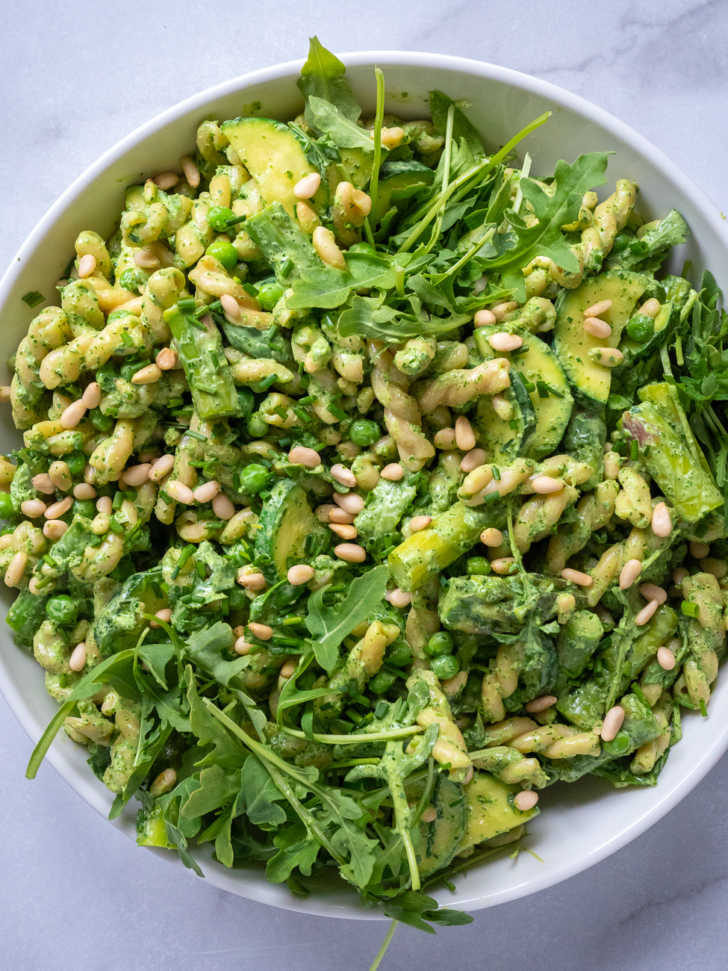 You might be looking at that green dressing and thinking, oh, another pesto pasta salad. But you would be incorrect, my friend. While "green goddess" is an herb-based sauce, it differs from pesto in that it incorporates a whole bunch of green stuff, and while recipes differ, in this case that looks like parsley, basil, dill, mint, and chives. Now, it's not all green — those herbs are blended up with some Greek yogurt, some lemon juice, and some garlic to make things a little bit creamy and perfectly balanced. You can play around with the herbs or omit what you don't have on hand — there's totally room for experimentation here!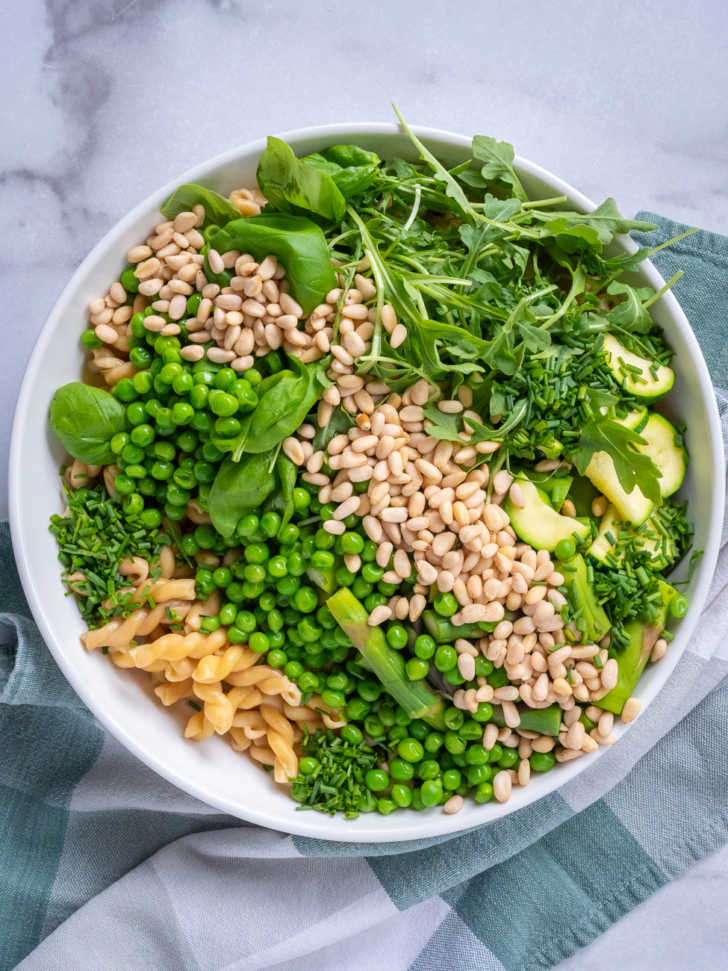 A whiz of the food processor or blender brings that dressing together and it's quick enough that you can easily do it while your pasta is boiling. (Pro tip: it's also absolutely delightful over a lettuce-based salad. Or even a potato salad. Really, any salad.)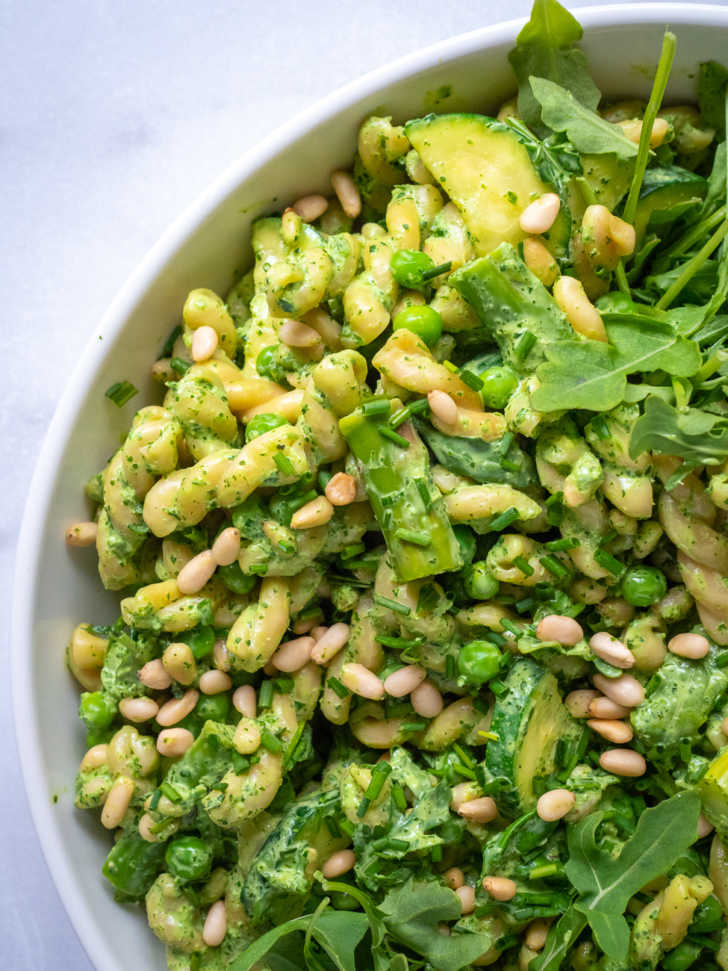 In the salad itself, it's pretty much all things green, except for the pasta of course. (Though I suppose you could find some green pasta!) I like to use something short and curly to catch all that dressing in the nooks and crannies — think gemelli or fusilli or rotini. Unlike some other pasta salads, there are a few veggies here that benefit from a bit of cooking, like asparagus and zucchini, but I find the easiest way to do that is just to throw them in with the pasta for the last minute or two of cooking. They'll be blanched but not overdone and then their rawness won't detract from the salad.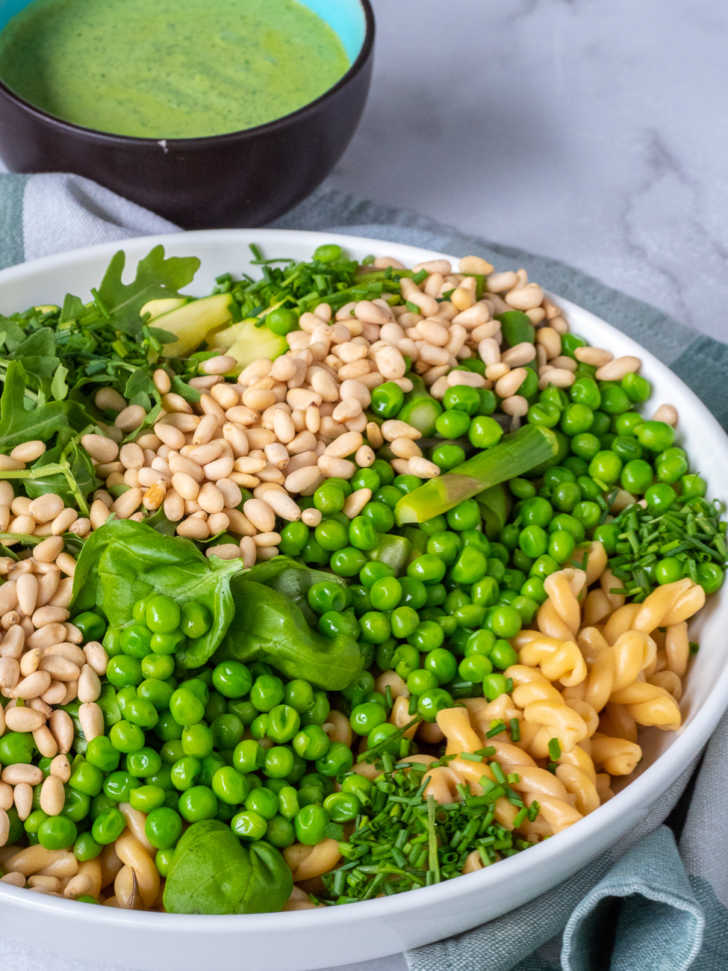 There's so much going on here but it all works together so well. There's asparagus, zucchini, basil, chives, sweet peas, arugula, pine nuts (not green, but that's okay) and that creamy herby dressing to tie it all together. You're looking at a new favorite right here!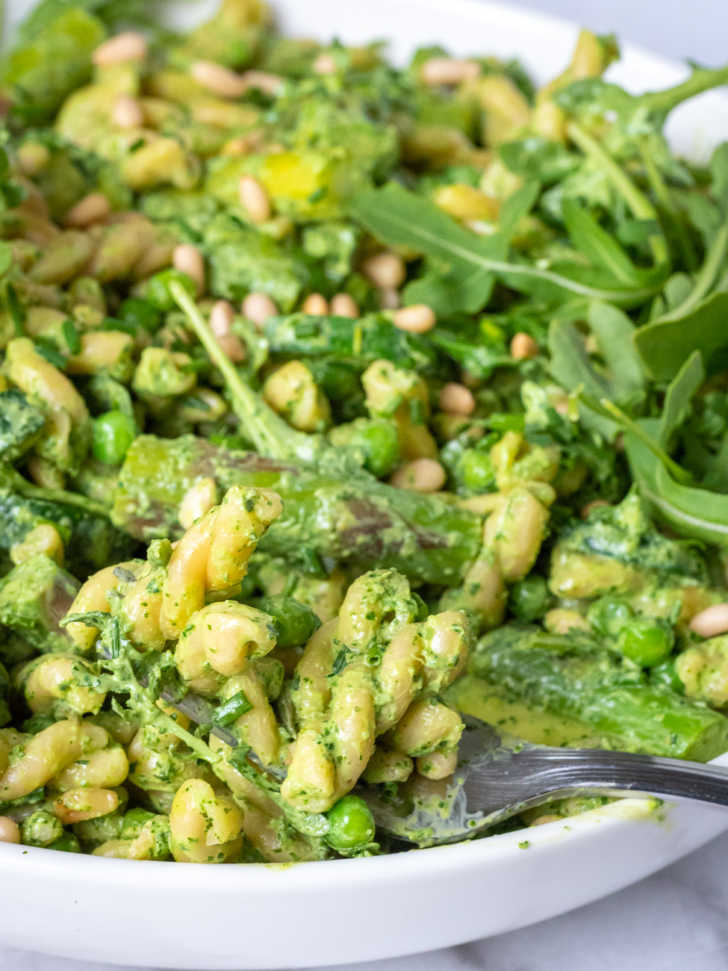 Green Goddess Pasta Salad
Serves 6
10m prep time
15m cook time
Ingredients
1 lb curly pasta such as gemelli, fusilli, campanelle, or cavatappi
1 1/2 cups asparagus, woody ends trimmed and chopped
1 small zucchini, halved and thinly sliced
1 cup frozen peas, thawed
1/4 cup fresh basil, chiffonaded
1/4 cup fresh chives, chopped
1/4 cup baby arugula
3/4 cup pine nuts
For the dressing:
1 cup plain Greek yogurt
1/2 cup fresh parsley
1/2 cup fresh basil
1/4 cup fresh dill
1/4 cup fresh mint
2 tablespoons chives, chopped
Juice and zest of 1 lemon, plus more to taste
2 tablespoons olive oil
2 cloves garlic
Kosher salt and freshly ground black pepper, to taste
Preparation
Bring a large pot of salted water to a boil, then add pasta and cook until al dente. During last minute of cooking, add asparagus and zucchini to blanch briefly. Drain well and transfer to a large bowl.
While pasta cooks, make the dressing:
In a food processor, combine greek yogurt, parsley, basil, dill, mint, chives, lemon juice and zest, olive oil, and garlic. Puree until smooth, then add salt and pepper to taste. Set aside until ready to use.
To bowl with pasta, add remaining salad ingredients: the thawed peas, basil, chives, arugula, and pine nuts. Add as much dressing as desired and toss gently to combine. Adjust seasoning to taste. Serve chilled or at room temperature. Enjoy!
SKM: below-content placeholder
Whizzco for 12T