A fresh and flavorful go-to recipe for your grill.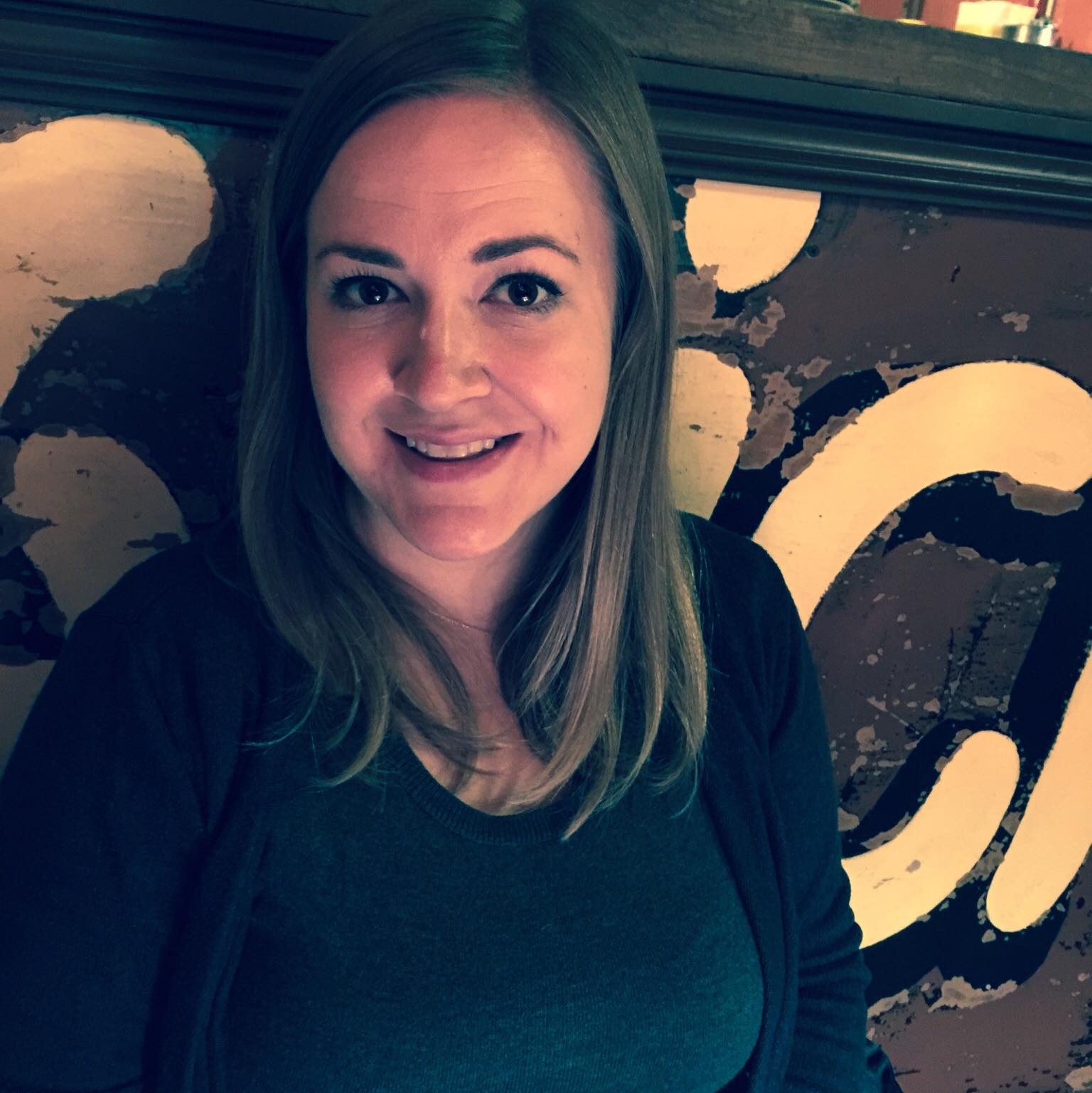 Kristy Norrell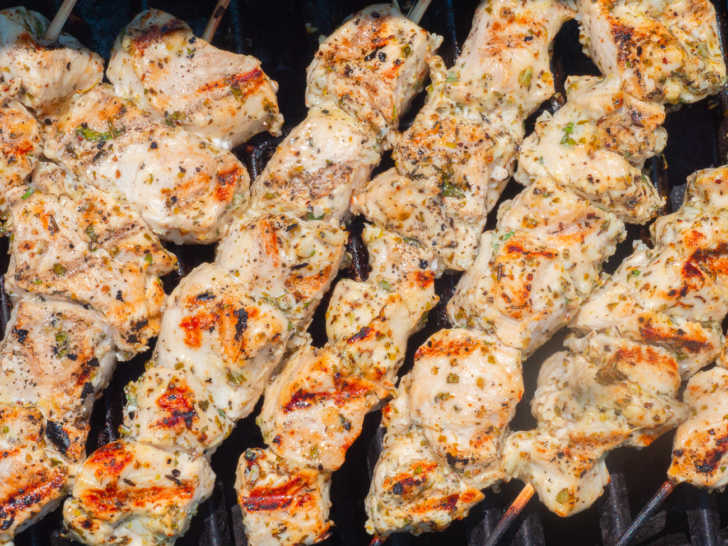 Because I love to try out new recipes so much, there are only a handful that I make over and over and over again. This is one of them. These Greek Chicken Skewers are a not-totally-traditional take on Chicken Souvlaki, with a mint-forward tzatziki that comes pretty close to stealing the show. I love them mostly because they're delicious, but also because they're supremely easy to throw together, and that I hear nary a complaint from the rest of the family when I serve them.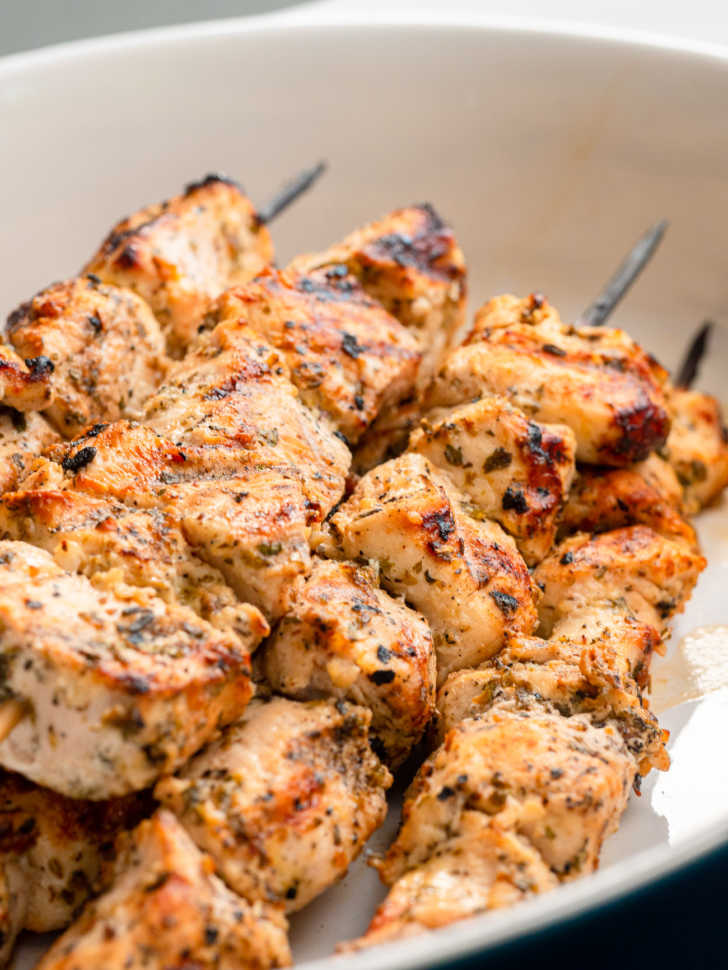 I've always appreciated that the chicken here gets really incredible flavor without a long marinating time. It's just thirty minutes, but you end up with meat that's taken on the flavors of lemon, garlic, oregano, and mint so well, all carried by a creamy Greek yogurt. You just mix those things together, let the cubed chicken hang out in the mixture for a half-hour, then get them on the skewers.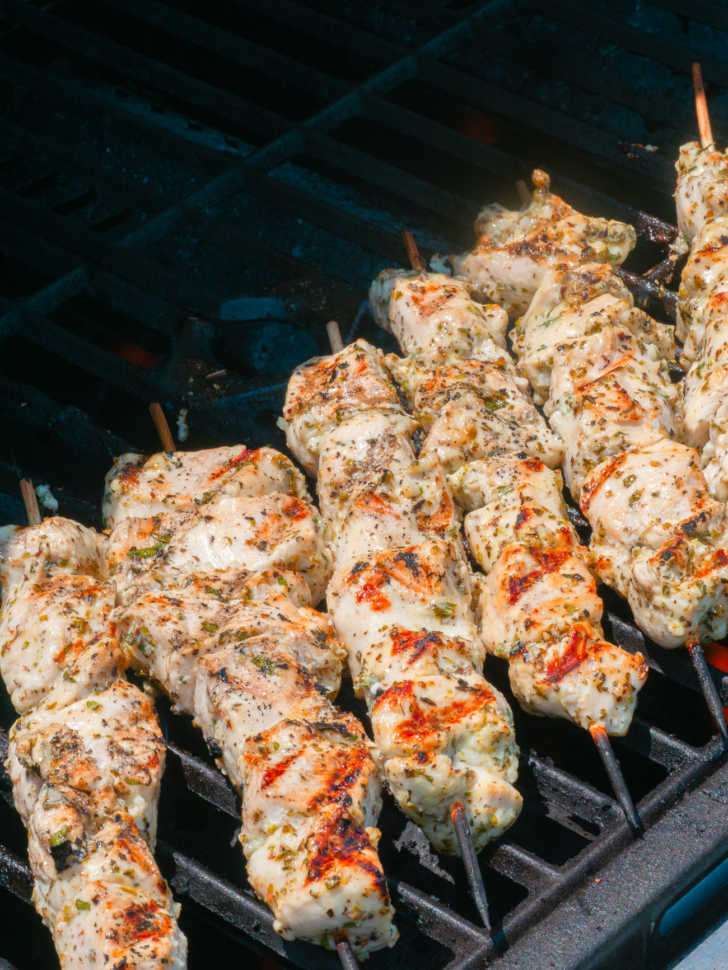 Now, if you're using wood skewers, make sure to soak them first or they tend to catch on fire on the grill. The chicken only takes about fifteen to twenty minutes to cook, and it's a great opportunity to skewer up some zucchini as well and cook them up too.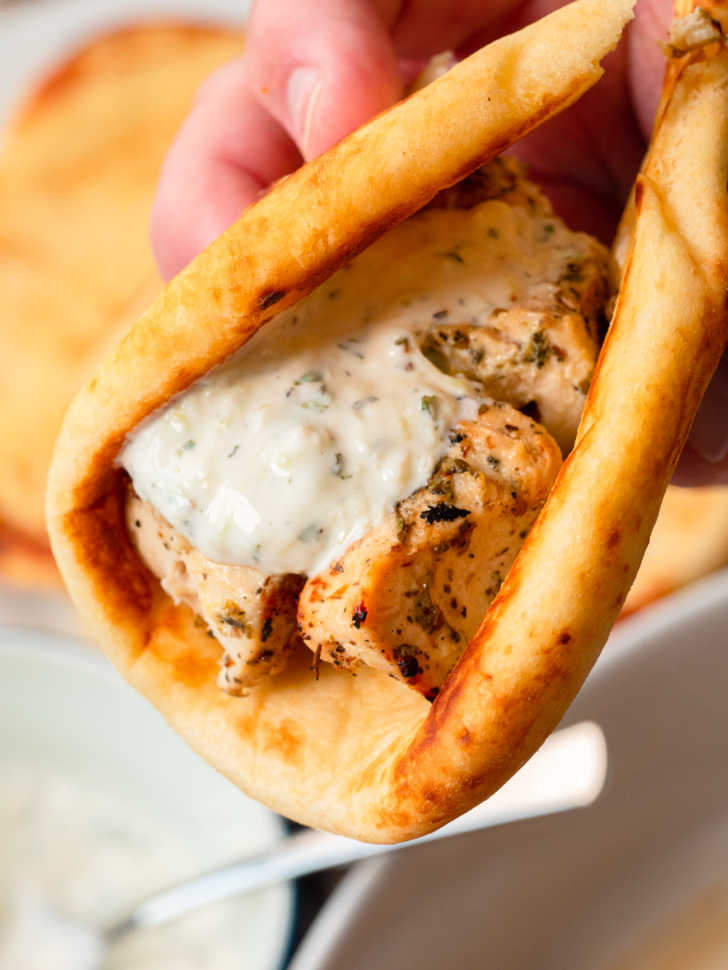 These pair really well with pita bread or rice – heck, even potatoes go well – but what really makes them sing is the tzatziki. If you haven't yet had the pleasure, tzatziki is a yogurt-based sauce that's adorned with cucumber, lemon juice, and some variety of fresh herbs like dill and/or mint. I generally opt to go heavy on the mint, but dill and oregano are a nice touch too.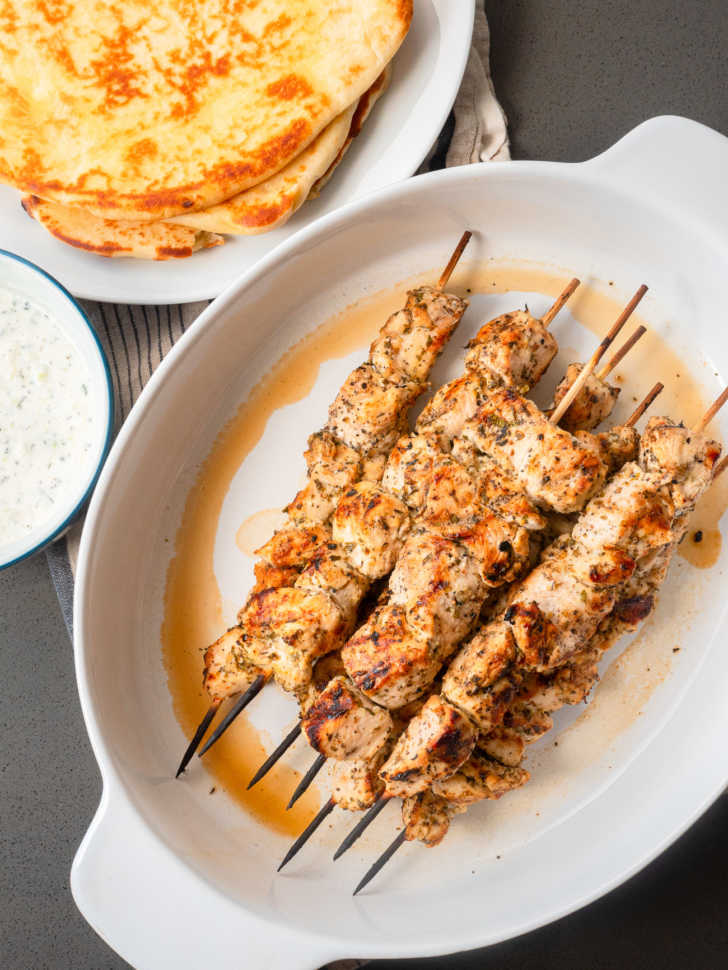 To make tzatziki, you want to squeeze the juice out of your cucumber as best you can, and then just stir it into the yogurt with the other ingredients. It's really easy. And it's good on everything.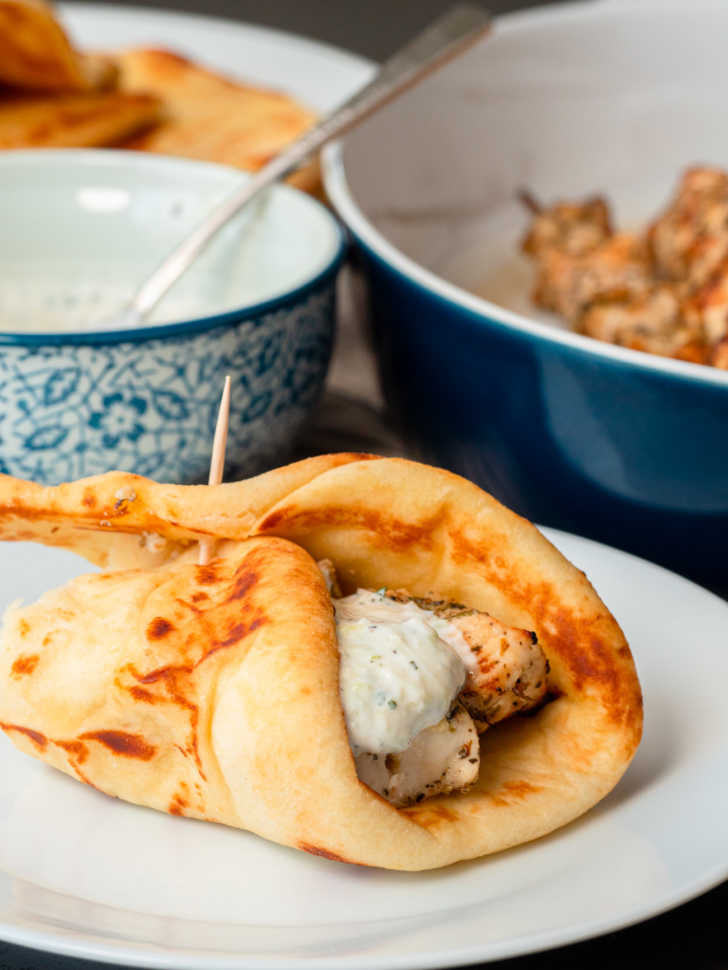 Greek Chicken Skewers (with Tzatziki)
Serves 4
30m prep time
16m cook time
Ingredients
2 lbs boneless skinless chicken breasts, cut into 1-inch cubes
3 tablespoons olive oil
2 tablespoons plain greek yogurt
2 tablespoons lemon juice
4 garlic cloves, minced
2 teaspoons dried oregano
2 teaspoons fresh mint, minced
Wooden skewers, soaked in water for 15 minutes
For the tzatziki:
1/2 medium seedless cucumber
1/2 cup plain Greek yogurt
2 cloves garlic, minced
1 tablespoon lemon juice, plus more to taste
1 tablespoon olive oil
1 tablespoon fresh mint, minced
Kosher salt and freshly ground black pepper, to taste
Pitas, for serving
Preparation
In a large bowl, stir together 3 tablespoons olive oil, 2 tablespoons greek yogurt, 2 tablespoons lemon juice, 4 garlic cloves, dried oregano, and 2 teaspoons mint. Season to taste with salt and pepper.
Add chicken and stir to combine. Cover and place in refrigerator at least 30 minutes.
To make the tzatziki sauce, peel the cucumber and grate. Squeeze out excess liquid with a clean kitchen towel or paper towels, then add to a medium bowl.
Add yogurt, garlic, lemon juice, olive oil, and mint, and season to taste with salt and pepper. Add more lemon juice if needed. Cover and chill at least 20 minutes.
When ready to cook, heat grill to medium heat.
Place chicken on skewers, leaving about an inch of space on ends of skewers.
Place chicken on grill over direct heat and cook about 8 minutes, flip and continue cooking until chicken is browned and cooked through, 8-10 minutes more.
Serve chicken with tzatziki sauce and pitas, if desired. Enjoy!
To cook chicken in oven: Arrange skewers on a foil lined baking sheet. Turn on broiler and cook chicken 7-8 minutes per side under broiler until cooked through.
SKM: below-content placeholder
Whizzco for 12T