The Stay Puft Marshmallow Man is on the loose and camping out on a Pennsylvania restaurant rooftop – someone should call Ghostbusters.
Only an hour south of Pittsburgh there is the city of Monongahela which is home to Angelo's II restaurant. In the spirit of Halloween, it has been decorated with an inflatable version of the famous Ghostbuster's villain.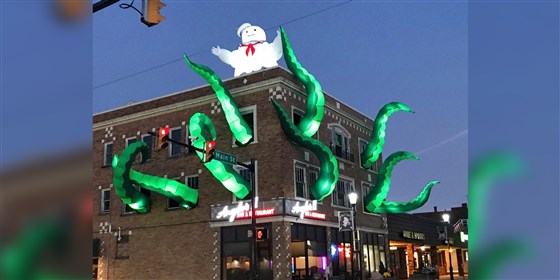 In order to the spectacularly spooky effect, the restaurant added inflatable green tentacles to the windows so that all those passing the restaurant get into the spirit of Halloween.
The restaurant unveiled its decorations on Sunday and the reaction from the locals was immediate. They loved it.
On Monday, owner of Angelo's II, Ryan Dzimiera, said to Today Food, "They love it. I'm looking out the window right now and there's a class of kids taking pictures and standing in front of it, which is just really cool to see."
The restaurant started the tradition of elaborate decorations last year with their giant Christmas Santa Claus. Following the Christmas holiday, the restaurant decorated for Easter. So for Dzimiera, it was only fitting to continue the decorations with a Halloween-themed idea.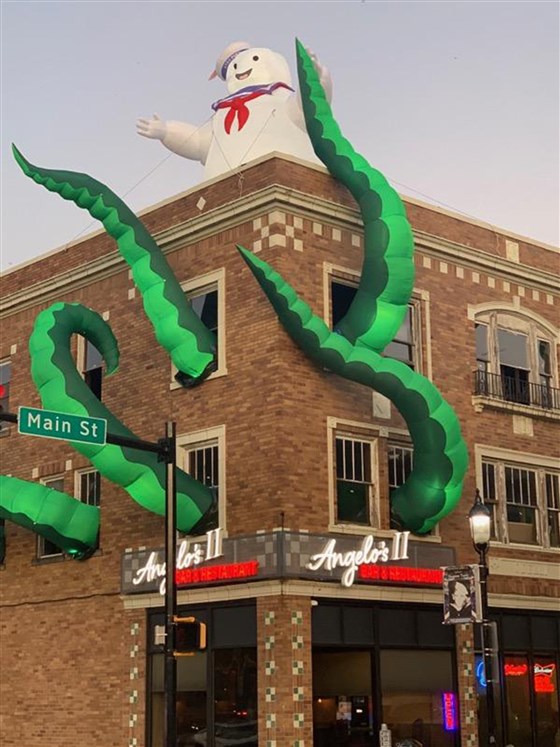 He said, "It was a combination of just throwing around different ideas. I've been a fan of 'Ghostbusters' for 30 years, so we figured we'll just put a big Stay Puft on the roof."
Peter Dzimiera, Ryan Dzimiera's uncle, got the tentacles idea after seeing a photo of a building that had decorated with them.
They Dzimieras ordered the inflatable Stay Puft Marshmallow Man online, however, the green tentacles are a custom creation. Peter Dzimiera's friend made the tentacles by sewing them together herself. In order to inflate them, the restaurant uses fans inside to inflate them.
While there aren't any "Ghostbusters"-themed food items on the menu, Dzimiera did admit that he's planning to serve Halloween-themed drinks, and will be giving out treats to kids on the actual holiday itself.
Angelo's II isn't the only business in the food industry that likes to go all out for Halloween. Back in 2016 a New York Burger King had fun teasing their arch-rival by dressing up their building as a spooky ghost of McDonald's.
Three years prior, Pepsi cloaked one of its cans in a Coca-Cola cape with an ad that read, "We wish you a scary Halloween!"
The scene on top of Angelo's II has definitely gotten the town ready for the Halloween spirit.
"Best decorating of the building yet!" one person commented on the restaurant's Facebook post. "Had to stop and take pictures last night – and I wasn't the only one doing so. Awesome job."
"This is so awesome! The whole town is talking about it!" another person said.
SKM: below-content placeholder
Whizzco for 12T