Stuffed with sweet jammy onions and ooey-gooey cheese. Need I say more?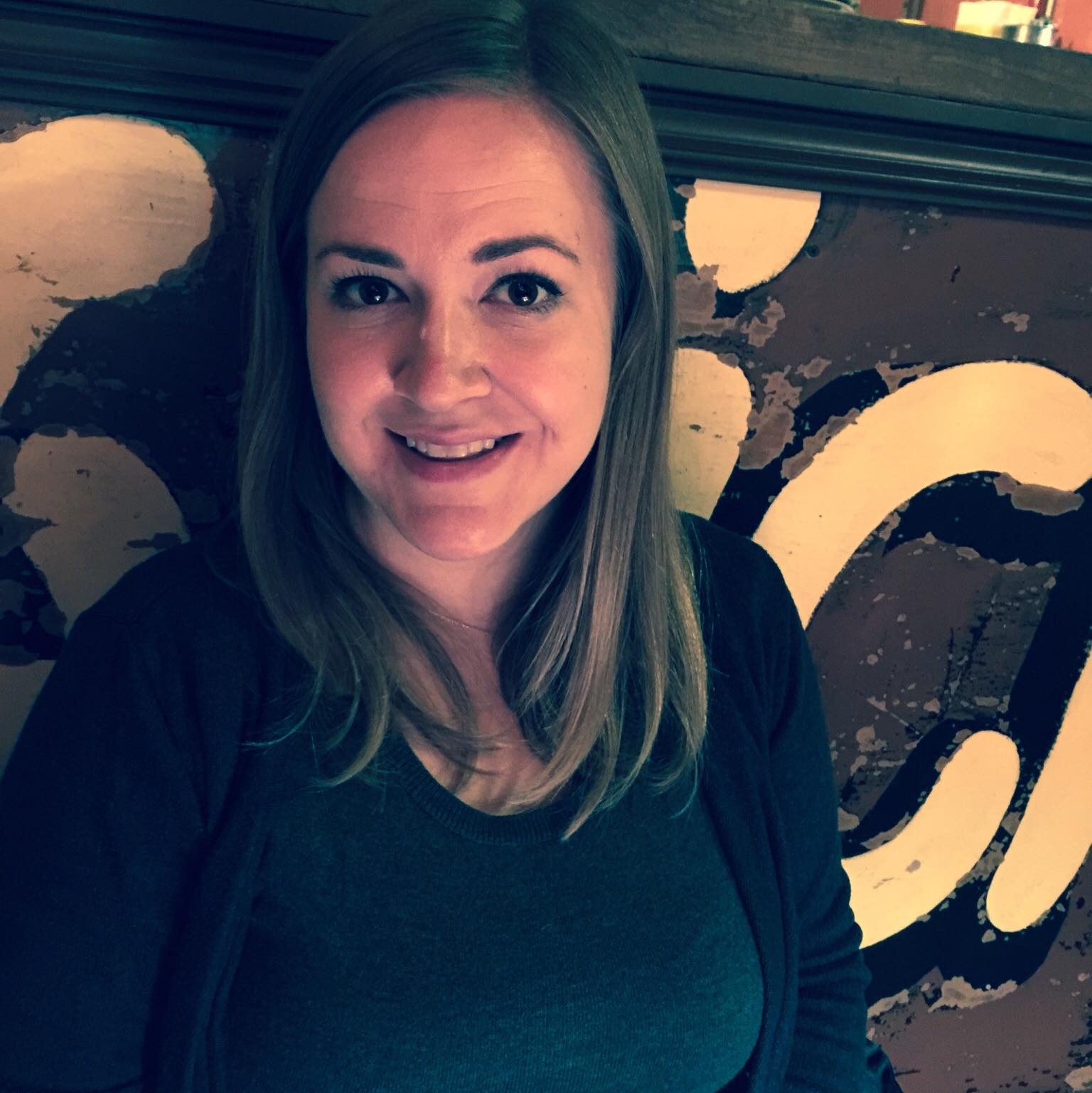 Kristy Norrell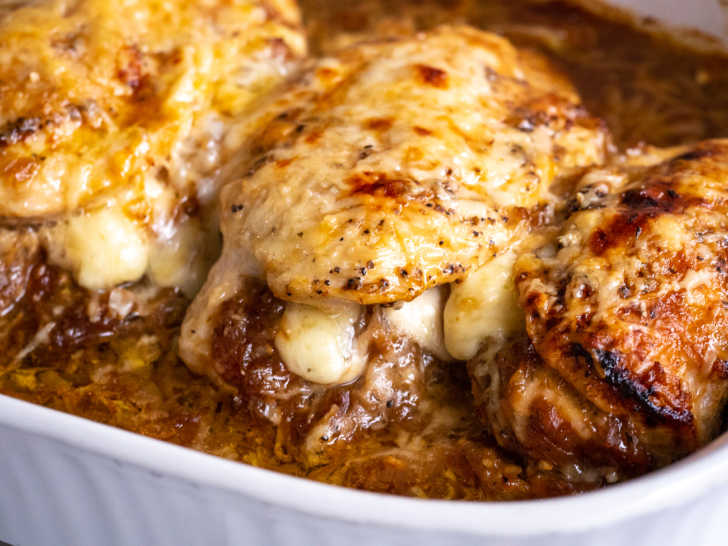 The humble boneless skinless chicken breast can be a great solution for quick weeknight dinners but don't let that trick you into thinking that you can't use it for meals that feel a little more special too. Case in point — these French Onion Stuffed Chicken Breasts. I order French Onion Soup pretty much every time I see it on a menu and this dish brings that same rich caramelized onion flavor and ooey-gooey melty cheese to chicken. In other words, it feels really special and it's really delicious. (And it's well worth the time it takes to cook down those onions!)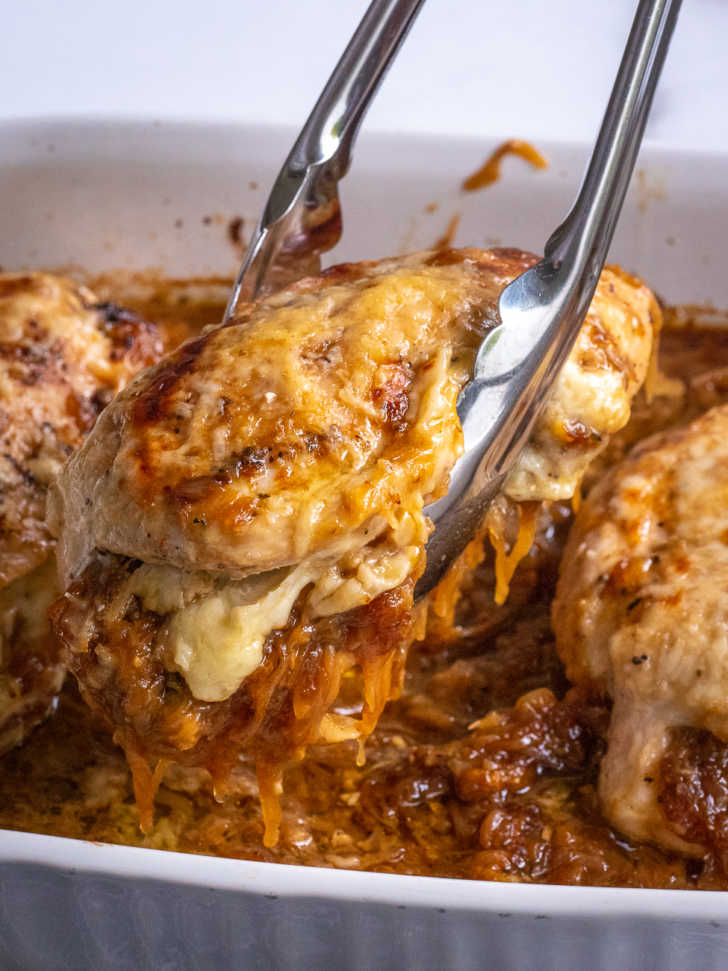 I know. Caramelizing onions is a pain. The process isn't hard, by any means, but it takes time and you can't rush it if you want true soft, sweet, caramelized onion flavor. And you do want that! Don't we all want that? Those caramelized onions are the base of the flavor for this dish and you should plan for them to take at least thirty minutes to cook down, and even longer if you're really feeling patient. Slice your onions thin, add them to a pan with some butter and olive oil, and let them cook slowly over medium heat for pretty much as long as you can stand it. Maybe even medium-low if things are starting to brown too quickly. Some sugar helps things along, but it's a process that can't be rushed. You only need to stir them every few minutes and if they're starting to get a little dry, you can stir in some beef broth as well.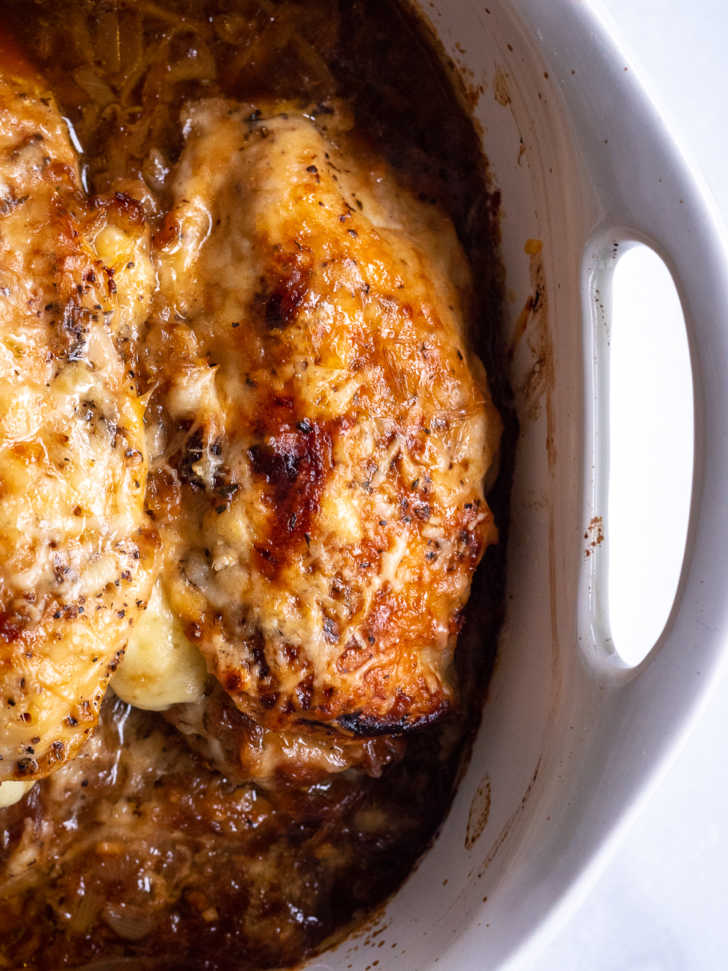 After all, you want these to be a little bit saucy, and have that nice brothy quality that French Onion Soup has. It's just that you're not going to eat it as a soup… you're going to eat it as a succulent and savory main dish. Once the onions are finally, finally at their best, you'll spread about half of them in a baking dish and use the rest to stuff the chicken. To do that, you'll cut a slit in each chicken breast lengthwise so that you're creating a pocket but not cutting all the way through. Jam pack it with onions and some gruyere and parm too and then get some color on the chicken in a hot skillet.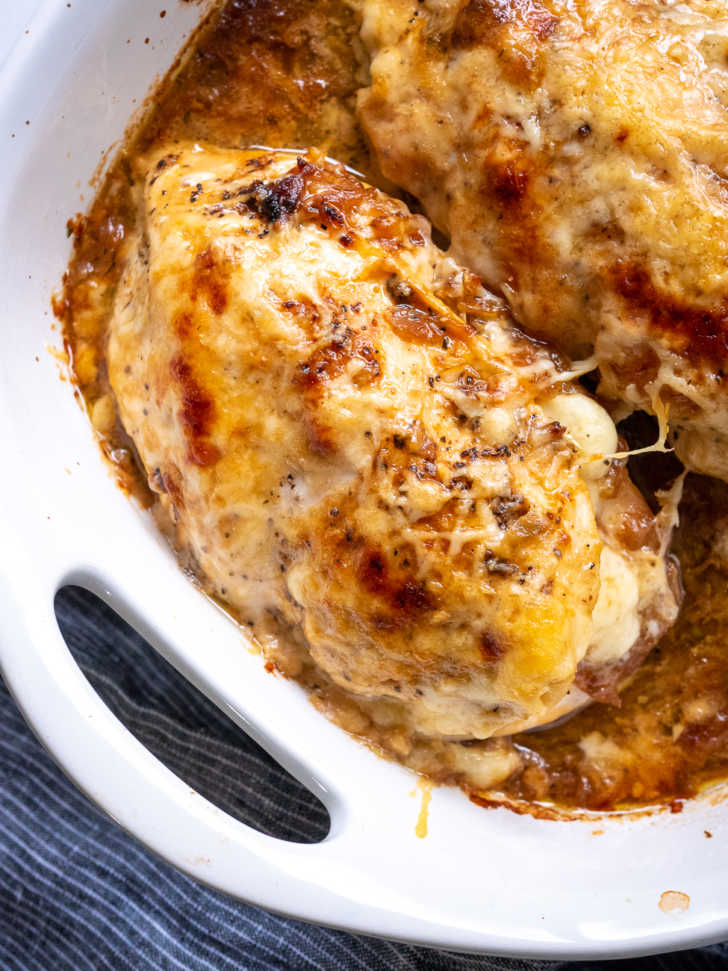 The chicken will cook through in the oven, though, on that bed of tender, sweet and jammy onions so all you need to do in the pan is a quick sear. The flavors here are outstanding — deep, rich sweet and savory onion flavor that's carried by juicy chicken and kissed with just enough melty cheese. I don't know that I've ever had chicken this good!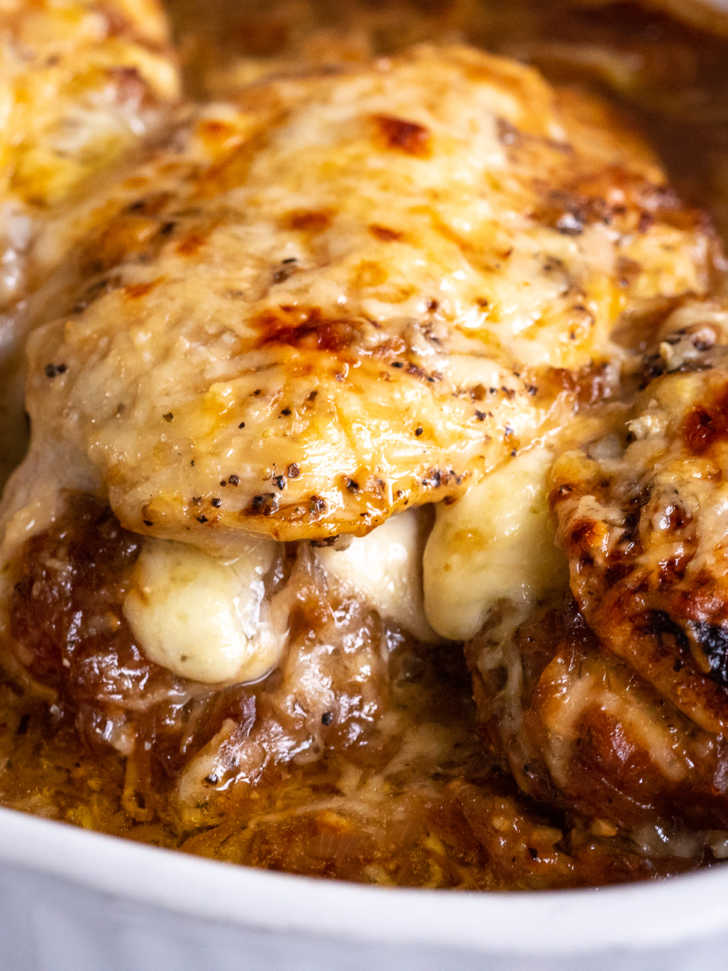 French Onion Stuffed Chicken Breasts
Serves 4
10m prep time
45m cook time
Ingredients
2 tablespoons unsalted butter
4 tablespoons extra virgin olive oil, divided
4 large white onions, halved and thinly sliced
1 teaspoon sugar
2 teaspoons fresh thyme
1 tablespoon balsamic vinegar
1 cup beef broth, divided
3 cloves garlic, minced
4 boneless skinless chicken breasts
1 1/2 cups gruyere cheese, grated
1/2 cup parmesan cheese, freshly grated
Kosher salt and freshly ground black pepper, to taste
Preparation
Preheat oven to 400°F and lightly grease a 9x13-inch baking dish with butter or nonstick spray. Set aside.
In a large skillet over medium-high heat, add the 2 tablespoons butter and 2 tablespoons olive oil. Once oil is shimmering, add onions and spread out evenly across the pan. Let cook, stirring occasionally, until onions are soft. If needed, reduce heat to medium to prevent burning.
Sprinkle onions with salt, sugar, and thyme, and continue cooking, stirring every few minutes, until onions are jammy and dark brown. If needed, add 1/2 cup beef broth to the pan to keep onions from drying out.
Once onions are caramelized, stir in balsamic vinegar and scrape up any stuck on bits from the bottom of the pan. Stir in garlic and cook until fragrant, 30 seconds to 1 minute. Remove from heat and set aside.
Cut a slit lengthwise into each chicken breast to form a pocket without cutting all the way through.
Stuff about 2 tablespoons of the caramelized onions into each pocket you created, followed by some of each of the cheeses. Seal shut with toothpicks.
Transfer remaining onions to the bottom of the prepared baking dish. Stir in remaining 1/2 cup beef broth. Set aside.
Heat remaining 2 tablespoons olive oil in a clean skillet over medium-high heat. Season chicken breasts with salt and pepper, then sear on each side until golden brown, about 4 minutes per side. (Chicken does not need to be cooked through at this point.)
Lay chicken on top of the caramelized onions in the baking dish. Spoon some of the onion sauce over each chicken breast, then top with any remaining cheeses. Bake until chicken is cooked through, 15-20 minutes more. Enjoy!
Recipe adapted from Feminologie.
SKM: below-content placeholder
Whizzco for 12T