The most perfect Italian garlicky pasta to ever roam this earth.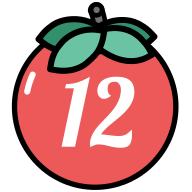 Dom Ruane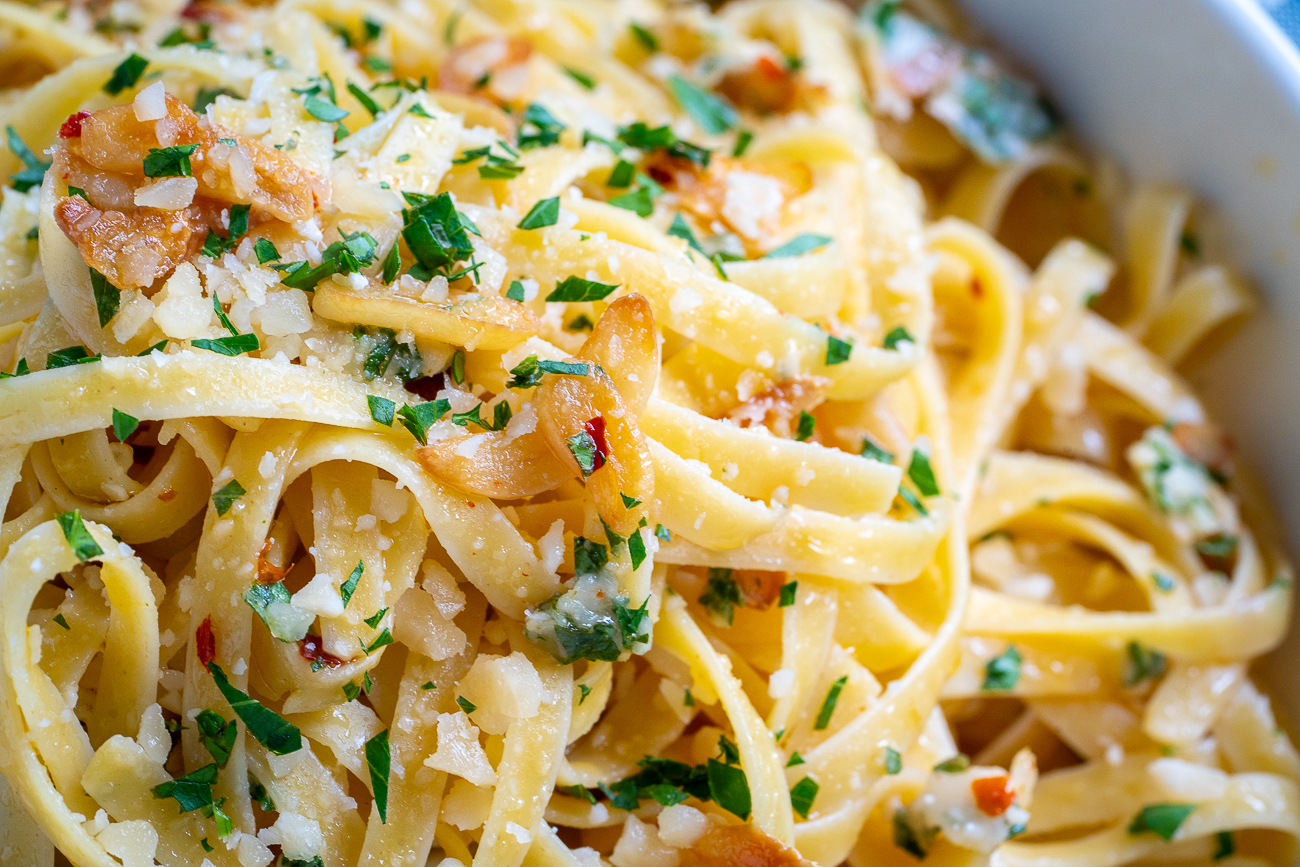 I know what you're thinking. What is "I Oy" mean? It's how my Italian family pronounced Aglio e olio pasta. A famous Italian pasta sauce consisting of good olive oil, toasted garlic, fresh herbs, and lemon. A delicious garlic pasta with a snappy name, "I Oy". Now because my mom didn't salt her pasta water much, she would sprinkle parmesan on it at the end to add a little extra seasoning. I wasn't opposed to it when I was younger. Now we salt our water…liberally… no more pinches. This is a family staple at my mom's house, especially with broccoli and chicken. You're gonna love this one!
These are sophisticated buttered noodles. We all loved and grew up with noodles. It's just a way of life. If you've never tried making I Oy, it's definitely worth trying. Low cost and few ingredient recipes are my jam.
Technically I Oy is a great way to learn how to properly cook, sauce, and season your pasta. Salt, fat, acid, and heat are the rules for flavor, as Samin Nosrat says. Salt in the pasta water, Fat in the olive oil, Acid in the lemon, and Heat in the garlic chili oil. We not only use the pasta water to stop the cooking process of the garlic and chili but also to help infuse some of those flavors like parmesan into the al dente pasta. That's right, al dente. It's fine if you like your pasta to be soft, but at least finish cooking it in the flavorful garlic chili oil water. Taste your pasta in the water, boil to al dente and reserve your pasta water.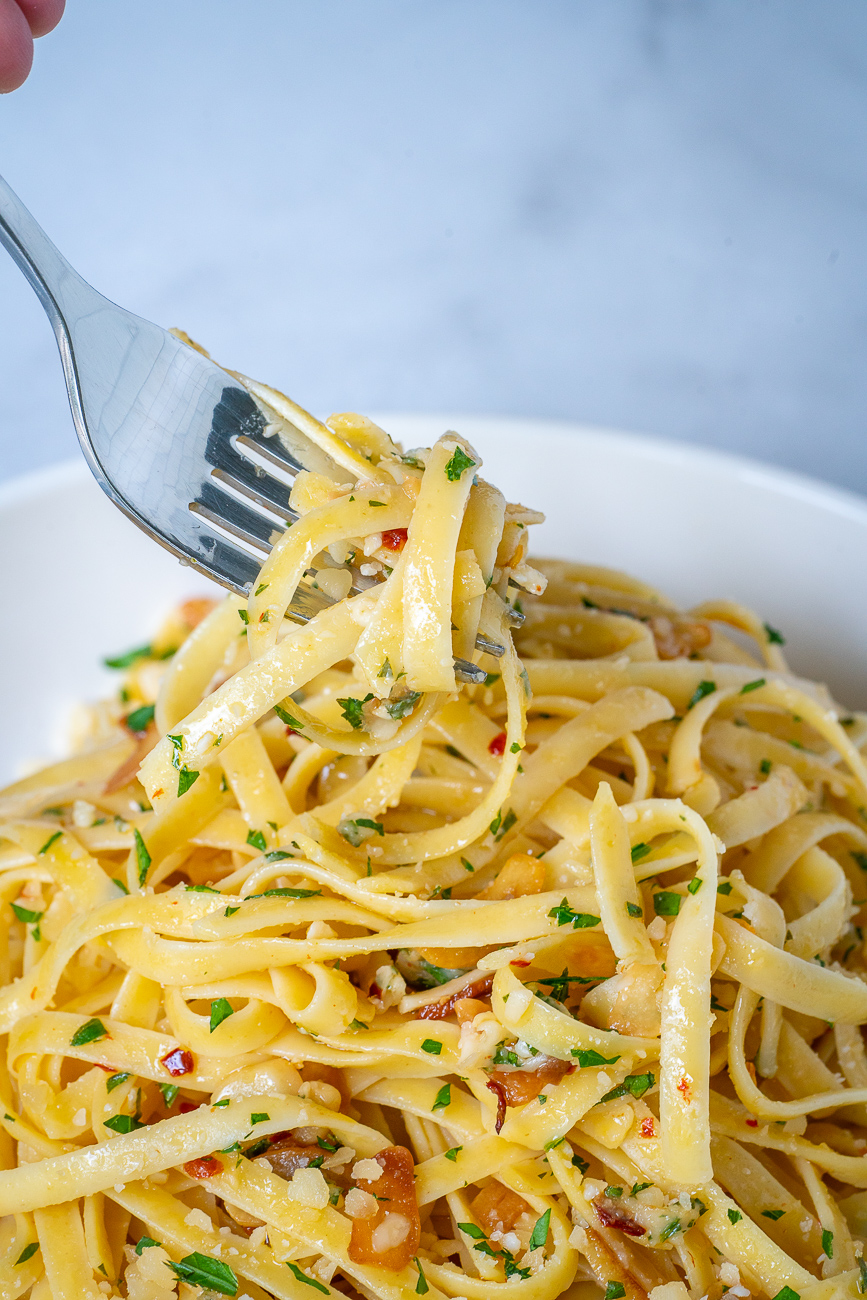 We talked about how low cost and few ingredient recipes are my jam, but that's only half true. I love few ingredient recipes, but I also splurge on high-quality ingredients for recipes that I want to put my time into. I love food too much. Don't get me wrong, this recipe is totally great with Kraft sprinkle cheese and minced garlic from a jar. There's just something about grating a fresh block of Parmigiano Reggiano or slicing your garlic paper thin for crispy, garlicky bites in this pasta. It's very Italian to little, but great quality ingredients. Buy yourself that fresh pasta or fun pasta shape, you deserve it!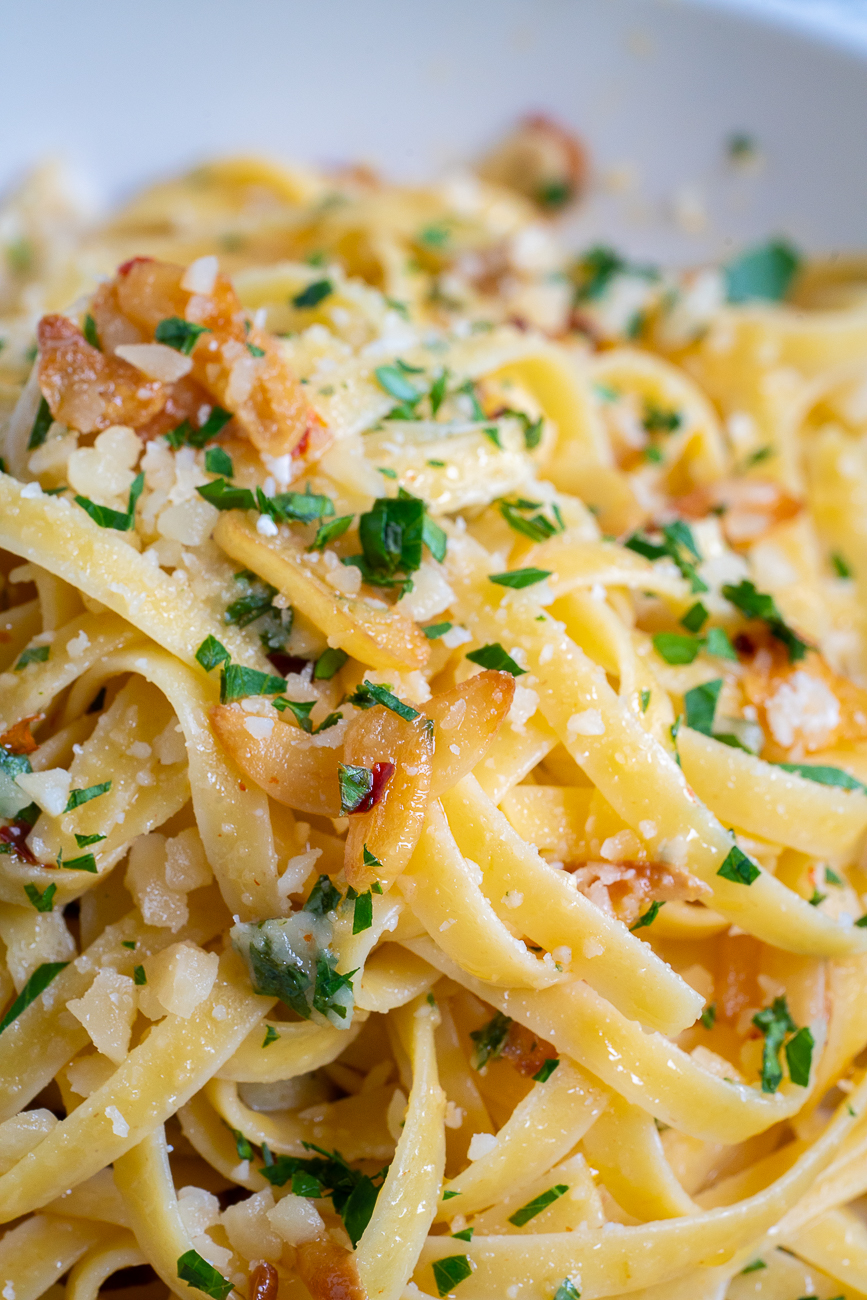 Fettucine Aglio e Olio
Serves 5
10m prep time
10m cook time
Ingredients:
1 lb. Fettucine
1/4 cup olive oil
6 - 8 garlic cloves, sliced
1/2 teaspoon crushed red pepper flakes
3/4 cup reserved pasta water
1/2 cup parmigiano reggiano, grated
1 lemon, juiced
1 tablespoon fresh parsley, minced
Freshly cracked black pepper, to taste
Directions:
In a large pot of boiling salted water, cooking fettuccine until al dente. Reserve 3/4 cup of salty pasta water and drain.
Place empty pot over medium heat with olive oil, garlic and crushed red pepper flakes. When garlic starts to turn golden, add in cooked pasta, pasta water and parmigiana.
Reduce heat to low, toss pasta until sauce comes together and coats each noodle.
Finish with lemon juice, parsley and black pepper.
Mangia!
SKM: below-content placeholder
Whizzco for 12T