This dessert is absolutely delightful and a beautiful choice for when you entertain. It takes some time and attention, but the result is truly special. Brandy snaps are fun, brittle cookies that, when warm, can be molded into different shapes. We love the sweet, brandy cookie paired with the rich chocolate mousse, so we decided to put the two together and serve the one inside the other! You can just as easily prepare these two treats separately, but if you've got the time, making them together is a fun way to surprise and impress loved ones and you'll be proud of yourself for doing it, so it's also a confidence-booster!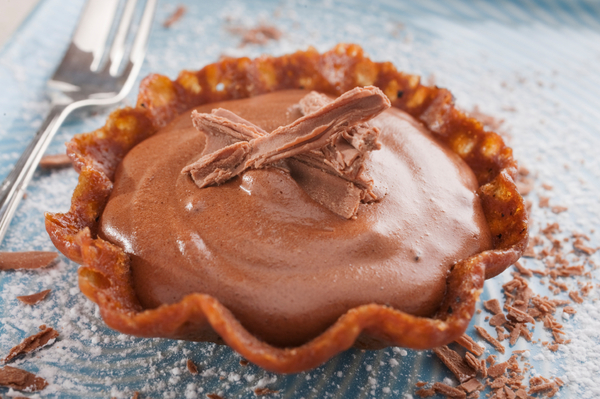 Chocolate Mousse Cups
Yields 1-2 dozen, depending on preferred size
Ingredients
Brandy Snaps:
1/2 cup sugar
1/3 cup all-purpose flour
1/3 cup molasses
8 tablespoons (1 stick) unsalted butter
2 tablespoons brandy
1 teaspoon orange zest, grated
1/2 teaspoon sea salt
1/2 teaspoon ground cinnamon
Mousse:
8 oz. bittersweet or semi-sweet chocolate, shaved, plus extra for garnish
1 cup heavy whipping cream
1/2 cup granulated sugar, divided
1/4 cup strong coffee or espresso
4 large eggs, separated
8 tablespoons (1 stick) butter, cubed
1 teaspoon vanilla extract
1/4 teaspoon cream of tartar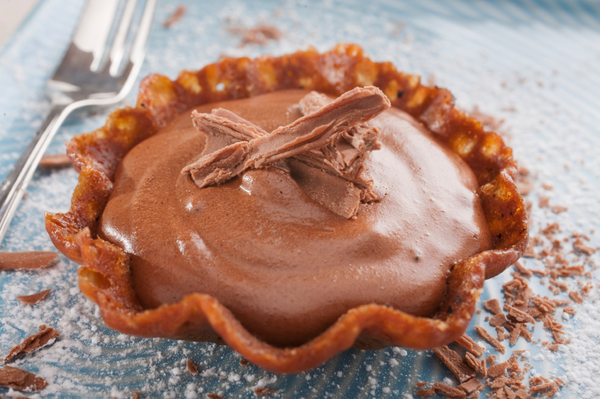 Directions
Preheat oven to 350º F and line a baking sheet with parchment paper or a silpat liner.
Combine sugar, molasses, butter, cinnamon, zest and salt in a medium saucepan and bring to a boil.
Immediately remove from heat and stir in flour and brandy. Let cool until lukewarm.
Spoon a 1/2 tablespoon of mixture onto a lined baking sheet (set them apart because mixture spreads) and bake for 10-11 minutes.
Prepare ramekins by flipping them over so they're upside down.
Remove brandy snaps from oven and let cool 3-5 minutes. Then use a spatula to loosen them from baking sheet and drape them over ramekins, gently molding them into a cup shape.
Repeat with remaining snaps and set aside. (If snaps harden before you mold them, return to oven for 30 seconds.)
For the mousse: set a heatproof bowl over a saucepan, 2-3 inches full of water, over low heat, and melt chocolate shavings, butter and coffee together. Whisk until smooth, then remove from heat.
One at a time, whisk in 4 egg yolks, cover with plastic wrap (directly on top of chocolate) and refrigerate.
In a large bowl or mixer, beat remaining egg whites with cream of tartar until soft peaks form.
Gradually add in 1/4 cup sugar and beat until stiff peaks form and mixture is glossy. Set aside.
In a separate bowl, beat heavy cream, remaining sugar and vanilla extract until soft peaks form.
Retrieve chocolate mixture from refrigerator and stir in 1/4-1/3 cup beaten egg whites into chocolate to lighten it.
Fold remaining egg white into chocolate.

Note: do not mix egg whites in. Use rubber spatula to gently cut into center of mixture, drag it halfway around the bowl, then cut into the center again and repeat until incorporated.

Fold whipped cream into chocolate mixture.
Spoon mousse into brandy cups and refrigerate for 2-4 hours. Serve chilled and garnished with shaved chocolate.
Recipe adapted from Happily Edible After
SKM: below-content placeholder
Whizzco for 12T