There are some pretty worthless kitchen gadgets out there. Cool? Yes. Practical? Not so much. Cost-effective? Not by a long shot. With so many options for tools, cookware, and gadgets, it's hard to know what you really need in the kitchen. So, whether you just moved and are looking to restock your kitchen supply or you're just getting into cooking for the first time, this list is for you!
Knives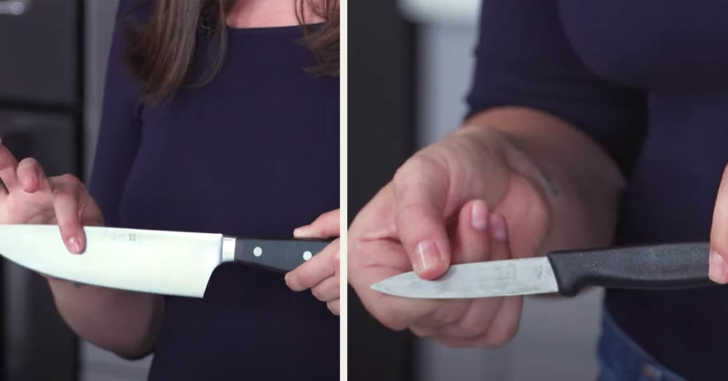 Most people have a knife block they purchased at some point that now sits in the corner of the kitchen, mostly collecting dust. Sure, you probably have 2 or 3 knives you use on a fairly regular basis, but what about the rest of them? Not to mention, these sets typically don't come with the highest quality knives.
If you're looking to get serious about cooking, there are really only 2 knives you need: a chef's knife and a paring knife. It's easy to get overwhelmed with all of the choices (and the price tags that come with them), but the most important thing is that the knife feels good in your hand. Yup. That's the expert advice.
Sure, we suggest doing research and going to the store prepared, but at the end of the day, don't get the expensive one just because it's expensive; get the knife that fits your hand well and is the correct weight for you.
Pots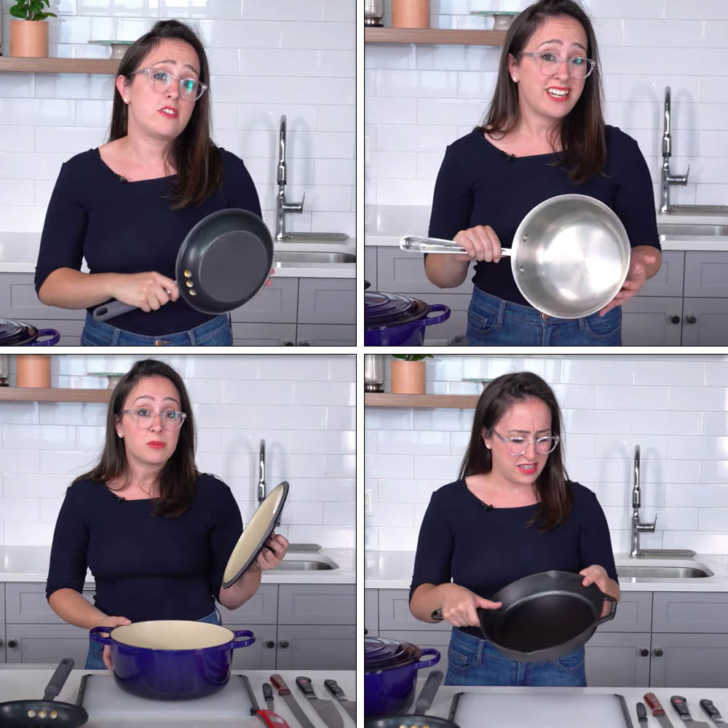 First up, cast-iron skillet. You knew it was going to be on here, right? A lot of people are hesitant to use a cast-iron skillet because it seems complicated to maintain and season properly. You might be surprised at how easy it is to take care of your cast-iron skillet. Read more about proper care in this article. While cast-iron doesn't conduct heat very well, it is excellent at maintaining heat, which is what makes it the perfect skillet to sear meat in, amongst other things.
Next up is a normal, everyday non-stick skillet. This is perfect for cooking eggs and other delicate foods that would be ruined by cast-iron (and would ruin the cast-iron in return). There's really no secret to picking out a good non-stick pan. Just keep in mind that these will need to be replaced every few years, so don't spend too much on them!
Another staple is a 3-quart saucier. This is the go-to pot for just about anything you'll boil on the stovetop, be it water for spaghetti, sauce, soup, etc. Make sure you get a saucier with sloped sides. That way when you're scraping down the sides or whisking a sauce, the utensil can fit right into the sides and bottom of the pot, as opposed to pots with straight sides and flat bottoms where food often gets stuck in the corners.
Finally, an enamel Dutch oven. This is another thing most people know about but tend to shy away from. Dutch ovens are incredibly versatile pieces of equipment. You can pretty much make anything in them, but they are ideal for braising meat, making stews, sauces, even fried chicken! While they can be expensive, you can get a good Dutch oven for relatively cheap, as long as it's heavy and lined with enamel.
Pans & Dishes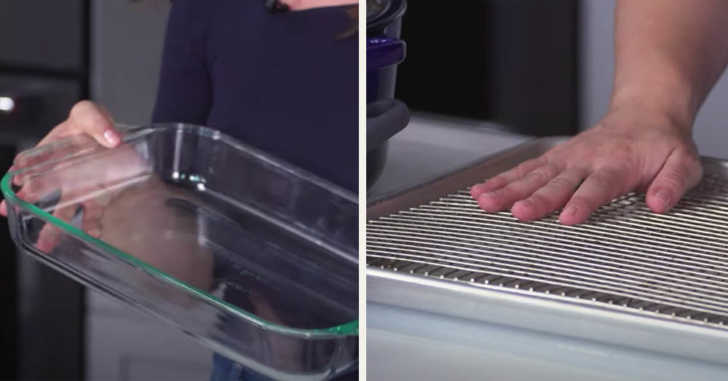 While there are tons of different sizes of pans and other dishes, for those just starting to build their collection, you'll just need 1 of each. The most important baking dish to have is a 9×11 dish. These are great for casseroles, desserts, lasagna, baked mac & cheese…the list goes on and on. No need to spend a ton of money on this dish either – a glass 9×13 is going to be your best bet.
You'll also want to grab a sheet pan with a slight lip around the edge. There are flat sheet pans available, but they are mainly used for baking cookies. Pans with a lip around the edge can be used to bake tons of things, including meats and veggies, without fear of juices spilling out into the bottom of the oven. Go ahead and grab a wire rack that fits into the pan to give yourself more options for baking meat.
Miscellaneous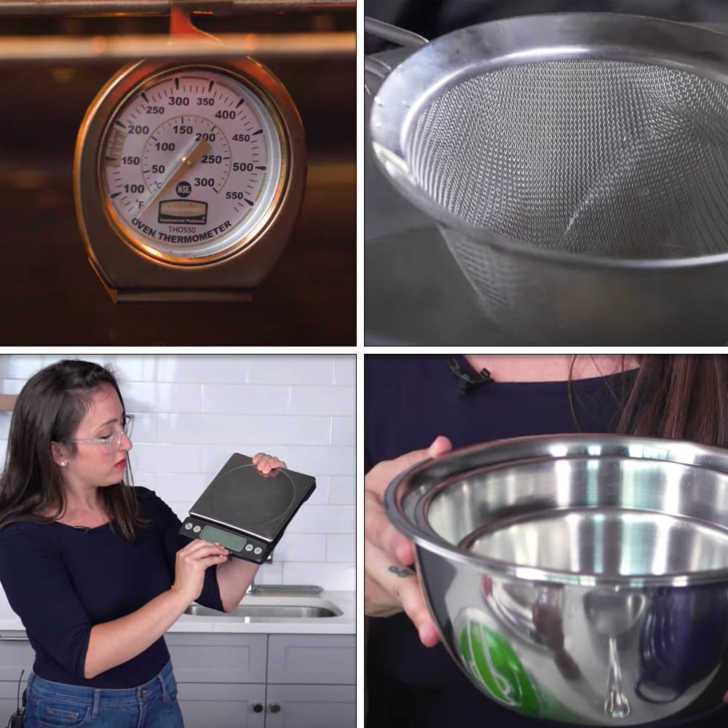 Other odds and ends to pick up include:
Oven thermometer (let's face it; your oven's temperature gauge is off and you know it)
Mesh strainer: Can be used not only for straining water but to sift flour and even make things like cheese!
Kitchen Scale: Get more accuracy by measuring by weight instead of volume.
Mixing bowls: There's nothing special about these stainless steel bowls, but they are worth putting on this list!
Kitchen Utensils: Tongs, a wooden spoon, a whisk, a veggie peeler, a silicone spatula, and a fish spatula (aka: a turner).

YouTube/Serious Eats

Find out more about each of these items in the video below!
SKM: below-content placeholder
Whizzco for 12T