Eggs Benedict made easy, without sacrificing any of the flavor.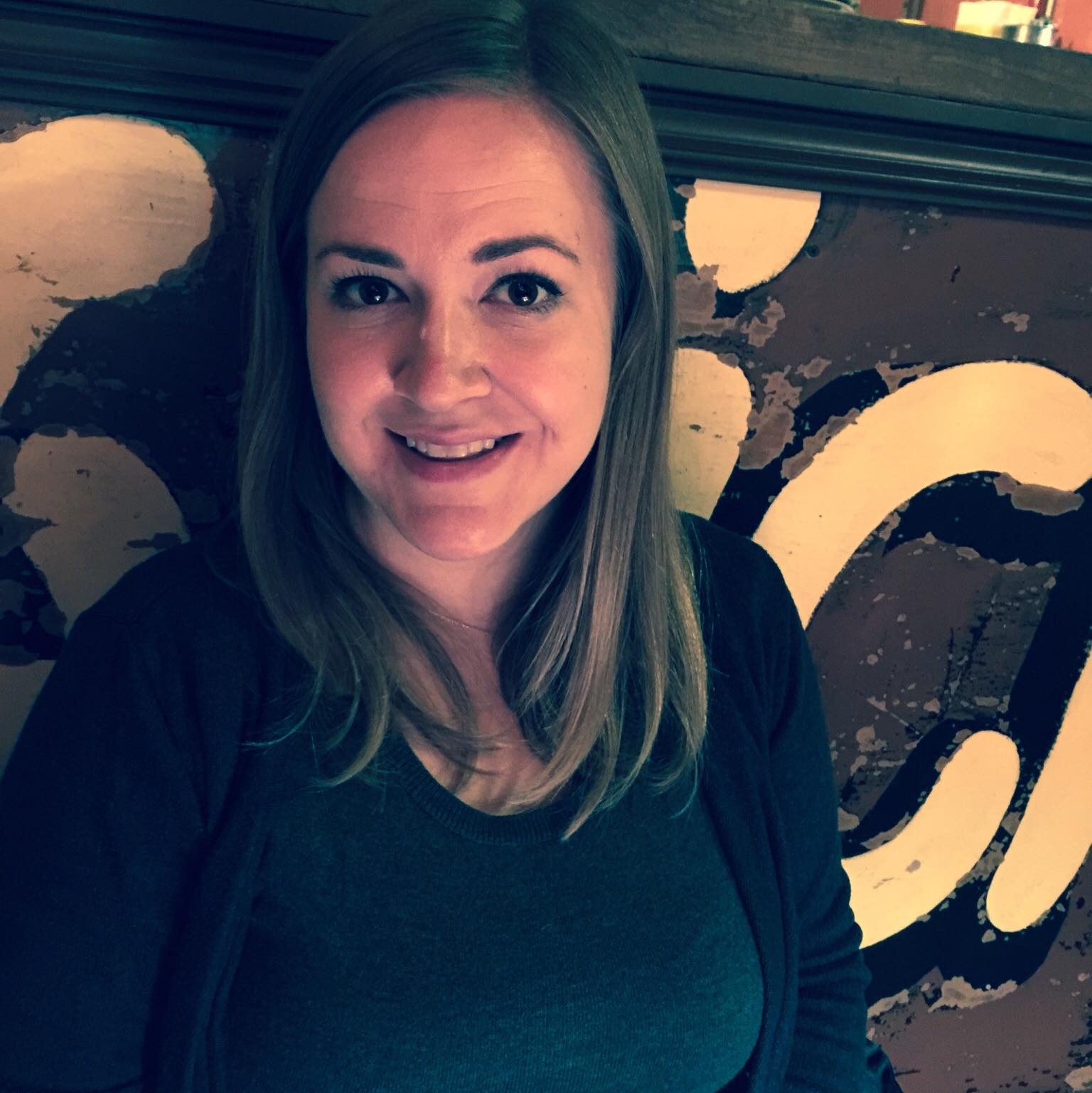 Kristy Norrell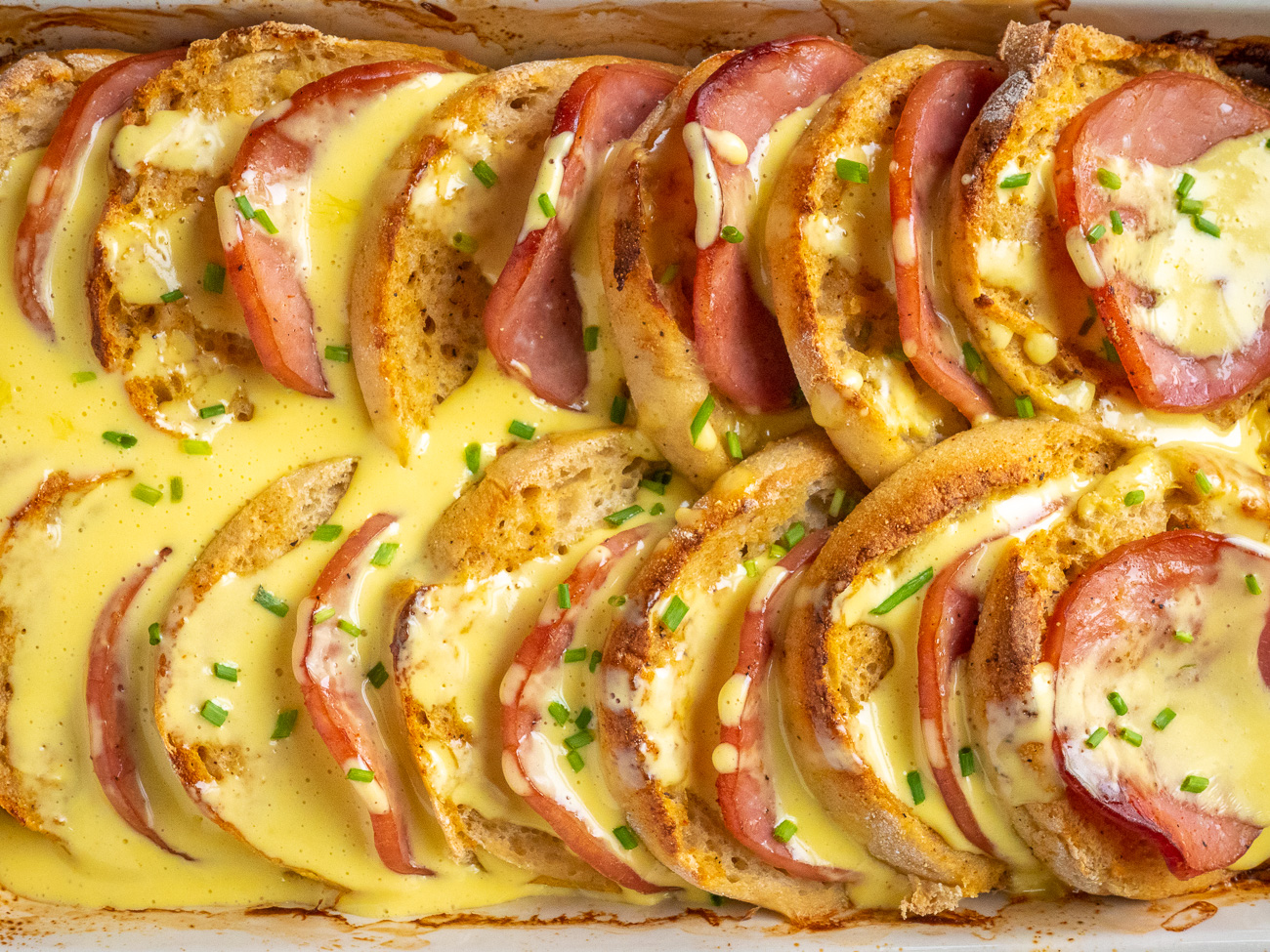 If we're eating out for breakfast or brunch, there's a ninety-five percent chance that my husband is ordering Eggs Benedict. There's just something about the combination of the crunch of a toasted English muffin, a runny poached egg, salty Canadian bacon, and plenty of buttery Hollandaise sauce poured over it all. It's delicious, but that's a lot of components in the early morning hours so it's something I make at home maybe once a year. (Yes, it's usually Father's Day.) Until now! This Eggs Benedict Breakfast Bake gives you all the glory of that wonderful flavor combination but it does it in a way where the oven does most of the work for you so it's much easier to serve on the regular. And trust me, this is good enough and easy enough to throw together that it's bound to end up in your regular breakfast rotation.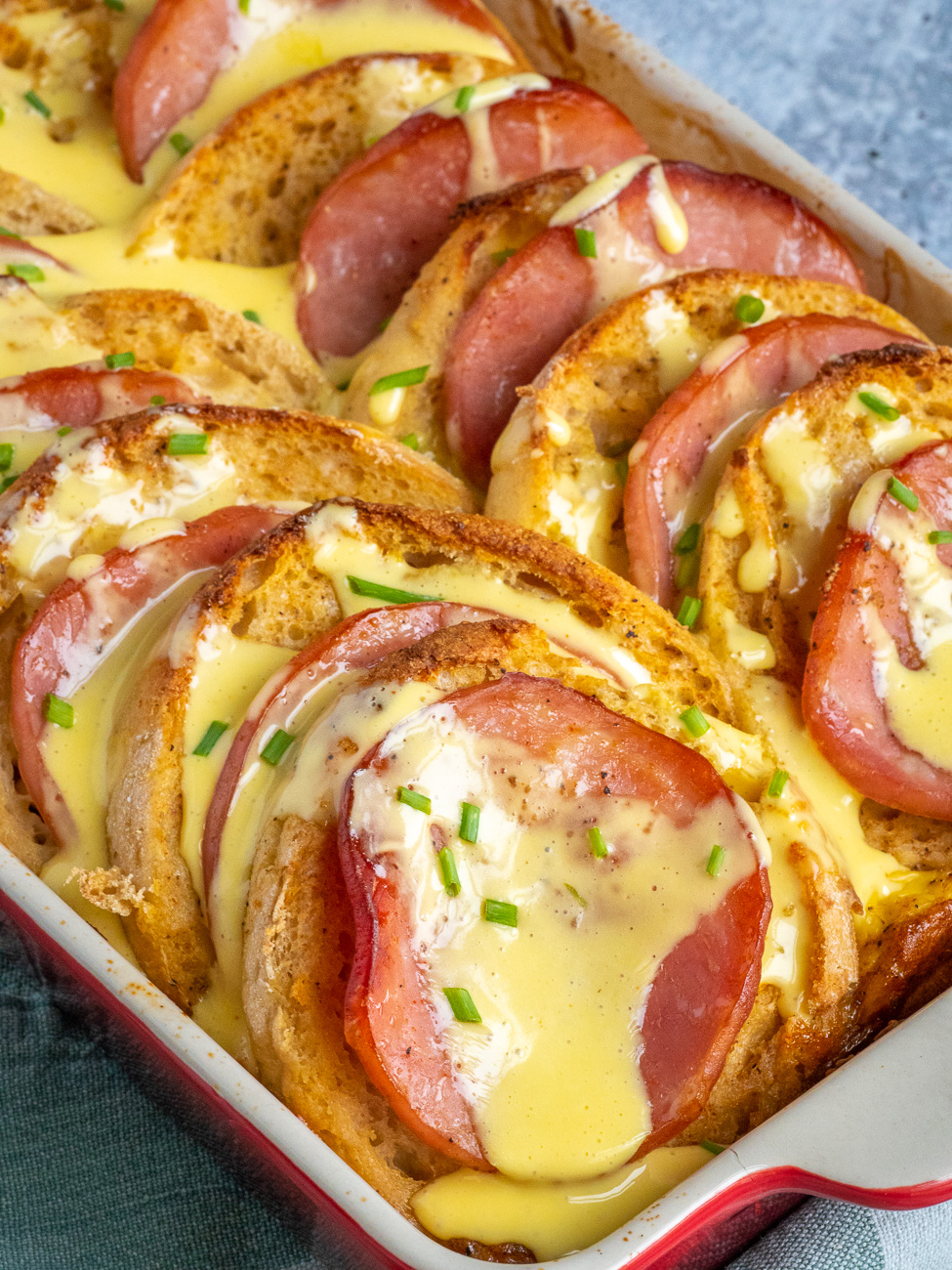 This serves six but you can halve the recipe pretty easily if you only have a few people to feed — it's not a casserole that keeps all that well thanks to the Hollandaise. You'll start with six English muffins that you'll split in half and line up in a baking dish so they're stacked vertically. Then you'll take Canadian bacon and tuck slices in between the English muffin halves, so it's like a sandwich standing upright.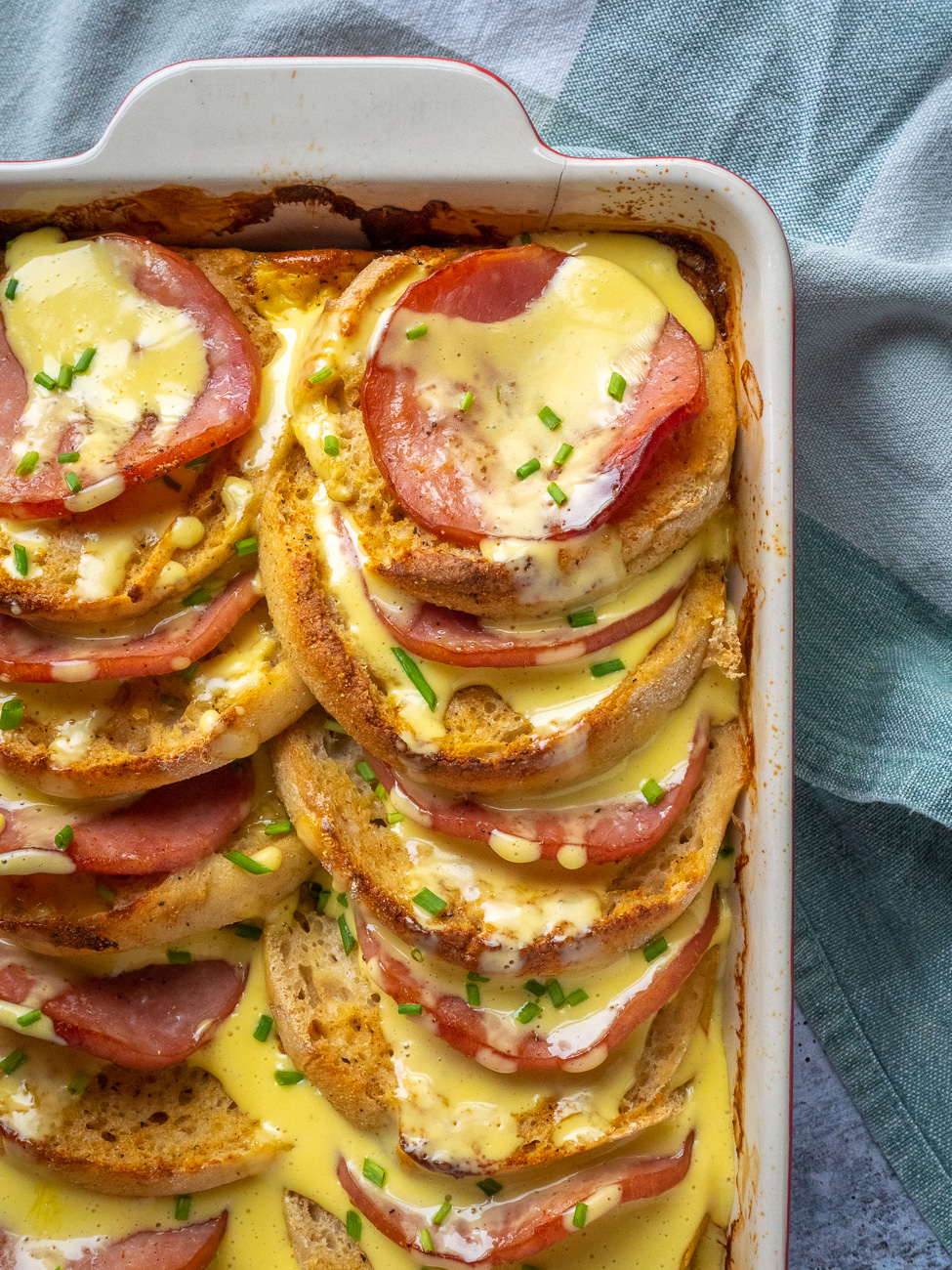 You might be thinking, "Okay, I'm with you, but where are the poached eggs?" Well, that's one component that's not quite the same — there are no poached eggs here. But never fear, there are eggs, they just show up in a way that's much easier to prepare! You just whisk four up with some milk, paprika, onion powder, garlic powder, salt and pepper, and pour the mixture over the muffins and Canadian bacon. You miss out on the runny yolks, it's true, but it acts as an eggy binder that still gives you a bit of a runny, custardy sauce in the corners of this bake.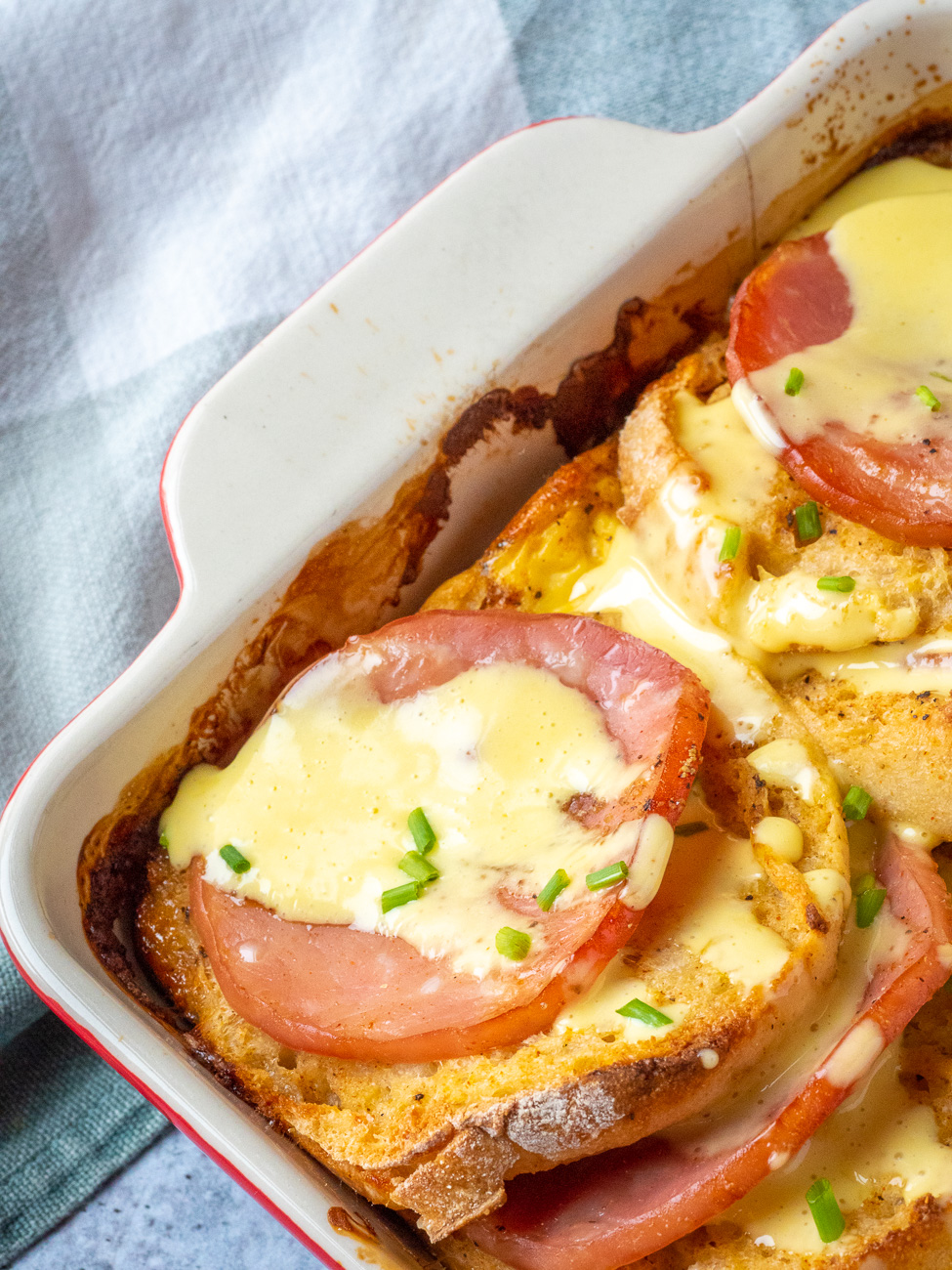 That's the main assembly, believe it or not, and then you'll bake it for thirty minutes covered and thirty minutes uncovered. Of course, Eggs Benedict wouldn't be Eggs Benedict without hollandaise and that's precisely what you'll work on while this is in the oven.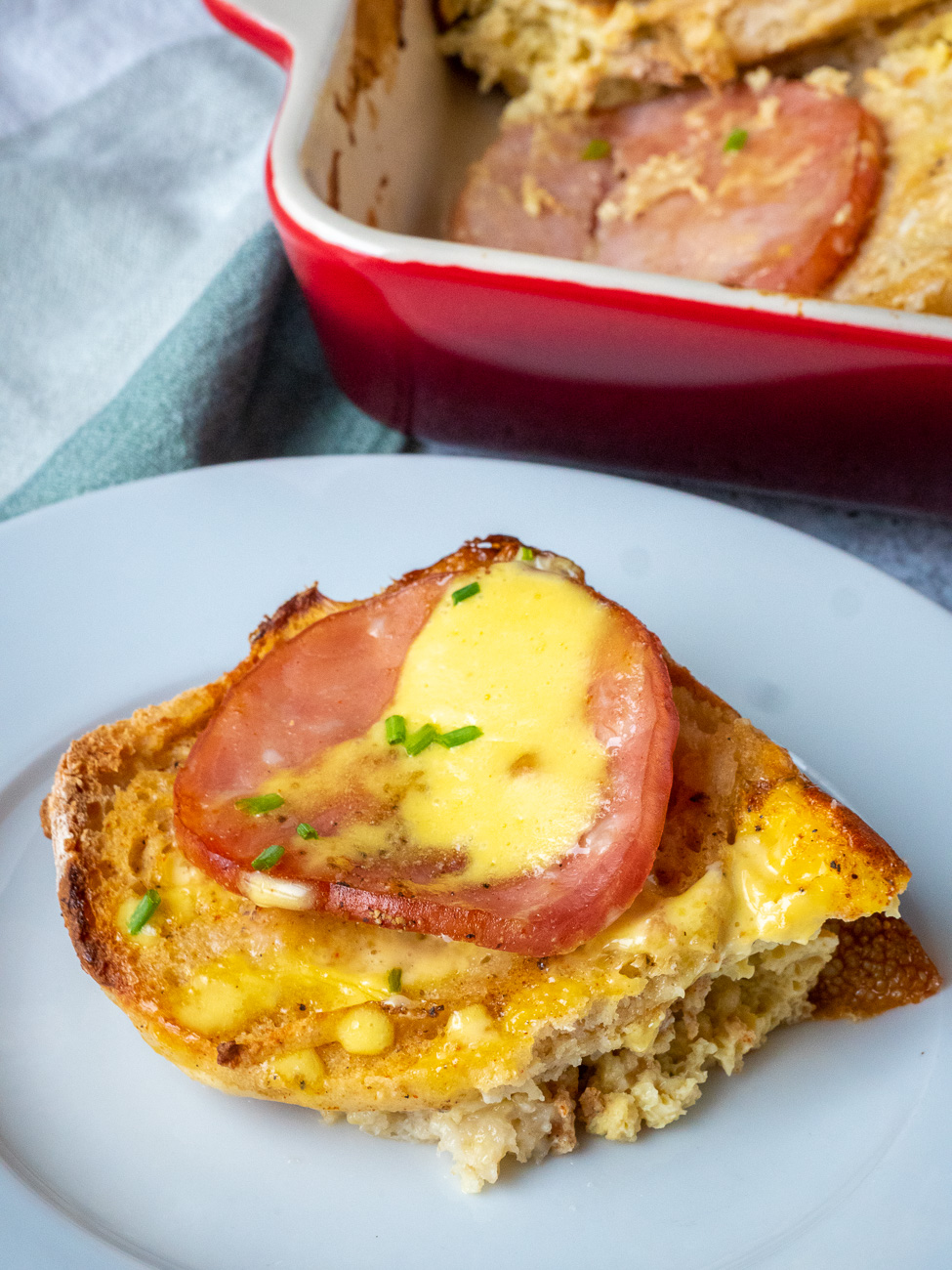 Not that you'll need the whole baking time to make that hollandaise. I favor a blender method for hollandaise sauce, which takes mere minutes and is pretty much foolproof. It's the way Julia Child did it and it's certainly good enough for me. Just blend some egg yolks and lemon juice in a blender on medium-high speed until they've become a pale yellow and then drizzle melted butter through the top while the blender is running on low. It should all emulsify without a problem and you can adjust the acidity to your liking with a little more lemon juice at the end. You'll want to make it right before you're about to serve because it will thicken up upon standing, but if you need to hold it over for a little while just place the blender jar in a container of warm water to keep the sauce fluid. (No one wants gloppy hollandaise.) Pour that delicious sauce all over the bake and you're ready to eat the easiest Eggs Benedict you've ever made!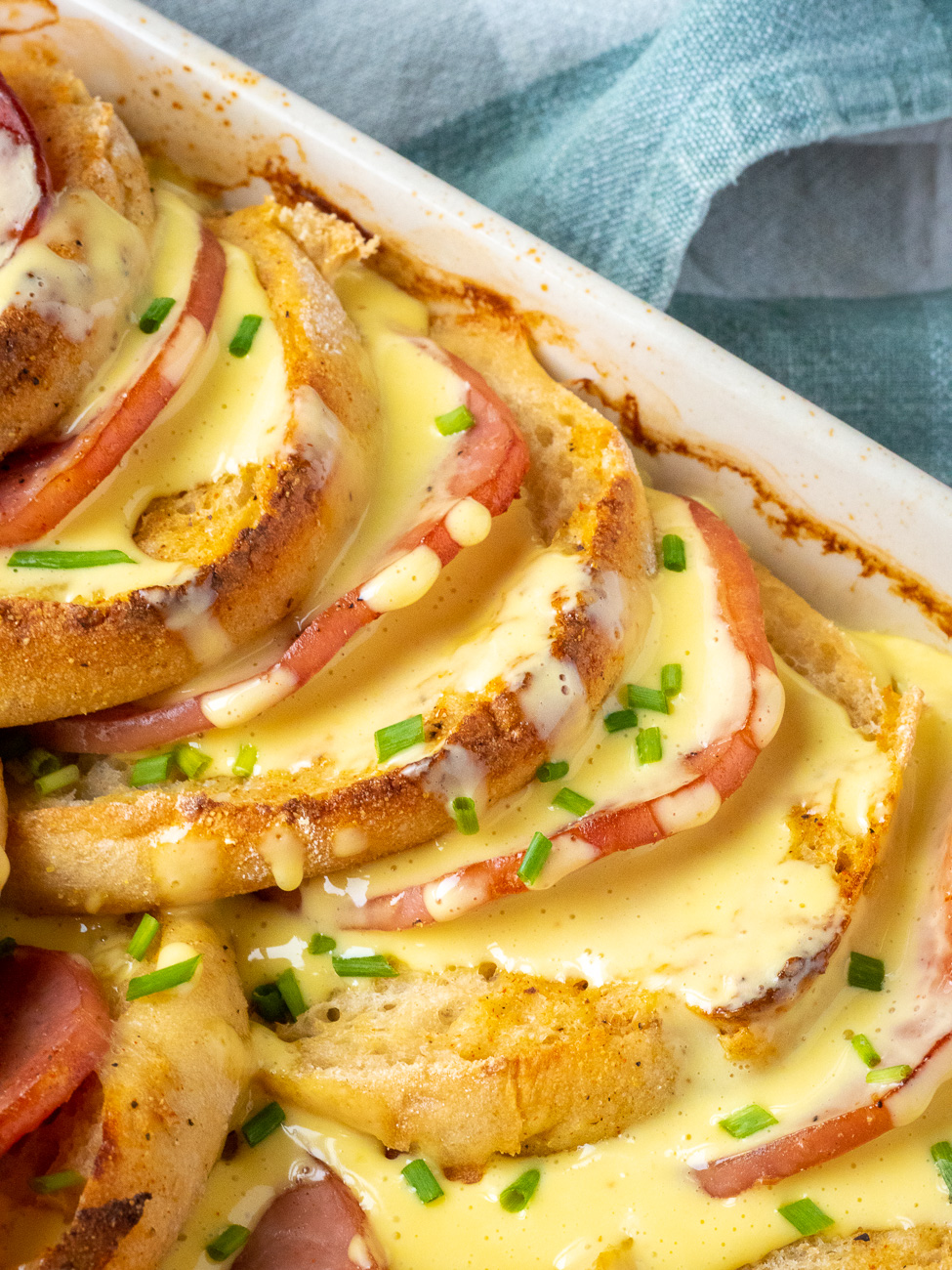 Eggs Benedict Breakfast Bake
Serves 6
10m prep time
1h cook time
Ingredients
6 English muffins
12 slices Canadian bacon
1 cup milk
4 eggs
1/2 teaspoon paprika
1/2 teaspoon onion powder
1 teaspoon garlic powder
1 teaspoon Kosher salt
1/2 teaspoon freshly ground black pepper
Fresh chives, snipped, optional
For the Hollandaise sauce:
3 egg yolks
1 tablespoon lemon juice
10 tablespoons unsalted butter, melted, but still warm
1/2 teaspoon Kosher salt
Preparation
Preheat oven to 350°F.
Separate English muffins and line them up vertically in a baking dish. Tuck slices of Canadian bacon in between the muffin halves.
In a medium bowl, whisk together eggs, milk, paprika, onion powder, garlic powder, and salt.
Pour evenly over muffins in baking dish. Cover dish tightly with foil and bake 30 minutes. Uncover and bake 30 minutes more.
During the last few minutes of baking, prepare the Hollandaise sauce:
Add egg yolks, lemon juice, and salt to a blender and blend at medium-high speed until lightened in color, about 30 seconds.
Lower blender speed and slowly drizzle in melted butter. Continue blending until all butter is incorporated.
Adjust lemon juice and salt as needed, drizzle over casserole, and enjoy! Sprinkle with fresh chives before serving, if desired.
Recipe adapted from Bay's English Muffins.
SKM: below-content placeholder
Whizzco for 12T